5 Top Reasons You Should Use Facebook Ads To Promote Your Brand
Emma Longridge
Content Manager
Everyone and their mother (literally) have Facebook now, right? Shouldn't this make advertising to a large audience easier? Yes, this still rings true! Read on to learn about the 5 top reasons you should use Facebook ads to promote your brand.
Since 2007, we've seen a Facebook ad or two populate the side panel of our newsfeeds. Now it's the end of 2019, and we're still seeing Facebook ads singing the praises of e-commerce businesses, products, and services. Should you jump on board too and start pushing your brand more publicly on Facebook? Why should you go through with this effort and how effective is the Facebook ad route actually?
In general, we know that we must use different methods to ensure that our brand, offers, products, and services are seen and easily recognized by the people we care about most: our customers. This is a goal that can be achieved in different ways, such as through SEO tactics, content marketing, and, as you'll discover throughout this article, through paid social media marketing.
To help you get a better idea of how social media ads work and why you should finally catch on to this popular lead-capturing method, we bring you the 5 top reasons you should use Facebook Ads.
1. Your customers hang out on Facebook
"Go where your customers are" is a common piece of advice used by business owners worldwide to find, interact, and engage with their target audience.
If we ever start to doubt the popularity of Facebook, let's look at some data presented by Hootsuite: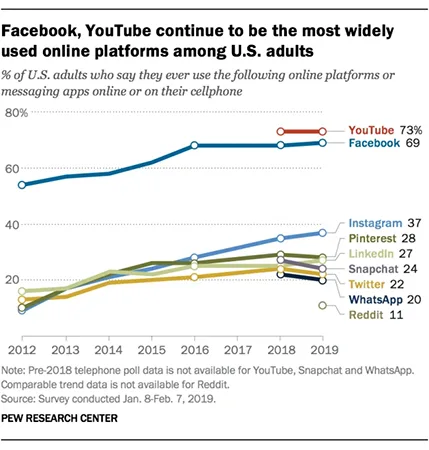 The difference between Facebook and other popular social media channels is that Facebook is used as an inspiration platform: users browse, research, interact, and get inspired.
Right now, 68% of Americans use Facebook. Taking this number into account, you can bet that your audiences are influenced by this social media platform, they just haven't found your content yet. Or rather, you haven't found them yet.
This is one of the top reasons you should use Facebook Ads to target and reach your customers. Consider this: according to the same research, almost 25% of business pages already leverage paid ads. According to WeAreSocial, the engagement rate for posts is at least 3.91%.
2. Flexible ad prices: name your own price
Facebook ads cost a variety of different prices, making it difficult to determine your ad budget. However, two points of advice:
If you wanna heavily invest in this method for your marketing campaign, invest a lot. Go big or go home, you might as well give it a good shot.

If you're exploratory/experimental, simply maintain a threshold amount and stick to your parameters. Later, measure your results.
How it works:
The Facebook Ad setup system allows you to choose a maximum value threshold of how much you want to spend on one given Facebook ad and it also allows you to choose between paying for a total amount spent or for results generated, as explained in the platform's knowledge base.

You can set how much you want to spend with a daily budget, weekly, or at different periods, and you can determine your goals between generating impressions (ideal for increasing brand awareness) or generating conversions from ads.

Remember that the same platform still allows you to show your ads on Instagram too (since Facebook owns Instagram.)
3. Define your campaigns' goals
By creating your ad campaign through Facebook Ads, you can determine exactly what your goals are. Depending on what your main marketing goal is, you can set your marketing objective to drive traffic, engagement, lead generation, and more.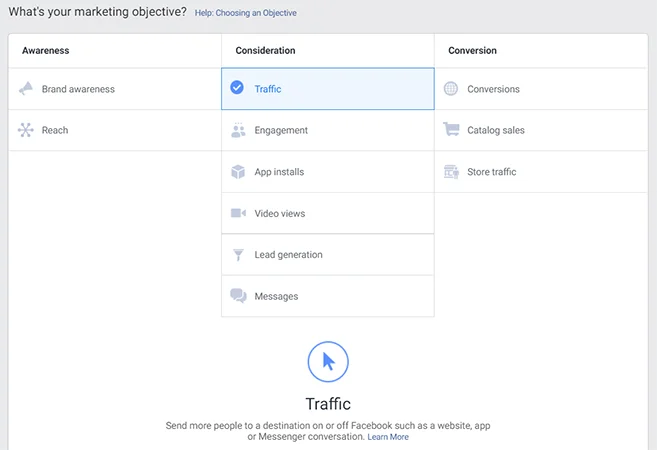 You can also choose from more objective campaigns that aim to drive traffic to your page, engage with your target audience, convert, or even get your leads to take a specific action, such as installing your app. Facebook Ads' guidelines can help you choose the best goals if you're unsure how to proceed.
4. Find qualified leads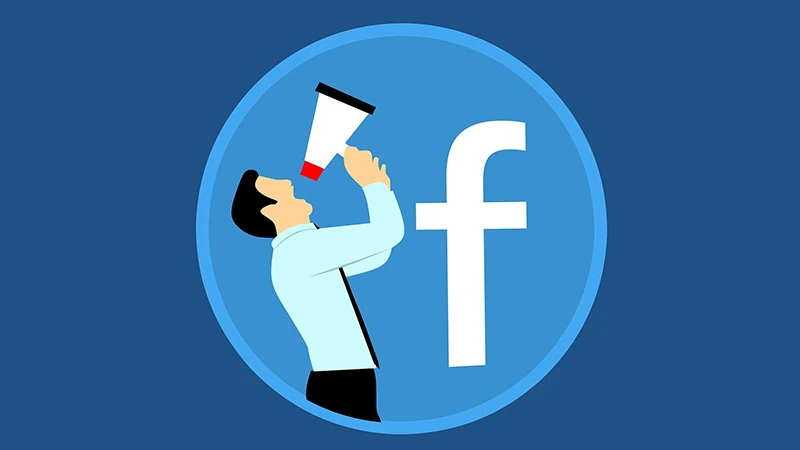 One of the top reasons you should use Facebook Ads is that, regardless of your campaign goals, Facebook will ensure you'll find profiles that match your buyer persona. This means your ads won't appear randomly to every social network user, but rather to people who are most likely to engage with them.
You can create filters for your campaigns, such as aiming to reach a specific age range, or directing your Facebook ad to only women/men, etc. Depending on your niche, consider your audience profile and tailor your campaign to get the best results from social media marketing. Of course, you can also use the retargeting tool to further ensure your chance of success.
By finding the ideal target audience on Facebook, you can use a feature to clone your ideal audience so you can extend your reach and identify other potential targets that fit your ecommerce buyer persona. This will allow you to boost your ad reach and get even better results.
5. It's better than organic reach
Here's the truth about marketing on Facebook: You need to use Facebook ads if you want consumers to discover your business.
Intentionally, the social media platform has been working for years to reduce the visibility of organic business page posts as an effort to get them to learn how to run Facebook ads. As presented by Medium, not even 0.5% of your followers will see your new content updates after you create your Facebook page.
Therefore, another of the top reasons you should use Facebook Ads is because you'll need to if you want to leverage social media marketing on this platform. To business owners, this may seem frustrating, especially since it seems like you're being forced into it.However, you'll be losing out big time if you don't consider that targeted ads have the potential to generate immediate results, while SEO and organic content take much longer.
Leverage Facebook ads and integrate them with JivoChat
Thank you for reading! Now you know a little bit more about:
Where your customers are;

How to run Facebook Ads/Facebook ads costs and;

How Facebook ads can help you find qualified leads and increase brand awareness.

Did you know that Facebook Messenger can be integrated with business messenger, JivoChat, allowing your team to provide a seamless customer service experience? See why you should integrate JivoChat with Facebook here.
Like what you've read?
Sign up and try JivoChat for yourself!
It's free and only takes a couple of minutes to download.