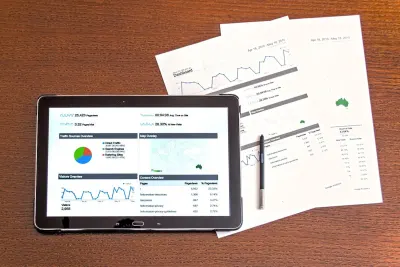 The 5 Best Marketing Analytics Courses
Jaqueline Corradi
Content Manager
When creating marketing strategies, a professional can base their decisions on data analysis. Instead of just guessing it's possible to use previous market research, key performance indicators that the company keeps track of,  and other valuable information to increase the chances of success. But to enjoy those data, you need to know how to analyze them, and that's why marketing analytics courses can help you.
Once you master the skills for making data-driven decisions, you can boost your career in your current place of employment, or expand your chances to find new jobs. With the development of artificial intelligence and other technologies, knowing how to read and interpret data has become a very important asset, and can make you stand out. 
Besides, if you are an entrepreneur, developing your own brand, you can use everything you will learn to diminish the chances of errors when promoting your products and services. Check out the article to know more about it.
Best Marketing Analytics Courses
With the Marketing Analytics course, you will learn the most important marketing metrics and how to apply them to your data. You will understand what are the right questions to ask from your data. 
Besides, you will be able to build a dynamic dashboard to summarize your analysis. The course also explains how to build a marketing initiative forecast model from the ground up, and how to analyze a company's PPC marketing campaign using key metrics. 
Workload: 5 hours 
Certificate: includes a certificate of completion
Main topics:
Web analytics
Traffic sources
Time spent on site
Bounce/abandonment rate
Social media analytics
Engagement
Impressions and reach 
Digital ad analytics
Click-through-rate (CTR)
Cost-per-click (CPC)
Applying analytics
Customer analytics
Customer acquisition cost
Customer lifetime value
Net promoter score
Modeling out a new marketing initiative
Dynamic dashboards
Access type: full lifetime access 
The Marketing Customer Analytics course will enable you to analyze customers and find the right group for your brand. You will learn how to develop targeting strategies for different types of audiences. 
The course will present you with effective based marketing analytics tools, so you can segment your clients. You can use the data you have to comprehend how to engage with them and catch their attention. Study cases will be presented to you during the lessons so you can learn how the theories work in practice. 
Workload: 2.5 hours
Certificate: includes a certificate of completion
Main topics:
Market segmentation
Targeting
Benefits of segmentation and targeting
What effective segmentation is
Bases for segmentation
Implementing segmentation and targeting strategies
How to read and interpret the Crosstab Data
Finding mass and niche markets
Geo market analytics
Location-based market analytics
Retail marketplace analytics
Access type: full lifetime access 
Estimating trends and seasonal aspects of sales are some of the things you will get to know by doing the course Forecasting Models With Excel. You will become proficient in using powerful tools like Excel Solver. 
This marketing analytics course will also teach you how to use S Curves to forecast sales of a new product. You will be able to interpret the result of the Linear Regression model and translate it into actionable insights as well. 
Workload: 6 hours
Certificate: includes a certificate of completion
Main topics:
Basics of forecasting
Getting data ready for the regression model
Descriptive data analytics in Excel
Variable transformation in Excel
Forecasting using the regression model
Forecasting in presence of special events
Identifying seasonality and trend for forecasting
Forecasting models for new products
Access type: full lifetime access 
The Marketing Analytics and Retail Business Management Using Excel course will enable you to perform RFM (recency, frequency, and monetary value) analysis to maximize profit from marketing campaigns. You will also learn practical concepts of how to get revenue from optimized price points in the case of bundle products.
Besides, the course explains how to calculate a customer's lifetime value under different scenarios and how you can use it to increase profitability. Another topic it approaches is how to analyze the seasonal aspects of sales.
Workload: 8 hours
Certificate: includes a certificate of completion
Main topics:
Forecasting
Getting data ready for the regression model
Forecasting using the regression model
Handling special events like holiday sales
Market basket analysis
Identifying seasonality and trends for forecasting
RFM analysis
Pricing
Estimating demand
Evaluating pricing strategies
Lifetime customer value
Variations and sensitivity analysis
Access type: full lifetime access 
When the subject is marketing analytics, a tool that has been broadly used to measure performance and gather data is Google Analytics. This course aims to help you understand how to use this platform, and be able to see how your website is performing. 
You will learn how to identify the most popular pages on your website, find out which marketing strategies are bringing in the most web visitors, and get to know the profile of your audience. The course also teaches you how to set up goals in Google Analytics. 
Workload: 2.5 hours
Certificate: includes a certificate of completion
Main topics:
Create a Google Analytics Account
Install Tracking Code
Load Demo Data from a Real Online Store
Add Filters to Remove Internal Traffic
Analyze Real-Time Reports
Analyze Audience Reports
Analyze Acquisition Reports
Analyze Behavior Reports
Deep Dive Into Data with Dimensions & Segments
Track Marketing Campaigns with Campaign Tagging
Add Colleagues to Google Analytics
Configure Goal Tracking
Remove Spam Traffic
Set Up Custom Alerts
Master new features like Analytics Intelligence
Access type: full lifetime access 
Choose the Best Marketing Analytics Course for You
As you can see in the descriptions of the marketing analytics courses, this area covers several significant aspects. Learning how to implement analytics skills in marketing will benefit a business in multiple ways, such as converting leads into customers, increasing customer loyalty, and improving the productivity of the whole team. 
Take a deeper look at the courses, and what they can offer you, then choose the one you prefer. As you start taking one of these marketing analytics courses, try to put into practice what you see in the lessons in your current projects. This will help you to assimilate the techniques better.
Like what you've read?
Sign up and try JivoChat for yourself!
It's free and only takes a couple of minutes to download.