Canva Website Builder: How to Use It
Jaqueline Corradi
Content Manager
Canva website builder is a solution for many people who don't know how to code or design web pages to create their own website. You will be able to create different types of web pages and personalize them. 
To make it even easier, it's important to get acquainted with the tools offered by Canva and explore its features. Test layouts, different templates, and the numerous possibilities offered by the software. Check out the article to learn more. 
Canva was launched in 2013 and it's defined as "an online design and visual communication platform". On its website, you can use a drag-and-drop editor to make various design pieces, such as presentations, wallpapers, infographics, flyers, posters, and book covers.
You just need to choose the format, and then insert the graphic elements in the editor. For example, you can design a poster using a pre-built template, then add images, text, stickers, resize and position every item. 
To use the Canva platform, you need to create an account first. They offer free and paid plans, the paid one gives access to more tools and premium features. Many people enjoy the app because you don't need to be a professional to design pieces for web or printing. If you have an online store, for example, you can create banners or Instagram posts to promote your products.
Canva Website Builder
In 2022 Canva launched the Canva Website Builder, which means you can use the platform to make a website too. According to them, more than 2 million websites have already been created. 
You have the option to build every page from scratch or choose a pre-built template, the website is automatically optimized for desktop and mobile devices. Other advantages are Canva's photos, fonts, and illustration library, and it will host your website as well.
Highlighted Features:
Easy to create and customize
Free templates and layouts
Photos, icons, and illustrations available
Responsive design
Website insights
No coding required
Canva editor
Completely customizable
Host your website
Purchase a domain name
How to Use Canva Website Builder
1. Create an account on Canva
All you need to do is access the website, click on "Sign up for free", and follow the instructions. After that, you can choose to continue using Canva for free or choose one of the paid plans, which offers access to other tools. It's possible to use Canva Website Builder with the free plan, however, there is a limit to the websites you can create, and you can't use premium graphic elements.
2. Click on "Website"
Once you have created your account and signed in, on the home page, select the option "Website". You will be redirected to the website builder section.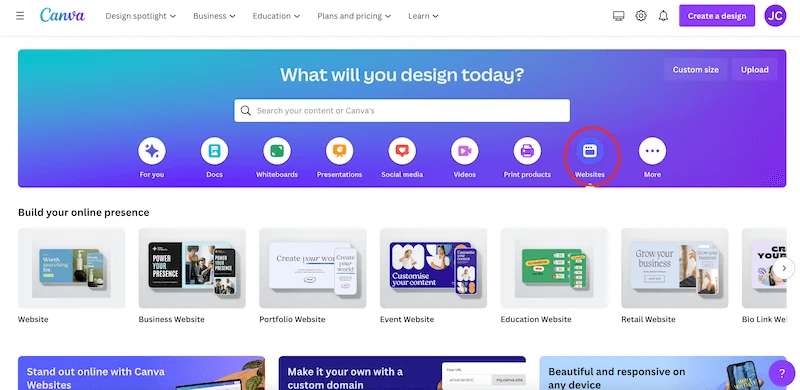 3.  Select a Pre-Built Template
What's the purpose of your website? Do you want to create a portfolio website, a personal blog, an online store? It's essential to define what your website is about, so you can choose an appropriate template. 
To help with that, make a list of sections and features you wish to have. After choosing the template, click on it, and you will be redirected to the Canva website editor.
 If you prefer, you can opt to create a website without using a pre-built template, then you will have to click on the type of website and select "Create blank". However, in this case, you need to start from zero and design from scratch.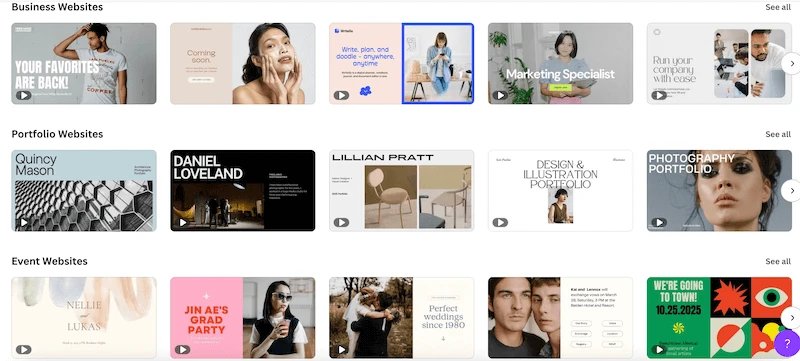 4. Edit the Website 
In the Canva Website Editor, you will customize your website. On the left side of the page, there are several tools to do that, such as "Elements", "Text", and "Draw". You can even use an AI web design tool, where an image is generated according to what you write. 
You have the option to upload images, and other elements from your computer too. Use the drag-and-drop function to position every element of each page. Once you are finished, review every page, to make sure that you didn't forget anything and there isn't any mistake like misspelling words. Click on "Preview" to check how the website will be shown.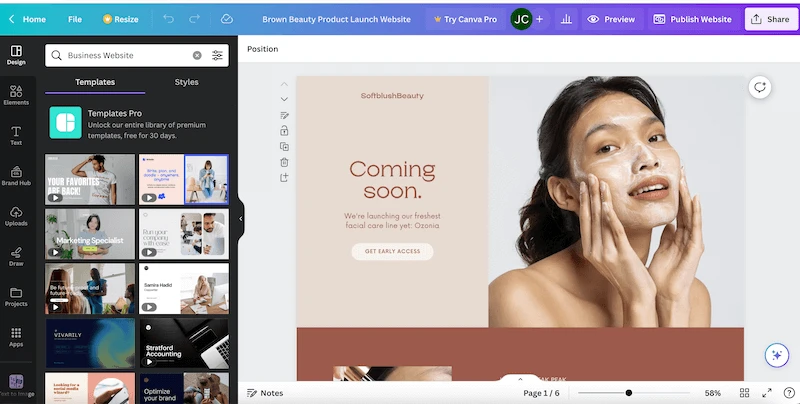 5. Publish Website
After you have finished creating your pages on Canva Website Builder, click on "Publish Website". You will be redirected to define the domain you will use and other details. Don't forget to click on "Resize on mobile", so the pages will appear correctly on all devices. Select the option "Continue",  then write a website description, and click on "Publish".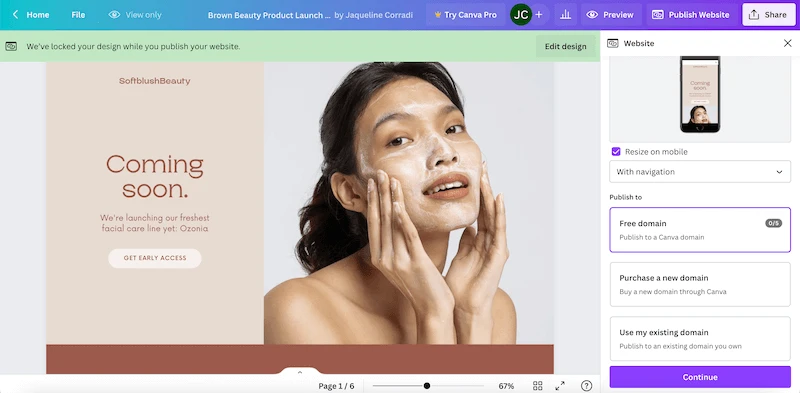 Canva Website Builder Template Examples
Canva has several template options, which you can choose according to the type of your website. Then, customize the design to add your brand's visual identity to it. The font, color palette, images, and every element must be well-aligned to the message you wish to convey. It also should provide a good user experience. 
When editing a template, pay attention to the proportions of all the elements. Avoid adding too much information, which can make it difficult to focus and navigate through. Don't forget the readability, pay attention if the contrast of the background and the text doesn't make it difficult to read the text.
Business Website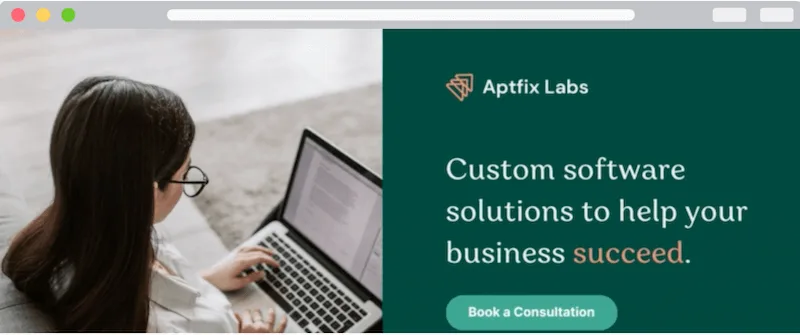 Event Websites
Education Websites
Enjoy Canva Website Builder
Canva Website Builder is easy to use, as you can see, and if you already use the platform you will realize the editor is very similar to when you create other design projects with this tool. However, keep in mind that a website needs to be constantly updated, and enriched with high-quality content. 
Creating a great layout isn't enough to conquer readers. It may even make them access one of your pages, but they won't stay, and you won't achieve your goals. Before opening Canva website builder and putting what you have learned into practice, plan your website, and organize yourself on how you will manage it once the website goes live.
Like what you've read?
Sign up and try JivoChat for yourself!
It's free and only takes a couple of minutes to download.