14 AI Web Design Tools to Create a Website
Reading time ≈ 12 minutes
Jaqueline Corradi
Content Manager
Artificial intelligence is revolutionizing several areas of technology, and with that AI web design has been created. When it comes to designing websites, landing pages, newsletters, and other digital arts, you can find different types of tools that use AI to facilitate your work. 
It isn't necessary to be a coding or designer expert with the solutions AI provides. It's possible to use an AI website builder, for instance, that will come up with a website layout based on some questions you need to answer. It simplifies and speeds up different processes. Check out the article to learn more about it.
What's AI Web Design?
AI web design can be described as an area of web design that uses artificial intelligence to create design products such as website templates, logos, email templates, landing pages, illustrations, images, and much more. 
AI web design includes different types of tools: website builders, image editors, font type creation, color palette generators, and logo makers for example. Web designers can enjoy artificial intelligence to automate tasks, and focus on more difficult processes. 
Why Use AI Web Design Tools
Imagine you have to create a website from scratch but you don't have any experience with that, or you are a web designer with multiple projects to be delivered soon. AI web design tools can benefit both types of people. 
Don't Require Special Skills
For someone who doesn't have coding or design experience, you can use AI web design solutions to make a website template automatically. Most AI website builders enable you to do that by asking a few questions about the type of pages you want to build, your website goals, and business characteristics, and then the artificial intelligence delivers a layout based on your answers. 
You don't need to spend time or money on a drag-and-drop editor, the AI comes up with a personalized template in a few minutes. However, you can still modify the details that don't meet your expectations.
 If you don't want to use AI to build the website, you can enjoy it to create your logo, make illustrations and even edit images, without requiring you to have experience in any of those tasks. 
Automate Tasks
On the other hand, if you are a web designer,  it doesn't mean AI web design tools will replace you. Your creativity and knowledge remain valuable and unique. With AI, you can skip time-consuming tasks and assign them to artificial intelligence. 
Instead of losing hours editing an image, use an AI web design tool, and only review it to give your final touch. Are you looking for the right color palette? You can use a color palette generator by uploading the photo or video that is your reference, and you will receive it automatically. 
You avoid spending time choosing each color and creating multiple combinations until you find the right one. 
AI Web Design Benefits
Some of the benefits AI can offer are:
Quick image and text generation
Automatic image enhancement
Automatic background removal
Decrease costs
AI-generated movement
Build a website quickly and easily
How to Choose AI Web Design Tools
There are some aspects that you should consider when choosing AI web design tools. Pay attention to what they can offer to you and how they will make your tasks simpler  
Easy-to-Use
An AI web design tool must be easy to use. That's one of the most important requirements. Because those tools were developed to facilitate your job, not complicate it, if you find it too difficult to implement artificial intelligence in your project. 
It will take more time to learn how to use it than enjoying its benefits. In the end, it isn't worth the hustle. Therefore, look for AI solutions that provide an intuitive interface.
Price
When choosing which AI web design tools you are going to use, analyze the price. The benefits must be worth the investment you are going to make, otherwise, it's better to look for other solutions. Many platforms offer tools for free or a pre-trial, which is useful to ensure you will choose what you are really looking for. 
Features
Pay attention to what features the AI web design tools you are going to use offer. For example, if it's an AI website builder, it should allow you to customize the layout after delivering it to you. You may also need to integrate your website with third-party applications. 
Make a list of the features you wish to enjoy in the AI web design tools of your choice. Some essential features are: 
Intuitive interface
Mobile-friendliness
Tools for ideation and conceptualization
Customer support
14 Best AI Web Design Tools

Considered one of the best website builders in the world, Wix offers the Wix ADI (Artificial Design Intelligence). With these tools, all you have to do to create your website is answer a few questions. 
The AI takes care of the rest. You will get a fully designed website with content and images built-in. But, you still have the option to make changes after seeing the result. It's possible to add your own images and text, for instance. 
Key features:
Easy to use
Customizable
SEO tools
Marketing tools
Responsive design
Analytics tools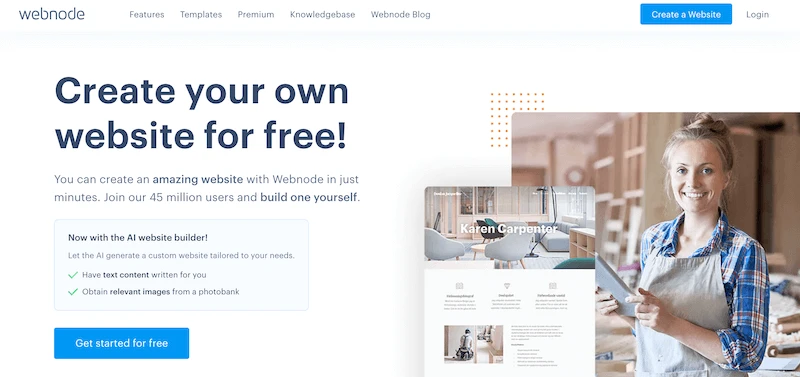 If you want to build a website with just a few clicks, Webnode enables you to do that with the help of AI. You can use its artificial intelligence to have text content written for you and obtain relevant images from a photo bank. 
Besides, Webnode offers several benefits, such as redesigned pages that can be customized by adding images and videos, changing colors and fonts, and inserting your brand's identity into it.
You will also rely on safe and stable hosting servers, which enable you to get more space and higher bandwidth as your website traffic grows. Use the backup feature to make regular backups of your website and keep your data safe. 
Key features:
User-friendly website builder
Reliable hosting
SEO tools
HTTPS for safe browsing
Edit on any device
Pre-built templates
Responsive design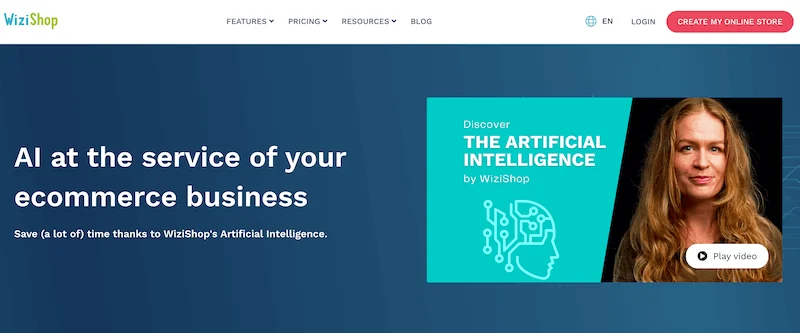 WiziShop uses artificial intelligence to help you create your online store. You can use it to write product descriptions, translate texts, create advertisements, and write meta descriptions too.
 If you are going to have a blog, it's possible to enjoy WiziShop AI to get insights about the themes you will approach, and even find images to illustrate it. You can build your ecommerce in just a few minutes and count on video training and customer support to solve your doubts. 
Key features:
Automate your ecommerce with AI
SEO tools
400 pre-integrated features
Video training
Easy to use
Hosted in the cloud
With the GetResponse AI website design tool, you can have a personalized website created in minutes just by answering some questions. You will have to answer questions like "What type of business do you have?", and "What kind of website do you want to build?", and select the features you wish to add to your website.
Based on your answers, artificial intelligence will analyze what is the best structure to design your pages and deliver a website completely designed. After this, you can add your content, make changes you feel necessary, and launch it. 
Key features:
Easy to use
Fast
SEO optimization
Analytics tools
Marketing automation
Sign up forms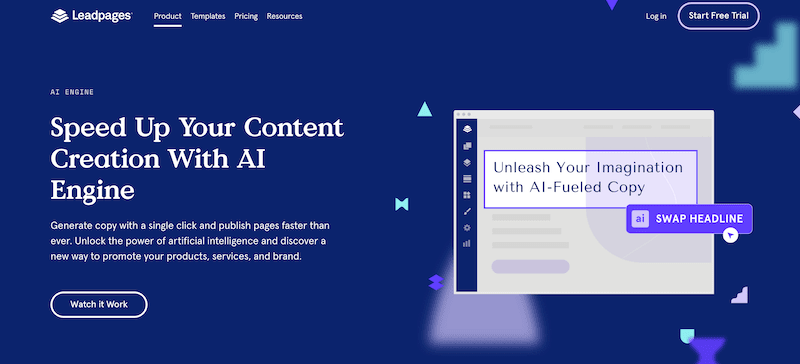 LeadPages AI Engine enables you to generate copy with a single click. You can enjoy this tool to create headlines automatically. The AI will suggest several options and you choose the one that fits your needs best. 
Another advantage is that you can optimize the performance of your pages by creating multiple A/B tests with artificial intelligence suggestions. 
LeadPages also provides several other features for you to build amazing landing pages, for example, built-in conversion guidance, and page editor. You can integrate with other apps too, like Google Analytics, Mailchimp, and Salesforce to create unified marketing campaigns.
Key features: 
Pre-built landing page templates
Built-in conversion guidance
Unlimited lead collection and traffic
Unlimited page publishing
Unparalleled page load speed
Code-free drag-and-drop customizations
A/B testing
Integrations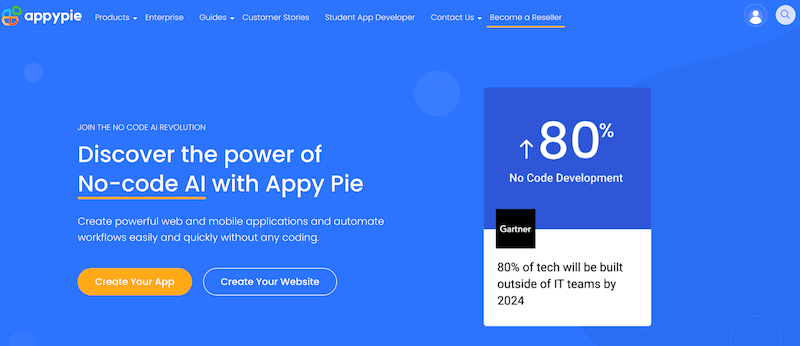 AppyPie AI web design tool is easy to use and you can have your website ready to launch with a few clicks. First, you will need to describe your website in one or two sentences, then click on "build". 
You will have to log in to your Appy Pie account or create one. After that, you can test the website design that was made just for you. If you don't like the results, you can click on "regenerate" to get other suggestions. If you decide to use it, click on "customize" to personalize the details of the pages. 
Key features: 
Easy to use
Free domain
Free Google Workspace
Customizable
Convert website to mobile app
Canva also has its own AI web design tool. It's an artificial intelligence image generator, which you can use for free. All you have to do is type the image you wish to make and the AI will come up with a suggestion for you. 
You can choose the size of the image or select a predesigned one, then type what you have in mind. The AI will give you image options according to what you have asked, and you can use Canva edition tools to make your own design. 
Key features:
Image generator
Generate images from texts
Various art styles
Easy to use
Fast
Edition tools
You can use Shutterstock AI image generator to boost your website as well. This AI web design tool is easy to use and allows you to select the image style you wish to make. For example, it can be an illustration, a 3D image, a scene, or a photo. 
First, you will imagine the image, then type what you want, and click on "generate", then the AI will come up with suggestions. Use the Shutterstock edition tools to edit the image. Once you are done, it's possible to download the image and use it in your projects. 
Key features:
Easy to use
Create images from text
Image editor
Multiple image style options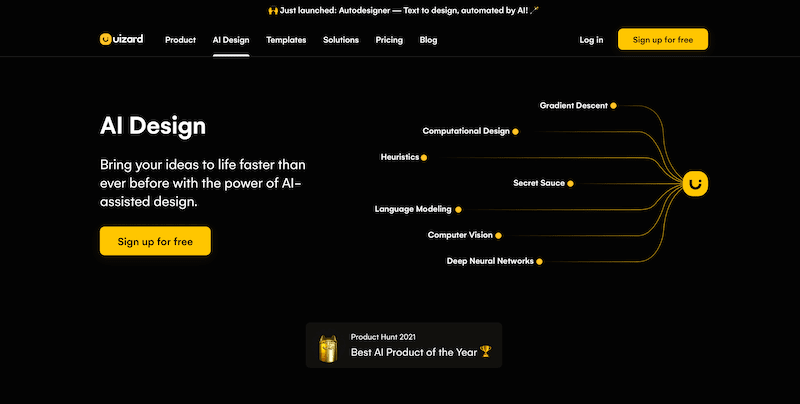 Uizard has an AI design tool that transforms screenshots to designs, hand-drawn sketches to wireframes. It was developed to allow you to create UI design projects easier. For instance, you can type your idea, and the AI will generate a mockup based on that. 
Another possibility is to upload a sketch, which will be scanned by the AI and turned into a digital design. It will save you time and doesn't require special skills to make an attractive interface.
Key features:
Easy to use
Generate multi-screen mockups
AI UI design tools
Collaborate with your team
Text assistant
Editor
Created by the same company responsible for the Chat GPT, OpenAI, DALL.E 2 is an AI web design tool that creates images from text. 
You will need to describe in detail the image you wish to make, and click "Generate". Then the artificial intelligence will build an image based on what you have written. You can also upload an image to edit it. 
Key features:
Easy to use
Create images from descriptions
Edit images
Expand images beyond the original canvas
Create variations of the same image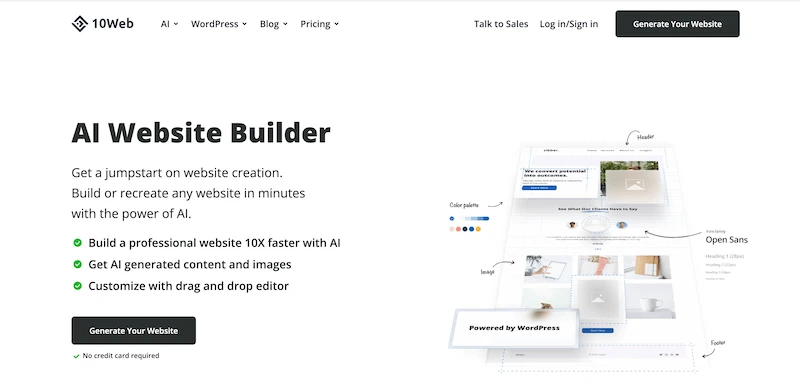 With 10Web, you can enjoy artificial intelligence to make your website. You just need to answer a few questions and AI will generate tailored content and images based on your answers. After that, you can use the drag-and-drop editor to edit the pages and give your final touch.
10Web also offers ecommerce and marketing tools to help you build a high-performance website and achieve your goals. You can also count on automated hosting, real-time backups, 1 click migration, and a safe platform. 
Key features:
AI website builder
AI business name generator
AI SEO tool
Drag-and-drop editor
Easy to use
Automated hosting 
Real-time backups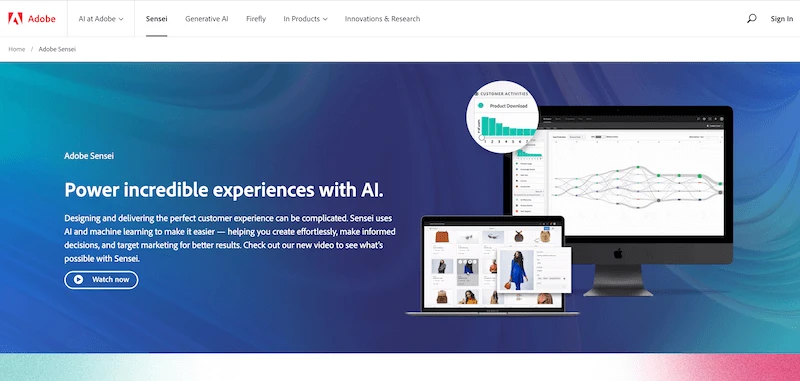 Sensei is the AI web design tool created by Adobe, and it comes with several features. You can use it to save time when editing images, for example by applying the same change on a video, like cutting an object from a scene.
Another possibility is to make an object search and look for insights for your projects. Adobe Sensei can be used as well to optimize and scale experiences, predict customer behavior based on data,  and engage audiences with custom offers and headlines. 
Key features:
Easy to use
Object search
Automatic image edition
Remove unwanted objects
Data-driven insights
AI-powered analytics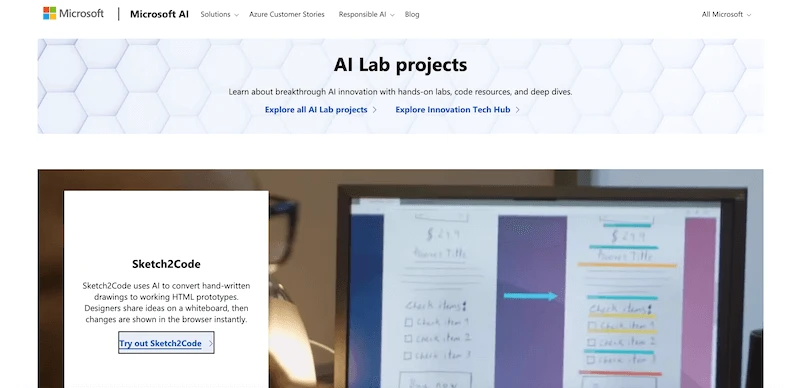 Sketch2Code is an AI web design tool developed by Microsoft. It enables you to convert hand-written drawings into HTML prototypes. Imagine, you and your team are sketching an interface on a whiteboard, this AI uses computer vision to understand what has been drawn and transform it into code. 
Then, you will have your web page designed as you want without needing to know how to code. Microsoft has been working to perfect this tool and it's also implementing AI into other projects. For example, using optical character recognition (OCR) to extract a handwritten math equation and show how it can be solved. 
Key features:
Convert drawings into HTML prototypes
Facilitate teamwork
Use computer vision
Dynamic design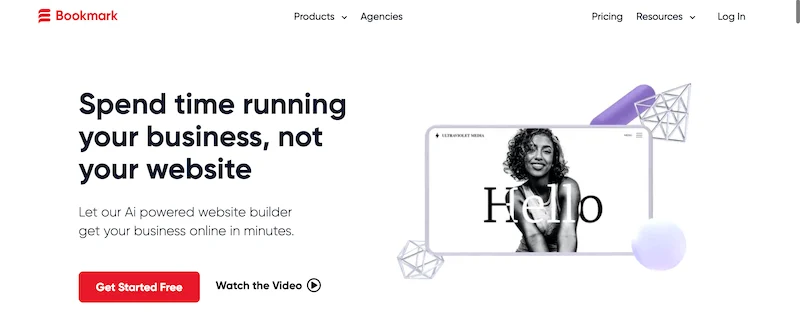 Bookmark is an AI-powered web design tool that allows you to create beautiful websites without coding. You will start by answering what your location, business type, and goals are, that's where AIDA, the artificial intelligence design assistant, gets to work. 
AIDA will build you a personalized website in minutes. You can use the self-service editor to make changes as you see fit. After your website is launched, AIDA analyzes its performance, identifies which elements are more efficient to achieve your goals, and sends you smart predictions to improve user experience.
Key features:
Easy to use
Customization tools
Visitor score
Smart predictions
SEO optimized
Mobile-ready
Enjoy AI Web Design Tools
Now that you have discovered some amazing AI web design tools, explore what they offer, and discover the ones that suit your needs. After that, start implementing them into your design projects. You will see how you will be able to develop interfaces, create websites and edit images much faster.
Like what you've read?
Sign up and try JivoChat for yourself!
It's free and only takes a couple of minutes to download.