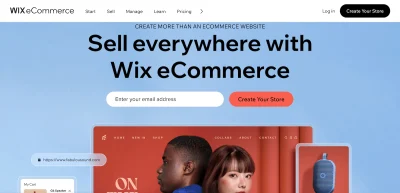 Wix Ecommerce: Build a Website and Sell Online
Jaqueline Corradi
Content Manager
Wix ecommerce platform has been one of the most popular platforms for creating online stores for years, and this hasn't changed in 2023. Many reasons explain that, like an easy-to-use website builder, management, sales, and marketing tools. 
Another benefit is you don't have to know how to code or design to build your ecommerce and start a new business. Whether you are a new entrepreneur or someone who owns a physical store and wants to expand your business to the digital world, Wix may help you with that. Check out the article to learn more. 

Wix Ecommerce allows you to sell on multiple online channels and manage everything in a single platform. You can have your ecommerce website, and commercialize your products on marketplaces, like Amazon and eBay, and social media channels such as Facebook and Instagram. 
You will be able to keep control of the orders, customer interactions, and inventory from all these channels without having to go from app to app. This helps to save time, enhance productivity, and reduce errors such as sell-out-of-stock items. There are many tools and services that make Wix ecommerce stand out.
Reliable infrastructure
Wix has more than 200 content delivery networks (CDN) distributed around the world to ensure your content will be delivered quickly and efficiently. This avoids problems such as unavailable pages, and downtime. 
To ensure your website won't go down even in unforeseen circumstances, Wix provides built-in automatic disaster recovery. The platform monitors unusual activity and proactively reroutes traffic.  
Fast Media Delivery 
Your media is automatically adjusted by Wix servers. It's converted to WebP for fast downloads, and experience regardless of the device your website is accessed on. Besides, the Wix websites use HTTP/3 and HTTP/2. 
It's possible to test your website speed on Wix and get valuable insights. Performance data is anonymously collected in real-time to identify the problems and enable improvements. Another advantage is Wix automatically optimizes images that you upload to your online store to prevent it from slowing down the website loading time. 
Wix Security
Security is a fundamental issue on the internet, mainly when it comes to selling and buying online, after all, you are dealing with sensitive information. Considering that, Wix implements security best practices in each one of its processes.
Data in transit is encrypted using HTTPS, TLS 1.2+, and automatic SSL. On the other hand, data at rest is encrypted with AES 256–. Besides, every website built on Wix is compliant with the highest Payment Card Industry standards. You can also count on Anti DDoS protection. 
Starting with Wix Ecommerce
The first step to selling online with Wix Ecommerce is building your website. Even if you are going to sell on marketplaces and social media channels, having your website is very important because it gives you more autonomy, and adds credibility to your brand. 
Ecommerce Website
Creating an ecommerce website with Wix is simple and fast. You can choose among hundreds of pre-built templates, divided by themes, and personalize them according to your brand's identity. It's possible to select the color palette, add graphic elements, images, texts, position and resize them as you prefer. 
If you haven't developed your brand's name and logo, you can use the  Wix name generator and logo maker. You just need to answer a few questions to receive multiple suggestions, then choose what you prefer, 
To promote sales, you can enjoy Wix marketing tools to create campaigns with discount coupons, loyalty programs, and subscription forms. The platform also provides analytics tools to analyze key performance indicators and understand your customers better
Ecommerce Templates
Wix Ecommerce provides more than 500 templates to choose from. They are professionally designed and don't require you to have design or coding skills to customize them. You will find templates in categories like fashion & clothing, jewelry & accessories, sports & outdoors, and much more.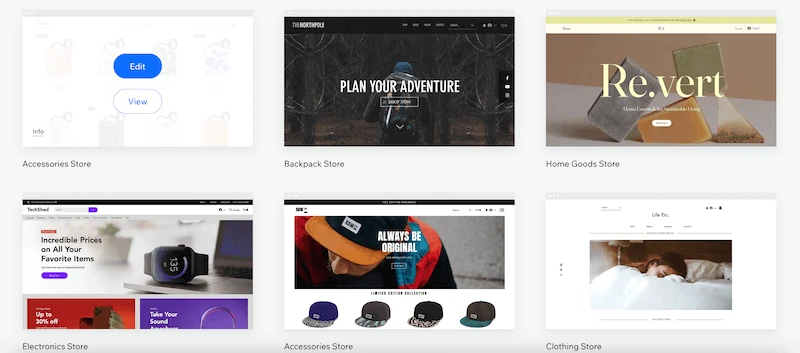 How to Create an Ecommerce Website using Wix
Create a free account at Wix, and sign in;

Choose a pre-built template or build the interface from zero using the Wix editor;

Personalize your online store, create every section and page;

Add products

Set up payment and shipping methods;

Use an existing domain or create a new one;

Review and publish your store. 
Sell with Wix Ecommerce
Wix ecommerce provides much more than website builder tools to have an online store. It's important to explore them as well, 
Dropshipping 
Dropshipping is a business model where you can have an online store without having to be in charge of storing, packing, and shipping the products. You can partner with third-party companies that become responsible for that, and your activities will be focused on promoting sales, customer support, and managing the website and other sales channels, 
Besides, you can connect your Wix ecommerce website to the Modayst Marketplace, and find the right products to sell on your business. You will encounter several experienced and reliable suppliers that provide high-quality items.  
Print on Demand
The business model print on demand is an interesting alternative if you don't want to invest in buying a high quantity of products, and taking care of storing and maintaining them. In this case, the products will be manufactured on demand, as the name implies. 
You can design and customize your products, then enjoy Wix's partnership with print-on-demand suppliers to find the best one for you. Your company will be responsible for making and shipping the items. Wix offers several tools for designing products, such as merchandise, artwork, and branded items. 
Sales Channels
Besides having your ecommerce website, you can integrate your other sales channels on Wix ecommerce. It's possible to sell on Amazon, Instagram, Facebook, eBay, Wish, and even have your own mobile app, then synchronize the inventory and track deals from all of those channels on the Wix platform. 
Sell Internationally
Different from a physical store, when you sell online you can cross borders and close deals with customers all over the world. However, it's important to consider user experience to compel them to buy on your ecommerce website. This includes translating your website to multiple languages, which is possible to do with Wix.  
Enjoy Wix multilingual to translate the content of your website into more than 180 languages. You can include a language menu where the users choose the language they prefer, or set up the auto-switch feature, so the website is shown in the country's native language where it's open. 
You can accept payments from all over the world by connecting with payment gateways from different regions. Don't forget to add a local currency converter to the website, so customers will know how much they will pay on their currency.
Manage Your Store With Wix Ecommerce
Setting up an attractive website, and putting your products available on social media channels and marketplaces is just part of the job of selling online. You need to know how to manage your business properly to thrive. Considering that, Wix Ecommerce has several management tools. 
At Wix integrated dashboard, you can keep track of all the orders. If you make any changes, the product catalog and inventory will be updated on all the sales channels, saving you time. To speed up the shipping process, you can partner up the best courier companies from multiple regions.  
To facilitate the process from the purchase to the delivery, you can add suppliers and manufacturer partners to the Wix ecommerce system of your business. This way, they will be notified when there is a fulfillment request. 
You can also integrate productivity apps to Wix to enhance the workflow, like Trello and Google Docs. Use the store analytics to monitor sales performance, create customized reports, and make data-driven decisions. 
Ecommerce Marketing
Wix Ecommerce Marketing allows you to develop strategies to promote your business and sell more. You can create email marketing campaigns using the Wix email editor to personalize your message, and then personalize the emails with every contact's name. 
Another Wix feature is ad campaign creation. It allows you to tailor each ad based on your target audience and your goals. Other marketing tools provided are customizable coupons, pop-up banners, and Wix video maker. 
Wix Payments
You don't need to worry about looking for payment gateway partners for yourself, Wix already offers a solution to that. You just need to connect your online store with Wix Payments and you will be able to accept major credit and debit cards, Apple Pay, and other popular payment methods. 
Wix Ecommerce Pricing
Wix ecommerce plans are divided into three categories, Business Basic, Business Unlimited, and Business VIP. All of them offer free domains for 1 year, allow you to create a custom domain and customer accounts, and accept payments. 
The bandwidth is unlimited for the three, but the storage space varies, 20GB, 35GB, and 50GB respectively. In all of them, you can upload up to 50,000 products, sell on social channels, and use the abandoned cart recovery feature. 
Wix Ecommerce Review Conclusion
Analyzing all the features in Wix ecommerce, it's possible to conclude the platform is a complete one when it comes to enabling beginners and experienced entrepreneurs to sell online. With an intuitive interface, its usability is a positive point that will facilitate the onboarding process.
Besides,Wix takes into consideration the multiple aspects necessary to sell online. In a single platform, you can set up to sell on multiple channels and choose payment and shipping methods. You can enjoy the 14-day free trial to test the software and make sure it's the one for you.
Like what you've read?
Sign up and try JivoChat for yourself!
It's free and only takes a couple of minutes to download.