21 Best BigCommerce Apps (Free & Paid) for 2021
June 21, 2021
updated November 15, 2022
Reading time ≈ 15 minutes
Igor Shekotihin
Head of International Growth
In the time since it launched in 2009, BigCommerce has become a leader in the SaaS e-commerce world. Thanks to its innovative and customized approach to solving e-commerce's most challenging problems, countless businesses have reached new heights with BigCommerce. Furthermore, BigCommerce's tiered pricing approach makes it easily accessible for all businesses, regardless of size or complexity.
One of the driving forces behind the innovative approach to BigCommerce are its apps. Not too different from apps that you use on your smartphone, BigCommerce's apps provide a useful link to some of the world's most popular and widely used platforms. From major retail brands to automated and live chat services, BigCommerce's apps have you covered.
Who Uses BigCommerce?
As noted above, BigCommerce is designed for a wide range of businesses from local companies with just a handful of employees to global enterprises with thousands of workers.
While the majority of BigCommerce clients are based within the United States, global clients are beginning to take notice. In total, businesses from over 100 different countries use BigCommerce.
One of the most notable brands using BigCommerce — Skullcandy — experienced massive success (122% YOY increase in orders and an 82% increase in conversion rate YOY) after partnering with BigCommerce.
Up-and-coming brands that netted big gains by partnering with BigCommerce include:
Four Pillars Gin
Yeti Cycles
Saddleback Leather Company
Rock Bottom Golf
EcoEnclose
One of the many reasons these companies chose BigCommerce is its ability to integrate with other popular software and e-commerce platforms.
What Does BigCommerce Integrate With?
Today's e-commerce landscape has forced the need for programs and systems to be able to integrate with one another. No matter how great an e-commerce platform is, if it's unable to link up with other valuable and essential programs, it quickly loses value.
Thankfully, BigCommerce is ahead of the game in this aspect and has both built-in and available integrations with some of today's most valued partners.
Third-party e-commerce platforms that integrate with BigCommerce include:
QuickBooks
HubSpot
NetSuite
Zapier
Salesforce
And many more
What Is a BigCommerce App?
As noted at the beginning of this post, BigCommerce's apps are similar to apps for today's smartphones. These apps enhance BigCommerce's overall capabilities with useful features and integrations. There are nearly 1,000 apps to choose from that build on the solid foundation of BigCommerce.
BigCommerce breaks apps into 20 useful and organized categories that can be easily searched. App categories include:
Accounting & Tax
Catalog & Order Management
CRM & Customer Service
Marketing
Payments & Security
Shipping & Fulfillment
Now, let's look at the details of some of these apps.
21 Best BigCommerce Apps in 2021
With the key background information covered, we can now dive into the focus of our article: The 20 best BigCommerce apps. Read on to learn about the top 10 free and top 10 paid BigCommerce apps.
Free Apps for BigCommerce:
BigCommerce App #1. JivoChat Omnichannel Business Messenger
Source: BigCommerce
Best for: Omnichannel selling and support
JivoChat Business Messenger stands out from the crowd thanks to some unique and valuable features and benefits.
Arguably, the top feature is its omnichannel approach that combines website chats, Facebook messages, emails, and phone calls in a single platform. This streamlined approach creates an unmatched and convenient communication hub for sales and support.
Key features:
Sync omnichannel messaging with popular CRMs
Instant callback option for visitors
Multi-agent chats allow seamless transfer of chats between colleagues
Automatic translator breaks down communication barriers
Optimized loading ensures site speed isn't compromised
Pointer capability enables agents to highlight sections on the site for visitors
Non-intrusive design limits user frustration
Smart triggers can activate a chat based on key events like adding a product to a cart
Seamless integrations via API, webhooks, & mobile SDK
BigCommerce App #2. Omnisend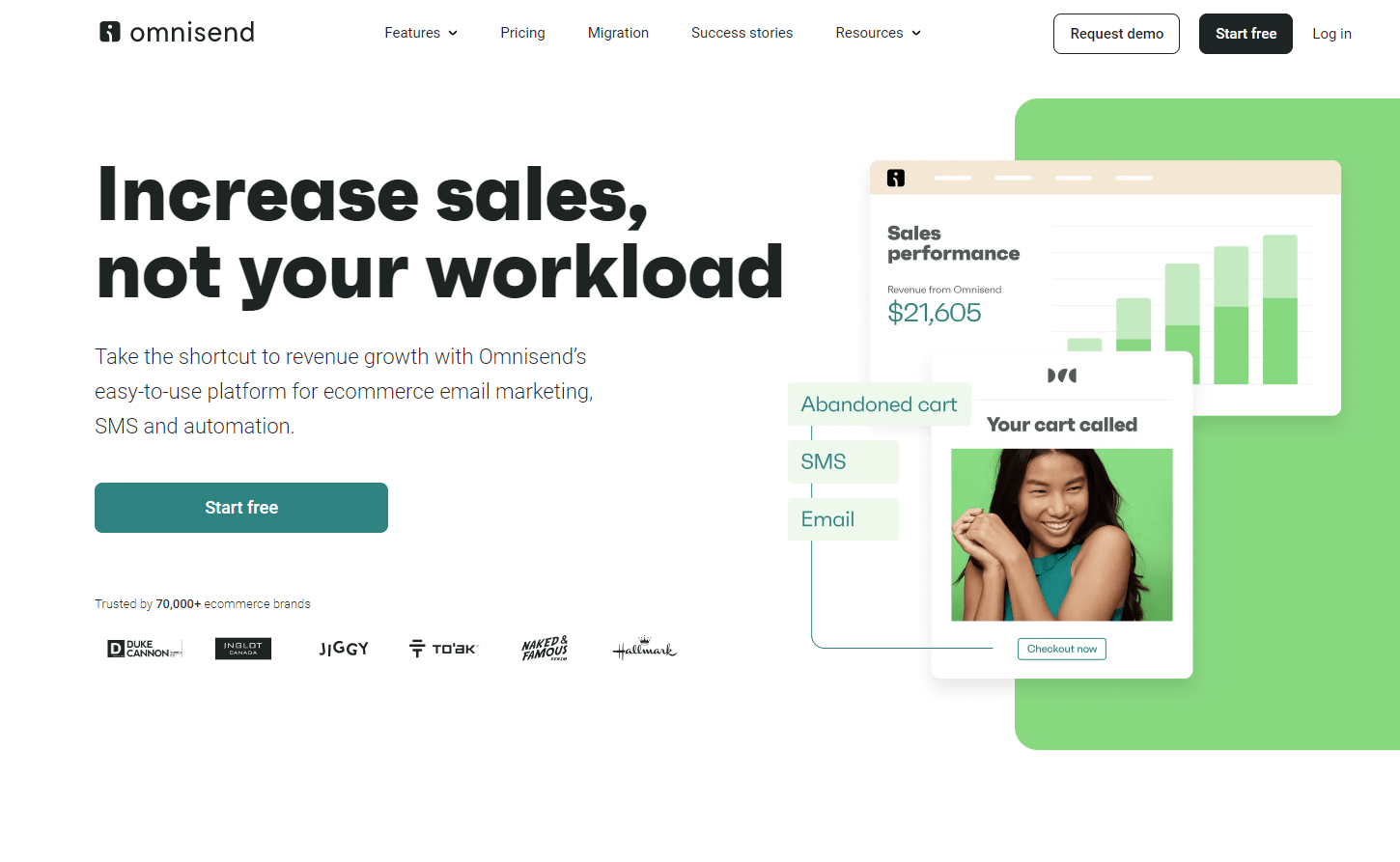 Source: Omnisend
Best for: Email marketers
Omnisend is an email & SMS marketing automation platform that helps BigCommerce businesses build their customer loyalty and generate more sales, all while spending less time doing it. It achieves this largely through automation, with roughly 1/3rd of Omnisend customer sales coming through automated messages.

It also takes care of the entire on-site journey, from list-building (with popups and landing pages), through engagement and activation (with emails, SMS and push), and retention. Reporting shows valuable insights, and its award-winning 24/7 customer support is always on hand.
Key features:
Automatically import branding (logo, fonts, colors) from your store and into your emails and popups
Use powerful automation that sends triggered messages (email, SMS and push) to customers on autopilot
Segment customers easily with high-converting, pre-built segments
Loads of email and popup templates, plus pre-built automation workflows
In-depth reporting and customer lifecycle stages to help illuminate your next steps
BigCommerce App #3. Yotpo Product Reviews
Source: BigCommerce
Best for: Generating product reviews
Are you asking your satisfied customers for reviews? That's exactly what Yotpo is designed to do. BigCommerce customers can take advantage of Yotpo's user-friendly in-mail review form to generate a significant amount of valuable customer reviews. Businesses that use Yotpo's customized product page widgets often see a 30-120% increase in conversion rates.
Key features:
Social curation compiles user generated content across multiple social channels
Community Q&A provides useful answers directly on key product pages
Yotpo ads specialize in turning customer reviews into high-converting ads
Mobile-optimized
Integrations with other key tools and programs
BigCommerce App #4. Fast
Source: BigCommerce
Best for: Optimizing checkouts
In e-commerce, one of the most frustrating places to lose a customer is at checkout, the very last step in the user journey. Fast is designed to simplify the checkout process and prevent last-step lost sales. With the customer experience as the foundation, Fast eliminates many of the most frustrating checkout steps for customers, such as creating accounts, remembering passwords, and completing tedious and lengthy forms.
Key features:
One-click checkout that users can opt into after their first purchase on your site
Submit and process refunds through Fast and BigCommerce
Simple order tracking for previous purchases
Ability to reorder previous items with one click through order tracking dashboard
Guided installation takes just minutes to add to your site
BigCommerce App #5. EasyLockdown Page Locks
Source: BigCommerce
Best for: Site admins
Limiting access to specific areas of your online shop or your entire site itself is a worthwhile strategy in certain cases. Whether you want to limit access to create a sense of exclusivity or provide a special area for specific customers, you'll have the tools you need with EasyLockdown Page Locks.
Key features:
Limit access to specific areas or your entire site with just one click
Grant access to limited areas with secure passwords
Provide specific users or groups access to special pricing areas
Redirect users to a custom page or login form
Give qualified users access to unique pre-order products
BigCommerce App #6. Shippo
Source: BigCommerce
Best for: International shipping
If you have aspirations of opening up your e-commerce store to international customers, Shippo can help you do that. There's plenty of opportunities for mistakes when it comes to international shipping, but not with Shippo. Through Shippo's convenient and user-friendly dashboard, you'll have everything you need to manage shipping rates, label printing, tracking details, and more.
Key features:
Exclusive rates through major carriers thanks to Shippo's negotiated bulk volume discounts
Individual and bulk label printing
Customs paperwork available within the dashboard
Automated return labels
Easily import order information to create shipping labels
BigCommerce App #7. Printful
Source: BigCommerce
Best for: Outsourcing product design and shipment
Looking to market your brand but unsure whether you have the capacity to print and fulfill orders? Printful is the perfect partner in this situation. With over 250 premium, customizable products, you'll have plenty of variety to choose from. Even better, Printful takes care of the headache of storing products and fulfilling orders. This "one-stop shop" approach is the ideal solution for many brands.
Key features:
Large variety of products including apparel, jewelry, home goods, and more
No minimum order quantities for most products
Free design templates available
24/7 customer support
Discounted samples available
BigCommerce App #8. Catalog Transfer: Shopify
Source: BigCommerce
Best for: Transferring Shopify catalog to BigCommerce
This app is ideal for users looking to make the switch from Shopify to BigCommerce. Manually moving over dozens, hundreds, or even thousands of products is a time-consuming task. With Catalog Transfer's simple and convenient interface, the process can be completed quickly with ease.
Key features:
Move products, categories, customers, and options
Guided instruction from logging into Shopify to completing the migration
Up to 10,000 product SKUs can be moved
Single-click installation through BigCommerce
BigCommerce App #9. PayHelm Accounting & Reporting
Source: BigCommerce
Best for: Sales Analysis
PayHelm helps you understand the story behind your sales and how to replicate them. It also serves as an information hub and analysis tool for all of your BigCommerce sales data, giving you insights into buyer behaviors and product performance.
Key features:
Integrates data across multiple BigCommerce accounts
Filter and analyze by product details like SKU, model, size, and more
Detailed customer reports outline critical customer behavior
Marketing data tracks marketing campaign performance
Shipping data trends provide detailed shipping costs and location breakdown
BigCommerce App #10. QuickBooks Online
Source: BigCommerce
Best for: Payment reconciliation
For many people, managing finances and accounting is the most dreaded aspect of running a company. The QuickBooks Online app decreases the frustration and time spent on this task. Automation is the name of the game for the QuickBooks Online app and the foundation of what makes it so appealing. With a seamless integration between BigCommerce and the QuickBooks Online app, you can greatly increase your overall efficiency.
Key features:
Sales receipts automatically generated by BigCommerce orders
Customizable sync schedule (as frequently as every hour)
Fully automated tasks reduce the risk of human error
Integrates with QuickBooks Payments for fast payment reconciliation
Available in all countries
Paid Apps for BigCommerce:
BigCommerce App #11. POS System by ConnectPOS
Source: BigCommerce
Best for: Integrating brick-and-mortar and online payment tracking
An inefficient and buggy POS system can frustrate your customers and keep them from becoming repeat shoppers. POS System by ConnectPOS streamlines the checkout process for a better user experience. Usability and integration are the key for ConnectPOS. No matter what device you're using and even if your business experiences an internet outage, ConnectPOS keeps things moving. Whether you need a simple one-store setup or a multi-store, customizable arrangement, ConnectPOS will work for you.
Key features:
Integrates with major secure payment gateway providers
Real-time synchronization between actual inventory and POS system
Native mobile app ensures ease of use for mobile business
Flexible discount options (individual product, whole cart, etc.)
Staff management and reporting provides key insights
Multi-store and multi-warehouse synchronization
Buy online, pick up/refund in store capabilities
Pricing: $49/month
BigCommerce App #12: Google Shopping by Sales & Orders
Source: BigCommerce
Best for: Managing Google Shopping listings
If you have an e-commerce shop but don't have a presence on the Google Shopping platform, it's likely that you're missing out on significant sales. Luckily, Google Shopping by Sales & Orders is a perfect tool to get caught up and connected to the massive Google Shopping platform. Sales & Orders has made it simple to connect existing e-commerce products and launch a campaign in a short time. With just a few clicks, you can be up and running and selling your products on Google.
Key features:
Import existing products to Google, Facebook, Instagram, and Microsoft Advertising
Build and manage campaigns and distribute across multiple platforms
Set up shipping and tax settings
Automated Google category suggestions to improve product visibility
State-of-the-art feed dashboard
Pricing: Free, for up to 10,000 SKUs. Plans for 10,000+ SKUs start at $20/month.
BigCommerce App #13: ShipperHQ
Source: BigCommerce
Best for: Reducing cart abandonment rates
As noted earlier, abandoned carts and checkouts are the bane of any e-commerce store. Similar to Fast, ShipperHQ includes features that reduce cart abandonment. ShipperHQ provides valuable shipping and delivery options from 50+ carriers and includes cross-border options.
Key features:
Customizable shipping rules and restrictions
Manage real-time rates based on specific needs including same-day delivery
Offer useful checkout features like estimated delivery date and tax calculation
Maintain a database of product dimensions to improve shipping rate accuracy
Adjust shipping rates based on margins
Pricing: Starting at $50/month
BigCommerce App #14: BundleB2B
Source: BigCommerce
Best for: Sales teams with corporate accounts
Technology solutions that typically work for B2C e-commerce stores are often not compatible with the complex needs of B2B companies. Bundle B2B provides features that help your sales team complete sales, and an invoice portal provides visibility into customer purchases and balances due.
Key features:
Corporate account management enables specific user tiers for various roles
Shared shopping lists among buyers from within a company
Convenient and easy-to-use invoice portal
Company address book management
Pricing: Starting at $1,600 upfront & $100/month
BigCommerce App #15: Hawksearch
Source: BigCommerce
Best for: Streamlining product searches
Your site's search function is an important part of the user experience. Hawksearch improves search results for users with features like predictive text and machine learning.
Key features:
Insight driven search results change dynamically based on performance
Spell check & "Did You Mean?" suggestions
Tuning control gives the ability to promote or demote specific products
Visitor targeting can adjust functionality & results based on user characteristics
Powerful exclusion control hides unwanted pages and products
Smart autocomplete and popular searches support specific user journeys
Pricing: Enterprise pricing available upon request
BigCommerce App #16: Sprocket Dropshipping
Best for: Dropshipping
In recent years, dropshipping has become an increasingly popular choice for new entrepreneurs. With low startup costs, essentially no inventory management, and other useful benefits, dropshipping helps businesses start selling their products quickly. Sprocket Dropshipping further simplifies the dropshipping process and offers 24/7 customer support.
Key features:
Guaranteed fast shipping to most of the U.S. and Europe
30-60% discount compared to retail pricing
One-click order fulfillment
Real-time order tracking provides 24/7 visibility for you and customers
Branded invoicing and packaging
Synchronized inventory ensures only in-stock items are available
Pricing: $24/month
BigCommerce App #17: Sellbrite
Source: BigCommerce
Best for: Managing marketplace listings
The challenge of having a presence on a variety of marketplace channels is managing all of your listings. Sellbrite helps you manage your listings on eBay, Amazon, Walmart, and other sites within a single platform — no more repetitive uploading of product images and copying and pasting descriptions.
Key features:
Bulk list products and inventory on major retailer sites and marketplaces in seconds
Save listings as templates to save time when launching new products
Multi-warehouse support
Discounted postage and integrated carriers
Multi-listing inventory sync in seconds
Pricing: Free, for up to 30 orders, with paid plans starting at $29/month
BigCommerce App #18: Rewind Backups
Source: BigCommerce
Best for: Backing up store content
With Rewind Backups, you truly can "set it and forget it" — each day, your critical sales data is automatically backed up. This app protects your orders, product pages, blogs posts, and other important information from system outages and malicious attacks, and you can easily undo changes with your saved backups with just a few clicks.
Key features:
Ability to undo changes to one product, multiple products, or even an entire store
Fully compliant and up-to-date with GDPR regulations
Data is encrypted and stored in Rewinds secure vault
Referral rewards available
Over 10 essential data elements are included in daily backups
Pricing: Starting at $3/month
BigCommerce App #19: Magic Zoom Plus
Source: BigCommerce
Best for: Showing product details
Today's customers expect to see more than thumbnail images of a product. Magic Zoom Plus gives customers the product image viewing experience that's become the standard in today's online shopping world. With a quick installation and an easy-to-use platform, Magic Zoom Plus provides an instant boost to the visual appeal of your products. You're even able to customize the specific zoom effects.
Key features:
Four different zoom effects to choose from
Full-screen view option
Works with all BigCommerce themes
360° rotating product view available
Video integration with YouTube and Vimeo
Responsive design ensures full accessibility and functionality on all devices
Pricing: $69 one-time fee
BigCommerce App #20: Marketplace Connector by CedCommerce
Source: BigCommerce
Best for: Managing Walmart listings
In 2009, Walmart expanded its footprint in the e-commerce world when it launched Walmart Marketplace. This move made Walmart.com an even more enticing place to shop, and at the same time put pressure on third-party resellers to list their products on yet another marketplace. The Marketplace Connector app by CedCommerce helps you quickly list and manage your products on Walmart.com, along with other marketplace platforms, and the automatic repricing feature ensures your products are always priced competitively.
Key features:
Receive Walmart.com orders directly through your BigCommerce account
Bulk product updates and price adjustments
Guided installation and expert onboarding support make setup simple
Real-time product syncing across BigCommerce and Walmart marketplace
Automated shipping exceptions and features
Pricing: Starting at $40/month
BigCommerce App #21: DataFeedWatch
Best for: Merchants, Agencies
DataFeedWatch is a leading feed marketing and PPC automation solution available in over 60 countries and across 2000+ eCommerce channels with the goal of helping agencies, retailers, and online merchants grow, both locally and globally.
Their dedicated integration to BigCommerce enables merchants and agencies who manage the performance of thousands of products, to connect all their stores in just a few clicks, opening the door to multichannel product listings and comprehensive data feed optimization.
Key features:
15-day free trial 
Competitive prices 
24/7 support from feed experts 
Over 2,000 channel integrations
Intuitive feed optimization panel
Automated Search Ads functionality
Product-level analytics
Competitive price insights
Feed review to check and fix errors 
Daily feed updates
What BigCommerce Apps Will You Use?
Now that you've reviewed the list of the 20 best BigCommerce apps, you know how they can expand the functionality of your e-commerce store. These apps cover essentially every aspect of launching and managing a lucrative e-commerce store.
The top app on our list, JivoChat, is worth mentioning again. Regardless of your industry or your company size, customer service will always be a top priority. As customer expectations continue to evolve, it's critical to offer real-time customer service. You can do that with JivoChat.
See how JivoChat's features can help you provide the best experience for your BigCommerce store customers.
Like what you've read?
Sign up and try JivoChat for yourself!
It's free and only takes a couple of minutes to download.