22 Best Ecommerce Platforms in 2023: Have Your Own Online Store
April 29, 2022
updated August 17, 2023
Reading time ≈ 23 minutes
Jaqueline Corradi
Content Manager
Are you planning to create an online store? Whether you already have an established company or it's developing it now, counting on the right ecommerce platform will help you to build your ecommerce website and manage it. 
What is an Ecommerce Platform?
If you think that to have your online store, you need to build everything from scratch, ecommerce platforms are here to show there are other simpler and more practical solutions. Because they don't require you to create the whole infrastructure to develop a website, you don't need to know code or design, for instance. 
Ecommerce platforms count on several features to facilitate all the processes, such as website builder, web hosting, inventory management, marketing and SEO tools, payment processing, and so on. It enables you to have control over the multiple tasks of your ecommerce on a single platform, and also include your team in it.   
Types of Ecommerce Platforms
Headless 
To understand what a headless ecommerce platform is, first, it's necessary to know what the front-end and back-end are when it comes to a website. Basically, the front-end is the interface, the visual element, what you see, while the back-end is the behind-the-scenes, the infrastructure that enables the website to function. 
A headless ecommerce platform, different from the usual, separates the front-end from the back-end to offer more freedom and flexibility when it comes to creating and offering new shopping experiences. APIs (Application Programming Interfaces) are used to publish content, product, and banners, for example.
One thing is important to keep in mind, though, to have a headless ecommerce you will need to count on a team of developers, knowing code is essential in this case. 
Open-Source
An open-source ecommerce platform is focused on companies that are looking for an online store solution that enables them to have full access to the source code, which means they can modify it, and adjust it to their needs. This type of ecommerce platform is often required by developers and IT-heavy organizations. 
SaaS
SaaS (software as a service) ecommerce platforms are highly recommended for companies that don't want to deal with the IT infrastructure and coding part of having an online store. It's also a more affordable option because it doesn't require your enterprise to hire developers or designers, for instance.
You can focus on building the pages of your online store, with an intuitive editor, counting on an online inventory to upload products and control stock. Besides, many of these platforms are partnered with shipping companies to facilitate your logistics, and some also facilitate configuring payment methods. 
Another advantage is that they will be in charge of your website security. On the other hand, a SaaS ecommerce platform doesn't give you as much flexibility as the other options since you don't have control over the coding. 
Ecommerce Platform: Hosted X Self-Hosted
For your website to be available online, it needs to be hosted on a server. There are ecommerce platforms, usually open-source, that don't provide the service of hosting your website, which means you will need to take care of it, being self-hosted.  
In this case, you may hire web hosting for ecommerce and choose the best hosting plan for your online store needs. The disadvantage is having to manage one more aspect of the website maintenance while there are ecommerce platforms that already take care of that part and include web hosting on all of their plans. 
What to Look For in an Ecommerce Platform
There are many ecommerce platforms for you to choose from, which may bring doubts about how to figure out which is the best one. To facilitate the selection process, start by analyzing which platform offers the essential features.  
Easy-to-Use Interface
A good ecommerce platform must be easy to use. This means being able to quickly learn how to navigate through it and enjoy all the tools offered. Use the free trial periods to test the platforms, and make sure you and your team won't have a hard time with the one you choose. 
Customization Tools
Adding your brand's identity to your online store is fundamental to having successful pages that convey credibility to your company and attract buyers. The visitors must be able to associate your brand with the page they are accessing right away, for instance, by visualizing the logo, and other elements that represent your company. The ecommerce platform must provide tools that allow you to add those elements. 
Hosting and Domain Services
To make it easier to create and manage your online store, it's recommended to look for an ecommerce platform where you can create or transfer your domain and host your website too. This way you don't need to use other platforms, and can keep control of everything in a single place.
SEO Tools
Counting with SEO tools is a great asset for getting more organic traffic by increasing the chances of having your pages appear on Google's first search result pages. This means when someone looks for a keyword related to the topics you approach, one of your pages can be shown on the results, leading to more visitors to your website, and sales growth, as a consequence. 
Third-Party App Integration
Pay attention if the ecommerce platform of your choice allows you to integrate your website with software that you want to use to manage your store. For example, it's interesting to have the option to integrate the website with SEO and CRM tools. 
Scalability
Choose an ecommerce platform that can meet your needs as your company grows. For instance, imagine you intend to receive around 1,000 visitors a month at the beginning of your website.
If you plan to make marketing campaigns and other actions that will promote your brand and boost its growth, this number will increase with time. Therefore the platform needs to offer scalable tools to support a bigger traffic and avoid problems such as page errors.  
Responsive Design
The number of people who access websites through their mobile devices is huge, and it keeps increasing. Certainly, you want them to access your pages and have a good user experience, and this requires having an online store that works properly on smartphones and desktops, without having its interface misconfigured. 
To do that, it's fundamental that the ecommerce platform provides a responsive design, which means the templates are mobile-friendly, and the interface is automatically adapted to mobile devices.
Customer Support
Unforeseen problems such as a long time to load a page, or broken links can affect your website performance considerably, therefore they need to be fixed as fast as possible. To do that, you must count on effective customer support from the ecommerce platform you will opt for. Pay attention if they offer 24/7 support, and read the customer reviews to check if they provide good assistance.  
Ecommerce Management Tools
Another important aspect to consider in an ecommerce platform is the tools it offers that enable you to manage your online store in a quick and efficient way. This includes, for example, automatic and centralized inventory, easy solutions for including payment and shipping options, and a feature to track orders.
22 Best Ecommerce Platforms

Wix is an easy-to-use ecommerce platform, which provides web hosting services and enables you to easily customize all of your website pages using its editor, and also choosing pre-built templates. If you are starting to build your brand's identity, you can enjoy the Wix Logo Maker, and brand name generator.
You can have more than 50.000 products in your online store, and manage your inventory and the sources from your suppliers using Wix tools. To set payments, you have the option to choose from multiple methods, including major credit card companies, PayPal, and Stripe. 
Are you thinking of selling on marketplaces and social media platforms? With Wix, you have the possibility to sell on multiple sales channels and manage everything from a unique dashboard, having a synchronized inventory. 
Wix also has SEO tools to help you rank better on search engines like Google, and sell more. Besides, it also counts on Marketing solutions, the platform creates optimized ad campaigns on Facebook and Instagram for you. 
Highlighted features:
Ecommerce website builder
More than 500 pre-built templates
Logo maker
Business name generator
Wix Payments 
Automate your taxes
Sell in multiple channels
SEO and marketing tools

If you want to use WooCommerce to build your online store, Bluehost enables you to do exactly that. You can choose a pre-built template and customize it according to your brand's identity, select the color palette, add images and other graphic elements, insert texts, choose the font types, and much more. 
You also have the option to install different types of plugins to include ads in the website, forms,  and links to social media, for example. Explore the built-in SEO tools to optimize all the pages so you can rank better on search engines, which helps to increase website traffic. 
Highlighted features:
Free domain
Free SSL
Free CDN
Pre-built templates
Insightful analytics
Automated security updates
Backup data protection
24/7 support
SEO tools
Powerful plugins
One of the most famous ecommerce platforms in the world, Shopify focuses on offering you simple solutions from building your store to managing it. You can choose among more than 70 themes to start customizing your ecommerce and develop each page as you wish. 
Use the drag-and-drop store builder to change the color palette, and add your logo, images, videos, text, and other elements. You also have the option to create a new domain or use one you already have. Another important feature is that your website is going to be mobile-friendly, all of the Shopify themes have a fully responsive design. 
When it comes to setting payments and shipping, Shopify also offers unique solutions. With Shopify Payments, you can accept credit cards immediately without the need for third-party accounts. To make the shipping process simpler, you will get calculated shipping rates. Enjoy the built-in SEO features and automated marketing too. 
Highlighted features:
Drag-and-drop store builder
Designed for mobile
Shopify payments
Comprehensive dashboard
Built-in SEO features
Automated marketing
Synced inventory
Shopify apps
With SITE123, you can have your online store running with just a few steps. Use its intuitive website editor to create and customize the pages, including the home page, product categories, and each product page.
Remember to add high-quality pictures of your products and to write complete descriptions. SITE123 will help you to have a mobile-friendly website, so customers can have a great experience buying on your ecommerce site regardless of the device they are using. Besides, the platform also offers free hosting, free domain registration, and SEO tools.
Highlighted features:
Website editor
Mobile Friendly
Free hosting
SEO tools
Custom Domains
24/7 customer support
Webnode is perfect for companies that are looking for an ecommerce platform that will not only host your website but also take care of the coding part for you. You will find multiple store templates, which were developed to help you sell and make your products stand out. They have a responsive design, which means the images will be adjusted according to the screen size.
You can offer a variety of payment options to your customers, credit cards, PayPal, Stripe, and wire transfer, for example. You also have the flexibility to set shipping options as you prefer and allow customers to track their orders. 
To analyze your website performance, Webnode provides store statistics, so you can check what needs to be improved, and identify the most profitable products, and loyal customers. 
Highlighted features:
Website builder
Reliable hosting
Unlimited number of pages
SEO tools
Responsive store templates
Store statistics
Simple checkout
Import products in bulk
Are you looking for an easy-to-use ecommerce platform that enables you to quickly have your online store? Shoplazza offers you multiple features, starting with pre-built templates that can be completely customized using the drag-and-drop editor. 
With the inventory management system, you can use the platform to keep control of the stocks. You can offer as many products as you wish on your online store, and accept multiple currencies and different payment methods.
Shoplazza even counts on more than 150 shipping partners to help you organize the delivery process. 
Highlighted features: 
Pre-built templates
Drag-and-drop online store button
Inventory management system
Marketing tools
SEO tools
Staff accounts
Multiple payment options
Shipping partners
BigCommerce offers multiple solutions for you, depending on what your company needs. When accessing its Website, you are going to find two options: Enterprise and Essentials.
BigCommerce Enterprise offers you an open SaaS ecommerce platform. It allows you to design your online store with freedom, and create a unique experience for your customers. Besides, you have the opportunity to use headless ecommerce and count on powerful analytics. 
BigCommerce Essentials is focused on companies that want an ecommerce platform that doesn't require design or coding skills. You will be able to use professional pre-built templates and customize the storefront to add your brand's visual identity. 
Then, you are going to find multiple features such as search engine optimization, sales channels integrations, and management tools.
Highlighted features:
BigCommerce Essentials
BigCommerce Enterprise
Page builder
Pre-built templates
Check out customization
SEO tools
Management tools
Headless commerce
Ecwid enables you to create a website within a few minutes and then set up your online store without requiring any coding or software installation. If you already have a website, you can also use the platform to just add an ecommerce section to it. 
Another benefit is that you can use Ecwid to sell in multiple sales channels, like Amazon, eBay, Facebook, and Instagram, and have a centralized inventory. It will make the order management processes much easier and help to avoid errors such as selling sold-out items. 
Highlighted features:
Website builder
Sell on social media and marketplaces
Centralized inventory
More than 50 payment options

Are you looking for an ecommerce builder that works perfectly for WordPress websites? No doubt, WooCommerce is the best solution for that, because it was built on WordPress, which means considering all the necessary features to perfectly sync with it.
If you already have a website WordPress, what you are going to do is to add the WooCommerce plugin and customize your store with pre-built templates. But, if you don't have it, you can start by creating your account and setting up the site along with your online store. 
One of the greatest advantages of WooCommerce is that you can add several extensions such as TaxJar, Google Ads, Mailchimp, ShipStation, Jetpack, and Facebook. They are going to help you manage your strategies in a more centralized way, and also improve the customer experience. 
Built with a REST API, Woo Commerce was thought to be a scalable tool, which means it is able to adapt according to your business needs, as you grow. To enhance your performance and learn from others, you will count on a  huge global community and be able to participate in several meetups. 
Highlighted features:
Built on WordPress
Customizable, open-source ecommerce platform
140 specific payment gateways
Live shipping rates
Marketing integrations
Support forum
Set prices in multiple currencies
Create multilingual content
Scalable platform 
Hundreds of extensions
Manage the store from your mobile device
Track your stats
30-day money-back guarantee
When you create your online store it must have your brand's visual identity. To do that, having customizable mobile-friendly templates will make that task much easier, and JumpSeller offers it. You can edit all the pages the way you wish, including the checkout, and have your store set up in different languages. 
Jumpseller is partnered with shipping companies, allowing you to save money by using the discounts offered, and other facilities like print labels. Besides, you can expand your business by accepting payments from different currencies and using local payment methods. 
The ecommerce builder has an all-in-one platform where you can manage different sales channels on the same dashboard, and create marketing strategies too.
Highlighted features:
Customizable theme
Mobile-friendly
Translate your store into several languages
Create your domain
Discounts with partnered shipping carriers
Accept various currencies
Connect to social media
Sell in several channels

Strikingly isn't only a website builder, but also enables you to easily create your online store. You will find a big amount of customizable templates, which are easy to edit and all of them have a responsive design. 
The platform offers 4 different plans, Free, Limited, Pro, and VIP, all of which have the possibility to include an online store. You should pay attention, though, to the number of products each plan allows you to add. For example, in the free plan, you can sell only one product.
On the ecommerce management dashboard, you can connect to PayPal or Stripe, easily set shipping methods, and add coupons. Besides, Strikingly has tools to help you create membership logins, and forms, set up email marketing, and direct your customers to your social media pages. 
Highlighted features: 
Register a new domain or use one you already have
Analytics built-in
HTTPS built-in
Easily customizable templates
Add links to your social media pages
24/7 support
Create and manage forms
Register memberships

Enabling entrepreneurs for developing professional ecommerce websites has become much simpler through Weebly features. With customizable themes, you can edit the one you choose and easily create a unique store by using the drag-and-drop builder. 
Weebly also offers several marketing tools, for example, you can send a welcome email to new customers or a special discount when you see an abandoned cart. You can also analyze your ecommerce performance through SEO tools and install a huge variety of apps to make the customer experience even better. 
You can launch and manage your store from anywhere, using the mobile app on your smartphone or tablet. The inventory is easily tracked, and, in case of needing to add a big number of products at the same time, you can bulk import.
Highlighted features:
Customizable themes
Marketing tools
SEO tools
Several apps to install
Real-time shipping rates
Bulk import
Coupon builder
Product search
Automatic tax calculator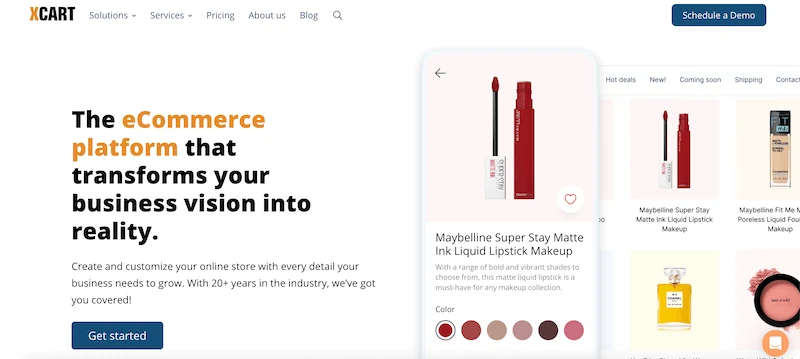 Back in 2001, when X-Cart was founded, it was the world's first PHP-based eCommerce platform. Now, with over 20 years of experience, X-Cart provides a stable yet very flexible eCommerce solution along with a full range of complementary services, including web designhttps://www.jivochat.com/blog/ecommerce/creating-social-media-content-for-your-ecommerce.html, web development, hosting, and SEO consultancy. 
It is a highly-customizable eCommerce platform with open code and API-driven modern technology, which means that if you lack a feature or need any unique functionality, you can code it yourself or hire X-Cart's team or a development agency to code it for you. 
Highlighted features: 
Powerful default functionality 
Highly-customizable platform 
Unlimited SKUs  
Mobile-first customizable templates 
Flexible payment processors 
Hundreds of add-ons and API integrations 
Assisted migration 
Support for various business models 
Shift4Shop is a free website builder which offers many resources, starting from giving you a big variety of professionally designed, industry-specific, and mobile-friendly templates. They have a web design tool to help you customize everything, but you can edit directly the HTML and CSS too. 
The free plan includes unlimited products, features, and bandwidth. You will also count on migration assistance and fraud protection. Shift4Shop provides marketing tools, as well, like built-in e-mail marketing, and the possibility to include group deals, daily deals, coupons, and discounts, among others.
It also has cart abandonment recovery tools, focused on automatically engaging users, and motivating them to finish their purchase. Another benefit is that each part of your website is pre-optimized for SEO.
Highlighted features:
Inventory management tools
Product management software
Analytical tools
Cart abandonment recovery tools
SEO optimization
Visa CPI Certified Security
Real-time shipping rates
Integrated with PayPal
Centralized inventory to sell in different channels

Developing your online store without knowing how to code, and being able to set up everything by choosing a pre-built responsive theme: Volusion makes it possible and also provides a 14-day trial.   
After customizing your website design, you can add several tools such as shipping methods, other selling channels, automated email, payment gateways, and stats about your store performance. Besides, the built-in SEO management will help you to gain more visibility.
When adding your products, you have the opportunity to use some tools that will make it even simpler and more effective, like variant pricing, import products via CSV, and rich text product descriptions. 
Highlighted features:
Responsive themes
Add site search
Built-in SEO
Integration with marketplaces
Secure checkout
Comprehensive management system
Search friendly URLs
Admin Social Management
Reporting tools

Magento is the ecommerce website builder from Adobe, and it's driven to help companies to develop a great shopping experience, with several features. In the page builder, you are going to encounter an intuitive interface and content editor that allow you to customize everything, using the drag-and-drop tool.
The platform was created to help businesses of all sizes, small to big companies according to their needs. You can integrate the store with other selling channels, use B2B solutions, and easily manage your inventory.
Adobe also has a global community where you can find different partners to help you grow and find exactly what you were expecting. For example, you can have technology partners that will give you directions to optimize the way you use Magento. Community insiders, and certified Magento developers, can guide you through creating a better design. 
Highlighted features: 
B2B ecommerce
Customer segmentation and personalization
Integrates with other sales channels
Cloud-based services
Mobile-friendly
Live search
Instant purchase
Connected Enterprise Resource Planning

Squarespace is an ecommerce website builder that will enable you to create pages that better suit your business needs. Focusing on growing and expanding, before creating your account, you will choose which template has more to do with your brand visual identity, and customize it, the images, the color palette, and fonts. 
Each online store sector has its specificities, taking that into consideration Square Space includes many tools to add to your choice and also has marketing features. This way, you can implement actions such as email campaigns, through the platform. 
They provide solutions not only to sell physical products, but also digital content, like ebooks and music, subscriptions, or services. Besides, if you sell online or in-person, you can use the Squarespace inventory to keep everything synced. 
Highlighted features: 
Customizable templates
Mobile optimized design
Easy-to-use interface
Centralized inventory
Real-time shipping estimates for US customers
Simple payment and checkout
24/7 support
Automate sales tax filing
Built-in SEO tools
With PrestaShop, you can count on a highly scalable and flexible option to have an online store that suits your client's needs. You can fully personalize the website pages by choosing a pre-built theme, adding useful features, selecting the color palette, font, inserting images, and much more. 
The platform has an intuitive interface, which means you and your team can easily learn how to navigate through its tools and make the most of it to offer the customer experience. You can manage everything from a single platform, including controlling the inventory, the payment process, and shipping. 
You also can enjoy the marketing tools to launch campaigns and promote your brand. Another advantage is the option to sell internationally, by having a multilingual store and adding multi-currency options.
Highlighted features: 
Pre-built themes
Easy-to-use
All-in-one-platform
Sell internationally
Marketing tools
Analytics tools
Customer support

Sellfy is an easy-to-use ecommerce platform that allows you to create your online store with just a few clicks. It was developed focusing on helping creators to sell their digital products and merchandise online. 
To begin, all you need to do is sign up for the platform, add your products, then customize every page to have your brand's identity. You can also use Sellfy to commercialize your products on social media like Facebook and Instagram and manage everything in one place. Enjoy the built-in marketing features to promote your store and enhance your revenue. 
You can sell a huge variety of digital products, such as ebooks, videos, audio, and other files in multiple formats. It's also possible to create digital subscriptions and charge your customers periodically, another possibility is offering video streaming services on demand. 
Highlighted features: 
Easy-to-use
Sell products and subscriptions
Responsive design
Customization tools
Built-in marketing features
Sell from social media
Multiple payment options

The BigCartel platform is recommended for artists who want to sell their products online. You will find the proper tool to make it easier to run a creative business. To begin building your online store, select one of the pre-built themes, and customize it according to your brand's visual identity.
Then, add the products, and set up important configurations such as the payment and shipping methods. You can count on very useful tools to manage your store, fulfill orders, update products, check stats, and run promotions from any device. 
Highlighted features: 
Developed for artists by artists
Easy-to-use
Pre-built themes
Personalization tools
Management tools

ShopWired is considered the best ecommerce platform in the United Kingdom. It offers you beautiful and responsive themes, so you can build your online store without having to design it yourself, but still be able to customize the details to be aligned with your brand's visual identity. 
The platform integrates the most important features for managing an online business, so you can centralize all your tasks in a single place. You will be able to keep track of all the orders, update the product catalog, and create promotions. If you already use another platform, you can fully migrate to ShopWired in 7 days or less.
Highlighted features: 
Responsive design
Pre-built themes
Customization tools
No coding or software installation required
All-in-one platform
Sell on social media
Customer support
Insightful reports
Advanced b2b features
How to Choose the Best Ecommerce Platform
As you may have seen, there are several ecommerce platforms available, which leaves the doubt, which is the best one? This answer isn't a simple one because it depends on multiple factors. 
The size and type of your business, for instance. A B2B (business to business) company has different needs than a B2C ( business to consumer), and that needs to be taken into consideration. 
If your company is highly focused on IT, probably you will prefer an open-source or headless ecommerce platform. On the other hand, if you don't count on developers, an ecommerce platform that doesn't demand coding expertise may be more suitable for you. 
As you navigate through the ecommerce platforms, you will see they offer a huge variety of plans and prices. It's also needed to analyze the budget available to pay for this service, and not only that to maintain your online store running, investing in marketing strategies, products, and other resources. 
When you start looking for an ecommerce platform, pay attention to these aspects:
Features you need
Intuitive interface
Budget
Customers reviews
Customer support
Scalability
Integrations
Customization options
Choosing the Best Ecommerce Platform is Just the Beginning
Once you have selected what ecommerce platform you are going to use to build your online store, it's time to research your target audience and competitors and study the market you are getting in. Identify your customers' pain points and show how your products can help solve them. Focus on offering a great user and customer experience in each section of your website.
Like what you've read?
Sign up and try JivoChat for yourself!
It's free and only takes a couple of minutes to download.