Good customer service: how to deliver it
Reading time ≈ 12 minutes
Jaqueline Corradi
Content Manager
Good customer service is fundamental regardless of the sector your company operates. It should be a base to develop guidelines for your employees. It is directly connected even to developing new products.
Imagine the following situation: you enter a store to buy clothes, you ask for the salesperson to help you to find your size, but they don't pay attention to you and don't show any willingness to assist you. That is a strong reason to give up on a purchase and go to the next store, right? 
Sometimes, even if the price is a little bit higher, having someone who offers excellent assistance, shows empathy, and is prompt to aid makes a huge difference. How many times have you entered a store without intention to buy and was convinced because of good service? 
When we talk about online stores, it may seem that these aspects don't have such an impact anymore, but that isn't true. The issue is that good customer service has another face and several elements that we don't take into account when going to a physical store. Nevertheless, it's still decisive to help you increase your sales.  
What is good customer service?
Providing good customer service is about focusing on meeting your customer expectations and going beyond that. It entails thinking about the whole experience of buying: from when the person is just a prospect to after the sale. 
In each step of the buyer's journey, it is important to think of ways to build a relationship with your customers that is based on trust, and focused on always offering the best your company can do to help them. 
Customer-centric business
The basis for delivering good customer service begins on the foundations of your business, it must be part of your company's mission and values. On the contrary to what many people may believe, customer service isn't something that concerns only the sectors of your enterprise that deals with the public.
How to provide the best solutions to your customers must be a priority in all departments, and the directors and managers have to reinforce that.
When we talk about a customer-centric approach, it refers to putting customers in the first place to develop any product or service, always considering their demands to make decisions. 
Having incredible salespeople who can close hundreds of deals won't work if you don't provide effective assistance after the sale or if your product doesn't deliver what it was designed for. It can frustrate customers, causing damage to your brand's image and revenue. 
Put the customer in the center of your business plan. Include their satisfaction as part of your companies' culture, so people, from the IT department to marketing, can use this as a pillar to guide their job. 
The importance of offering good customer service
Customers' recommendation is one of the best ways to make more people want to buy your product or hire your service. When they read good reviews or make a search and find out that other customers are talking well about a brand, they feel compelled to try it too, because it helps to increase reliability and trust.
A client review is an organic action, different from a TV commercial, online ads, or paying a digital influencer to show a product, customers know that and value these opinions. Before the internet, having a product or brand being recommended in conversations among customers has always been considered important, right?
 That hasn't changed now, and the only way to conquer organic good reviews from your customers is by providing excellent customer service.
You will receive recommendations not only on the internet but, your clients may mention your brand and the products they are happy with in daily conversations. That certainly has a huge impact on increasing sales. 
Imagine you are looking to buy a new dishwasher, and you are in doubt between two models, from different companies. Both of them have similar features, but you make a search on marketplaces and find that one has a high rate of complaints about malfunctions. 
Certainly, it will discourage you from buying that model. Here the problem is about the item production, but it directly affects the customer experience. 
Now, picture another situation. The two dishwashers models work perfectly, but one brand doesn't answer the clients and, when you check their social media, you see several complaints about their lack of assistance. Would you want to buy from a company that doesn't seem to care about helping its customers? 
Neither would your customers. Your product can be as amazing as the ones from your competitors, but if customer service isn't good, they will opt for the brand that provides better assistance and hears them. 
According to Zendesk Customer Experience Trends Report 2021, 80% of customers will look for a competitor brand after having just one bad experience, and 75% are willing to pay more for good service.  
When customer service isn't a priority, you risk losing your reputation and damaging your brand's image. How many PR crises have you seen that have been caused because of customers complaints in social media that went viral? 
11 Ways to provide good customer service
1. Know well your products or services
How are you going to help your customers if you don't know every detail of how your product or service work? You won't be able to. So, make sure your sales reps and customer support team understand deeply what they are working with, provide them with the necessary information to sell and solve customers' doubts. 
If there is any update, your team needs to know and receive training, if necessary. They have to be experts on what your company sells, being able to present every products' features, benefits, and how to use them. 
By knowing these, your employees can sell more, showing how it's possible to get the most of an item or service, and also offer the best specialized assistance when it comes to solving any problem.
2. Understand your customers' profile and demands
If you know your target audience well, it's going to be easier to identify the best ways to provide good customer service, by understanding, for example, the channels of communication they prefer to use, what tools they would like to have available and, also, to set a tone of voice for your brand. 
For example, if you are a B2B company, the way you are going to structure customer assistance is different compared with B2C businesses. Also, by knowing your customers' demands, you can develop content that is precisely focused on their issues.
For example, it's possible to create a FAQ on your website, write blog posts about themes they are interested in, and record tutorial videos to solve their doubts. This will be useful to your employees as well, your marketing, sales, and support team can benefit from this content. 
3. Show promptness to solve problems
Customers don't want to wait to solve their problems or to repeat the same thing over and over to find someone that can help them inside your company. 
Do you know when you call a telemarketing center and they transfer you a thousand times before being able to give any solution to your issue? That's a frustrating experience, which shows no concern for the customer's time.
Your company must do better than this. Instruct your support team on how to deal with every client, showing promptitude to help them.
Also, it's important to structure customer support in a way that's very clear which demands each department is responsible for, so when there is a problem, it can be immediately transferred to the ones able to provide a solution. 
4. Have a quick lead response time
100 times: that's how much you increase your chances of having successful contact with a lead, if you answer in 5 minutes or less, according to a Harvard study made by Dr. James Oldroy.
We live in the digital age, fast communication is a characteristic of our time, and it isn't different from what customers expect when talking to a company.
Lead response time affects customer satisfaction, as you can see. By reducing this time, not only you will be able to sell more, but it's also an investment in conquering loyal customers. 
To help your team to answer customers immediately, you can use a single software to manage all the communication channels, and even automate it to direct the messages to the right people. 
5. Provide personalized service
Customers are looking for unique experiences, they value that when getting in contact with a company. They don't want to feel like they are talking to a machine, it's essential to add a human touch and show you care about who you are having that conversation with. 
This can be done, for example, by adding the person's name on an email marketing, and selecting the content that is going to be sent for them according to their preferences, for example.
When customers get in contact with your company, it's important to give them the option to talk with someone instead of only a chatbot. 
Your employees must have empathy when offering assistance, mainly if they are dealing with a delicate situation. Trying to understand the client's frustration, and showing interest in helping can change everything.
But personalized service isn't only about conversations with clients, it has also to do with writing a thank you note by hand to go with the product's package or sending a discount coupon on the customer's birthday.
It means making the buying experience in your company something they will remember because of the excellent service.
6. Give tools to allow customers to help themselves
A Harvard study revealed that 81% of customers try to solve their matters themselves before reaching out to a live representative. Which means many people prefer to have self-service tools.
You can offer that on your website by adding a FAQ section and other content that can guide a customer to complete a purchase or to solve a problem regarding a product or service. It's going to spare your employees time, and leave your customers satisfied at the same time. 
Be sure to have an intuitive interface, which enables them to easily find the solution to what they are looking for.
7. Pay attention to feedbacks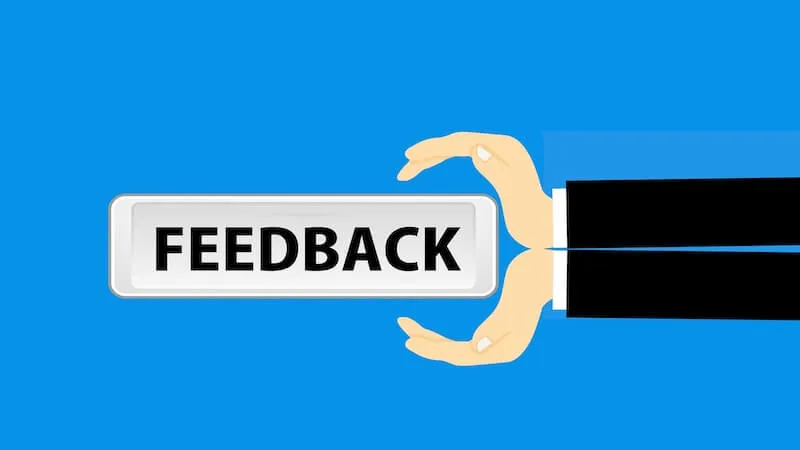 Feedbacks are essential to evaluate if you are offering good customer service and where your company can improve. Create an email to be sent after every purchase, asking about your customers' opinions and also after they receive any support from your team. 
This is a way to show that customers' opinions matter, but it's necessary to create a process to analyze every feedback sent, and create a report.
Evaluate what are the most mentioned aspects to improve, does it have to do with a specific department? Is it about the quality of the purchased item or the support your team gave? 
By understanding this, you can draw procedures to implement the required changes. Talk to your employees about the feedback, including them in the process of analyzing how to constantly improve the service. 
8. Train your employees on how to treat customers
Your employees, who deal directly with the public, are the face of your company, if they are rude or disrespectful in any way, it's your brand's name they are representing and that's a big responsibility.
It is worth investing in training to make sure they know how to treat customers, and what to do in situations that can represent a potential crisis. 
Offer support to your employees, and also reinforce to the managers their whole being available and helpful to aid in solving challenges that come up in the daily work. Create an environment where learning and sharing ideas are stimulated. This way, your agents can improve customer service together, helping each other. 
9. Equip your agents with effective tools to offer customer support
There are many apps and software which were created focusing on optimizing the sales process and managing customers, such as CRM (Customer Relationship Management), live chat, and help desk. 
They can help to save time by automating repetitive tasks, providing new insights through the data they gather, identifying processes that need to be improved, evaluating each employee's performance, and organizing their activities. Analyze which app fits better your company's needs and equip your employees with them. 
10. Use data to improve
Good customer service isn't a goal that, when reached, you just have to keep doing the same thing. On the contrary, clients' needs change over time, your company grows, reaches new audiences, and you will have to continuously analyze ways to provide the best customer experience. 
The data you gather through your website, social media, email marketing campaigns, client satisfaction surveys, and others, are extremely valuable to detect changes in customer behavior and to see where each department should improve. 
Creating reports regularly and data analysis must be a part of each sector workflow, and used to generate new ideas to implement processes to increase the quality of the service delivered by your company. 
Good customer service helps to conquer loyalty 
When someone buys a product from your company, you want them to come back and have a positive image of your brand right? Without good customer service that won't be possible, even if the product is amazing, bad service can ruin everything. 
Investing in good customer service is about surviving in a competitive market. It is the chance you have to distinguish yourself and to build lasting relationships with your clients. If they feel valued by your company, they will likely remember your brand and look for it again.
Like what you've read?
Sign up and try JivoChat for yourself!
It's free and only takes a couple of minutes to download.