How to Sell Antiques Online and Where to Sell Them
Reading time ≈ 13 minutes
Jaqueline Corradi
Content Manager
Learning how to sell antiques online is a very important step for entrepreneurs who want to create a thrift store, or even resell their own vintage items. Nowadays, these types of products are attracting many customers worried about sustainability and also the ones looking for unique special items
Selling antiques online offers several possibilities. You can sell decor objects, furniture, fashion items, collectibles, and so on. But, first, you need to find where to sell those precious items and create your store. 
How to Sell Antiques Online Step-By-Step
1. Define What Types of Antiques You Will Sell
When it comes to how to sell antiques online, one of the first steps you need to take is selecting what type of products you will commercialize. It's possible to have an antique store with a bigger variety of items, where you sell furniture, cutlery, ceramics and pottery, v watches, and many other products. 
In this case, your target audience is bigger and you will have more competitors. On the other hand, you can focus on one niche and become an expert on it. For example, you can have an online antique store that sells only collectible toys, or vintage jewelry. It depends on the market strategy you want to implement. 
2. Source Your Antiques
Sourcing antiques is very different from other types of stores because we are talking about rare and collectible items, many of which were produced decades and even centuries ago. And that's what makes them so special and valuable. 
You will need to get to know the antique market, and how to find the products you wish to commercialize, and this takes a lot of research. It seems like a treasure hunt, where you need to visit several places like thrift stores, yard sales, and flea markets in search of the perfect products for your store. 
It's common that, unaware of how valuable some items can be due to their history, or when it was produced, people discard them and put them on sale in those places. Therefore, to become an antique seller one thing is essential being able to identify the value of a piece. Another place to find antiques to sell is at auctions, and you can partner up with antique dealers too. 
3. Understand How to Price the Antiques
One essential step to learn how to sell antiques online is understanding how to price them properly. This is because how much an antique value is depends on several factors, which need to be carefully considered. The aspects are: 
What are the conditions of the item:  Is it damaged? How big is the damage? The better the conditions, the more valuable it will probably be.
When it was produced: Items that have characteristics typically from its time can be expensive, and considered historic. However, it's important to find means to prove that the antique was made when you say. For example, a Victorian cameo brooch has several characteristics typically from this age, but you need to prove it isn't a reproduction, but an original one, which increases the price. 
Collectibles: products that belong to special editions have a high value on the market, but once more it's fundamental to prove the authenticity.
4. Choose Where to Sell Antiques Online
There are many possibilities to sell antiques online. You can create your own website, which can be a simple process by using a website builder that doesn't require coding or design experience. 
You also have the option to sell on marketplaces, such as eBay and Etsy. They already have a website set up for you, basically what you need to do is register your store, and upload your products. Another alternative is selling on social media, for example, on Facebook and Instagram. 
5. Define Payment and Shipping Methods
Once you have decided where you will sell antiques online, you need to set up the payment process and shipping method. You can put available payment options such as credit cards and debit cards, and use payment gateways like PayPal and Stripe. 
Many marketplaces and website builders and marketplaces already partner up with credit card and payment gateways to simplify this step for you. Then, you need to define the shipping options that are going to be available. You can use courier services, which also have partnerships with several e-commerce platforms.
6. Take Good Photos of The Items
After you have decided what is the best way regarding how to sell antiques online and have chosen where to sell them. It's time to set up the online store. It's essential to take high-quality pictures that show the beauty of each product. 
Use a background that highlights the piece, a white one is the most recommendable. Take photos of the product from different angles, and its details. It's important to show the item as close as possible to reality. 
7. Write Complete Product Descriptions 
Another crucial step in how to sell antiques online is writing attractive descriptions that highlight the value of the item. Explain in detail what makes the antique you are selling so special. Don't forget to include the size, color, what comes with the item. If you have an authenticity letter or any other thing that makes the product even more appealing, add it to the description. 
9. Promote Your Antique Shop and Products
After you have launched your online antique store, you need to work on promoting it. Otherwise, how will people know of the preciosities you have curated only for them? Enjoy social media platforms to do that. You can make posts showing the items, and explaining how you curate them. Explore your creativity. 
Where to Sell Antiques Online

Undoubtedly, one of the best platforms available nowadays to sell online is Wix. With a user-friendly interface, you are going to see that creating an antique online store is simpler than you have ever imagined. 
No design or coding skills are required, you will start by creating your account and choosing one of the business plans offered: Basic, Unlimited, or Vip. But, no worries about making the wrong choice, in all of them you will have the 14-day trial, so you can test everything you need. 
Wix offers more than 500 free pre-built templates, divided into categories such as product landing pages, accessories stores, beauty shops, supermarkets, and electronics stores. After defining the one you want to use, it's up to you to customize the entire store, to turn it into your brand's face. 
Then, you will add the products, choose the payment and shipping methods, create your domain name, and you are ready to launch. To help in this process, the Wix has some very useful features, for example, Wix Payments where you can set up the payment methods without having to add third parties. 
Wix also has an automated sales tax calculator, making it easier to define the prices. Beyond that, you will have a mobile-friendly ecommerce,  where you can set multi-channels to make your sales, like using social media, and manage everything from one dashboard. 
Highlighted features: 
More than 500 free templates
Wix payments
Automated sales tax
Free SSL Certificate
Currency converter
Express Checkout
Abandoned cart recovery
Multichannel inventory management
Built-in SEO tools
Wix Owner app
When the subject is the best platform to sell online, there is no way not to mention Shopify, one of the most popular shopping solutions online. Creating your store is simple and fast. 
You can choose from more than 70 customizable, responsive themes, and adjust everything according to your business needs with the drag-and-drop builder. To offer the main payment option, such as credit cards, there is no need to add third parties, you can use Shopify Payments. 
Regarding managing your online store, you will have access to a dashboard that is easy to navigate through. You can see valuable data about the sales and your audience, using it to improve your business plan. 
The management area is accessible by Shopify mobile app too, you can control everything wherever you are. Besides, you will be able to add more than 6 thousand apps to help you grow your business, including marketing and social media tools. 
Highlighted features:
Drag-and-drop store builder
Shopify Payments system
Mobile-friendly design
Built-in SEO tools
Easy-to-use dashboard
Shopify mobile app
Synced inventory across all your sales channels
More than 6.000 apps

With Bluehost, the process of learning how to sell online becomes much simpler. You can have the ecommerce website of your dreams. Choose your domain name and the hosting plan that best suits your needs, then select the pre-built template you prefer. You can customize all the pages, change the colors, add pictures, texts, graphic elements, and much more. 
To guarantee the quality of your website, Bluehost offers automated security updates, backup data protection, and 24/7 customer support. If there is any problem, you can count on specialized assistance. 
To enhance user experience and make it easier to manage your antique online store, you can install multiple plugins to the website too. To help you increase organic traffic, the platform provides SEO tools, and you can check the performance of the pages with the analytics dashboard. 
Highlighted features:
Free domain
Free SSL
Free CDN
Pre-built templates
Insightful analytics
Automated security updates
Backup data protection
24/7 support
SEO tools
Powerful plugins
Site123 offers many features to build a complete online antique store and facilitate the management process. Focused on small businesses, your ecommerce store will be quickly ready, you choose a template, customize it, establish the type of your store, add your products, and define taxes and shipping rates. 
After launching, you can easily manage your online store at the Site123 dashboard, which can be accessed on your computer, tablet, or smartphone.  As payment methods, you will be able to add the main credit cards, PayPal, and other major payment gateways. 
In case of any doubt, you can count on 24/7  live chat support, and, to ensure your customers' security, you will have SSL certificates.  
Highlighted features:
Many types of payment platforms
Manage shipping and tax rates inside the system
Automated store inventory
Choose the accepted currencies
SSL Certificates
Sell from any device
24/7 live support
To create an online store at Webnode, you can connect to a website that you already have or create a new one. You will find several templates to opt for the one that suits you best and customize it, including choosing the idiom. The system has 24 language versions, offers an unlimited number of pages, and allows you to edit on any device.
You can add new products in a few minutes, just upload the pictures, write the description, set prices, and click to publish. Every time there is an order at your store, you receive a notification, you can manage the status order, notify your clients, and archive the fulfilled orders. 
Regardless of the template you choose, all of them are mobile-friendly, improving customer experience. Also, you can set different payment methods, credit cards, wire transfers, Stripe, and PayPal, among others. 
Highlighted features: 
Responsive store templates
Store statistics
Quick and simple checkout
Import products in bulk
Export to price comparison sites
GDPR friendly
Cookie consent bar
Integrates with Google Analytics
With 182 million users, eBay is one of the largest marketplaces in the world and allows you to have an individual account or a business one. 
The process to sell on eBay is very simple, you will click on "List an item", and select the ones you want to insert. Then the platform will guide you through creating an account, and then you can set price, payment, and shipping options. You can choose when you get paid, scheduling daily or weekly payouts. 
To help sellers to improve their business, the platform has fostered a community where you can participate in meetups, forums, and multiple events. It also gives you several tools to manage orders, develop marketing strategies, and do market research. 
Highlighted features:
182 million users
Community of sellers
Inventory management
Marketing tools
Brand building tools

Etsy is a marketplace focused on selling handmade goods, craft suppliers, and vintage items. With 81.9 million active buyers, it's a great place if you are looking to specialize in one of those sectors.
To sell on the platform, you need to select your location and currency, define a shop name, add your products, set a payment method, and how you wish to be paid. You will have to pay $0,20 for the listing fee. When you sell an item, you are going to be charged a commission and standard payment processing fee as well. 
Etsy advertises your products on the web through Offsite Ads, which you only have to pay if you make a sale from those ads. 
Highlighted features:
Etsy app
Design a custom website
Offsite Ads
Social media tools
Community of sellers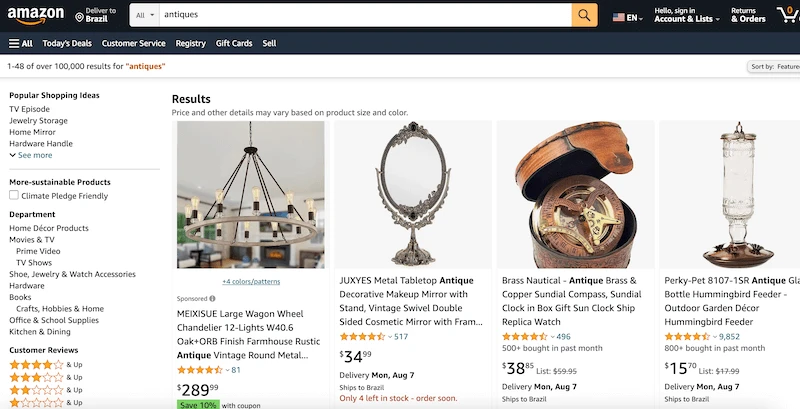 No doubt, Amazon is one of the most known marketplaces in the world. With around 300 million customers, it offers a platform for small to large companies to sell their products. To start selling, you just need to create your account, then you have 2 plan options. 
In the individual plan, you will have to pay $0,99 every time you sell a product plus the selling fees, but there is no monthly fee. It's a plan developed for those who have a small company, and you can sell only up to 40 units a month. 
The professional plan, on the other hand, costs $39 per month, and there are no limits on products allowed to be sold per month. It provides several features such as creating listings in bulk, on-site advertising tools, and adding multiple users to your account. 
You can count as well with the Fulfillment by Amazon (FBA) service, where you can enjoy Amazon's logistics network, and let them take care of storing, packing, and delivering your orders. Another advantage of FBA is that your products become eligible for Amazon Prime, which has millions of subscribers, and use its services to buy products with free delivery. 
Highlighted features:   
Around 300 million customers worldwide
Fulfillment by Amazon 
Individual Plan
Professional Plan
Global selling
Amazon Advertising
GoAntiques is a marketplace focused on selling antiques. One great advantage of being a seller on a niche e-commerce site like this one is that you can enjoy its reputation and visibility. They already have a base of clients.
To become a seller, you need to create an account and choose one of their plans: Basic, Professional, or Power. The Basic one allows you to list up to 100 items, the professional 1000 items, and the Power up to 1,000,000. In the last two categories, you also get 10 free item features. 
The website is divided into several categories such as Carpets and Rugs, Fashion, Fine Art, Toys, Maps, and Coins. The website doesn't charge commissions per sale, what you have to pay is the fee according to the plan of your choice. 
Highlighted features:
Easy to use
Marketplace focused on antiques
No commissions
Etsy inventory uploading
Start Selling Antiques Online
Now that you have learned how to sell antiques online, that can be the opportunity to start it. As you can see the internet offers several tools for simplifying the process of opening a store and having your own business.
After setting up your antique online store, remember that user and customer experience are essential to conquering loyal clients. Make sure to respect the delivery time, pack every item carefully, and create a brand for your store. It will help you stand out from the competition. Keep looking for ways to improve how to sell antiques online.
Like what you've read?
Sign up and try JivoChat for yourself!
It's free and only takes a couple of minutes to download.