7 Automatic Subtitle Generator
December 29, 2021
updated September 1, 2023
Reading time ≈ 6 minutes
Jaqueline Corradi
Content Manager
When you create content for the internet, it's essential to think about accessibility. In the case of videos, whether they are for your website, Youtube, Instagram, or any other social media, adding subtitles makes them more accessible to many more people, and, to help you with that, you can use an automatic subtitle generator.
You won't have to spend hours transcribing everything that is said on the video to create the subtitles, there are several tools available that will do that for you. You will just have to review the video after it, to ensure the subtitles are correct. 
If you are going to upload your video at Youtube, the platform provides an automatic subtitle generator of its own. You will need to sign in to YouTube Studio, and then select "Subtitles". Click on the video you want to edit, and choose the language for the subtitles.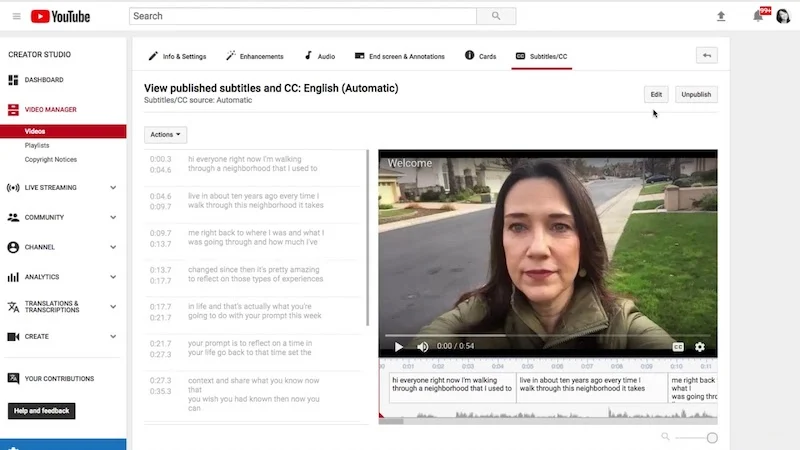 After it, you will just have to click "ADD". But, if you prefer to insert the subtitles manually, YouTube also gives this option by uploading a transcript file, which is synchronized automatically, or typing the subtitles as the video is playing. It's possible to edit the subtitles as well, before publishing the video. 
Key features:
Create automatic subtitles
Choose the language you want
Upload transcript files
Insert subtitles manually
Facebook provides an automatic subtitle generator as well, enabling you to make your content accessible to people with hearing impairments. To do that, first, you need to click on "Pages", in the left menu of your news feed.
Then, on your page, click on "Video" and choose the video from your device that you want to post with subtitles. After the video is uploaded, select "Video Options", and "Add Captions".
You will be given the alternative to auto-generate captions or to upload a SubRip (.SRT) file. Review it, and you are ready to publish the content. 
When it comes to video ads for Facebook or Instagram, the platform also has the option to insert subtitles automatically. In the Ad Creative section, click on "Edit video", "Captions", and "Generate automatically". Then, go to the "Review Your Captions" window to make sure if everything is correct, and edit if necessary.
Key features:
Add automatic subtitles to videos
Add subtitles manually
Review your captions
Add subtitles to ads for Instagram or Facebook
VEED.IO is an online free automatic subtitle generator, which gives you different options to add subtitles to your videos. You can insert them permanently, by rendering them into the video or download them as a separate file in different formats, such as SRT, VTT, and TXT. 
Its auto-subtitle maker uses artificial intelligence to generate the subtitles with accuracy, it can also be used as a transcription tool and for speech recognition. To create the subtitles, you just need to upload the video, click on " Auto Subtitle",  then "Export", but you can review and edit first. 
It's also possible to translate texts and to provide subtitles in different languages. The VEED's PRO plan includes an auto-translator to make it even easier. 
Key features: 
Online and free automatic subtitle generator
Artificial intelligence-powered
Save the subtitles in different file formats
Translate the subtitles to different languages
With Zubtitle you can have your videos' speeches transcribed and subtitles added automatically. The captions are going to adapt according to the video format, widescreen, square, and vertical. This way, you can use the app to publish IGTV and Stories with subtitles, for example. 
The platform also enables you to edit the subtitles to correct any grammar or spelling mistakes, and adjust the timing, if you need. It's possible to choose from a big variety of caption styles and fonts, besides you can download the transcription files in TXT or SRT. 
To generate the subtitles, what you will have to do is upload the video, then wait for artificial intelligence to do the work. After it, choose pre-designed caption styles to use the best design for your video and click on the video preview. When everything is done, you can download and share the video on several platforms. 
Key features:
AI-powered
Automatic subtitles 
Edit grammar and spelling mistakes
Save transcription files is TXT or SRT
Use pre-designed caption styles

SubtitleBee allows you to easily have automatic subtitles generated for your videos. The first step is to upload the video on its website, which supports different formats. Once the AI has created the closed captions, you can review them, edit them, and style them according to your need. 
After it, choose the social media you want to share the video and publish it or select the option to save the file on your computer with the subtitles embedded.
SubtitleBee recognizes more than 120 languages, you will just have to select the language. Besides, you can also use the AI subtitle translation to provide subtitles in different languages. 
Key features: 
AI subtitle automation
Customize the style of the auto-captioning
Edit subtitles
Recognize more than 120 languages
95% accuracy
AI subtitle translation

With Kapwing, you can add subtitles to your video without having to download any software to your computer. You will upload the video directly to the website, and the AI will automatically transcribe the captions. After it, you can save the video file and share it on different social media platforms,
If you prefer, it's also possible to add the subtitles manually. Kapwig automatic subtitle generator is completely free, it won't add any watermark, you just have to create an account on its website. The videos you save will be stored on a cloud, so you won't risk losing them. 
Key features:
Free automatic subtitle generator
AI-powered
Cloud-based
No watermark

Happyscribe uses AI technology so you can have automatic subtitles on your videos. You can upload files of any size and length, and even create a workspace so your team can collaborate with the videos editing. With CPS management, you will be able to ensure that your viewers have time to read the subtitles.
Use the Visual Timeline and Soundwave to see the subtitles in real-time and check if they are correctly positioned. If you prefer, Happyscribe also provides a human-made subtitles service, and translated subtitles. 
Key features: 
Automatic subtitles
AI-powered
Visual Timeline and Soundwave
CPS management
Multiple export formats
Reach a bigger audience by using an automatic subtitle generator
When you use an automatic subtitle generator, your video content becomes more accessible, so people with hearing impairments can also enjoy them. Thinking about accessibility is fundamental, and with a few clicks, it's possible to add captions, as you could see.
Besides, when we think about social media platforms, mainly Instagram, many people watch stories and scroll through the feed with their smartphones on silent mode. If you add subtitles, you enhance the chances that they won't ignore what you have posted. 
Another advantage of including subtitles in your videos is that by doing it, you make your video readable to Google. This increases the chances to be seen as relevant content and appear on Google's first search result pages, improving SEO. 
With an automatic subtitle generator, it's possible to improve user experience and conquer more visibility, whether your videos are going to be posted on Facebook, Instagram, Youtube, or on your website.
Like what you've read?
Sign up and try JivoChat for yourself!
It's free and only takes a couple of minutes to download.