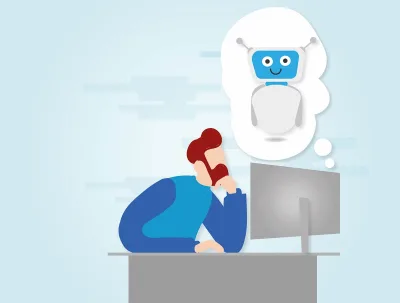 8 Best AI Image Generators in 2023
Jaqueline Corradi
Content Manager
Using the best AI image generators available nowadays can help you with several tasks. For example, finding the perfect image to illustrate a post on your social media profile or on your blog. You just need to type what you want, and the artificial intelligence will give image suggestions. 
AI tools have been developed for different purposes, such as writing texts and creating images. The best AI image gerent aros are easy to use and fast. Use your imagination and ask the AI to transform your idea into a beautiful image. 
What Is an AI Image Generator?
An AI image generator is an artificial intelligence that creates images usually based on texts. You describe with details of an image, and the AI generates one or more images. It can be an abstract illustration or a realistic self-portrait, for instance. 
What Aspects to Look For In AI Image Generators
When looking for the best AI image generator, it's important to pay attention to some aspects to make sure you are selecting the right one for you. One tip is to try multiple image generators since many of them have a free plan or provide a free trial.
Usability
The best AI image generator must be easy to use. It mustn't consume your time but have an intuitive interface that allows you to quickly understand how to make images and use the main features. The user experience must be good. 
Price
If you opt for using a paid AI image generator, first set the budget you are willing to dedicate to pay for this tool. This will save you time because you can eliminate the options that cost more than what is in your budget. 
Features
What features do you need in an AI image generator? Make a list of the tools you wish to enjoy and make sure the AI image generator of your choice offers all of them. Multiple art styles, an image editor, and the option to save images in different formats are interesting features to count on. 
Customer Support
The best image generators should have a good customer support service. That's necessary to ensure you can count on an experienced team of professionals to assist you in case of any problem with generating the images you want or editing them. 
8 Best AI Image Generators
Canva AI image generator can be used for free and you have access to different art styles. All you have to do is type the image you wish to make and the AI will come up with a suggestion for you. 
You can choose the size of the image or select a predesigned one, then type what you have in mind. The AI will give you image options according to what you have asked, and you can use Canva edition tools to make your own design. 
Key features:
Image generator
Generate images from texts
Various art styles are available
Easy to use
Fast
Edition tools
You can use Shutterstock AI image generator on your website, your social media pages, and much more. It's easy to use and allows you to select the image style you wish to make. For example, it can be an illustration, a 3D image, a scene, or a photo. 
First, you will imagine the image, then type what you want, and click on "generate", then the AI will come up with suggestions. Use the Shutterstock edition tools to edit the image. Once you are done, it's possible to download the image and use it in your projects. 
Key features:
Easy to use
Create images from text
Image editor
Multiple image style options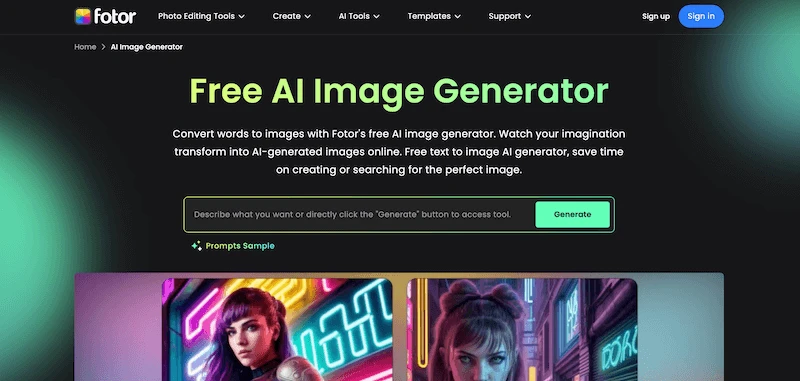 Fotor offers a free AI image generator for you and it's very easy to use. Describe the image you envisioned, then click on "Generate". To unlock the results, you have to create an account on the platform.
You can choose the image size and style. Some of the image styles available are cartoon, 3D, oil painting, art nouveau, and anime illustrations. With the Fotor premium plan, you will have access to multiple tools to edit the AI images, including background remover, smoothing, and magic remove. 
Key features:
Transform text into image
Multiple art styles
Image edition tools
Create images from other images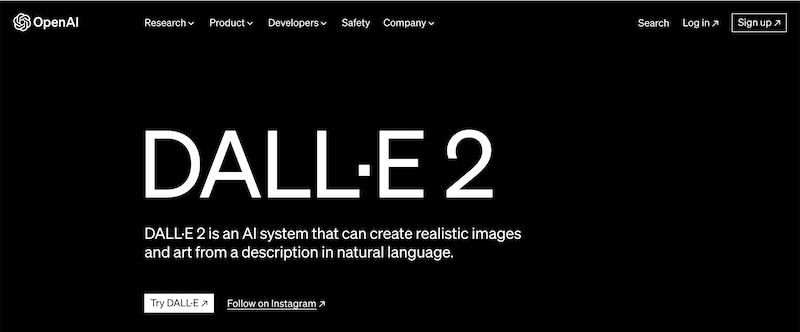 Created by the same company responsible for the Chat GPT, OpenAI, DALL.E 2 is an AI web design tool that creates images from text. 
You will need to describe in detail the image you wish to make, and click "Generate". Then the artificial intelligence will build an image based on what you have written. You can also upload an image to edit it. 
Key features:
Easy to use
Create images from description
Edit images
Expand images beyond the original canvas
Create variations of the same image
The NightCafe Studio allows you to generate images in different art styles. All it takes is to describe an image, choose the style you prefer, and click on "Create". You don't need to pay anything for that.
The platform has created and nurtured a community where people share their AI image creations, and you can participate in daily challenges. A new theme is proposed every day, so you can submit your image, then there is a poll to elect the winner.
Key features:
Easy-to-use
Multiple art styles
Daily art challenges
AI face generator
Stable diffusion image generator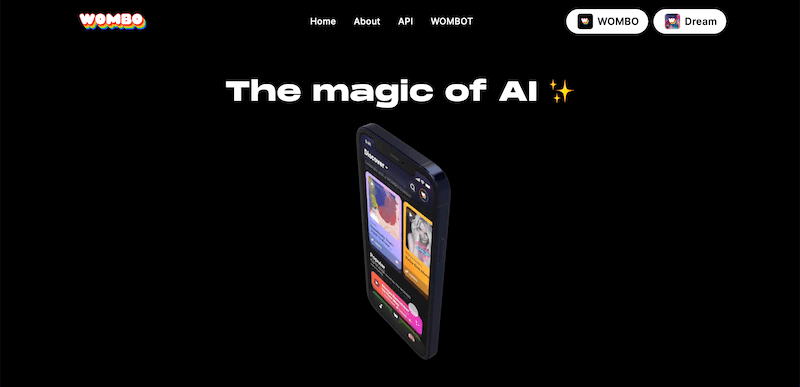 Wombo is an AI image generator that you can use on your iOS and Android mobile devices, just download it from an app store. If you think you can only generate static images with AI, this app will show you how it's possible to make videos too. 
For example, you can choose a picture of you and your friends, then pick a song, and create a video clip from it.  You also have the option to make beautiful artwork by enjoying the art styles, and painting and drawing tools offered by Wombo. 
Key features:
Create image from text
Make videos from photos
Use on your smartphone
Painting and drawing tools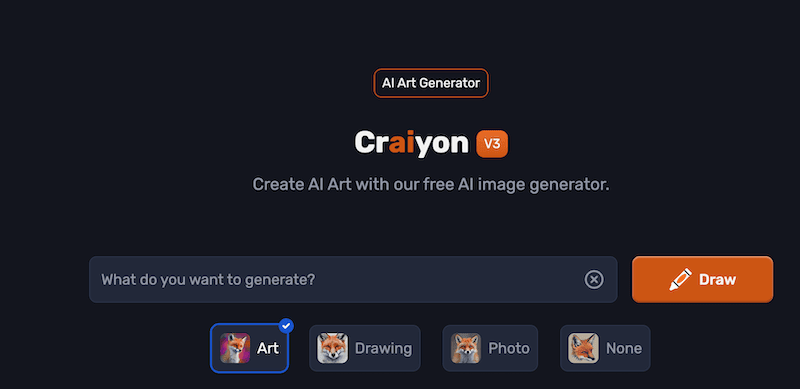 With Craiyon, you can choose to create an art image, a drawing, or a photo, just by typing what you imagined. You can enjoy Craiyon's AI image generator for personal and professional use. They have 3 paid plans, Supporter, Professional, and Enterprise with multiple benefits.
In all of the plans you have access to unlimited images, they don't have watermarks, and your images are private. The Enterprise plan is more flexible and offers custom models, custom integrations, dedicated support, and private servers.
Key features:
Turn texts into images
Easy to use
Multiple art styles
Free version
If you want to generate AI images using your smartphone, Starry AI allows you to do that on iOS and Android devices. Describe what you wish to see, and let the rest for the AI, it will transform your words into different types of images. 
You can create 5 artworks for free every day, and download them without any watermarks. You have full ownership of your creations, and you can use them on your projects. Starry AI provides you with multiple art styles and tools, so you can customize the images. 
Key features:
Easy to use
Turn text into images
Free plan
Multiple art styles
Edition tools
Choose Your Favorite AI Image Generator
After seeing some of the best AI image generators, what about trying them out? Check out their features in practice and select the one you like best. Artificial intelligence can be used to enhance your projects and help you save time and money.
Like what you've read?
Sign up and try JivoChat for yourself!
It's free and only takes a couple of minutes to download.