26 free templates for your sales website
October 27, 2021
updated September 1, 2023
Reading time ≈ 9 minutes
Rafael Garcia
Head of Content
One of the most difficult decisions you'll make when setting up your virtual shop is which template to use. There are a huge number of options on the internet, both paid and free, which can make your decision even more complicated. We've trawled the internet looking for free templates for your sales website, searching for options in different categories, to help you narrow down your search and help you make a decision. Check out the 25 templates that we picked out for you and divided into a few different categories.
Don't forget to check out JivoChat, the multi-channel business messenger, to accompany your new online store in creating conversations and generating leads.
Generic templates for sales websites
These are examples of templates that will work on any kind of sales website. Whether you sell clothes, services, electronics or accessories, the experiences that these templates provide don't stray far from what is considered to be the norm for ecommerce templates.
Wix is one of the biggest website builders available online. Today, they support businesses all over the globe by providing an easy 6-step way to create a website.
Not only you'll be able to choose between professionally designed templates, but you can also drag and drop hundreds of design elements such as texts, galleries, videos, vector art, and more.
Browse their templates, edit your mobile view and optimize your page for search engines.
Also, in case you need help designing your own website, you may opt to answer a few questions and get a free website designed just for you.
You can create virtually any type of page with Wix, from blogs to eCommerce websites, it's definitely worth checking their templates out.
This template has a responsive design and so it adapts to any screen size. What's more, it has at least different 11 types of page that are ready to use for your virtual shop, and you can include a blog, a shopping cart and a checkout page.
Don't forget to check out JivoChat, the multi-channel business messenger, to accompany your new online store in creating conversations and generating leads.
This model lets you offer flash sales on your most popular products. Amongst other features, Ustora also has a space on the homepage in which you can put important information, like returns policies, or can let your clients know that postage and packaging is included in the price of your products.
This template offers more options for customisation more than the two previous templates, and it also has a responsive design. The template divides the homepage into four columns and lets you choose whether to display your products in a list or a grid format.
Universal takes its name seriously and this model lets you create a greater variety of pages, having 45 different pages that you can use on your ecommerce site. This template also lets you use Google Maps to add your location to the contact page, and is optimised for SEO.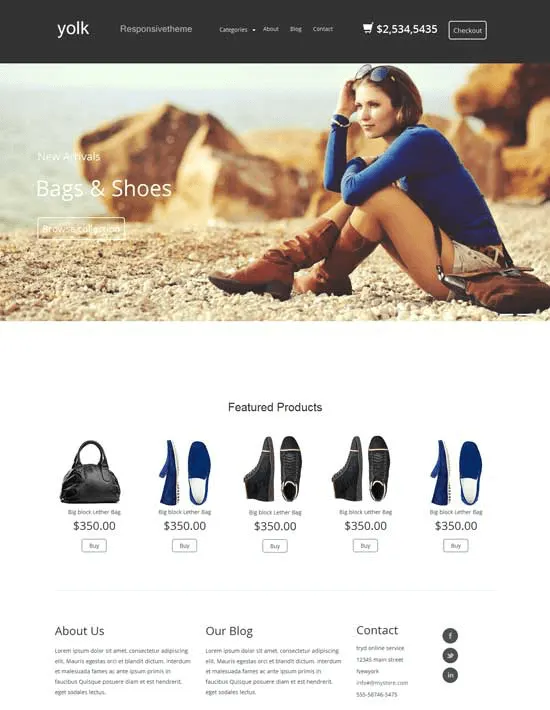 Yolk is a very up to date template that lets you incorporate buttons which take your visitors to your shop's social media pages. This template is also optimised for mobile devices and works with most popular browsers.
With a more general approach, working for most types of digital commerce sites, New Store lets the consumer get a closer look at products by zooming in on pictures. It also lets you include buttons that clients click to add a product to their shopping cart but still stay on the same page, and it presents your selection of products in an organised manner.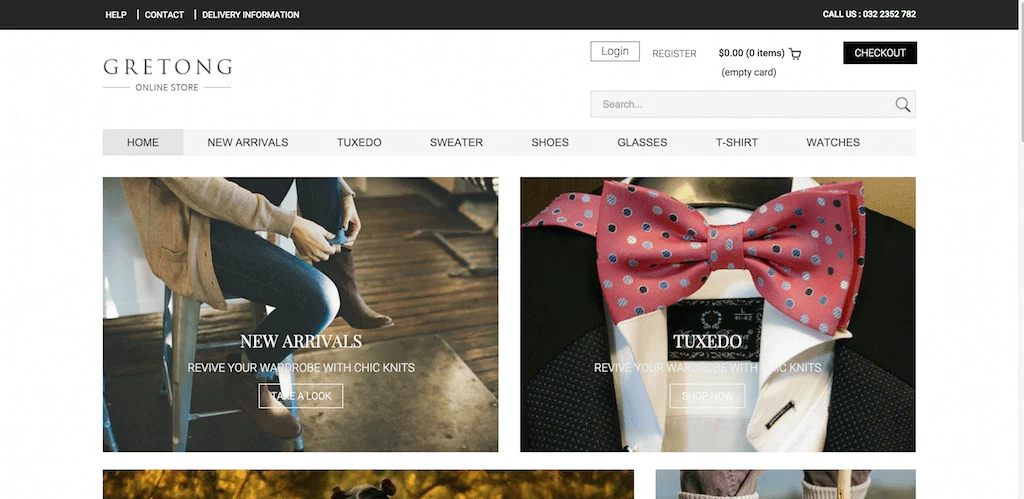 Created in 2015, this template has unique sliders which allow you to make certain products stand out on your virtual shop. Gretong can be used with most popular browsers, as well as mobile devices.
This is one of the few templates on this list that has a style that is more square and less horizontal. This works just like any other shop, and is a template that should be tested with your consumers, to see if they respond better to this template's unique layout.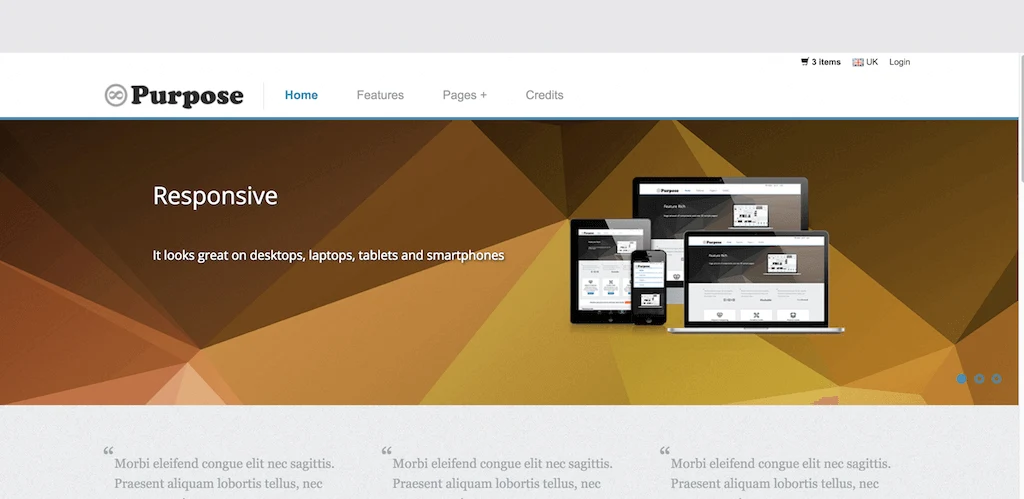 This is one of the most versatile and flexible templates. You can use it for practically any kind of digital commerce site, and mPurpose is also very customisable in comparison to the other models we've mentioned.
On the face of it this might look like a template designed for clothing websites, but it can be used for any kind of business. It has one of the best selections of colours out there and a good range of designs to choose from.
Fashion
Although these generic templates work for any kind of ecommerce business, the fashion and clothing industry has a few quirks that you should bear in mind when choosing a template. That's why we've picked out a few templates that are specifically geared towards this industry, that you can use for your online shop.
The first example on our list includes a space where you can include testimonies from happy customers, to promote your business. This template focuses on the homepage rather than the whole shop, which is useful if you want to highlight your star products, as you have more space to describe them to your customers.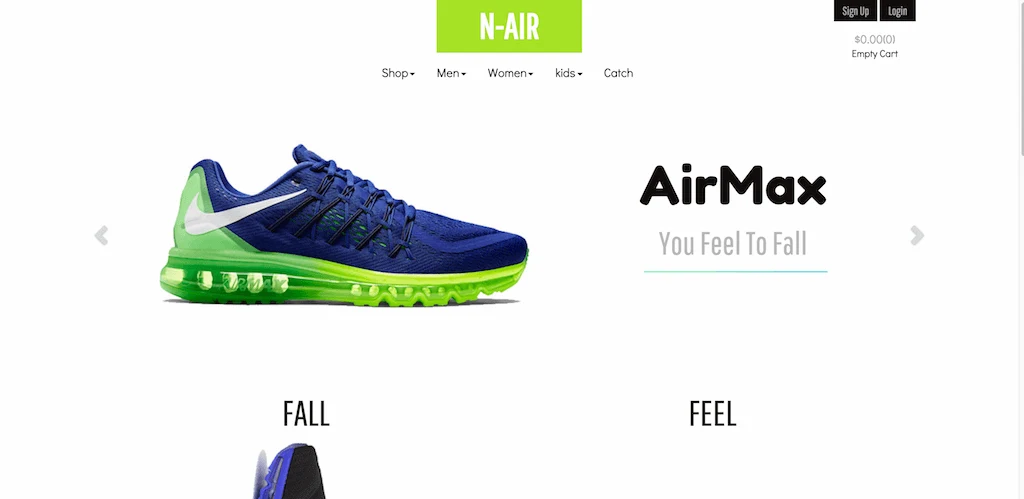 Aimed at websites selling shoes, N-Air has menus which can be minimised in such a way that visitors can see multiple products at once. This template also has image previews, expanding images when the mouse passes over them.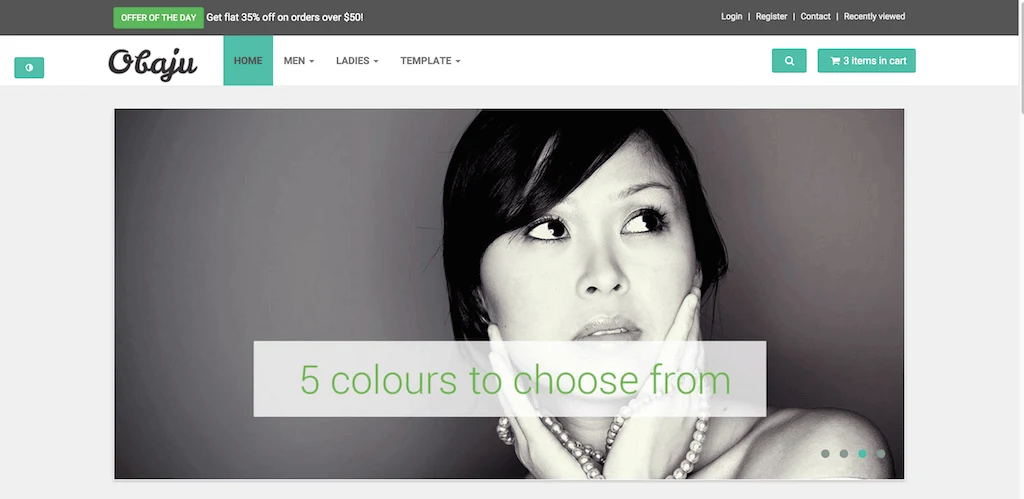 Obaju is a template that has similar features to the other examples we've mentioned. However, you do have more colours to choose from, the contact page is integrated with Google Maps, and it supports the inclusion of a blog on the site.
This template is dedicated to the sale of jewellery, letting clients select the type of stone or metal they are looking for before searching. It also has a responsive design and can be viewed on any kind of device, whether a computer or a tablet.
Nuevo isn't very different to the other templates geared towards fashion that we've mentioned here. One of its advantages is that it is very customisable and it focuses on displaying the best quality images possible of the products on your site.
As the name Fashion Mania suggests, this template is geared towards clothing websites. One of the characteristics that makes it stand out from the crowd is that it was itself created by a fashion ecommerce site.
Electronics and Vehicles
If your site has nothing to do with clothing and jewellery and you need more space to include technical specifications about your products, we've picked out a few templates designed for the sale of electronics and vehicles. These templates allow more space for descriptions and don't focus as much on the style as the options mentioned above. Having online customer service, with attendants who are knowledgeable about the products on offer, is a good strategy if you operate in this area.
This template has two different styles you can choose between for your electronics ecommerce site, and a third is being developed. One template is only one page and focuses on product description, and the other allows you to create a company blog. The third will be an HTML template that will adapt to different screen sizes.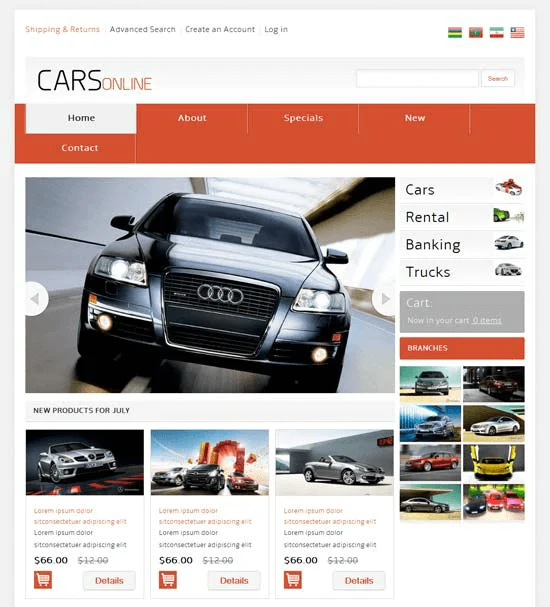 Geared exclusively towards the automotive sector, Cars Online lets you create a virtual shop selling any kind of product or service related to cars and motorbikes. This model can be used for the sale of parts or services, like car rental, amongst other things. It has an exclusive version for computers, mobiles or tablets, as well as a mixed template, which works on all devices.
Home Shoppe Online is one of the most rounded templates available for the sale of electronics and domestic appliances. This is because this template was created especially for shops selling homewares. The template also lets you create ecommerce sites that look similar to eBay.
Furniture and Interior Design
Focused on displaying furniture and decorative items, these models allow you to insert larger images, both in terms of size and quality, on your website. As transactions in this area tend to be larger than in lots of other sectors, don't forget to check out our list of 8 alternatives to Paypal for ecommerce.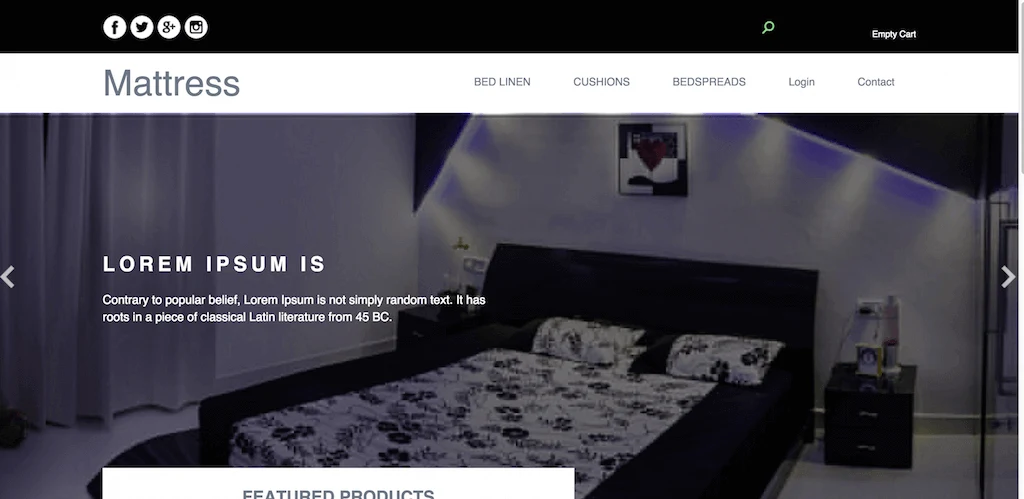 The first template in this section, Mattress is a templated designed for the sale of objects for the bedroom, like wardrobes, beds, mattresses, and pillows. This template doesn't have some of the different features that some of the other options on this list do, but it does let you highlight certain products on the landing page.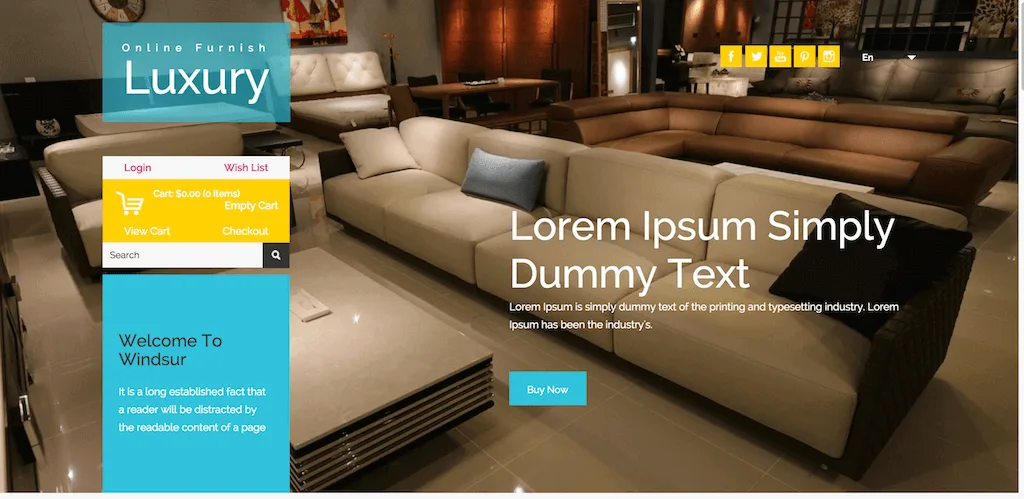 Luxury & Furnish is similar to Mattress. However, this template can be used by any site that works with interior design or furniture display.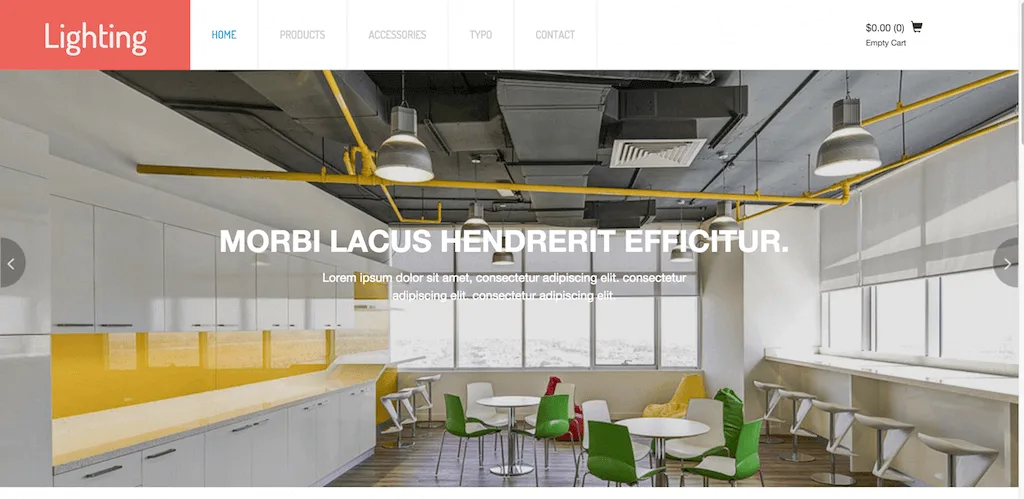 This template was created specifically for the sale of lighting, like lampshades and lanterns. This means that Lightning offers the user unique layout, with a focus on the products and their specifications. It also tries to maintain quality imagery so that buyers can check details of the products available.
Designed for the sale of furniture, Furnyish is pretty similar to Mattress, but, just like Luxury and Furnish, it caters to a wider range of businesses in this area. It is unrestricted, and it is little different to the other templates mentioned here, so a good idea is to test them out before deciding which is the best one for your needs.
Businesses, Events and Education
The last category on our list, the templates below were built with the promotion of a brand, services, such as courses, and events in mind.
This template is dedicated to products and services related to weddings. Whether it's for clothing and accessories for brides or services like wedding planning, Wedding Store offers pages suitable for anything related to this kind of celebration.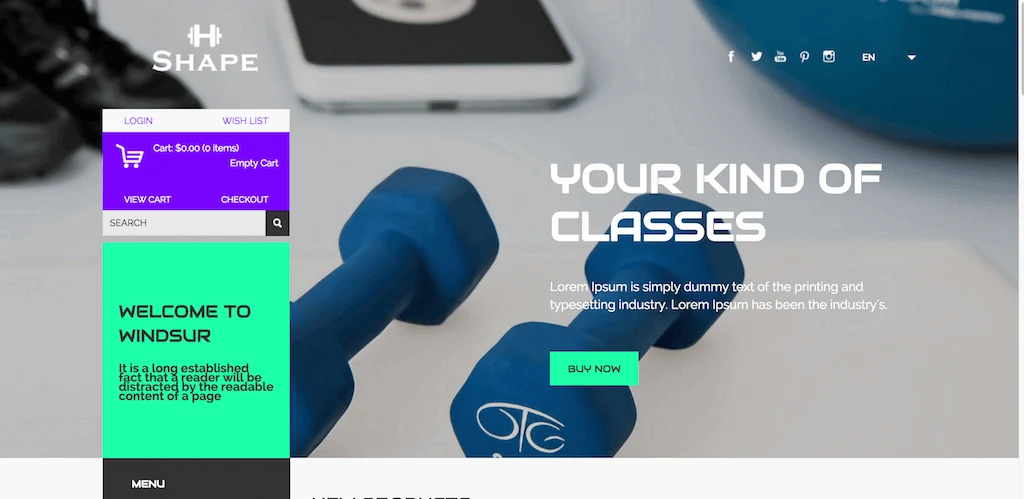 Focused on the fitness sector, Shape has similar features to the templates already mentioned, like compatibility with mobile devices and with all popular browsers. The main difference is its style, which is aimed at gyms and shops related to the fitness area.
JivoChat Affiliates Program: start earning up to 30% in recurring comissions!
Find out about Jivochat and how it can be integrated with your chosen template!
Check out JivoChat's unique features that enable you to start proactive chats, manage chat logs, generate leads, and create an organized ecosystem of client/company communication.
See JivoChat's affordable pricing plans here.
Like what you've read?
Sign up and try JivoChat for yourself!
It's free and only takes a couple of minutes to download.