16 Free Website Templates to Design Your Pages
April 1, 2022
updated May 16, 2022
Reading time ≈ 7 minutes
Jaqueline Corradi
Content Manager
Are you looking for free website templates to start building a professional and high-quality website for your company? When you count on pre-built templates it gets easier to make the design since you will have a defined structure to guide you on how to organize the page elements.
The best website builders available, like Wix and SITE123, provide many options of templates for free, and with a responsive design. All you need to do is choose the website builder you prefer to use, then find the template that fits your website best. 

This free website template was developed for landing pages, which are commonly used for marketing and sales campaigns, for example, to launch new products.
The first page has a video background, and when the user scrolls down to the next section, they will find a form to subscribe and know more about the launch, which is a good strategy to conquer more leads.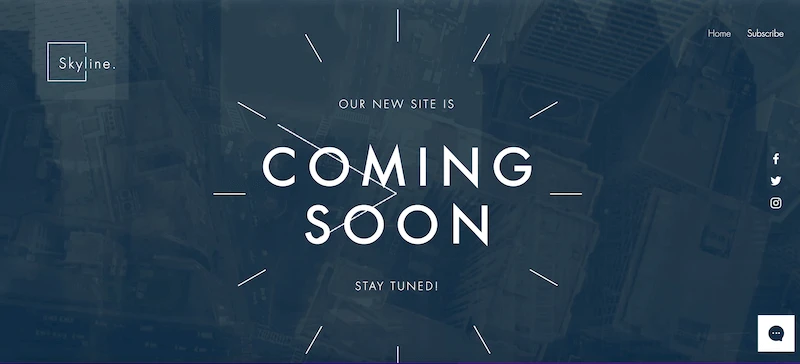 The Business Consulting Company template has a clean and minimalistic design. The color palette uses discrete colors, such as navy blue, white and black, which makes the pages look more sophisticated.
On the home page, the visitor can easily require the company service, and by scrolling down they will find more information about the company, including projects and clients.
Sense is a free website template that you can use if you decide to build your online store using Shopify. The theme was developed for health and beauty stores and enables you to show details of your products and divide them into categories to facilitate navigation.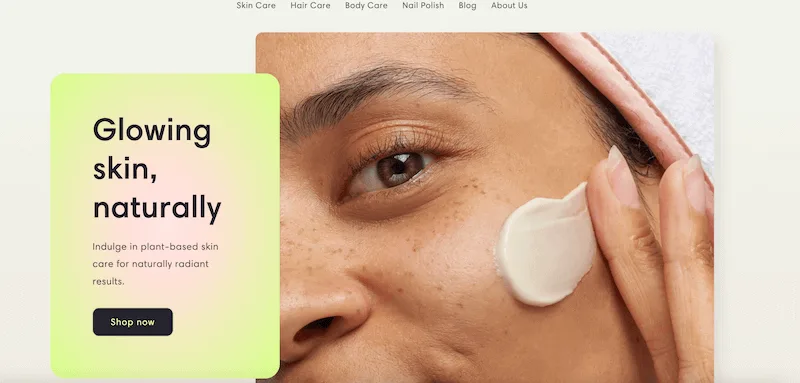 The Dawn theme has a minimalist design to make the products stand out. It's great for different types of stores, health and beauty, clothing and accessories, and home and garden, for instance.
Use an image as a background of the home page, and display the best sellers or items on sale in the next section of the website. 
The Paul Frost template has the perfect design for professionals who are looking to showcase their portfolios online. The home page is minimalistic with an image as the background, and a button that directs to the portfolio where you can display multiple images to link to each one of your works. It's simple and efficient. 
As the name suggests, the Kant & Mitchel Law Firm was created for lawyers' websites. On the home page, the visitor can make an appointment by filling out their contact information.
This design can also be used for other types of business websites that require booking, for instance, for doctors, architectures, and hair salons.  
The Boutique Hotel template is a great fit if you are looking for an elegant theme for building a website for a hotel and other accommodations.
The layout has a clear design to facilitate navigation and make the images stand out. The visitors can check the rooms available and other areas of the hotel, and make their reservations online.
If you have a coffee shop, a bakery, or a candy shop, the Café Crumble template enables you to use a beautiful design to show the items on your menu. You can use an image as a background, enjoy the elegant fonts available, have an online menu, and allow clients to book tables online as well. 
The Mark Wythe Template offers a great theme for real estate websites. With a clean and elegant design, you can call attention to the properties' images, and enable visitors to easily check the active listings, get in contact with you and subscribe to your newsletter. Enriching the pages with high-quality pictures, they are going to make the website much more appealing. 
Do you want to have a clean online store design that is centered on highlighting the products? The Simple Store templates provide exactly what you need. It has a contemporary look and a single-page layout that facilitates navigation.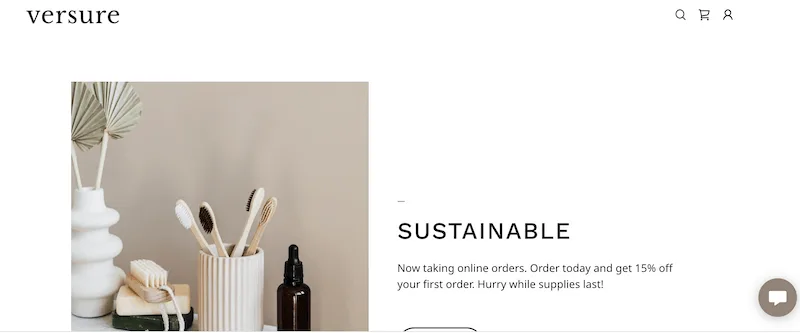 Calvin is a free website template from WordPress built that has a minimalist design and a single-page layout.
It doesn't have a header or widget, the navigation menu can be put on the side of the page and opened when the visitor clicks above it, keeping the design clean, which helps to grab the visitors' attention to specific parts of the page.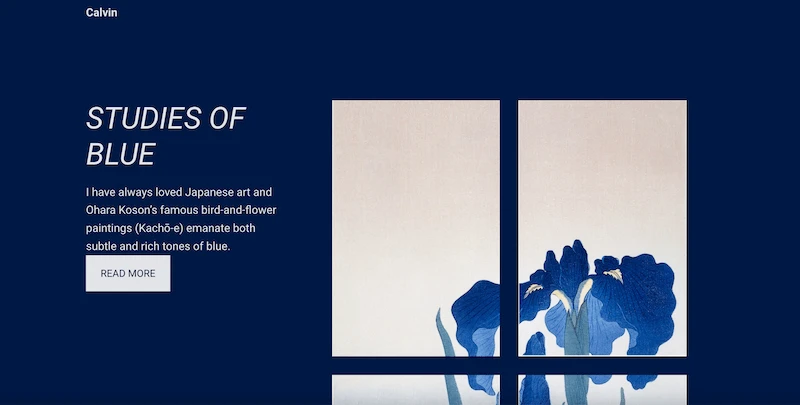 If you have a business that's directly connected to the farming and agriculture sectors, Barnsbury is a free website template made for you. It's ideal for restaurants, coffee shops, and other places specialized in vegetarian and organic food or businesses that sell natural products and promote a healthy lifestyle.
Made by Strikingly, the I Love Apps template is ideal for SaaS (software as a service) companies. On the home page, the app is presented, and you can add a link to the Apple Store and Google Play Store, so the visitor can quickly download the app. With a single page layout, on the next website sections, you can show the app's features and its differentials.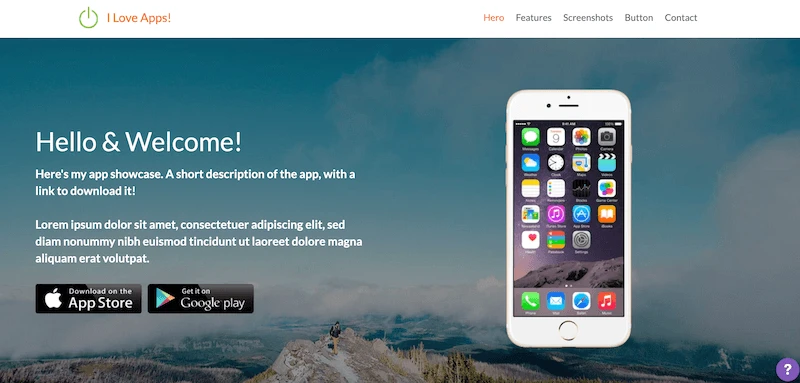 The Perspective template gives you a minimalist and modern design. With a single page layout, on the home page, you can use an image as a background.
On the other website sections, the screen is divided in two, so the visitor can appreciate some beautiful photos and also check out important information. You can add a photo gallery, and include a sign-up form as well. 
The Chomp template was developed by Weebly focusing on offering a design fit for restaurants and the food industry. It has a single-page layout and enables you to create different website sections, including a menu, and visitors can place their orders through the website.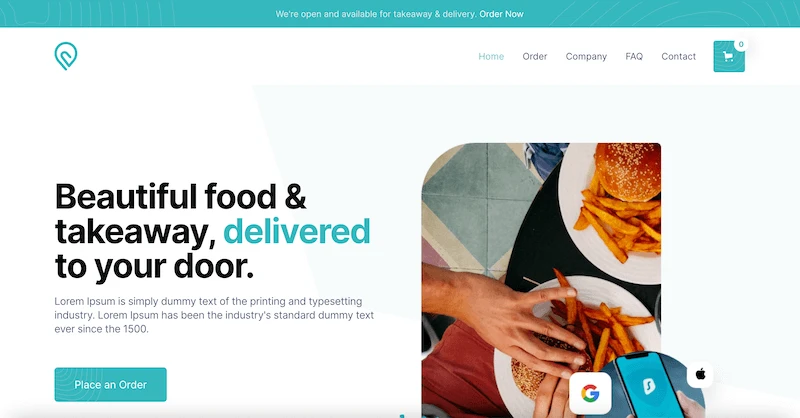 The free website template Business Starter, as the name suggests, was made to enable companies to create professional websites. It has a minimalist design, and you can fully customize the pages, adding multiple sections like blog, team, and contact. 
Select the Free Website Template that Suits Your Business
As you could see, there are a lot of free website templates available for different types of businesses and needs. Before choosing one, plan your website carefully, define what is your website objective and the sections you wish to insert into it.
For example, is your website going to have a blog and an online store? Do you need to add a signup form to subscribe to your newsletter? It's important to have those details clear to choose a theme that allows you to include these sections. 
Once you have an idea of what you want your website to look like and the features it's going to have, it becomes easier to select the best free website template.
Like what you've read?
Sign up and try JivoChat for yourself!
It's free and only takes a couple of minutes to download.