How to Go Live on Instagram
December 29, 2022
updated September 1, 2023
Reading time ≈ 6 minutes
Jaqueline Corradi
Content Manager
Learning how to go live on Instagram can help you explore another alternative to become closer to your target audience, and engage with them. When you make an Instagram live, your followers have the opportunity to talk directly to you and receive an answer at the same time,
That's great when it comes to showing them that you or your brand see them and worry about what they need and think. It's possible to make several types of Instagram lives, for different purposes. But, first, it's necessary to know what it takes to set up one. Check out the article and learn more about it. 
What Is An Instagram Live?
Instagram live is a feature provided by  Instagram where everyone who has a profile on the social media platform can live broadcast at any moment. When you start broadcasting your Instagram followers are notified, so they can watch you live from all around the world, and actively participate by sending their comments or even requesting to join the broadcast. If your account isn't a private one, users who don't follow you also can watch the live. 
Prepare to Start Your Instagram Live
Before live broadcasting on Instagram, make sure your internet connection is stable to avoid any problems while you are recording. Also, look for the perfect scenario and get yourself in a comfortable position, so it will be easier for you to record and your public will enjoy it more as well. 
Also, pay attention to the lighting and choose a spot where the noise won't get in the way of people hearing you talk. All of those details will make a difference when it comes to offering a nice experience for the viewers.  
How to Go Live on Instagram Using an iPhone or Android Device
The Instagram live feature isn't available on desktop computers or laptops. To broadcast through the platform you will need to use a smartphone or a tablet. Just follow the instructions:
1- Open the Instagram app and login into the account;
2 - Swipe right;
3- The iPhone camera will open, then, at the bottom of the screen, choose the option "Live";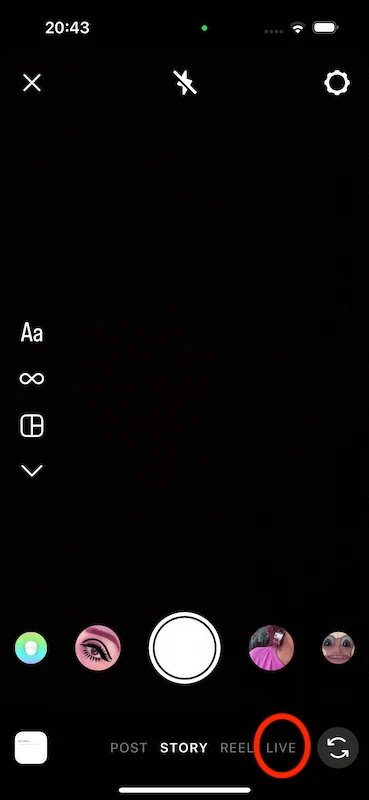 4 - Click on the right side on the first icon to add a title;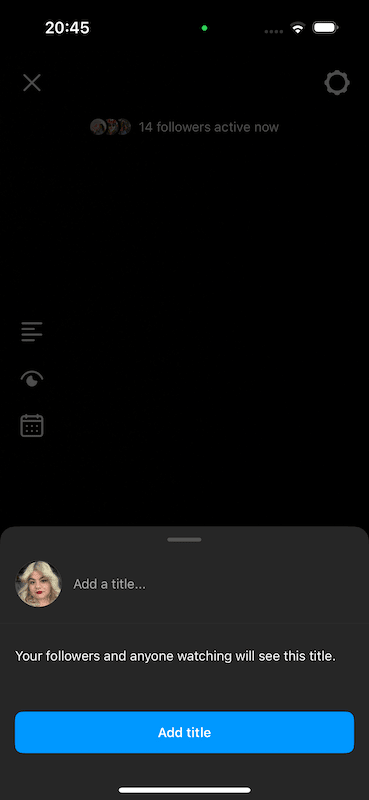 5 - Click on the eye icon to choose if you want your broadcast to be public, which means everyone can watch it, or if you just wish to make it available for just a few people;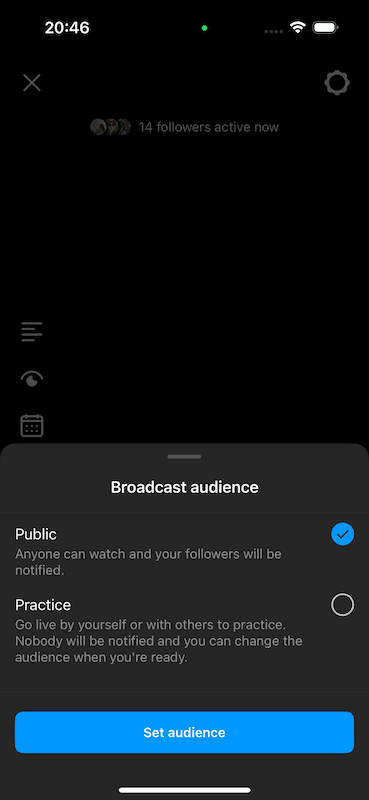 6 - You also have the option to schedule the Instagram live. Click on the calendar icon to do that. This way people will receive a notification about the date and hour that the broadcast will take place;
7 - Once you are ready to go live, click on the live icon and start recording;
8 - Click on the "x" icon to end Instagram live.
How to Manage the Instagram Live Broadcast
Starting the broadcast is one of the things you will have to pay attention to when going live on Instagram. It's also important to know how to use the tools Instagram offers during the broadcast. 
You can control the comments that appear during the live broadcast. To deactivate the comments, click on the three dots icon and select turn off comments. If you have any keyword filters on your comments, they will be applied to the broadcast as well. 
An amazing Instagram live feature is the possibility of enabling other people to participate in the live broadcast with you. You can enjoy inviting experts to answer doubts from the viewers, for example. You can also enable viewers to make part in the broadcast, and encourage people to send the request to participate. This is an interesting strategy to increase engagement. 
The option to ask to go live with you is already enabled, if not, click on the three dots icon and select the option to turn it on. On the other hand, if you don't want to receive any requests, just select the option to turn off the requests. 
Instagram Live Ideas
Besides learning how to go live on Instagram, it's very important to offer interesting content, so viewers will want to keep watching your live broadcast. Whether you are a digital influencer, someone who just wants to have fun live broadcasting to your friends or you intend to make Instagram lives for a brand profile, it's possible to make different types of live broadcasts. 
Q&A Instagram Live
The Q&A format is a great one when it comes to promoting engagement. Your followers may have multiple doubts about your brand, for example, and the live broadcast is the opportunity to answer them.
Ask people to send you their questions and select the best ones to answer while broadcasting. The viewers will feel that they matter to you, and that's a great opportunity for companies to get to know their audience better. 
Launch a Product
Instagram live is a great asset to launch products online. Enjoy the live broadcast to show to the viewers every detail and the benefits the new product from your brand provides. You can even invite an expert or someone from your team to join and explain more about the item. To promote purchases and encourage people to watch Instagram live, you can offer a special coupon discount only for the viewers. 
Expert Talk
What about inviting an expert related to some of the subjects you approach in your Instagram profile and making a live broadcast interviewing them? This way, you can offer high-quality content to your target audience and even promote your brand, products, and services. 
Live Broadcast an Event
If you are going to give a lecture, participate in a conference or any other event that would be interesting to your audience, you can make an Instagram live from there. This way, the viewers may feel like part of the event, and enjoy it with you. You have the option to live broadcast a presentation, show the place where the event is happening, interview the participants, and much more. 
Enjoy the Instagram Live to Engage With Your Audience
Now that you have learned how to go live on Instagram, enjoy it to become closer to your audience. Remember to plan the Instagram live before starting it, choose a subject that is going to drive your followers' attention, and let them know when the broadcast is going to happen.
Like what you've read?
Sign up and try JivoChat for yourself!
It's free and only takes a couple of minutes to download.