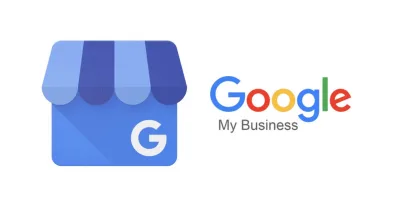 How to Optimize Google My Business to Get More Customers
Google business profile is a business listing service provided by Google for businesses with physical locations or businesses that require physical contact with customers. The purpose is to allow you to share basic information about your business to help customers find you easily. 
The information that can be added to a Google business profile includes your location, opening hours, website and contact information, business description, services, product category, and pictures of your business.
This Google service gives your business visibility on other Google services such as Google Maps, Google Shopping, and Google searches that are compatible with information provided in your Google business profile.
Top reasons to have a Google business profile
Brand visibility
Google My Business contains information on your business that allows you to get visibility through various search queries. For example, people looking for products or services you provide can discover your brand during a search. 
Also, one of the best features Google offers when people search for places on Google Maps is the Google Local Pack. This instantly brings up places located within the area to the first page of the SERP. 
The fantastic part of this feature for brand visibility is that Google business profiles make up a huge chunk of Google local pack. This is where your business listing makes its way organically to your target customers within your business location.
Provide helpful information to customers 
Study shows that  53% of local consumers frequently use search queries to find information about businesses, such as location, product or services, contact information, and opening hours of retail stores.
Having a precise listing on Google Business makes it easier for customers to contact you or visit your business. You need to keep your listing up-to-date: it is very frustrating to drive all the way to a business location and realize that they are not open or they do not have products you want in stock.
Brand credibility
Every now and then people are swayed by the reviews they see about a business before engaging with them. This shows how powerful customer reviews are in influencing the performance of a business. 
Google business profile allows customers to drop reviews and rate your business, and you can respond to reviews as well. Businesses with reviews and responses beget trust and confidence in customers. 
Not only are Google reviews a great way to build trust, but they also have a great impact on your search engine results. To ensure the best possible outcome, you should have enough credible and fresh reviews.
In order to get a steady flow of new reviews coming in, you should proactively solicit them from your customers.
You can also build credibility with relevant and trustworthy information such as a functional contact address and visual evidence of your business. It is easier for people to trust your business when they can contact you on the phone (landline or cellular) or check the integrity of your website, as well as see photos of your business.
How to set up a Google My Business profile
1 - Go to Google.com/business/
You can sign in to start or simply press the "manage now" icon

2 - Enter your business name
Adding your business name sets off the process of building your profile.
3 - Choose your business type
You can select multiple options that apply to your business.
4 - Choose your business category
Here, you can select the kind of service your business provides. You can choose from a variety of options ranging from business consultant to tote bag seller.

5 - Add your business address
Here, you get to add the exact location of your business. After completing this information, you may get a prompt to claim a business from a list of businesses within your location with similar descriptions as yours, or you can continue the process of creating your profile.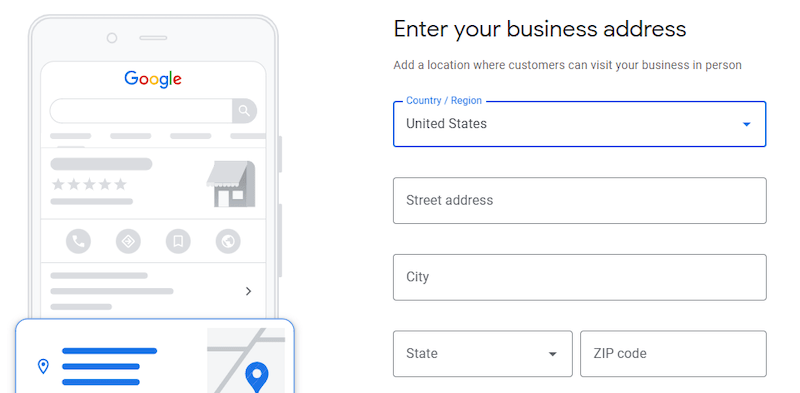 6 - Add your contact address 
You can add your business contact information here, including business phone numbers and URLs if you have any.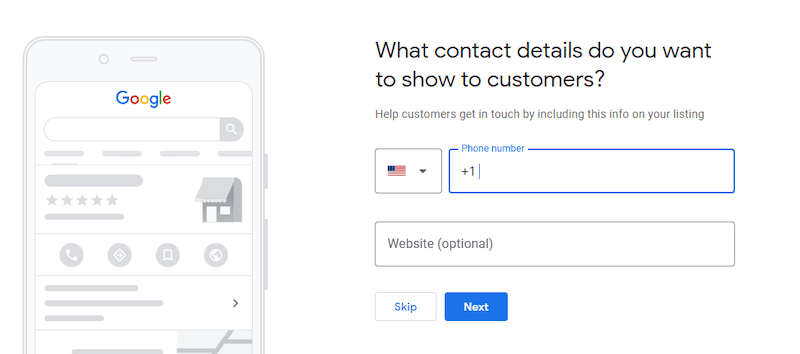 7 - Start connecting
You can choose to get notifications from your business profile on your email to complete your Google Business Profile.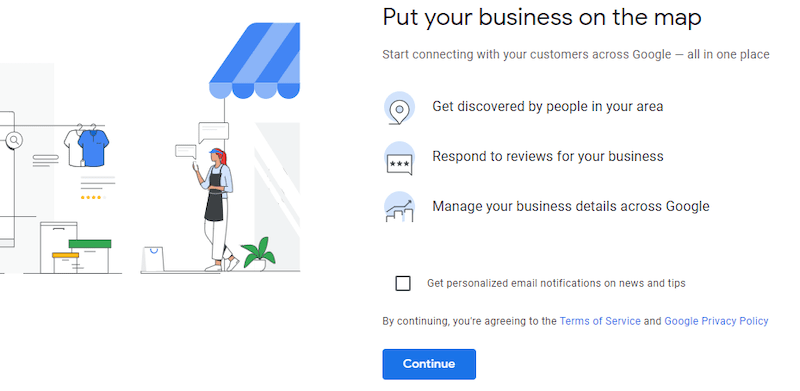 How to optimize your Google business profile
Complete your profile
Google says customers are 2.5 times more likely to consider a business reputable if the business has a complete profile on Google listing. Also, customers are 70% more likely to visit, and 50% more likely to consider buying from your brand when your business profile is complete. 
To complete your business profile, you have to verify your business. Verifying your business location increases your chances of appearing on local searches and making it into the SERP on Google Maps. You can do this by accessing your Google business dashboard.
Also, completing your business profile means you have to add relevant information to the different sections of your Google business profile. 
Below are some important sections not to miss
Add visuals
Visuals include images and videos that attract users to your business. Google offers a free marketing kit that helps you to create a custom video for your business. You can also create and upload videos of your business, product, and services by yourself.
Adding photos of your business logo makes it easy for customers to identify your business from a search. You can also add a cover photo and business photos that display your products, services, and workplace. 
For example, if you have a landscaping business, you can add images and videos of your work during and after completion. 

Use high-quality resolution images to boost the appearance of your business visuals. Also, there is no such thing as too many visuals. People like to see as many photos as they can to help them decide on a business to buy from. 
This study shows that businesses with more photos get more calls, direction requests, and website click-throughs than businesses with fewer or no photos.
Use special features
Special features allow you to add more valuable information about your business. You can access different kinds of special features based on the category of your business. 
For example, hotel businesses can add rates, amenities, and time for check-ins and check-outs as shown in the screenshot below.
You can also include a direct booking button for customers to make reservations right out of your business profile.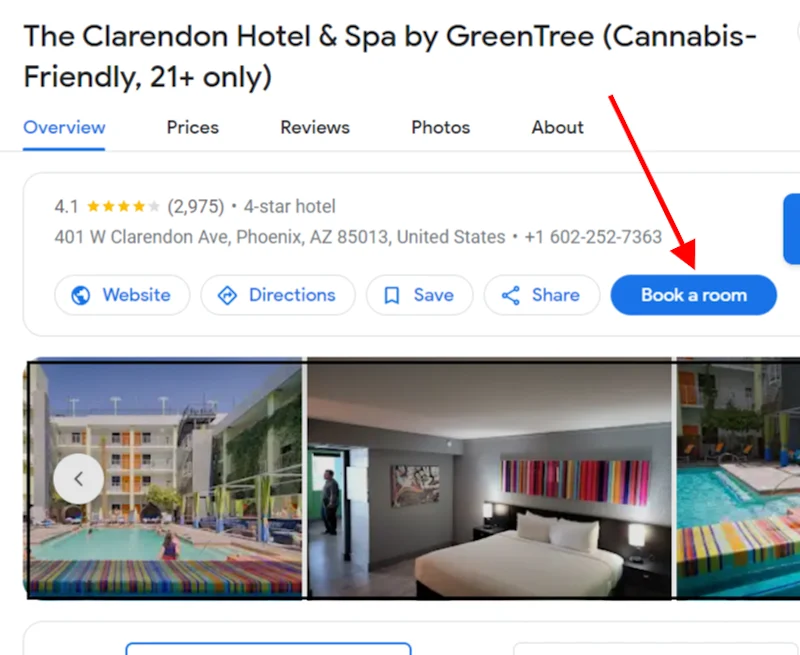 Add products
For businesses that involve selling products, adding an up-to-date inventory optimizes your business account and makes you more visible to customers using other Google services like Google Shopping.
Put up pictures and prices for your products, you can also add a "buy now" button to your products. 
Include keywords
Google business profile is an excellent SEO tool that could be used alongside other SEO tools. To boost your relevance and help people find you faster on the search engine, leverage what people are searching for as keywords in your profile. You can include the keywords in your business description and your products or services details.
For example, describing your restaurant  as a cozy and intimate fine-dining restaurant within your locale makes you visible to searchers looking for cozy fine-dining restaurants in their search query. 
Also, you can use keywords on Google Posts. This is a free tool that allows you to create short-form content for your business. You can have up to 300 words on Google Posts and include images and videos too for more interactiveness on your posts. 
Google tools like Keyword Planner, Google Trends, and Google Analytics can help you discover keywords people search for and insights into how well these keywords will perform for your business.
Use Messaging 
According to research, 75% of consumers prefer to interact with brands through private messaging. Adding a texting feature to your business profile gives customers who fall into this category of preference a channel to engage your brand. 
You can offer more value to your customers through personalized recommendations and responses to their chat queries. For example, customers looking for discount offers can be directed to products on sale on your website. This increases your chances of generating leads and conversations faster from customers.
Customers generally expect a fast response from brands when using the chat feature. Using chatbots as a message automation tool in this regard can be helpful. It enables you to create prompt and engaging conversations with your audience. You can leverage Google Business Messages to get started on live chats. 
Keep your information up-to-date
Any information that isn't up-to-date is irrelevant to your target audience and it is counterproductive to the purpose of your Google business profile. 
Imagine accessing a call number or website that is no longer in use. The credibility and reliability of the business are immediately put into question.
If your operating hours change during weekends or holiday sessions, it is best to update it. The same must be done when contact information changes or your business location has a new look which requires new images to be updated.
This also shows intentionality in providing a great customer experience for your target audience which can build brand loyalty from customers.
To wrap up:
It's important to note that your Google business profile is typically the beginning of your customers' journey. It could produce a great first impression if all your content there is up-to-date and high-quality. So always complete your profile, add visuals, include your keywords, and provide a fast and easy means of communication. 
You should also make sure the next steps of your customers' journey are pleasant. Some necessary steps are making sure your phone is answered by professional support agents, designing an easy-to-use website with great content, managing and nurturing your leads using marketing automation software or other useful tools, providing a great onboarding experience and customer support, etc.
Like what you've read?
Sign up and try JivoChat for yourself!
It's free and only takes a couple of minutes to download.