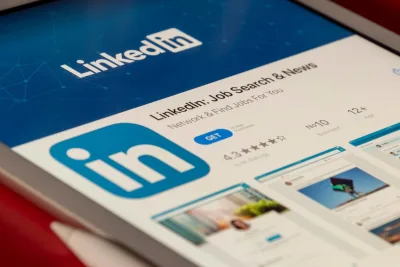 How to Use LinkedIn to Find a Job
December 15, 2022
updated September 1, 2023
Reading time ≈ 6 minutes
Jaqueline Corradi
Content Manager
Learning how to use LinkedIn to find a job can help you boost your career, and enjoy the opportunity you have been waiting for. With almost 1 billion users, the platform is a social network developed to nurture connections in your professional life, and it's used by many companies to recruit new employees.
If you know how to use it properly, LinkedIn can help you to become a reference in your area, for instance. To achieve that, and get the job you dream of, it's essential to create an attractive profile, highlight your expertise, show your qualities and work on building connections. Check out the article to learn more about it.
8 Tips on How to Use LinkedIn to Find a Job
1. Create a Strong LinkedIn Profile
The first step when it comes to how to use LinkedIn to find a job is completing your profile, so it makes you stand out by showing your qualifications as a professional. To do that, start by choosing a professional photo, then take the time to list your most important professional experiences.
Write a brief resume about each one of them where you emphasize what skills you have learned and how you contribute to the growth of the place you have worked too. Don't forget to add the courses and certifications you have either, they are important to prove your skills. 
In the "About" section, write a LinkedIn summary focusing on who is going to read it and how you wish to be perceived. Consider what your next goals are and the directions you want to take with your career, and highlight the aspects that are aligned with these. It's fundamental to be coherent and clear. 
To make your profile even more complete, ask former bosses, coworkers, and classmates to endorse your skills, by sending you recommendations. They are great to validate that you are a good professional and help to give you more credibility. 
2. Keep Your LinkedIn Profile Up to Date
Once you have already created a strong profile, remember to always update it. For example, if you have just finished a new course that is an addition to your professional skills, include it in your LinkedIn profile.
Also, use the feed to publish interesting content, and show that you are always looking for ways to improve. You can share news and valuable information regarding your professional area on LinkedIn, for example. Another possibility is to write articles that approach relevant themes from your sector and use LinkedIn to post them. 
When you review your profile regularly, you also can avoid misinformation. For example, by updating the dates of your jobs and courses. If you have just finished a course or exited a job, change the status and insert the date when it ended. 
3. Let People Know You Are Looking for Opportunities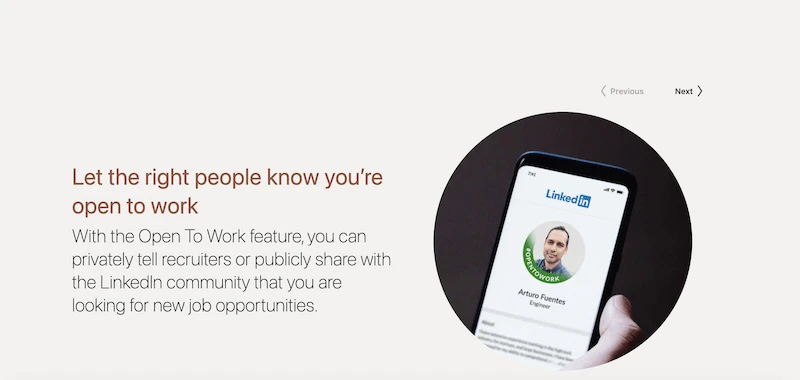 Another important factor when the subject is how to use LinkedIn to find a job is communicating that you are on the hunt for new opportunities. LinkedIn enables you to choose what you are open to, you can select the option "Finding a new job" to show recruiters that you are interested in new proposals.
That isn't the only way to indicate your interest in a new job. You can also do that by entering into contact with your connections and expressing that to them. However, it's important not to look like you are desperately seeking a job, this can give the impression that you aren't good enough and that's why you are unemployed. 
4. Follow the Companies You Are Interested in
What are the companies you would like to work for? Write this list down and start following them on LinkedIn. This way you will see when they open new job opportunities in your area and you can be one of the first to apply for it. Being interested in the brand is already a great advantage, you can show how you fit the company and use your knowledge to impress them. 
5. Join Groups Related to Your Job Sector
Linkedin offers many tools for finding a new job and of them are the many groups that you can enter inside the platform. Search for the ones that are relevant to your areas of interest, and join them.
You will see that in many of those groups multiple users publish job opportunities in their companies, whether the application process happens inside LinkedIn or not. Besides, you can engage with other professionals, increasing your network and they can help you to find a job too. 
6. Enjoy the Advanced Research Tool
LinkedIn has a whole area of its platform dedicated to recruiters publishing job offers and for professionals to apply to them. Use these tools to search for jobs, you can refine the results by selecting the region, the company, and other details. 
Set up the job alerts, so you don't lose any amazing opportunities that may appear. Another great tool from LinkedIn is Easy Apply. Companies that enable this option allow you to apply using your profile, all you have to do is click one button, and wait for the next steps. 
7. Look for Opportunities Among Your Connections
Who is part of your LinkedIn list of connections that can help you find a new job? Look out for people who work for companies that you are interested in or are in the same professional area that you.  They may help by recommending you to their companies, which has a substantial positive impact on your chances of getting an interview. 
8. Contact Managers and Recruiters
Once you find a job vacancy you will apply to, check if you know anyone in the company that can recommend you. If not, search if the recruiter or the manager in your sector has a LinkedIn profile, and send them a message reflecting your interest. 
Write a short and direct message to the person, and remember not to be annoying. Avoid sending more than one message, and don't flood the person's inbox, otherwise, they can have a bad impression of you. 
Make the Most of LinkedIn to Find the Job You Wish For
Now that you know how to use LinkedIn to find a job, put the tips you got into practice, and start applying for the opportunities that suit you better. Review your profile and make the necessary changes to emphasize your professional skills. Check your LinkedIn every day to avoid missing any important messages from recruiters.
Like what you've read?
Sign up and try JivoChat for yourself!
It's free and only takes a couple of minutes to download.