8 Best Translation Tools in 2023
September 27, 2023
updated November 8, 2023
Reading time ≈ 8 minutes
Jaqueline Corradi
Content Manager
Using translation tools can simplify your work if you need to launch a website in more than one language, an app, or an article, for example. With just a few clicks, you can have an entire text translated without any hustle. 
Then, all you have to do is review the translation and enjoy it. In the globalized world we live in, where the internet allows people from different countries to have access to your content, translating it into multiple languages will broaden your reach, giving you more visibility. 
However, to provide high-quality content in more than one language, it's essential to choose carefully the translation tool you will use. This way you avoid committing mistakes, and enhance productivity at the same time. 
Benefits of Using Translation Tools
There are several advantages to using translation tools available on the internet. Your content becomes more accessible to a bigger audience without having to spend hours translating it manually. 
Expand Your Reach
When you translate your website, software, articles, and other types of content into multiple languages, it automatically becomes more accessible to a bigger number of people. This means you have the opportunity to reach an audience from other countries.
If you have an online store that ships products globally, for example, customers may feel more compelled to buy from your ecommerce store if there is a version of your website in their language. As a consequence, you may sell more products. 
You can use a  translation tool to offer a mobile app in several languages as well, which will attract more people to download your app. 
Increase Brand Awareness
As your brand content becomes available in multiple languages thanks to translation tools, people from all around the world can get to know your business even without speaking your native language. Therefore, your brand may become known in different countries, increasing brand awareness. 
Simplify the Translation Process
The translation process becomes much easier when you use translation tools because the text will be translated automatically. A person would have to translate word by word, which consumes a lot of time. 
Translation software makes this happen in a matter of seconds. Besides, you can use the same app to translate a piece of content in more than one language, for example, translate a text from English to Spanish, French, and Portuguese.
However, this doesn't mean the translator job isn't necessary. This may speed up their work, but counting on someone who is fluent in the language you wish to translate to is important because they will be able to analyze when a word or expression is used incorrectly. 
Translation tools are enhancing their accuracy continuously however, they still commit some mistakes when translating metaphors, for example. A professional translator will identify those problems. 
What Aspects to Look For in Translation Tools
Some essential aspects should be taken into account when choosing the best translation tool for you. Several translation apps are available on the internet, and paying particular attention to those details will be useful to filter the efficient ones. 
Accuracy
It may sound obvious to say, but the main factor that distinguishes a good translation tool is if it offers the best translation for a word according to the context it's inserted. The same word may have multiple meanings, the app you use should be able to understand that. Otherwise, the translated text won't make any sense. 
Easy to Use
Analyze if the translation tool of your choice provides a user-friendly interface where you can easily explore all its features. An easy-to-use app simplifies the translation process by saving you time. 
Number of Languages Available
Another important feature is how many languages the translation tool offers. Pay attention if it includes all the languages you need, so you won't have to use more than one app. 
Budget
You will find paid and free translation tools on the internet. Before choosing the one that suits you best, set up a budget so you don't spend more than you should. In the case of the apps that offer paid and free versions, analyze what features are available in each plan.
8 Best Translation Tools
Google Translate is one of the most popular translation tools on the internet as you can use it integrated with your browser When you access a website that isn't in your native language using Google Chrome, it may appear the option to see it translated. With one click the whole page becomes available in English and other languages. 
You can use this tool to discover the meaning of just one word or phrase by accessing the Google Translate page, and typing what you wish to translate. Usually, it detects the language automatically. The translation is available in more than 100 languages.
Another advantage is the possibility of translating the text in images and documents. All you have to do is upload it. You can save expressions and phrases and create your own dictionary. If you want to know how to pronounce a word, just click on the microphone icon. 
Key features:
Translate texts in more than 100 languages
Translate websites
Translate texts from images
Save words and phrases
Learn how to pronounce words
Smartcat allows you to deliver multilingual content without any hustle. It uses artificial intelligence to translate texts with accuracy to keep your brand voice and avoid problems such as the misuse of expressions and brand terms. 
It's possible to translate your content into 280 languages in just a few minutes. The AI learns with your edits and gets more precise every time you use Smartcat. To make sure the translations are as good as possible, you may use the Smartcat marketplace to hire translators and proofreaders. 
Enjoy the Translation Management Platform to centralize your projects and facilitate teamwork, You can create workflows, and integrate the platform with other applications, such as Google Docs, and WordPress. Smartcat supports more than 50 file formats including DOC, JPEG, and PDF. 
Key features:
Translate into more than 280 languages
User-friendly interface
AI-powered
Translation Management Platform
Supports more than 50 file formats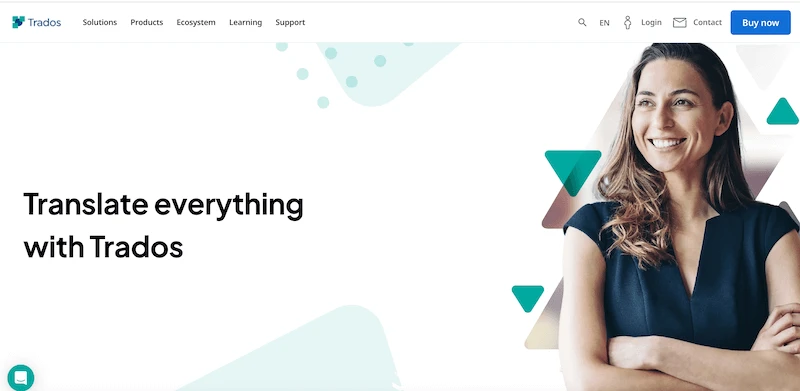 Trados Studio is a computer-assisted translation (CAT) tool developed to help translators speed up their work. It uses translation memory, terminology management, and machine translation to guarantee you always deliver the best work. 
With the translation memory, you can reuse previously translated and approved content to improve your productivity. The terminology management is perfect for maintaining a consistent tone of voice in all languages. 
Trados also provides management tools so you can centralize all your translation projects in a single place. 
Key features:
Translation memory
Terminology management
Machine translation
Project management
Scalability
Phrase offers the latest AI and machine translation features so your texts will be translated quickly and with accuracy.  You will count on management tools to develop your translation projects, create workflow, and automate processes. 
All your translations are stored to make your work more efficient, so you don't have to translate the same thing twice. Besides, the AI learns with your edits to offer better automatic translations every time you use it. 
Phrase can be integrated with multiple apps, like Adobe Commerce, Contentful, and Zendesk, and It supports more than 50 file formats
Key features:
AI-powered
Machine translation
Project management
Supports more than 50 file formats
Workflow automation
If you are looking for a translation tool to create your website in multiple languages, Smartling will assist you with that. It translates quickly and accurately with visual context and quality checks. 
Smartlng's translation management platform allows you to centralize all your translation projects in one place. You can check the translation progress of your websites, mobile apps, and other types of content in real-time, and create translation workflows. You can program quality checks and count on an AI-powered system.
Key features:
Create multilingual websites
Translate quickly and accurately
Manage workflows
AI-powered translation
Machine learning tool
With Localize, you will be able to translate your web apps, user interface, dashboards, and much more in just a few minutes. To translate your website, install the Localize code snippet, and the automatic content detection will capture the existing content. 
The in-context editor allows you to add, manage, and edit multilingual website translations in real time. Use the Localize dashboard to work together with your team, so they can collaborate with the translations too.
Key features:
Automatic content detection
In-context editor
Multiple language translation
Developer tools
Machine translation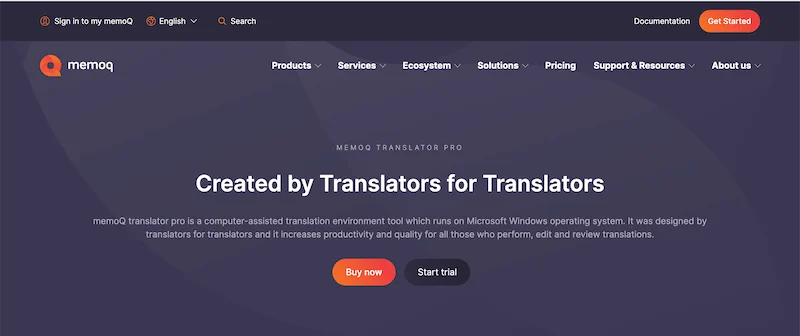 Created by translators for translators is MemoQ motto, which is an assisted translation tool that runs on Microsoft Windows. With it, you will have a space to manage all your translation projects and enhance productivity.
It's possible to reuse your previous translations, create glossaries, use predictive typing, and get suggestions automatically. You don't have to translate anything twice, the translation memory will store everything, and if it identifies the same segment, MemoQ suggests the earlier translation. 
Key features:
Reuse your translations
Term base
Translation memory
Compatible with other translation tools
Supports most document formats
Supports over 100 languages
Weglot is an easy-to-use translation tool for your website. First, you have to connect Weglot to your website, to help with that you can count on the integration guides, and it's possible to choose from more than 110 languages. 
Weglots detect the content automatically and translate it using neural machine translation providers. You can manage the content on your original site, and it will be translated automatically. 
Key features:
More than 110 languages available
Content detection
Neural machine translation
Translation editing control
No code install
Multilingual SEO
Select the Translation Tool that Meets Your Needs
As you can see there is a wide variety of translation tools, some with features for people who don't have any experience in this area and others developed to enhance professional translators' work. Identify what you are looking for, then select the app that suits your needs best.
Like what you've read?
Sign up and try JivoChat for yourself!
It's free and only takes a couple of minutes to download.