Included for free in plans
VIP
PRO
BASE
With our Apple Business Chat integration, you can send Rich Links during chats to direct clients to specific links on your website. Existing Rich Links can be used by all agents in your account, just like the Quick Phrases feature.
Create a Rich Link
To create a Rich Link, click the icon pointed in the image below to open the list of extra during-chat features for Apple Business Chat.
These features will only appear during Business Chat conversations
Go to the Rich Links menu and press "Add a rich link".
Insert a title (1), URL (2, make sure to insert the full URL containing the http/https as well), upload an image or video (3; optional) with up to 10mb, insert a tag (4) for future easier identification of the Rich Link by your team, and press "Add rich link" (5) once you're done.
After creating the Rich Link, you can send it at any time during a conversation by pressing the menu to open the list of Rich Links one more time and click the desired Rich Link to send it in chat.
The client will receive the rich link in their iMessage app and will be able to see a preview with the image or video that you inserted. They can click the Rich Link to go to the link configured by you.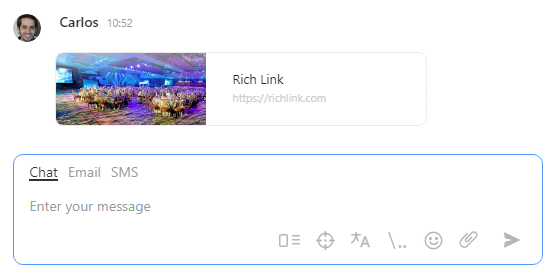 Edit/Delete a Rich Link
To edit or delete a Rich Link, open the list of existing Rich Links and click the small edit button located at the lower right corner of each Rich Link.
Edit the Rich Link as you desire and press "Update", or click the "Delete" button to delete the Rick Link.
That's it!
Ask in the live chat, we are ready to help around the clock