6 Best Grammar Checkers to Help You Edit Texts
Jaqueline Corradi
Content Manager
The best grammar checkers available in 2023 are a great asset to ensure you won't send your text with grammatical errors. Sometimes, even the best writers need help to see a word misused or misspelled when reviewing a text.
The grammar checker prevents those mistakes from remaining unnoticed. Besides, it saves you time, allowing you to focus more on the quality of the content. You may choose a free grammar checker or a paid one, and enjoy it on Google Docs or Word, for example. 
What Is a Grammar Checker?
Grammar checker is a software that detects grammatical errors, misspelling words, and other mistakes such as unclear sentences, and too long paragraphs. Some of them correct the content automatically, while others highlight the mistakes and point out the eight ways. 
Usually, you can integrate the grammar checker into the software you use to write your texts or paste the text into the grammar checker to do the review. It's a quick and simple process that helps to enhance the quality of your content. 
Why Use a Grammar Checker
A grammatical error that goes unnoticed can damage your reputation as a writer, using one of the best grammar checkers can prevent that. That's one of the main reasons to enjoy this type of software. 
Another one is the fact that the grammar checker also gives other suggestions to improve the text. It even suggests synonyms to avoid word repetition and enrich the vocabulary as well. The grammar checker also analyzes the punctuation and the use of passive voice. 
6 Best Grammar Checkers in 2023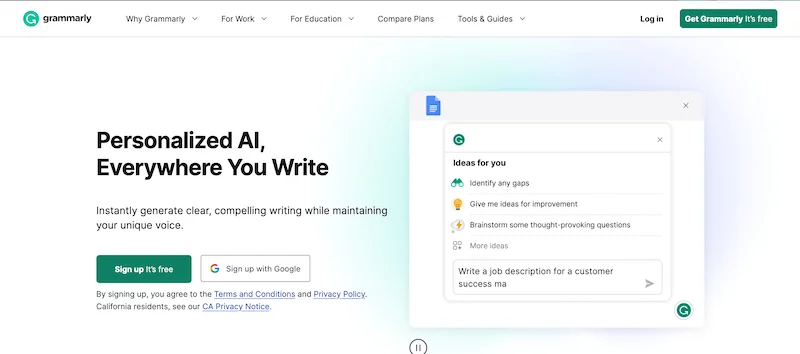 Grammarly uses generative AI to analyze and give the best suggestions for your text. You can choose the revision feedback you wish to receive by selecting your writing style or your English dialect. In your account settings. 
The text is underlined in different colors, each color representing a different mistake, for example, red means a misspelled word. To understand what's wrong, all you need to do is click on the word. 
You can integrate Grammarly with Google Docs, Word, Outlook, Slack, and much more. You can also install it as a browser extension in Chrome, Safari, and Firefox, and use it on your mobile devices too. 
Key Features: 
Generative AI
Corrects more than grammar mistakes
Choose the revisions feedback you want
Browser extensions
Mobile version
Hemingway Editor is an easy-to-use grammar checker that has a color system to indicate what needs to be changed in your text. If a sentence is highlighted in yellow it means it's too long and you should shorten it.
If a sentence is highlighted in red, it's dense and difficult to understand, therefore, you must try to explain your thoughts simply. When a word is in purple, it's too big, in blue it's an adverb or a phrase that's weakening the text. While green represents a passive voice. 
It's simpler and faster to edit what you need, and you avoid missing any mistakes. The app is paid, but you can try it for free.
Key features:
Easy to use
Check for different types of mistakes
Evaluates readability
Desktop app
You can use QuillBot even online, just copy and paste your text on its grammar checker, and you will receive the review. You can choose between different modes: standard, fluency, formal, academic, simple, creative, expand and shorten, or even create your own mode.
It uses AI to enhance your writing and allow you to have the best version of your text. You can set the tone and style according to the occasion. You can also use the synonyms slider to decide how much you want to change the original text. 
With the AI-powered thesaurus, you will quickly find synonyms for the words you want. All you have to do is click on the word in the text and check the suggestions. QuillBot offers several other tools to help you, including a summarizer, plagiarism checker, and translator. 
Key features:
Choose between different modes
AI-powered thesaurus
Integrate with writing tools
Plagiarism checker
Translator
With just the touch of a button, you can get thousands of grammar and style suggestions through ProWritingAid. Figuring as one of the best Grammar Checkers, it uses AI combined with human expertise to offer the best edit solutions to your writing. 
To help you improve your skills, ProWritingAid counts on a team of experts such as college professors from renowned universities and bestseller authors. You can watch masterclasses about different writing styles, like a fantasy epic, a college admission essay, or a cover letter. 
Key features:
Easy-to-use
AI-empowered
Grammar and style suggestions
Team of experts
Masterclasses
Ginger is an AI-powered writing assistant that will correct your texts, and help you enhance your style. It considers not only grammar but also takes into consideration the whole sentence to suggest context-based corrections. 
With the rephrasing feature, you will see alternatives to convey the same message, for example, avoiding repeating a word too many times. If you are looking for a synonym, just click on the word and you will see the options that are a great match. 
Ginger works on all websites., and you can integrate it into Word too. Besides, you can install it on your desktop and on your mobile device to enjoy the app anytime you need.
Key features:
AI-powered
Context-based corrections
Rephase
Synonyms
Desktop app
Mobile app
LanguageTool is considered one of the best grammar checkers because it goes beyond that. It corrects spelling mistakes, paraphrases the text, helps to adequate it into the best style and tone of voice, and it's multilingual. 
It offers quality scoring so you can evaluate how your writing evolves over time, and you will have a personal dictionary. Your texts are securely stored, and in the "Picky Mode", you can access even more suggestions for advanced punctuation, style, and typography.
Count on the browser add-on to use Language Tool suggestions while writing an email, a blog post, or just a tweet. This tool is available in more than 30 languages, including English, German, Portuguese, Spanish, and French. 
Key features:
Spelling, style, and grammar checker
AI-powered
Personal dictionary
Quality scoring
Browser add-on
Available in more than 30 languages
Choose One of the Best Grammar Checkers for You
Now that you have seen the best grammar checkers, enjoy this moment to select the one that suits your needs. It's going to make a considerable difference in the quality of your texts, and as you see the suggestions, you will learn more about grammar, spelling, text style, and tone of voice.
Even if you have good ideas, how you write them impacts the way people perceive you. If you aren't clear and direct, you can easily be misunderstood, and misspelled words give a bad impression. However, a good grammar checker can solve all that without any hustle. You will see.
Like what you've read?
Sign up and try JivoChat for yourself!
It's free and only takes a couple of minutes to download.