10 key features for your online chat platform
August 25, 2016
updated September 9, 2022
Reading time ≈ 6 minutes
Clayton Quist
Customer Service Genie
There are a huge number of options out there for online chats, each with different functions and individual features, which you can integrate into your website or blog platforms such as WordPress. With so many options to choose from, sometimes it can be difficult to know which features, some of which you wouldn't even think count as features in themselves, are the most important so that you can provide your clients with the best customer service. To help you decide, we've put together a list of 10 features that your chat needs to have in order to both provide the best customer service possible and evaluate its performance.
Have a look at: 15 best tools to create landing pages for your ecommerce

1. Customisable Design
Although some ecommerce chat tools are free – despite some of these also having paid versions – they may have limited options when it comes to interface personalisation. That's to say you won't be able to stamp your brand's identity onto the chat, or your customisation options might be too narrow. Chances are, they'll offer you the option of customising the chat's appearance if you decide to upgrade from a free to a paid account. Although the prospect of paying less or even not paying at all can be tempting, not being able to personalise your online chat could undermine your potential client's confidence in your company, hence why one of the key features of online chats is having the option to customise them.
2. Application for mobile devices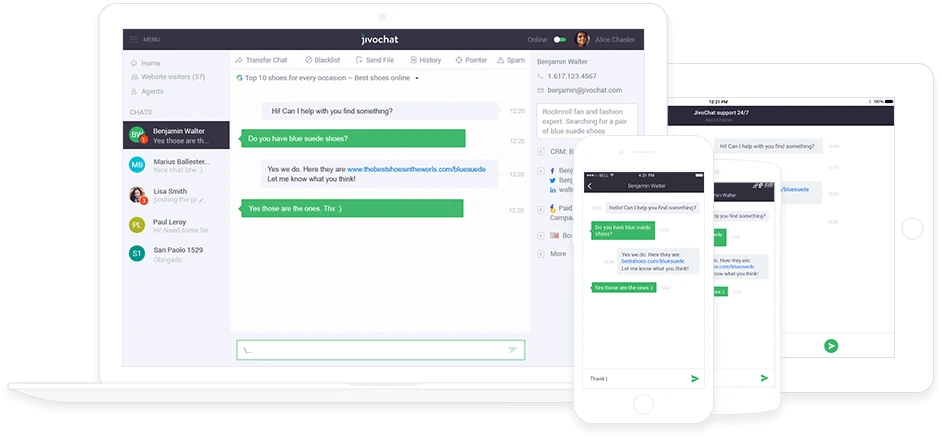 With the migration of the majority of internet use from computers to mobile devices, not having an application for Android and IOS, the two most commonly used mobile operating systems, just doesn't cut it anymore. The use of an app lets you deal with requests even when you're not near a computer. This makes your customer service more flexible, and means you don't have to log off, even when none of your team are in front of a computer screen.
3. Version for online browsers
Even though internet access through computers is on a downward curve, the majority of people still access customer service through a computer. Even if the software is the best option, it's worth remembering that it isn't a good idea to install it on all types of computer. To deal with this problem – and to use the service on public computers – it's essential that your online chat tool has a web version, meaning you only need a browser and a web connection to operate. Although it's not vital to have a version of the programme for Macs, it can make access to the platform more flexible.
Have a look at: 30 ways to achieve your first online sale
4. Pre-chat forms
It might seem insignificant, but having the option to fill out a form pre-chat can be extremely beneficial. One of the advantages is that if people are waiting to be attended you can hold onto them for a few more minutes, keeping them occupied filling in the form. Secondly, it allows the person attending the client to skip a few steps as they have all the key information from the very start of the conversation. Lastly, if the client has to enter their email this helps your mailing list to grow, good for improving your email marketing.
5. Clients can access the chat even when offline
Even outside of your working hours, your visitors don't have to go without customer service. Some platforms close down the chat totally out of hours, but others give you the option to keep your chat operating, even if your client doesn't get an immediate reply. That's why it's a very good idea to use a platform that allows messages to be sent outside working hours. When no one is online to answer your clients you can opt for an automatic response and then answer the question the next day, or you can arrange for the messages to be sent to an email address. If you want to, you can even do both.
One of the main tools that JivoChat uses for engagement is sending proactive invitations. That means that after a visitor has been on your site for a little while, a message, which can be automated or not, is sent through the chat, letting your visitor know that you're available to answer any questions they might have. This means that the online chat works more effectively and converts more visits into sales for the companies that use them. Not every chat tool has this function, but given its effectiveness, it's fair to say that it's a feature that your chat simply has to have.
7. The possibility of dealing with several clients at once
There's no point in exchanging the telephone for an online chat if one of its biggest advantages can't be exploited: dealing with more than one client at a time. If an online chat platform doesn't allow for this, it makes no sense to use it, as clients will be left waiting for the same amount of time they would if they were, for example, ringing a call centre.
Have a look at: How great experiences can turn into a sale
8. Client's history
Another one of JivoChat's strong points, a feature that's pretty useful for those that use CRM, is that you can integrate it with your system. You can export information about your clients to help you with your customer service. This way the conversation becomes more productive, meaning that not only does the client not have to give their details every time they connect, but that the attendant has access to information about past visits, purchases and problems, having a broad picture of the relationship between the company and the buyer in question.
9. Analytical tools
It's not enough to simply good customer service, you need to be constantly evaluating your performance and improving the way you operate. That's why any chat platform you use needs to offer your company analytical tools so that you can evaluate your team's performance. In this way you can assess the number of conversions that were the result of customer service, how many conversations with customers were had in a determined time and how many questions were selected, amongst other things. Never use a platform that doesn't offer you this feature.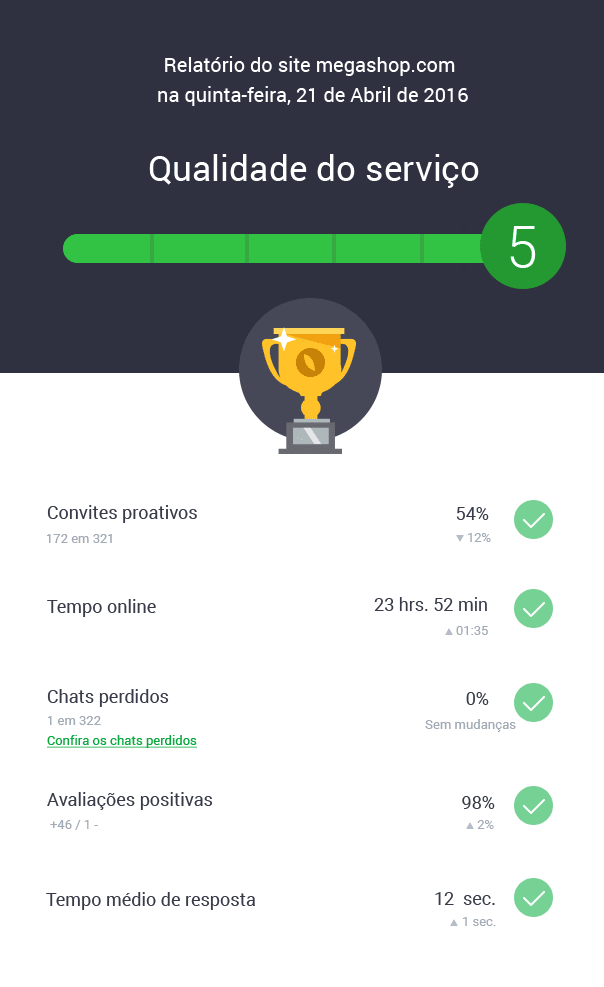 10. Conversation backup
Last but not least, conversation backup is an essential feature of an online chat platform. Whilst the tools already mentioned let you measure your customer service in quantitative terms, backup has two main functions: to analyse the quality of your customer service and protect you against unwanted visitors. This feature is so important that you shouldn't even consider an online chat platform that doesn't offer it, as by doing so you would be putting your company at risk.
JivoChat Partnership: our affiliates program pays 30% in recurring comissions!
You now know all about the features your online chat simply has to have!
Having read this article, you're fully aware of the features that your online chat service has to have to be a real success. If you'd like to start using online chat on your site right now, try Jivochat for 14 days, absolutely free! Click here to get started.
Like what you've read?
Sign up and try JivoChat for yourself!
It's free and only takes a couple of minutes to download.