14 Practical Examples of Automated Reply Messages (By Channel)
April 2, 2021
updated September 1, 2023
Reading time ≈ 13 minutes
Igor Shekotihin
Head of International Growth
Customers expect quick replies. From marketing and sales questions to customer support requests, speedy issue resolution is of crucial importance to 82% to 90% of customers. At the very least, they expect to be kept in the loop when there is a delay. With automated reply messages, businesses can stay in touch with customers—even if staff members are out of the office.
Relying on agents alone for support is expensive and impractical, even for businesses with bigger budgets. However, in the customer-centric era, transparency and clear communications are vital tenets for customer retention.
This article will discuss automated reply messages in-depth and show you how your business can leverage these ideas across multiple channels to build stronger customer relationships and drive sales.
What is an Automated Reply Message?
Automated reply messages are preset responses that businesses use to communicate with customers during specific scenarios, offering quick updates about what is happening or what to expect next. For example, if someone is on vacation or there is a delay in an order.
These automated messages have long been a common feature of email responders, helping customers know when someone was out of the office. In recent years, the widespread adoption of auto-reply messages has given way to a variety of uses across different channels, offering additional customer service even when human support staff is not instantly available.
Why Businesses Should Use Automated Reply Messages
There are many great business benefits to using automatic responses. Here are seven reasons that auto-reply messages are on the rise.
Provides transparency
Whenever a customer has a query or wants an update on something, such as order status, they appreciate being kept in the loop—even if their point of contact is out of the office. With an automated email response, businesses can provide transparency, ensuring customers that their message has been received and that they will get a reply once the staff member has returned.
Provides reassurance
Wherever possible, a business should provide updates about an ongoing inquiry or resolution situation. With automated reply messages, you can offer customers a live timeline of when you'll resolve the issue. This proactive communication sets expectations for the customer and might even deter them from making a complaint or leaving a bad review.
Increases engagement
Customers are open to information when they trigger an automatic reply and are more likely to open such messages and click the links. The high open and click-through rates happen because personalized timing is as important as personalized content.
Closes the loop
When a support issue is in process, customers want to be updated. Leaving customers to wait for feedback or a follow-up could potentially be damaging to a business. By circling back to the customer, you can close the communication loop and put your brand in a good light.
Increases customer satisfaction
Automated reply messages increase customer satisfaction in several ways. The customer gets an instant (or near-instant reply) that saves them time waiting around for an update. Better yet, they receive actionable information and know what to do or expect, which gives clarity. Customers also get assurance that their issues are being attended to, which reduces doubts about dealing with your business.
Improves customer retention
When you get customer feedback and apply or respond to them, the customer feels invested in your brand. Naturally, when problems are solved for customers, they feel like the brand cares about their needs, and so, they begin to trust the brand a little more. And with trust, brand loyalty can grow.
Autoresponders Are No Longer Limited to Email Messages
Autoresponders have gone beyond the email inbox. Businesses are deploying automatic reply sequences on chat platforms like Messenger and WhatsApp, and SMS.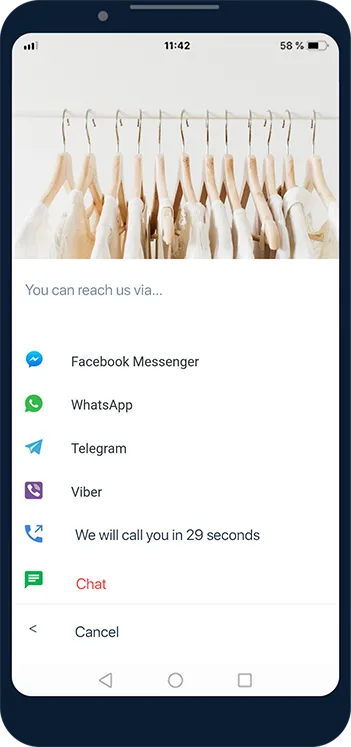 Image: Customers can use omnichannel messengers like JivoChat to automatically reply to leads and customers across multiple channels.
As personalization is key, businesses have turned to chatbots, leaning on artificial intelligence to help create more customized experiences for their audiences.
You might think handing the reins of customer service to robots could make your business seem less personable. But in reality, AI technology enables companies to deliver a more tailored experience. Chatbots help businesses build complex automatic conversation flows that can take multiple scenarios into account and still address each customer's specific needs rather than delivering canned responses.
A study from Juniper Research predicts that chatbots will generate $112 billion in retail sales by 2023. But it doesn't stop at customer-facing results. Businesses expect conversational chatbots to boost staff productivity by sending them automatic follow-ups for scheduled tasks.
Moreover, chatbots help businesses maintain multiple customer conservations across channels. The age of sending canned email auto responses is over—automated responses and personalized messaging are the only way forward.
14 Examples of Automatic Reply Messages (By Channel)
Let's explore 14 common examples of auto-reply messages. We'll break them down by channel, starting with email.
Examples of email responders
Email isn't going anywhere. Without the intense competition of social media channels, email is ripe with personalized marketing opportunities, making automated reply examples a highly effective tool to nurture relationships and drive conversions.
Here are three examples of automatic email responses:
Automated out of office email reply
An automated out-of-office email reply helps you manage communication for when you're out on vacation or leave. This message doesn't have to be elaborate. Although some people give specific reasons why they're out of office, it's not necessary.
These are the three most essential components of an automated out-of-office email reply:
Let people know what options they have while you're unavailable
Tell them when they can expect a reply from you
Give them an email or phone contact for urgent matters
Automated "we got your message" reply
Sending an automatic email to let customers or prospects know that you've received their request is a big step toward building trust. Customers want to know that you heard them and that you'll do something about their requests. By quickly following up with an email, companies can provide a personal touch that makes people feel like more than a data point.
Automated cart abandonment email
69% of shoppers abandon their carts, often because of a confusing checkout process or some last-gasp doubts about the product or brand. Not every prospect is ready to purchase on their first visit to your website. Unless they have a prior relationship with you, it will take a little time to build the trust first.
Abandonment cart emails enable your business to craft a personable message that speaks directly to the customer. You can also include special discounts or a time-limited offer to encourage people to return to the checkout. Often, this attempt to create FOMO (fear of missing out) can make buyers want to purchase the spot.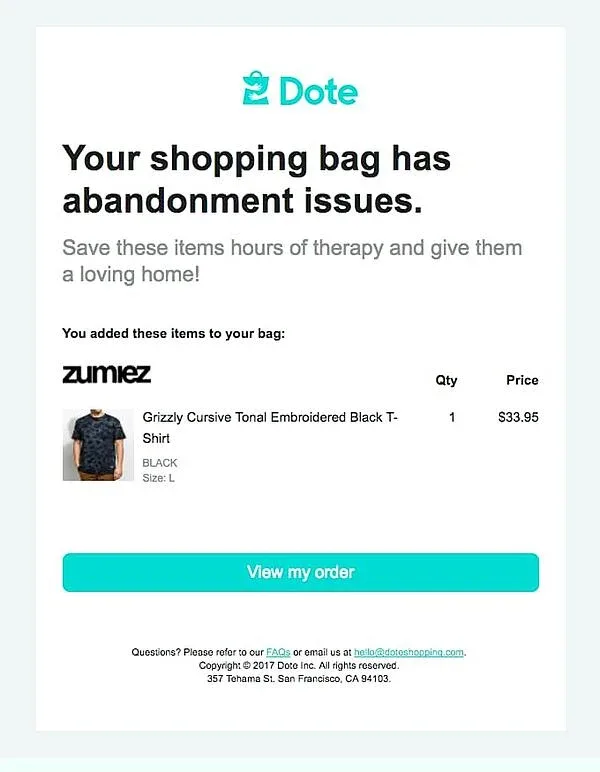 An automated cart abandonment email helps your business recover potentially lost sales, which makes this example one of the most profitable automatic responses you can create. Shoppers open 45% of cart abandonment emails. Of those that are opened, 21% click through to the product page, and 50% buy.
Automated welcome email
For many brands, the automated welcome email is a redundant afterthought that offers subscribers little value. However, with a well-thought-out strategy, you can use this automatic email response to build engagement in several ways, such as:
Reply to your email
Join a contest or sweepstake
Download your free ebook
Redeem a discount
Complete a survey
Welcome emails get an open rate that exceeds 91%, which is a great chance to connect with prospects. Don't miss this opportunity to invite your users to take action.
Examples of automatic live chat messages
When you can meet people where they are already active, it enhances the customer experience. Live chat software and platforms like Slack and WhatsApp facilitate real-time conversations.
People use these services when they want faster responses, so businesses stand to gain a lot when they cater to customers' expectations with automated responses, like the ones below.
Automated "offline" message
When you're offline, customers should know not to wait around. Otherwise, they could get frustrated. Tell them to leave a message, and you'll be in touch with them at a specified time.
Automated knowledge base message
A knowledge base is a self-service portal that offers customers quick and easy access to information regarding a company's processes, products, and services. Sometimes, customers may not be able to find what they're looking for, so it's a good idea to include a live chat option, enabling people to initiate a conversation if they need assistance.
In this instance, you could use auto-reply messages like these:
Didn't find the answer? Chat with us.
Are you still looking? Chat to our support team to find the answer.
You can automate these messages to trigger the live chat whenever a site visitor has been on the knowledge base page for a defined period, such as more than two minutes.
Automated checkout page message
You can use an automated checkout page message to encourage people to make purchases. For example, ecommerce store owners can set up a live chat trigger to re-engage visitors before they abandon their cart.
In this instance, you could use auto-reply messages like these:
Need help finishing your order? Let's chat about it.
Can't decide what you want? Our team is on standby to help you make the right choice.
Hey there! Don't worry about delivery charges—we offer free delivery on all products!
Automated "contact us" live chat message
When a visitor arrives on your site, you can initiate a conversation with an automatic "contact us" message to let visitors know you're there to help.
In this instance, you could use auto-reply messages like these:
We're available on live chat! Ask us anything.
Not sure where to go next? Leave a message to get quick help.
When a visitor clicks through to your 'Contact us page, it's a clear indication that they want to talk to you. JivoChat's omnichannel messenger makes it easy for businesses to trigger an automated live chat response, giving site visitors multiple options to get in touch.
Chatbot reply message samples
AI chatbots make it possible to initiate and conduct conversations with your customers and leads without any human agents. Here are two common automated reply examples you can use with chatbots:
Automatic "order status" replies
An automatic order status reply helps to set customer's expectations after they place an order. With a chatbot, you can provide quick, automated answers to frequently asked questions customers may have about their orders.
Rather than wasting time using humans, you can set up automatic replies to eliminate tedious interactions like this, ensuring that you keep customers informed and freeing staff to focus on other tasks.
Automatic pricing page messages
If people visit your pricing page, they're already considering your products or services. However, no matter how much information your pricing page may offer, many people will want to talk to a human before closing a deal—especially for higher-priced items.
When deciding on a purchase, most buyers want answers quickly. Human agents may not always be there to deliver a personalized response, but your chatbot is available 24/7.
You can even create a chatbot that is explicitly designed to capture leads on your pricing page.
Examples of automatic text message replies
With a 98% open rate, nothing comes close to text messages for engagement opportunities. If you have a message you don't want your customers to miss, sending an automatic text message can save the day. Here are two common examples:
Automated appointment reminder
If you have an appointment with your customer, you want to make sure they don't miss it. So, you can send them a short automated appointment reminder by text, which confirms the appointment's details, such as the location, day, and time.
Automated status alert
Status alerts inform customers of changes they need to know about or act upon. For example, you could use a status alert SMS to notify customers of issues with their billing information or account settings. Another example is an airline that could inform passengers of updated flight details, like a potential delay or change in gate number.
Examples of automatic Facebook Messenger replies
On a business Facebook page (or in their Facebook Messenger channel), users can see how quickly the business normally responds to messages.
Faster is always better in this channel, but you can't always be on the app to take every chat. That's where your automatic Facebook Messenger replies will come to the rescue.
Automated "how long until we respond" message
You've no doubt seen this Facebook Messenger reply, as it's an instant response on many business pages that lets people know how long they should expect to wait before hearing back from the company. If they must talk to or chat with you, an automated "how long until we respond" message offers some transparency and can help with credibility—providing you follow-up in time!
Automated appointment messages
Your business can use Facebook Messenger to enable customers to schedule appointments.. For example, a skin care clinic or hairdresser could set up these messages to book appointments and follow-up with customers.
This feature is a clever way to streamline your booking system without having to take every single message or call from customers.
Best Practices for Crafting Successful Auto-Reply Messages
You can learn a lot from the examples of automated reply messages above. But before you're ready to implement these ideas into your own customer communications strategy, it's important to get familiar with a few best practices:
Personalize auto-replies
Users love personalized messages too, up to 75% of consumers prefer brands that give them personalized offers. Better yet, 86% of marketers report measurable business growth from their personalization campaigns.
You can use personalization in many ways, such as:
In your email subject lines
Calling customers by their first name,
Acknowledging users' interests, behavioral cues, and previous purchasing habits
To really leverage this strategy, try personalized live chat triggers. If you do this at the right time, you can encourage visitors to spend more time browning your product pages, giving you more time to convert them.
Set expectations
When you want to succeed with auto-reply messages, providing customers with an estimated time before they get a response is paramount. By setting expectations early, you negate (or at least minimize) the risk of customers growing frustrated and or angry with your business.
Let your users know what to expect from your agent and the brand. You can give them options to choose from and then guide the conversation based on their preferences.
Consider anything that could become a friction point, like waiting time, service, delivery fees, or pricing, and explain it clearly, so there are no misunderstandings.
Offer alternative contact options
When your users can't reach you, let them know what options they have. Who should they call or email for help?
Give them an alternative email address or phone number to call, and leave any instructions they might need to initiate the contact. When you provide another channel for the customer to resolve their issue, it ensures they aren't forgotten.
Explain "what's next"
If your customer just completed a form, use automated reply messages to explain the next step. If they don't have to take any action, let them know.
Don't leave any questions—or possible questions—unaddressed. Don't use any ambiguous language or jargon when communicating with customers. Make the message as straightforward as possible, giving your customer a clear picture of what happens next.
Set Up Multichannel Auto Reply Messages Today
Automated reply messages can help your business maximize its resources, strengthen customer relationships, and build credibility. Best of all, as you can automate these messages, it's a scalable strategy that you can roll out across multiple channels as your business grows.
From email to text messages, on-site chatbots to Facebook Messenger and WhatsApp, automated reply messages enable you to offer an enhanced customer experience, nurturing trust and understanding with your audience.
If you're ready to start using automated reply messages? Create a free JivoChat account today.
Like what you've read?
Sign up and try JivoChat for yourself!
It's free and only takes a couple of minutes to download.