10 Ecommerce SEO Tips to Help You Sell More
Reading time ≈ 10 minutes
Jaqueline Corradi
Content Manager
When you need to buy a product do you search online? So your customers. Ecommerce SEO tips are going to help you to improve your website, then it can be found easier on searches made through Google, for example. 
When you implement the best SEO practices to your website, your pages can rank better in the search engines and appear in the first search result pages (SERPs). This way, you have the chance to reach a bigger audience, gain more leads and turn them into customers with organic traffic. 
What is Ecommerce SEO?
According to Statista, ecommerce retail revenue are expected to reach 5.4 trillion US dollars in 2022. This is a growing market, but a very competitive one, ecommerce SEO is a strategy to help you stand out.
Short for Search Engine Optimization, SEO can be described as a group of techniques that were thought to make a page be seen as relevant when analyzed by the algorithms of search engines like Google. To insert a page in the first positions of a search result page, several elements are taken into consideration.
This includes, for example, the keywords used, if the website is mobile-friendly, accessibility, load speed, security, among other things.
When you invest in improving those aspects on your website, you have the opportunity to gain visibility with non-paid traffic, which also helps with building authority and credibility for your brand. 
SEO is important for different website types, including ecommerce. It can make your products be seen by more people, and increase your revenue as a consequence. 
How SEO Can Make a Difference to Your Ecommerce?
3.5 billions is the number of searches Google processes per day, according to an Oberlo report. When you follow ecommerce SEO tips and optimize your website you have the chance to appear for thousands of people that are making searches using keywords related to your business.
GE shopper research study revealed that 81% shoppers research a product online before buying. The first organic result  in Google Search has a click-through rate (CTR) of approximately 28%, while the second has 15.7%. As you can see, the CTR diminishes as the ranking goes down. Most people don't go to the second result page. 
That's why it's important to put ecommerce SEO tips into practice. If you create great optimized SEO content, it's possible to expand your market without even paying for ads. But, it's important to understand that SEO strategies take time, and you will need to continuously work on them. 
12 Ecommerce SEO Tips
1. Optimize Your Website Keywords
Your website should be optimized for keywords that your target audience is interested in and which are related to your brand. For example, what keywords would they look for to find your products? You can use online tools to identify keywords you already rank for. 
Also, it's important to understand the search intent, which means the purpose someone has when searching for a term. There are commercial keywords, used to look for a specific product to buy, and informational ones, when the user wants to know more about a subject or learn how to use something, for instance. 
A commercial keyword could be, for example, "brown leather jacket", and an informational "how to wash a leather jacket". Once you know this difference, it's recommended to take a look at the level of competition. Usually, the shorter keywords are more searched, which makes it more difficult to rank for them. 
Tools like Ahrefs, and Google Trends can help you to analyze the best keywords to use. After defining them, they should be inserted into the page titles, copy, product descriptions, product titles, category pages, FAQs, URLs, alt-tags, and internal links. 
2. Develop Amazing Content
Besides the ecommerce pages, one helpful strategy to attract more leads and improve SEO is including a blog to your website, which allows you to explore more keywords and provide useful content to potential customers. But, before creating a blog, you need to plan it.
Start by researching your potential customers' profiles. What subjects are they interested in? What are their main demands? How can you create content that helps them to solve their issues? 
After analyzing it, select the keywords that are going to be used for each article, then, invest in creating content that provides valuable information, which is going to be appealing for your audience. Set a tone of speech that is aligned with your brand's identity, and create posts for different stages of the buyer's journey. 
3. Write Attractive Meta Descriptions
Meta description is the text that appears under your page's title on the search result pages. It has the purpose to offer a brief summary of the page's content, so the reader can decide if it's interesting to click or not. 
The meta description should include the keyword you have selected as the main one for the content, but, besides, it needs to be appealing to the user. When writing, think of how you can convince the readers to want to click on the link and know more about it, instigating their curiosity. 
A well-written meta description can make a huge difference in your click-through rate. After all, ranking on the first positions on search engines is only the first step, it's also necessary to make the person want to access your website.
4. Invest in Improving User Experience
When ranking pages to appear on the SERPs from Google and other search engines also take into consideration the usability of your website, for example, if it's accessible and mobile-friendly. Aspects that are all connected to user experience.
Every section of your website needs to be constructed thinking about how the users are going to feel when navigating through it. Put yourself in the user's shoes, does your website provide an intuitive, easy-to-use interface? Are the main links easy to find? Do the colors used on the design facilitate readability? 
It is worth nothing if you have a beautiful design, but the main menu and the information are disorganized, or the texts are hard to read, for example. All of this is going to discourage the reader to keep navigating on your website, which can diminish your conversion rates, and also prevent you from enhancing SEO.  
5. Add Structured Data Markup to Your Products
Do you know when you look for a keyword on Google in the "product" section? Adding data markup is a way to insert more information in the product description that appears on the SERP, which helps to enhance the click-through rate, and also to rank better.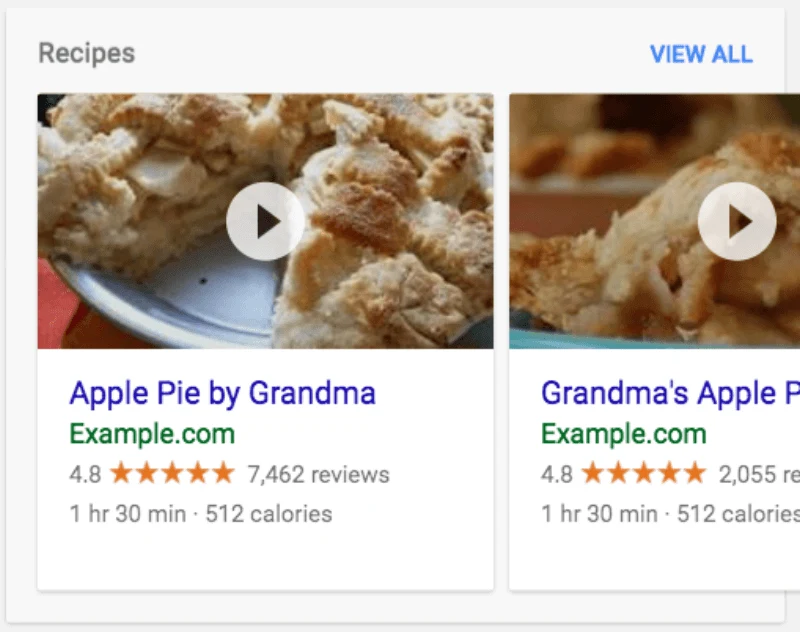 For example, the user will be able to see the price, if the product is available, star ratings, and customers reviews. You can insert structured data manually, Google provides a guideline for it, or integrate a structured data app to your store.  
6. Optimize the Products Images
Ecommerce SEO tips are also extendable to images. To avoid slowing down the page speed, it's recommended to use images under 100kb. When it comes to enhancing the chances of ranking better on the search engines, name the image file using the keyword, and don't forget to add the alt text.
The alt text consists of a detailed description of the image and it's used by screen readers to make the content accessible to people with visual impairments. Besides making your content available to more people, alt text is also good to show search engines that your page is relevant. 
7. Clean Up Broken Links
Broken links give the impression that your content isn't updated and affect user experience. Don't you agree that it's disappointing to click on a link that redirects to nowhere? Beyond that, they also can damage your SEO.
It's very simple to solve this problem by using website optimization tools like Ahrefs, and Moz. When you insert your URL, they will show you the broken links. If you sell on Shopify, in its app store you are going to find several plugins that help you to identify links with errors as well. 
8. Use HTTPS to Keep Your Website Secure
Short for Hypertext Transfer Protocol Secure, HTTPS is the main protocol used to ensure safe data exchange on websites, including online stores. It's important to use it to ensure that your customers can provide their personal information, including payment data, in a protected environment. 
Google's algorithm analyzes if a website uses HTTPS, if two pages are tied in a position, the one that follows the protocol gets ahead of the other one. The best ecommerce platforms already provide guides to insert HTTPS into your website, if you use one of them, you just need to follow it. 
In this case, it is more than implementing SEO techniques, it's also about user experience and avoiding putting your customers' data at risk. Building a website that complies with safety protocols is fundamental. 
9. Have a Responsive Design
A Statista research showed that, in the fourth quarter of 2021, around half of the web traffic worldwide came from mobile devices. Having a responsive design is essential to reach that public that is also buying from their smartphones and tablets. 
Besides, Google and other search engines also take into consideration if a page is optimized for mobile when ranking it. If you are starting to build your ecommerce website make sure that the template used works perfectly regardless of whether the access is made on desktop or mobile. 
If your ecommerce is already running, check how the user experience is on different devices. If there is any problem, it's important to make the necessary adjustments. 
This will help you not only with SEO, but also to encourage people that access your website from social media or other links to keep navigating. You are enhancing your chances to gain more leads, and turn them into customers. 
10. Improve Your Pages Speed
Page speed is one of Google's ranking factors and it's also connected to user experience. It's very difficult to retain users on your website if the pages take too long to load. It's more likely they will leave your website, and it doesn't make a good impression of your brand's image. 
Always check the load speed of every page, and make sure no technical issues are causing any problems. There are some small things that you can do to help as well: 
Reduce image file sizes: use images under 100kb.
Minimize CSS and JavaScript: try to use as little data as possible to load your pages, eliminate unnecessary codes, and use shorter variables. 
Insert lazy loading: with this function, the images are going to load as the user scrolls, instead of loading everything at once. 
Start Putting the Ecommerce SEO Tips in Practice
Now that you have learned more about important ecommerce SEO tips, it's time to use them on your website. Analyze the keywords you are already ranking for, and check where you can improve the SEO practices. Use analytics tools to follow up on how the changes are going to affect your page rankings on search engines.
One fundamental ecommerce SEO tip, though, is that organic growth takes time. It's necessary to keep investing in developing amazing content and be always updated about the changes in the algorithms from Google, and other search engines. 
But, once you get in the first positions of SERPs, your brand gains more credibility, you will reach more potential customers, and be able to sell more.
Like what you've read?
Sign up and try JivoChat for yourself!
It's free and only takes a couple of minutes to download.