10 Tips for Developing an Ecommerce Website Design
The ecommerce website design plays a fundamental role in sales performance. It isn't difficult to figure out why. When you are going to buy an item online, what website would you prefer: one that is easy to navigate and has a professional design or one that seems made by amateurs and it's hard to find the products?
The answer is obvious and that isn't different with your potential customers. If you want to build a successful ecommerce website, pay attention to the design because it will influence the decision to buy a product or not. The digital market is a very competitive one, use the design to help you stand out. 
1. Know your Audience
How to know what you should put on your ecommerce website design? The first step is to research your target audience and try to comprehend their customer behavior online, and preferences. You can begin by answering the following questions about them.
What is their age range?
Where are they located?
What is their average income?
What social media do they use most?
Where do they buy online?
If you already have a physical store or an online one and are just improving its ecommerce website design, you can use the data you have about your current customers. For instance, by sending a survey through email to your loyal customers.  Otherwise, if you are beginning your enterprise now, you will have to base your answers on market research. 
Once you have more information about your target audience, you will have a more accurate idea of what they like, and what's appealing to them. Use this to guide you when making design choices, always keep your audience in mind, for example, to choose the color palette and images.   
2. Focus on User Experience
UX or user experience is about the experience the person who is visiting your website is going to have when navigating through it.
If they are going to enjoy the time scrolling down the pages, reading the content, discovering the product sections, reading about the products, adding them to the cart, and obviously, the final goal, if they are going to feel compelled to complete purchases. 
In order to provide a great user experience, it's necessary to be thorough with your ecommerce website design and build it focusing on usability. The home page is usually the first page of your website the user sees, and you need to leave a good impression, otherwise, likely, they won't even bother to look at other pages, even less want to buy anything. 
The product categories must be easy to find on the home page, display the main products of your store, coupon discount, or a sale if there is one, to instigate the customer. It's important that the customer is able to identify what your store is about at the first glance at your home page and see your brand's identity.
For all the sections there are some  important elements regarding ecommerce website design that will help improve the UX, make sure if you check all of these:
Mobile-friendly design
Good readability
Search bar
Well-organized menu
Cart icon on every page of the ecommerce website
Scannable content
Fast load time
3. Create a mobile-friendly website
4.32 billion people was the number of unique mobile internet users, in 2021, according to a research made by Statista. The report also revealed that 90% of the internet population access the internet through mobile devices.
Creating a website that doesn't have a responsive design, which performs well whether on desktop or mobile, doesn't make sense nowadays and will make you lose sales.
Besides, having a mobile-friendly website is fundamental when it comes to search engine optimization. Google takes into consideration this aspect to rank pages on its searches. If they aren't responsive, it's unlikely they are going to appear on the first results. Certainly, you don't want that, right?
A mobile-friendly website must have a design that's adjustable to different screen sizes, and it's easy to navigate in all of them. The best website builders available already provide pre-built templates that are created with this feature, which makes it easy to develop your pages.
To know if your pages are functioning properly do mobile website testing, you can use mobile emulation on Chrome to do that.
4. Add Your Brand's Visual Identity
Creating a strong brand visual identity is important for several reasons: to be easily reminded, to develop a bond with your customers, to develop awareness, and so on. Therefore, your visual identity must be present in the ecommerce website design.
The brand's logo should be on every page, the color palette, font typo, illustrations, videos, and other visual elements also need to be thought out to build a cohesive image. When people visit your website, social media pages, or physical store, they must be able to see a connection and identify your brand's most outstanding characteristics. 
To have an idea about how visual identity is a valuable part of communicating and engaging with your clients just think about big brands like Coke, Nike, Mcdonald's, and Apple. They have built such a strong image over the years that nowadays we don't even need to see their name to associate specific colors or the logo with them.  
Create a manual on how your brand's logo should be applied, so it becomes easier to keep coherence, and your team will know how to use it on multiple media channels. This will give you more credibility and help to build trust with your customers. 
5. Make the Products Stand Out
When developing the ecommerce website design, think about how you can highlight the products in the different sections they are going to appear. For example on the product category page and the product page itself. 
Analyze how to position the images and choose the layout carefully so the customer's attention is driven to the items you are selling, a minimalist design is usually the best option. Also, to facilitate the buying process insert the "add to the cart" and "shop now" buttons to appear when the user passes the cursor over the product's image. 
To decide what elements to add to each page, ask yourself, does it take out the focus of the product I want to promote? If it does, don't use it on the page. 
6. Use High-Quality Images
When you access a website page and see images pixelated with a bad resolution, it doesn't pass credibility, does it? That makes the designs seem unprofessional and poorly made, which doesn't help the process of building trust with customers, and showing them your online store is reliable.
High-quality images, which show the products as close as possible to reality, are decisive if someone is going to buy an item or not. As the customer can't see the product in person, they are going to rely on the products' images and descriptions. So, pay attention to that.
Use high-quality images not only of the product, but in every section of the website, on the home page, and the "about us" page, for example. 
7. Keep it Simple
You probably have already heard the phrase "less is more". Often said when it comes to fashion, it's also applicable to ecommerce website design because pages with too many visual elements can be tiring to the eyes and drive the visitors' attention from the main message you want to convey. 
For that reason, it's advisable to prefer a cleaner and minimalist design. Define a goal for each page, and focus on that. Visual elements that don't help to call the attention to the next step you wish the customer to take are dispensable. 
8. Make the Website look Professional
That may seem like obvious advice, but it's a fundamental one. To decide to buy on a website, customers need to feel secure, to trust their payment information and other personal data are safe, and also that their orders are going to be delivered correctly in the due time. 
To have a professional ecommerce website design pay attention to the texts to avoid misspellings, and use high-quality images. Analyze how the website pages are structured as well, they need to be well architected to be easy to navigate and find information. All the tips we have already listed here are going to help you build a professional website.
9. Include Social Proof
Talking about confidence, social proof is a strategy to help build credibility with your audience. Add a customer review area on the product pages so they can rate the items and leave their comments, that is a valuable tool to help other customers on making their decision.
In order to get good evaluations, you will have to provide great customer service and good products, otherwise, reviews can have a negative impact. But selling high-quality items and providing assistance to customers is a must, right? Work on that, and you are going to receive great reviews which can bring you much more sales.
10. Facilitate the Checkout Process
Cart abandonment rate should be as minimum as possible, and to achieve that it's important to offer an easy and quick checkout process. If there are too many steps to complete a purchase, the customer tends to give up on the way.
If the pages take too long to load, the information necessary to complete the checkout isn't clear, or the website doesn't transmit that the payment is secure, you may lose lots of sales. Pay attention to how to simplify the process and also to make it completely safe and show customers that they are protected. 
Ecommerce Website Design Examples
Natori's website is a perfect example of a minimalist design that highlights the products. It's easily perceivable that the focus of this page is the earrings, which immediately call the visitor's attention. The images are in high-resolution and also show the product clearly.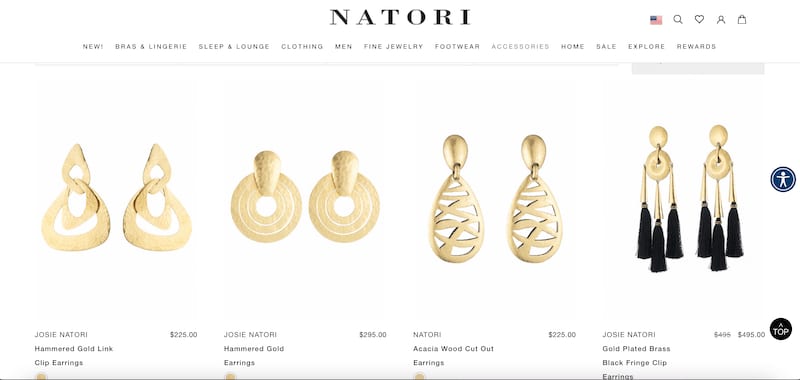 Allbirds' home page uses an image as a background that highlights their main product, the shoes, while the rest of the layout has a clean design. It drives attention to the message in the center of the page, which in a few phrases explains the core value of the brand sustainability. The CTA is also direct and strategically positioned.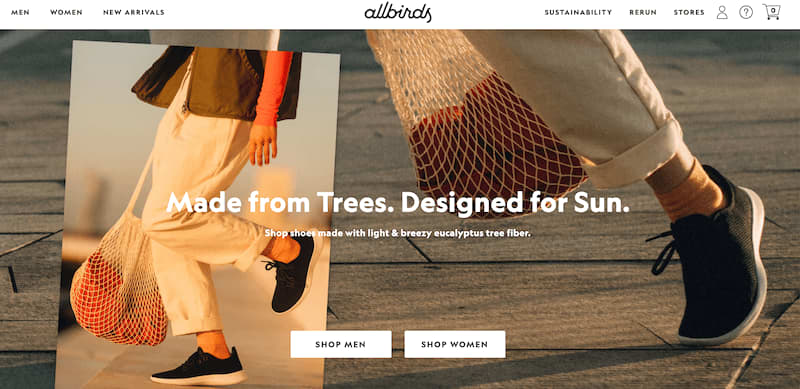 When we talk about an ecommerce website design showing the brand's visual identity, Bliss is able to transmit its youthful and vibrant style through the color palette, the products' photos, and the font typo choice. You look at the website and it's possible to have a clear idea of what this brand is about.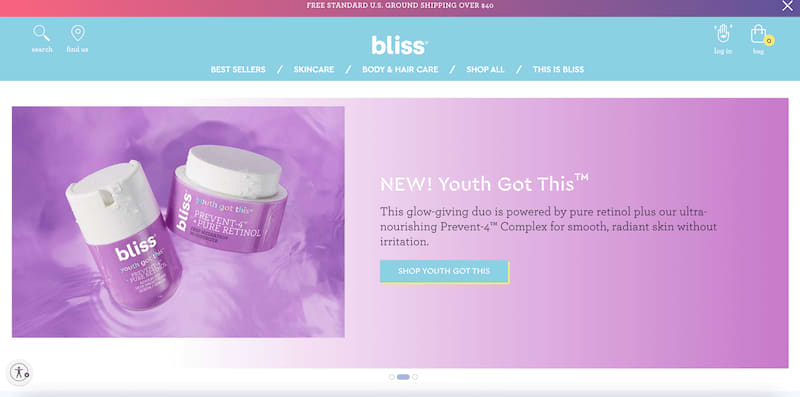 The image on the Leather Head's home page shows right away what the company sells. The lighting, the way the products are positioned in the photo make them attractive to the customer and show their quality. The menu in the header is well-organized, so the visitor can easily access other areas of the website.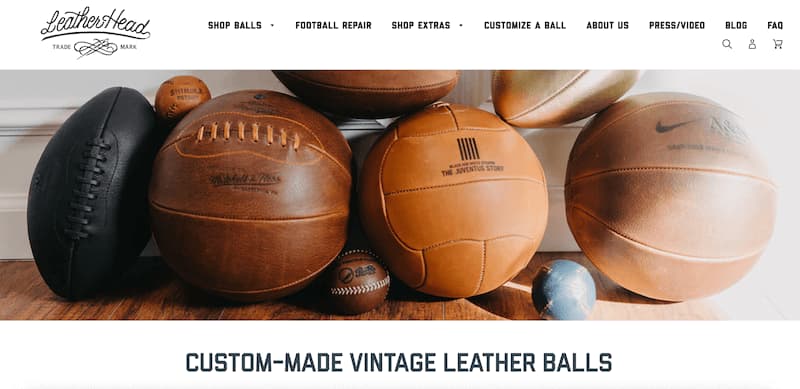 Dick Moby, a brand that uses recyclable and biodegradable material to make eyewear, is an example that it's possible to make a less traditional design for an online store. Instead of using a product photo, they use an illustration, which has everything to do with their brand concept, and the message they want to convey. They aren't only selling sunglasses, it's also about talking to an audience that's worried about making sustainable choices.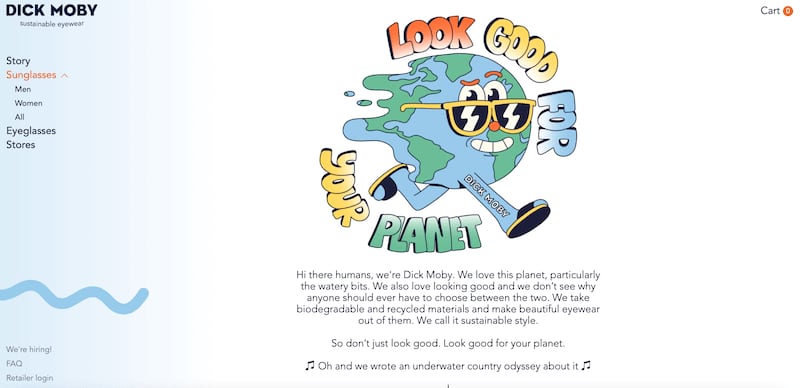 This product page on Hebe's website exemplifies how photos can help sell an item. They provide several images of the product, and its details, but not only that, as the customer goes through the photos, they can see the bag being used and matching with other items.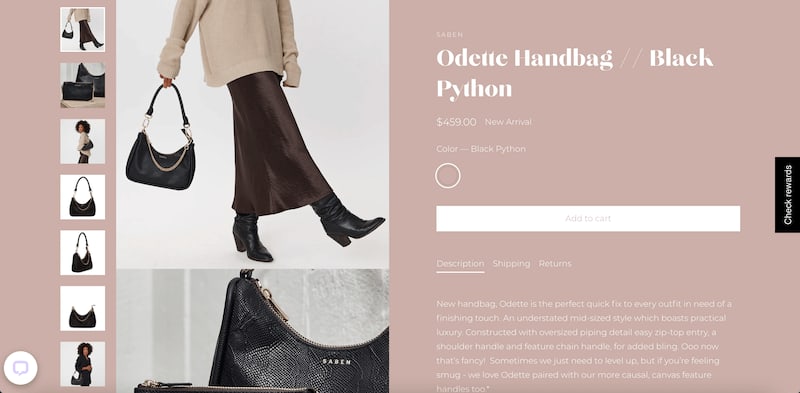 Improve the Ecommerce Website According to the Results
Once you have launched your website, it doesn't mean that the ecommerce website design is going to remain the same forever. On the contrary, it's important to update it according to the new trends and also based on the metrics of your online store. Analyze them carefully and see where you can improve the design.