12 Inspiring Ecommerce Website Design Examples in 2023
April 29, 2022
updated June 26, 2023
Reading time ≈ 28 minutes
Jaqueline Corradi
Content Manager
The ecommerce website design plays a fundamental role in sales performance. It isn't difficult to figure out why. When you are going to buy an item online, what website would you prefer: one that is easy to navigate and has a professional design or one that seems made by amateurs and it's hard to find the products?
The answer is obvious and that isn't different with your potential customers. If you want to build a successful ecommerce website, pay attention to the design because it will influence the decision to buy a product or not. The digital market is a very competitive one, use the design to help you stand out. 
12 Best Ecommerce Website Design Examples
Natori's website is a perfect example of a minimalist design that highlights the products. It's easily perceivable that the focus of this page is the earrings, which immediately call the visitor's attention. The images are in high-resolution and also show the product clearly. 
Allbirds' home page uses an image as a background that highlights their main product, the shoes, while the rest of the layout has a clean design. It drives attention to the message in the center of the page, which in a few phrases explains the core value of the brand sustainability. The CTA is also direct and strategically positioned. 
When we talk about an ecommerce website design showing the brand's visual identity, Bliss is able to transmit its youthful and vibrant style through the color palette, the products' photos, and the font typo choice. You look at the website and it's possible to have a clear idea of what this brand is about. 
The image on the Leather Head's home page shows right away what the company sells. The lighting, the way the products are positioned in the photo make them attractive to the customer and show their quality. The menu in the header is well-organized, so the visitor can easily access other areas of the website.
Dick Moby, a brand that uses recyclable and biodegradable material to make eyewear, is an example that it's possible to make a less traditional design for an online store. Instead of using a product photo, they use an illustration, which has everything to do with their brand concept, and the message they want to convey. They aren't only selling sunglasses, it's also about talking to an audience that's worried about making sustainable choices.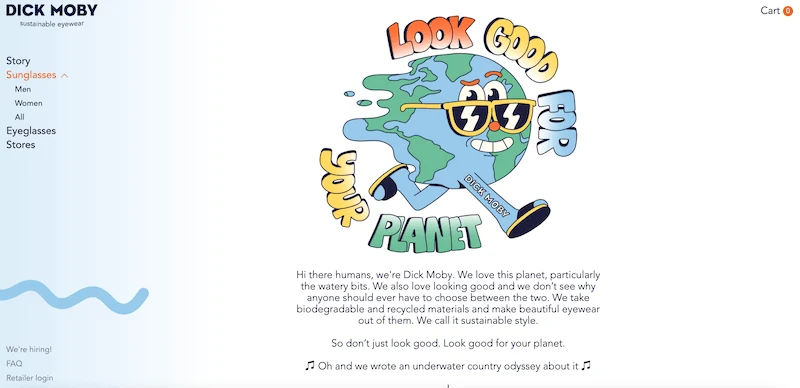 This product page on Hebe's website exemplifies how photos can help sell an item. They provide several images of the product, and its details, but not only that, as the customer goes through the photos, they can see the bag being used and matching with other items.
Ketnipz is a clothing and accessories brand that sells items with funny illustrations, and its ecommerce website design aligns perfectly with its visual identity. You can see that on the home page that has an animated illustration. The color palette also matches with the brand's logo. Another important aspect is how easy it is to navigate through the website and find the products.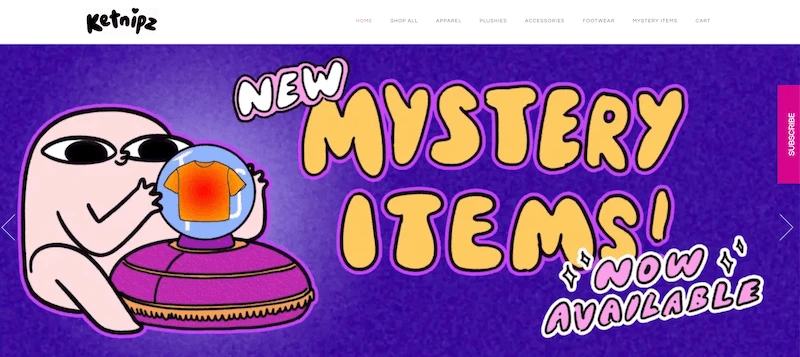 Selling art online can be very challenging, but having an attractive website certainly helps to call the attention of potential customers. Fred Jourdain's website is a great example of how to display your work. 
When you access his website, you can see some of his artwork being displayed on the home page. To know more about him and make a purchase, you have all the options in the superior menu, facilitating the navigation.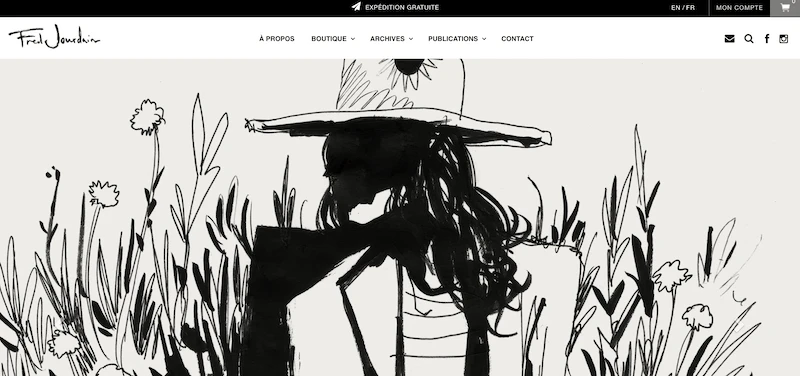 Almond Surfboards, as the name suggests, sells surfboards and other apparel related to this sport. When we think about surf culture, several images come to mind, there is an aesthetic that reminds us of it, and the company uses it so the website visitors can identify themselves with the brand. They feel connected to the elements presented.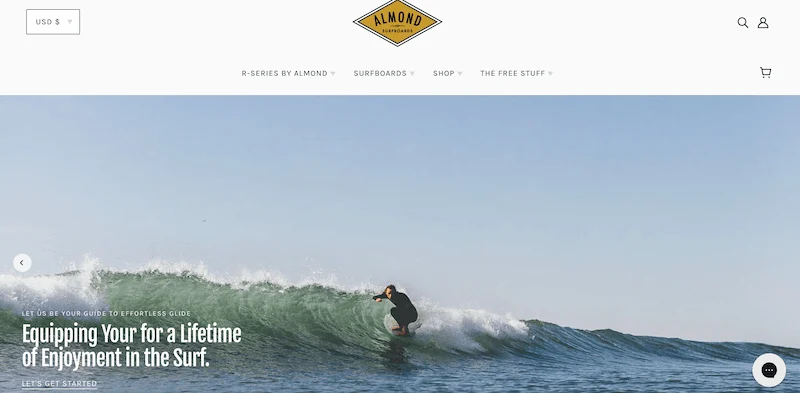 Decibullz's minimalist ecommerce website design highlights its product, the headphone. Besides, the use of just a few elements on the home page makes it easier to find the main information. The black-and-white color palette suits very well the brand's visual identity.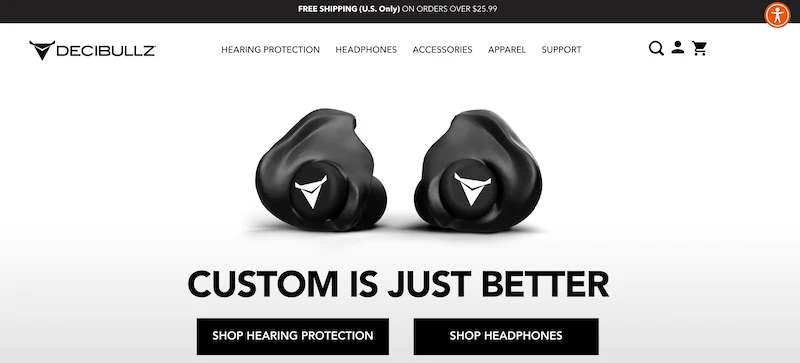 Mollyjogger's online store sells products for outdoor activities and emphasizes its connection with the Ozark Mountains.
Express that the ecommerce website design is a challenge that they successfully achieve by using elements that represent the wilderness, and are connected with this lifestyle. They know their target audience and manage to use the design to drive their attention.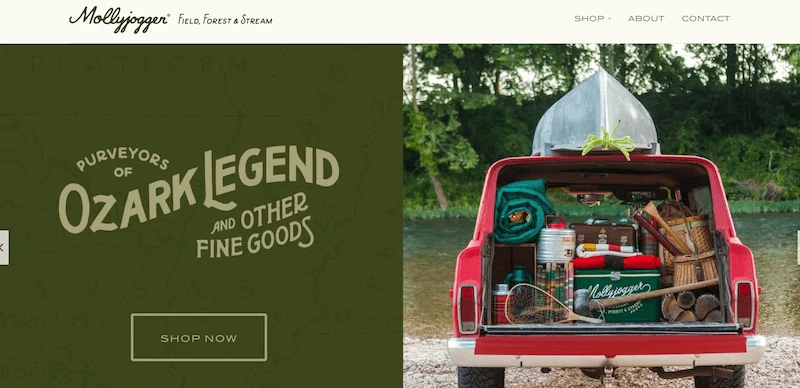 Di Bruno Bros's website knows how to use its beautiful and appealing gourmet food to attract its visitors. The products are the focus of the website, and the design makes them stand out. Besides, special deals and discounts appear on the side of the plates inviting the reader to make a purchase. 
10 Tips for Developing an Ecommerce Website Design
1. Know your Audience
How to know what you should put on your ecommerce website design? The first step is to research your target audience and try to comprehend their customer behavior online, and preferences. You can begin by answering the following questions about them.
What is their age range?
Where are they located?
What is their average income?
What social media do they use most?
Where do they buy online?
If you already have a physical store or an online one and are just improving its ecommerce website design, you can use the data you have about your current customers. For instance, by sending a survey through email to your loyal customers.  Otherwise, if you are beginning your enterprise now, you will have to base your answers on market research. 
Once you have more information about your target audience, you will have a more accurate idea of what they like, and what's appealing to them. Use this to guide you when making design choices, always keep your audience in mind, for example, to choose the color palette and images.   
2. Focus on User Experience
UX or user experience is about the experience the person who is visiting your website is going to have when navigating through it.
If they are going to enjoy the time scrolling down the pages, reading the content, discovering the product sections, reading about the products, adding them to the cart, and obviously, the final goal, if they are going to feel compelled to complete purchases. 
In order to provide a great user experience, it's necessary to be thorough with your ecommerce website design and build it focusing on usability. The home page is usually the first page of your website the user sees, and you need to leave a good impression, otherwise, likely, they won't even bother to look at other pages, even less want to buy anything. 
The product categories must be easy to find on the home page, display the main products of your store, coupon discount, or a sale if there is one, to instigate the customer. It's important that the customer is able to identify what your store is about at the first glance at your home page and see your brand's identity.
For all the sections there are some  important elements regarding ecommerce website design that will help improve the UX, make sure if you check all of these:
Mobile-friendly design
Good readability
Search bar
Well-organized menu
Cart icon on every page of the ecommerce website
Scannable content
Fast load time
3. Create a mobile-friendly website
4.32 billion people was the number of unique mobile internet users, in 2021, according to research made by Statista. The report also revealed that 90% of the internet population access the internet through mobile devices.
Creating a website that doesn't have a responsive design, which performs well whether on desktop or mobile, doesn't make sense nowadays and will make you lose sales.
Besides, having a mobile-friendly website is fundamental when it comes to search engine optimization. Google takes into consideration this aspect to rank pages on its searches. If they aren't responsive, it's unlikely they are going to appear on the first results. Certainly, you don't want that, right?
A mobile-friendly website must have a design that's adjustable to different screen sizes, and it's easy to navigate in all of them. The best website builders available already provide pre-built templates that are created with this feature, which makes it easy to develop your pages.
To know if your pages are functioning properly do mobile website testing, you can use mobile emulation on Chrome to do that.
4. Add Your Brand's Visual Identity
Creating a strong brand visual identity is important for several reasons: to be easily reminded, to develop a bond with your customers, to develop awareness, and so on. Therefore, your visual identity must be present in the ecommerce website design.
The brand's logo should be on every page, the color palette, font typo, illustrations, videos, and other visual elements also need to be thought out to build a cohesive image. When people visit your website, social media pages, or physical store, they must be able to see a connection and identify your brand's most outstanding characteristics. 
To have an idea about how visual identity is a valuable part of communicating and engaging with your clients just think about big brands like Coke, Nike, Mcdonald's, and Apple. They have built such a strong image over the years that nowadays we don't even need to see their name to associate specific colors or the logo with them.  
Create a manual on how your brand's logo should be applied, so it becomes easier to keep coherence, and your team will know how to use it on multiple media channels. This will give you more credibility and help to build trust with your customers. 
5. Make the Products Stand Out
When developing the ecommerce website design, think about how you can highlight the products in the different sections they are going to appear. For example on the product category page and the product page itself. 
Analyze how to position the images and choose the layout carefully so the customer's attention is driven to the items you are selling, a minimalist design is usually the best option. Also, to facilitate the buying process insert the "add to the cart" and "shop now" buttons to appear when the user passes the cursor over the product's image. 
To decide what elements to add to each page, ask yourself, does it take out the focus of the product I want to promote? If it does, don't use it on the page. 
6. Use High-Quality Images
When you access a website page and see images pixelated with a bad resolution, it doesn't pass credibility, does it? That makes the designs seem unprofessional and poorly made, which doesn't help the process of building trust with customers and showing them your online store is reliable.
High-quality images, which show the products as close as possible to reality, are decisive if someone is going to buy an item or not. As the customer can't see the product in person, they are going to rely on the products' images and descriptions. So, pay attention to that.
Use high-quality images not only of the product, but in every section of the website, on the home page, and the "about us" page, for example. 
7. Keep it Simple
You probably have already heard the phrase "less is more". Often said when it comes to fashion, it's also applicable to ecommerce website design because pages with too many visual elements can be tiring to the eyes and drive the visitors' attention from the main message you want to convey. 
For that reason, it's advisable to prefer a cleaner and minimalist design. Define a goal for each page, and focus on that. Visual elements that don't help to call attention to the next step you wish the customer to take are dispensable. 
8. Make the Website look Professional
That may seem like obvious advice, but it's a fundamental one. To decide to buy on a website, customers need to feel secure, to trust their payment information and other personal data are safe, and also that their orders are going to be delivered correctly in due time. 
To have a professional ecommerce website design pay attention to the texts to avoid misspellings, and use high-quality images. Analyze how the website pages are structured as well, they need to be well-architected to be easy to navigate and find information. All the tips we have already listed here are going to help you build a professional website.
9. Include Social Proof
Talking about confidence, social proof is a strategy to help build credibility with your audience. Add a customer review area on the product pages so they can rate the items and leave their comments, that is a valuable tool to help other customers on making their decision.
In order to get good evaluations, you will have to provide great customer service and good products, otherwise, reviews can have a negative impact. But selling high-quality items and providing assistance to customers is a must, right? Work on that, and you are going to receive great reviews which can bring you much more sales.
10. Facilitate the Checkout Process
The cart abandonment rate should be as minimum as possible, and to achieve that it's important to offer an easy and quick checkout process. If there are too many steps to complete a purchase, the customer tends to give up on the way.
If the pages take too long to load, the information necessary to complete the checkout isn't clear, or the website doesn't transmit that the payment is secure, you may lose lots of sales. Pay attention to how to simplify the process and also make it completely safe and show customers that they are protected. 
20 Best  Ecommerce Website Builders

With just a few steps, you are going to be able to sell all around the world by using the Wix ecommerce website builder. The first step is to create your account, then select the plan that suits your company's needs best. After that, you are going to find more than 500 free online store templates to select from. 
They are divided into categories such as accessories, fashion & clothing, electronics, sports & outdoors, which will help you to find the best structure for your ecommerce. Then, you can customize the design, insert images, buttons, and menus, and select a color scheme, for example. 
With the interface ready, it's time to add the products, connect to a payment provider, set up shipping methods, and choose your custom domain. To make the process even easier, you will count on Wix Logo Maker and Name Generator. 
You can add up to 50,000 products to your online store and implement secure payment through Wix Payments, which has a global network of payment providers and methods. 
Key features:
More than 500 free templates
Offer up to 50,000 products
Wix Logo Maker
Business Name Generator
Wix Payments
Wix Owner app
Integrated analytics dashboard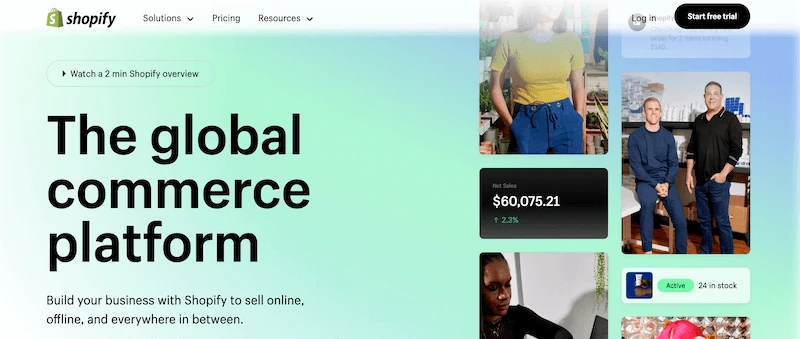 Shopify is the platform chosen by more than a million brands to sell, ship, and process payments all over the world. With its ecommerce website builder, you can select from over 70 professional themes, customize the design, and also edit in HTML and CSS, if you wish, and use your domain name or purchase one from Shopify.
You are going to count on several advantages, such as a Free SSL certificate, automatic carrier shipping rates, and more than 100 payment gateways to include. You also have the option to make the checkout available in different languages and translate the store's theme according to your needs. 
Besides, Shopify provides 24/7 support,  gives a comprehensive dashboard, and built-in SEO features, and enables you to manage your inventory in one place, since you can synchronize across all your sales channels. 
Key features:
Drag and drop store builder
Designed for mobile
Shopify Payments
Comprehensive dashboard
Built-in SEO features
Free SSL certificate
Automatic carrier shipping rates
SITE123 ecommerce website builder is a solution suited for small businesses. With an easy-to-use interface, it's possible to quickly launch your store. Begin by selecting the type of store you want, picking the template that fits better, customizing it, then adding the products, and defining taxes, shipping, and payment methods. 
You can add and edit products to your store whether you are on your desktop computer or your smartphone. Your clients will also have the same experience buying on your store from mobile devices or on their PCs since they will count on a responsive design. 
The platform provides a free SSL certificate too and allows you to include several payment options, such as PayPal, and credit cards. If you need any help, you will count on 24/7 live chat support.
Key features:
Pre-built ecommerce templates
Manage your products with ease
Responsive design
24/7 support
Choose from a selection of currencies
Webnode provides responsive store templates that are going to enable you to create your ecommerce more easily and offer a good customer experience. You can choose the local payment options you wish to accept, like wire transfer, PayPal, credit card, Stripe,  and payment upon pick up and the delivery methods, such as DHL and FedEx.
To follow up on your store's performance, you are going to have access to several statistics to be able to identify, for instance, the most popular products and profitable customers. You can also use the product feed to compare prices with competitors. 
Besides, you don't need to add products one by one, it's possible to import them in bulk in the CSV format. If there is any doubt, you are going to have 24-hour support from Webnode, Premium users get priority phone support. 
Key features:
User-friendly ecommerce website builder
Predesigned pages
Edit directly on your browser
Responsive design
Store statistics
Customizable product pages
Import products in bulk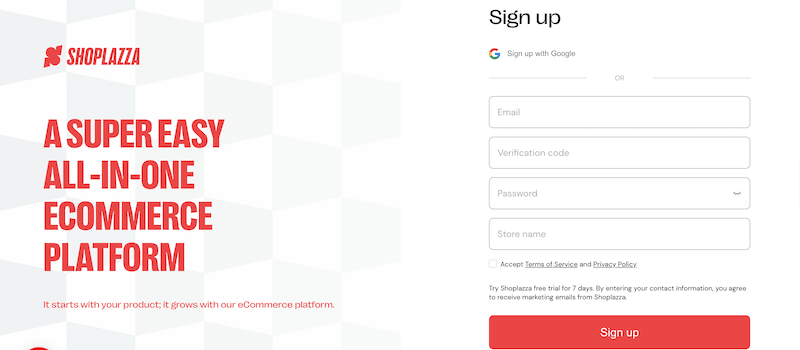 Shoplazza offers you an easy-to-use platform to create your ecommerce. You can choose a pre-built theme, then use the drag-and-drop online store builder to customize the pages as you wish. 
You will count on an inventory management system to make it simpler when it comes to organizing the stock and the orders. It stops sales when the inventory reaches zero, avoiding selling out-of-stock items. You can upload an unlimited number of products and customize up to 300 product variants.
You even have the option to add the buy button on other websites and blogs, which weren't created by Shoplazza, so you can sell in more places. Improve the checkout process using the platform AI (artificial intelligence) suggestions. 
Key features:
Pre-built templates
Drag-and-drop online store button
Inventory management system
Marketing tools
SEO tools
Staff accounts
Multiple payment options
Shipping partners
With BigCommerce, you have the opportunity to create an online store by developing your pages through the Page Builder Visual Editor, using the drag-and-drop tool to personalize every detail. You can get fully customizable themes as well, with built-in HTML, CSS, and Javascript. 
The platform also enables you to customize the checkout process and optimize all of your website pages to mobile devices. You can integrate with WordPress and, before launching the ecommerce, test it with the Stencil CLI tool.
It's also possible to integrate BigCommerce with several marketplaces such as Amazon, Facebook, and Instagram, so you can sell your products in different places and manage everything from just one.
BigCommerce provides solutions for making your store international too. You have the option to accept payments from more than 100 currencies and integrate with ShipperHQ to get accurate shipping quotes across countries.  
Key features:
Page builder visual editor
Theme customization
Check out customization
Mobile optimization
Preview before publishing
Cross-channel commerce
Multi-currency
Multi-language
With Ecwid, you can sell on different platforms and manage everything from just one place. You will count on centralized inventory, order management, and pricing features. You can create a website from scratch in just a few minutes, using the design tools to customize the pages. No coding or software is required.
It's possible to include different payment options as well, in-store and on the go, with PayPal, Stripe, Clover, and Square, for example. Connect your store to sales channels like Instagram, Facebook, WhatsApp, Amazon, and eBay. You also have the option to create your own app to enhance customer experience on mobile devices. 
Ecwid provides automated marketing tools as well to help you create Google and Facebook Ads, and send messages in case of abandoned carts, for instance. There is also the option to translate your website into 45 different languages.
Key features:
Create a website in minutes
Sell on social media
Set different payment options
Create your own mobile app
Automate your marketing
Language detection
Display real-time rates
WooCommerce is an open-source ecommerce platform built on WordPress that allows you to sell different types of products, like physical items, digital content, and subscriptions. You are going to find hundreds of free and paid extensions to enhance your store, for example, marketing and management tools. 
You can set your online store to be available in multiple languages, and accept a big variety of currencies, expanding the possibility to do business around the world. WooCommerce is 100% translated into 24 languages, including Danish, Ukrainian, and Persian. 
Adding WooCommerce to a WordPress website is for free. The platform was built to enable you to scale your business, supporting a high number of orders per day without having any problems. 
Key features:
Built on WordPress
Open-source
Offer flexible and secure payments
Automated tax calculations
Live shipping rates
Translated into 24 languages
Choose multiple currencies

Jumpseller provides professional themes, which are mobile-ready and customizable, to easily start building your ecommerce. You can edit all the pages the way you want, including the checkout, creating a user experience that best suits your target audience.
To sell to people from different countries, translate your website into several languages without the need of installing any additional plugins. You can create your domain name for free as well. To help you manage the store, Jumpseller has partnered with shipping carriers to offer discount rates. 
You also will be able to select multiple currencies and define different shipping and taxes for specific countries and regions. If you sell digital products, the platform allows you to insert the necessary features to put them available and manage them. 
Key features:
Professional themes
Customizable
Multi-language
Sell in local currency
Sell digital products
Partnered with shipping carriers

With an easy-to-use interface, Strikingly offers a practical website editor that will help you build a perfect space for your brand online, along with your ecommerce. You can choose the font styles, and color palette, insert images, customize as you wish, and include selling features, such as coupons, and membership log-ins.
If you already have a domain name, it's possible to use it or create a new one, you will find the tools to set shipping and payment options as well. To keep track of your website and ecommerce performance, Strikingly comes with analytics built-in. 
Do you want to integrate your website with social media? You have the option to display your Instagram, Facebook, and Twitter feeds on your page. The platform also allows you to add sign-up and contact forms.  
Key features:
Easy-to-use website editor
Customizable
Analytics built-in
HTTPS built-in
Integrate with social media
24/7 support
Weebly gives you the opportunity to build an ecommerce that grows with your business. You can choose a customizable theme and, then, use the drag-and-drop tool to give your brand's face to every page. 
Enjoy the marketing tools such as SEO techniques that are already applied to the website and the analytics features, which enable you to track your website performance. Weebly also provides an app, so you can manage your store wherever you are. 
You also are going to count on tools to manage the inventory, including bulk import and export. Your customers can get real-time shipping rates by carrier, address, weight, and quantity. Insert badges to make products with special discounts stand out, and use the coupon builder to create coupons. 
Key features:
Customizable themes
Drag and drop builder
Website optimized for SEO
Analytics tools
Shipping tool
Bulk import
Coupon builder

Artists and graphic designers who wish to sell their work on demand need to build an incredible portfolio website. This way, people can check the previous projects you have participated in and your art pieces to make sure you are the right person to hire. That's exactly what Pixpa will help you with. 
This website builder allows you to showcase, sell and share your work online. You can use templates made for photographers, creators, and small businesses, then customize them as you see better. The platform is easy to use and provides you with several tools, like built-in SEO, pre-built content blocks, and customizable forms. 
Key features:
Easy-to-use interface
Pre-built templates
Responsive design
24/7 customer support
Built-in SEO tools
Pre-built content blocks
Shift4Shop is a free website builder which offers many resources, starting from giving you a big variety of professionally designed, industry-specific, and mobile-friendly templates. They have a web design tool to help you customize everything, but you can edit directly the HTML and CSS too. 
The free plan includes unlimited products, features, and bandwidth. You will also count on migration assistance and fraud protection. Shift4Shop provides marketing tools, as well, like built-in e-mail marketing, and the possibility to include group deals, daily deals, coupons, and discounts, among others.
It also has cart abandonment recovery tools, focused on automatically engaging users, and motivating them to finish their purchase. Another benefit is that each part of your website is pre-optimized for SEO.
Key features:
Inventory management tools
Product management software
Analytical tools
Cart abandonment recovery tools
SEO optimization
Visa CPI Certified Security
Real-time shipping rates
Integrated with PayPal
Centralized inventory to sell in different channels

Developing your online store without knowing how to code, and being able to set up everything by choosing a pre-built responsive theme: Volusion makes it possible and also provides a 14-day trial.   
After customizing your website design, you can add several tools such as shipping methods, other selling channels, automated email, payment gateways, and stats about your store performance. Besides, the built-in SEO management will help you to gain more visibility.
When adding your products, you have the opportunity to use some tools that will make it even simpler and more effective, like variant pricing, import products via CSV, and rich text product descriptions. 
Key features:
Responsive themes
Add site search
Built-in SEO
Integration with marketplaces
Secure checkout
Comprehensive management system
Search friendly URLs
Admin Social Management
Reporting tools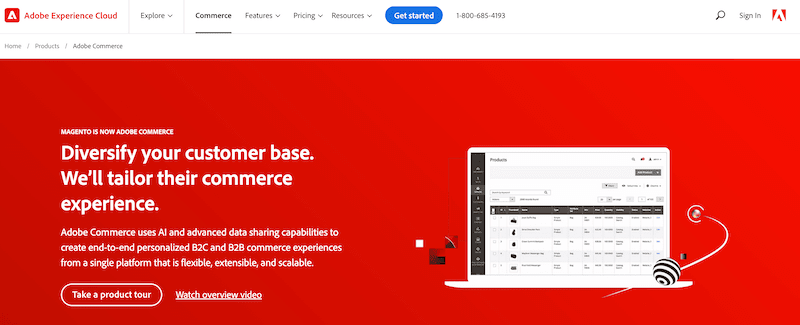 Adobe Commerce is driven to help companies to develop a great shopping experience, with several features. In the page builder, you are going to encounter an intuitive interface and content editor that allow you to customize everything, using the drag-and-drop tool.
The platform was created to help businesses of all sizes, small to big companies according to their needs. You can integrate the store with other selling channels, use B2B solutions, and easily manage your inventory.
Adobe also has a global community where you can find different partners to help you grow and find exactly what you were expecting. For example, you can have technology partners that will give you directions to optimize the way you use Magento. Community insiders, and certified Magento developers, can guide you through creating a better design. 
Key features: 
Customer segmentation and personalization
Integrates with other sales channels
Cloud-based services
Mobile-friendly
Live search
Instant purchase
Connected Enterprise Resource Planning
Squarespace is an ecommerce website builder that will enable you to create pages that better suit your business needs. Focusing on growing and expanding, before creating your account, you will choose which template has more to do with your brand visual identity, and customize it, the images, the color palette, and fonts. 
Each online store sector has its specificities, taking that into consideration Square Space includes many tools to add to your choice and also has marketing features. This way, you can implement actions such as email campaigns, through the platform. 
They provide solutions not only to sell physical products, but also digital content, like ebooks and music, subscriptions, or services. Besides, if you sell online or in-person, you can use the Squarespace inventory to keep everything synced. 
Key features: 
Customizable templates
Mobile optimized design
Easy-to-use interface
Centralized inventory
Real-time shipping estimates for US customers
Simple payment and checkout
24/7 support
Automate sales tax filing
Built-in SEO tools
With PrestaShop, you can count on a highly scalable and flexible option to have an online store that suits your client's needs. You can fully personalize the website pages by choosing a pre-built theme, adding useful features, selecting the color palette, font, inserting images, and much more. 
The platform has an intuitive interface, which means you and your team can easily learn how to navigate through its tools and make the most of it to offer the customer experience. You can manage everything from a single platform, including controlling the inventory, the payment process, and shipping. 
You also can enjoy the marketing tools to launch campaigns and promote your brand. Another advantage is the option to sell internationally, by having a multilingual store and adding multi-currency options.
Key features: 
Pre-built themes
Easy-to-use
All-in-one-platform
Sell internationally
Marketing tools
Analytics tools
Customer support
Sellfy is an easy-to-use ecommerce platform that allows you to quickly understand how to make an online store with just a few clicks. It was developed focusing on helping creators to sell their digital products and merchandise online. 
To begin, all you need to do is sign up for the platform, add your products, then customize every page to have your brand's identity. You can also use Sellfy to commercialize your products on social media like Facebook and Instagram and manage everything in one place. Enjoy the built-in marketing features to promote your store and enhance your revenue. 
You can sell a huge variety of digital products, such as ebooks, videos, audio, and other files in multiple formats. It's also possible to create digital subscriptions and charge your customers periodically, another possibility is offering video streaming services on demand. 
Key features: 
Easy-to-use
Sell products and subscriptions
Responsive design
Customization tools
Built-in marketing features
Sell from social media
Multiple payment options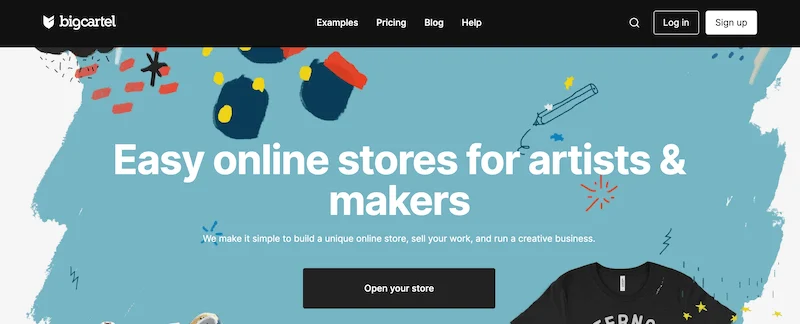 The BigCartel platform is recommended for artists who want to sell their products online. You will find the proper tool to make it easier to run a creative business. To begin building your online store, select one of the pre-built themes, and customize it according to your brand's visual identity.
Then, add the products, and set up important configurations such as the payment and shipping methods. You can count on very useful tools to manage your store, fulfill orders, update products, check stats, and run promotions from any device. 
Key features: 
Developed for artists by artists
Easy-to-use
Pre-built themes
Personalization tools
Management tools
ShopWired is considered the best ecommerce platform in the United Kingdom. It offers you beautiful and responsive themes, so you can build your online store without having to design it yourself, but still be able to customize the details to be aligned with your brand's visual identity. 
The platform integrates the most important features for managing an online business, so you can centralize all your tasks in a single place. You will be able to keep track of all the orders, update the product catalog, and create promotions. If you already use another platform, you can fully migrate to ShopWired in 7 days or less.
Key features: 
Responsive design
Pre-built themes
Customization tools
No coding or software installation required
All-in-one platform
Sell on social media
Customer support
Insightful reports
Advanced b2b features
Improve the Ecommerce Website According to the Results
Once you have launched your website, it doesn't mean that the ecommerce website design is going to remain the same forever. On the contrary, it's important to update it according to the new trends and also based on the metrics of your online store. Analyze them carefully and see where you can improve the design.
Like what you've read?
Sign up and try JivoChat for yourself!
It's free and only takes a couple of minutes to download.