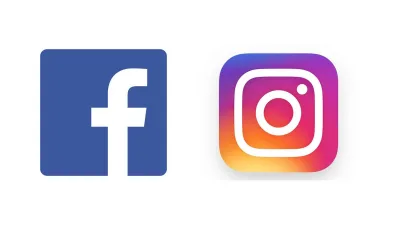 How to Link Facebook and Instagram
March 22, 2023
updated September 1, 2023
Reading time ≈ 5 minutes
Jaqueline Corradi
Content Manager
When you learn how to link Facebook and Instagram, you can share your stories and Instagram feed posts at the same time on Facebook too. Enjoying the engagement that comes from both social media platforms. Check out the article to know more about it.
Why Link Facebook and Instagram
Linking Facebook and Instagram offer you several benefits, mainly if you are a content creator or have an Instagram account to promote a brand. Once your two accounts are linked, you can run ads for both platforms, having all the data centralized in one place, which makes it easier to manage the marketing campaigns. 
Another reason is that instead of publishing the same content twice, you just need to post on Instagram, and it will automatically be shared on Facebook too. You avoid forgetting to publish it and can expand the reach of your content. Also, people will have direct access to your Instagram profile from your Facebook page and vice versa. 
If you forget your passwords, you can recover them by entering one or the other account. Your information will be synced on both platforms as well. As Facebookand Instagramare both part of the Meta, they are developed to work seamlessly together, delivering a more integrated user experience.
Managing Facebook and Instagram Together with the Accounts Center 
With the intent to enable people to manage their Facebook and Instagram accounts in a single platform the  Accounts Center was created. You can use it to connect to more than one Facebook and Instagram account and adjust the settings without having to access each account, which will save you time.
In the Accounts Center, you can: 
Update your contact information;
Manage identity confirmation;
Set memorialization preferences;
Manage passwords, two-factor authentication, login activity, and login alerts;
Adjust how you upload contacts;
Adjust ad preferences;
Manage Ads payments. 
However, the Accounts Center is still being implemented, which means that some features aren't available for users all around the world. The changes are gradually being made, therefore it's important to keep up with the updates.
If you are a marketing professional, getting to know how Accounts Center works will be very useful to enhance productivity and enjoy the new tools to have better results. If you manage more than one business account on Instagram, you can follow up on all of them easily, but it isn't possible to connect two Facebook accounts at the same time. 
How to Link Facebook and Instagram Accounts
When it comes to how to link Facebook and Instagram accounts, it's a simple procedure that takes just a few steps.
1 - Use your Facebook account to log in to the Accounts Center;
2 - On the left side menu, click on the option "Accounts";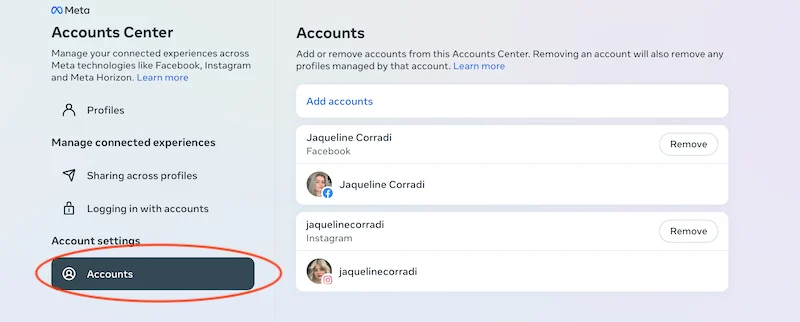 3 - Click on "Add Accounts";

4 - You will be redirected to log in to your Instagram account, follow the instructions to finalize the process.
Choose the Content that Will be Shared on Facebook and Instagram
Now that you have linked Facebook and Instagram accounts, you can select what content will be shared on both of them when published:
1 - Log in to the Accounts Center;
2 - Click on "Sharing across profiles";
3 - Choose the account you want to share from and set up what you wish to publish on both platforms.
If you select to share from your Instagram account, you can choose to share posts on your Facebook profile or Facebook Page. Then, define if you wish to automatically share Instagram posts and stories or only one of them.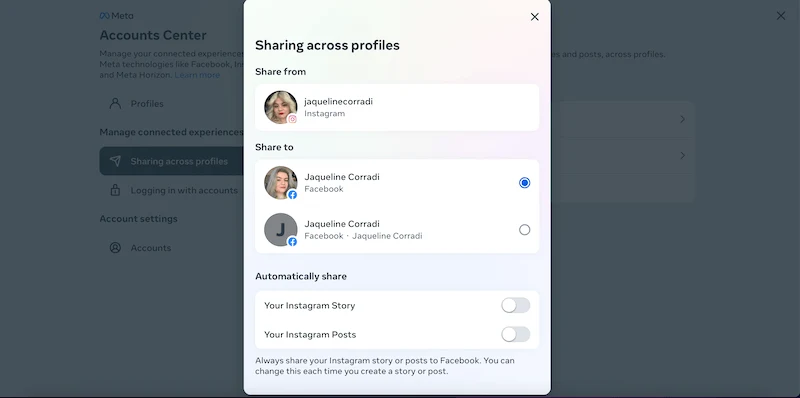 If you want to share from Facebook to Instagram, you also have the option to share posts and stories automatically.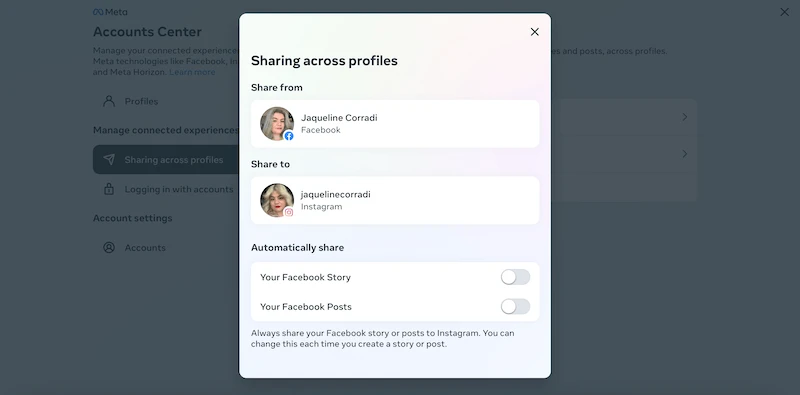 How to Link an Instagram Account to a Facebook Page
To have a Facebook Page linked to Instagram, your Instagram account type needs to be a business or creator one. Both of them give you access to several features developed for people who want to use Instagram to promote brands, advertise, and build a career as a digital influencer too.
If you already use have one of those two account types, what you need to do is:
1 - Open the Instagram app, log in to your account;
2 - Go to your profile page;
3 - Click on the menu icon;
4 - Click on "Settings";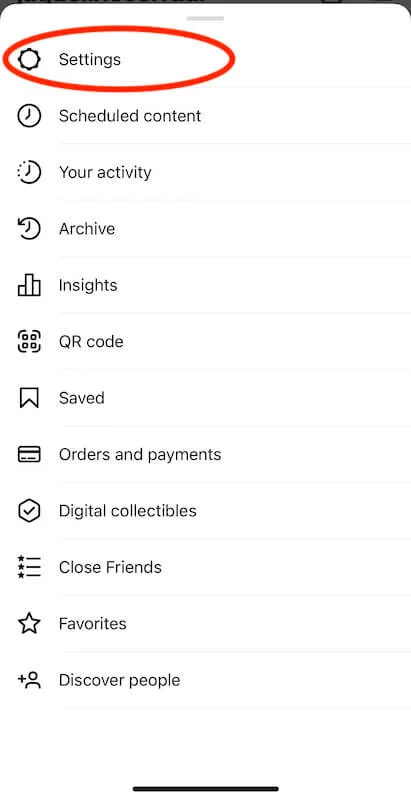 5 - Select  the"Creator" or "Business" option ;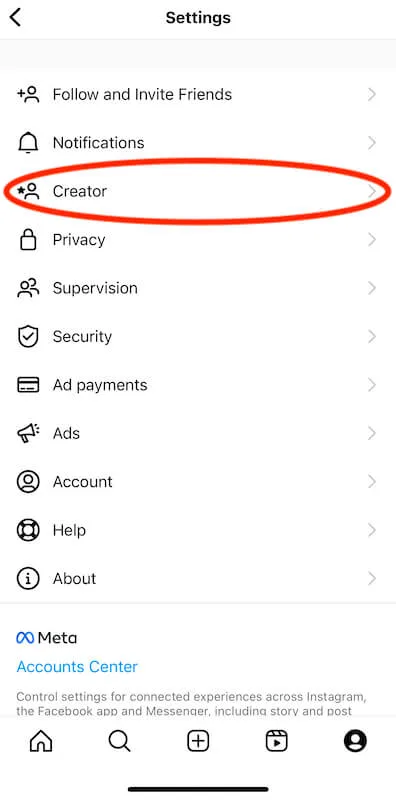 6 - Click on "Connect a Facebook Page";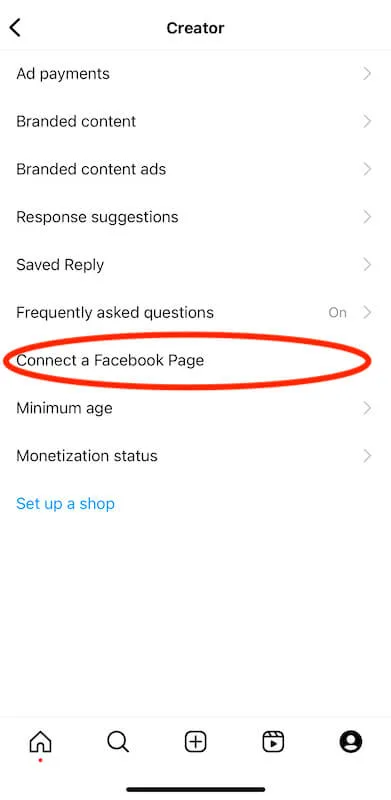 7 - Choose if you want to create a Facebook page or connect to an existing one, and follow the instructions. 
How to Disconnect Facebook from Instagram
You can disconnect your Facebook and Instagram accounts via the Accounts Center. 
1 - Access the Accounts Center with your Facebook or Instagram account;
2 - On the left side menu, click on "Accounts"; 
3 - You will see all the accounts that are linked to the Accounts Center, click on "Remove" to disconnect the one you want. 
4 - A pop-up window will appear explaining what happens when you disconnect an account. If you are sure, click on "continue" and follow the instructions. 
Enhance your Performance by Connecting Facebook and Instagram
When the subject is how to link Facebook and Instagram, there are many benefits to doing that. Enjoy the possibility of managing both accounts in one place to increase productivity, save time, and improve performance. You can see how your content performs on both social media networks, identify the difference and similarities among the audiences, and get insight to improve engagement and expand your visibility continuously.
Like what you've read?
Sign up and try JivoChat for yourself!
It's free and only takes a couple of minutes to download.