How to Get Advertisers on Your Website
May 3, 2022
updated August 17, 2023
Reading time ≈ 7 minutes
Jaqueline Corradi
Content Manager
If you wish to monetize your pages, learning how to get advertisers on your website will help you to do that. There are several ways to find companies that want to place ads online, but your website needs to meet the requirements as well.
Getting advertisers may not be as difficult as many people think, but it will take you to research how website ads work. When you comprehend better this area, it will become simpler to know what you need to do to get revenue from placing ads on your website.
1. Drive Traffic to Your Website
When it comes to how to get advertisers on your website, it's necessary to have pages with a significant number of accesses. Companies are looking for visibility and to find qualified leads when advertising, if you have high organic traffic that's a very convincing reason for them to choose your website. 
The number of traffic that is considered pertinent for a company to select your website depends on its size and purpose with the ad. They may also consider the profile of your audience. For instance, if you own a smaller blog but you have a highly-engaged audience from a very specific niche that can be very attractive to get advertisers as well.
Use Google Analytics and other web analytics tools to have access to your website metrics. You can measure not only the quantity of traffic but the average time spent on each page, bounce rate, conversion rate, sources of traffic, and much more. 
2. Use Google AdSense
Google AdSense is one of the best ways to get advertisers on your website without having to deal directly with the companies. The platform will select the ads that are going to be displayed on your website according to your content and visitors. 
The first step to start making money with ads on your pages through AdSense is to create your account, which is for free. If you use Gmail or any other service from Google, you already have a Google account, use it to access the platform. Then, they will ask you to add the URL of your site. 
After that, you are going to select if you desire to receive customized help and performance suggestions from AdSense. Define your payment country or territory, check the terms and conditions of the platform, and click on "Start using AdSense". 
Your account is created, but it doesn't mean it's activated. For that, you also need to enter your payment information and connect Google AdSense to your website. The platform will give you an HTML code to be pasted on your page. 
Before receiving the code, though, Google will check if your website complies with the AdSense policies . It can take from 2 to 4 weeks untils your website is approved. 
Once your website is verified and everything is in place, you can choose where on the pages you want the ads to appear. The company that has the highest bid earns the place on your website. You will be paid a commission based on the number of clicks on the ad.   
3. Partner with Companies that Offer Affiliate Links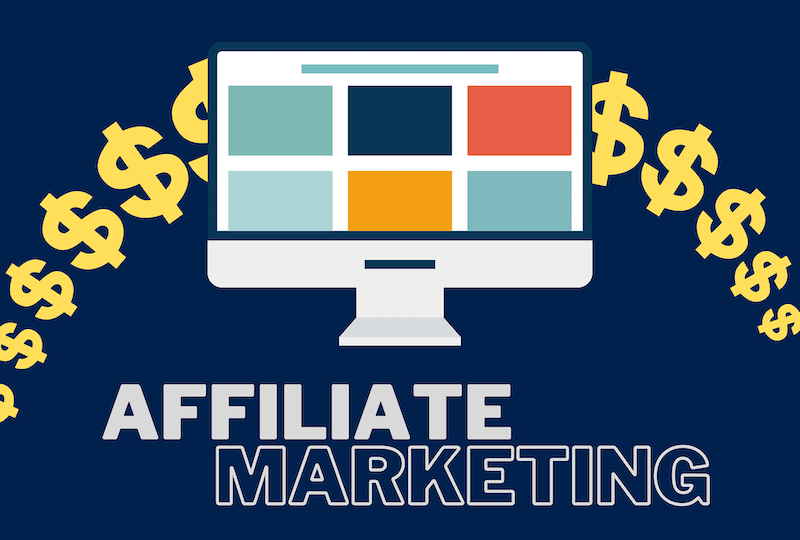 Have you ever heard of affiliate marketing? Companies create an affiliate program where other businesses and website owners that promote their products or services gain a commission for every purchase that came from their posts. 
They will give you an affiliate link, and sometimes clickable banners as well so you can place them on your pages. You can make a review about a product on your blog and put the affiliate link, for example.
It isn't a type of advertising, but you can make money with your website through that. It's possible to sign up for multiple affiliate programs. The commission you are going to receive depends on each company, look for the programs that are worth it for you, and which are related to your website profile. 
4. Look for Potential Advertisers
Companies that are related to your target audience, and aren't competitors, may have interest in advertising on your website. You can begin researching on Google for keywords that are connected with your niche and make a list of businesses that you could offer an ad place on one of your pages. 
Also, access similar websites to yours to see which companies are advertising on them. They will likely find your pages relevant for their campaigns too. Social media platforms, such as Instagram and Facebook, are very useful to find potential advertisers as well. Make searches using hashtags that match your website topics. 
If you need help to get advertisers on your website, and also promote your page to get more traffic and increase revenue, you may partner up with a marketing agency. For example, Shout Marketing Company has a team of experienced digital marketing professionals that will help you to develop the best strategies to get the results you are looking for. 
5. Create a Media Kit
A Media Kit, presenting what your website is about, what it values, some of the content, and the metrics, is very important if you are going to offer ad places to companies. You need to show them why they should choose to pay for advertising space on one of your pages.
The media kit has this purpose. One of its main parts is the metrics, which emphasize the data that gives value to your website such as the number of traffic, audience engagement, and the profile of your audience. Include the prices, and special offers as well. You can put the media kit available for download on your website, or send it when you get in contact with the companies. 
6. Get in Contact with Companies Directly
Once you have researched for companies that are potential advertisers and created your media kit, it's time to reach them out. Instead of just sending an email, the best would be to call each company, which prevents your contact attempt from being forgotten in the mailbox. 
Schedule a meeting, and be prepared to make a convincing pitch. Research about the company and its products, so you will know to explain why your website is related to them, and how putting ads on your pages will be relevant. You have the possibility to build long-term partnerships by offering good deals.  
7. Insert an "Advertise" link to your Menu Bar
Show companies that they can place their advertisements on your website by adding an "Advertise" link to your menu bar. This way it gets easier for people who access one of your pages to quickly get information about advertising with you, They can know the ad types that are available to negotiate, and get in contact with you. 
8. Write an Article About How to Advertise on Your Website
If you have a blog section, use it to show companies how to advertise on your website. Write an article presenting your website, its main purpose, and values, and also showing why it is worth displaying ads on it.
At the end of the post, you can insert a call to action inviting people to fill out a contact form to know more information about the ads and receive the media kit, for example. 
Keep Creating Great Content to Get Advertisers on Your Website
On the subject of how to get advertisers on your website,  it's fundamental to keep your pages always updated and continue posting high-quality content. For companies to see your website as relevant for paying for ads, they must see that you are continuously dedicating yourself to improving the website performance, delivering the best user experience, and adapting to the digital world changes.
Like what you've read?
Sign up and try JivoChat for yourself!
It's free and only takes a couple of minutes to download.