August 1, 2022
updated June 9, 2023
Reading time ≈ 6 minutes
Jaqueline Corradi
Content Manager
Do you know how to go live on TikTok? It allows you to become even closer to the users and interact with them in real-time. You can answer the users' questions when they make it, exchange thoughts and ideas, and promote debates over specific topics.
Another great advantage is that you can profit from the TikTok lives you make as well. The viewers can send you virtual gifts which are converted into money. Do you want to learn more about it? Check out the article!
TikTok Live Requirements
To go live on TikTok, you need to comply with the platform requirements:
You need to have more than 16 years old;
Have at least 1,000 followers;
Have more than 18 years old to receive gifts during the TikTok live. 
How to Go Live On TikTok
1 - Open the app, and click on the "plus" button on the screen;
2 - If you have more than 1.000 followers, in the horizontal menu, at the bottom of the screen, as you scroll right, you will see the option "live"; 
3 - Add a title to the live. It should be a short one with no more than 30 characters;
4 - Make the adjustments to go live, such as selecting the cover photo, and the filters and effects you wish to add.
5 - You can also add a topic, and click on "support a nonprofit". The "support a nonprofit" feature enables you to promote a charity organization, and users can donate to it. 
6 - Check if the sound and the lighting of the place you chose to record are good.
7 - You are ready to go now, just tap "Go live". 
How to Go Live On TikTok without 1000 Followers
Although the live button doesn't appear on the TikTok app for people with less than 1000 followers, there is still a way to enjoy this feature. 
1 - Go to your profile page, click on the menu icon on the right side of the screen, then select "Settings and privacy";
2 - Click on "Report a problem", then on "I can't start a live";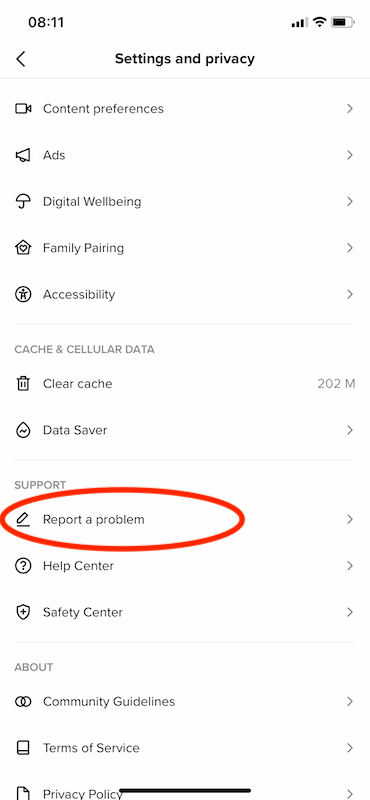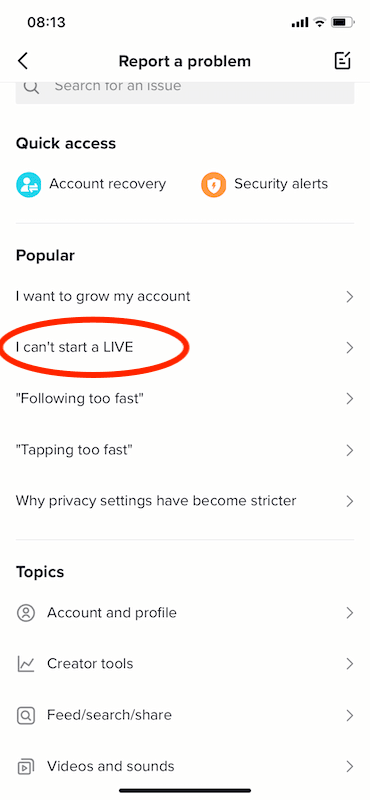 3 - TikTok will show you the guidelines explaining people under 16 aren't allowed to make lives, and ask "Is your problem resolved?" Click "no";
4 - Select  "send feedback", and write a message requesting to have access to make TikTok lives;
5 - TikTok will analyze your request and get back to you in around 2 days. Usually, they enable the feature when solicited. 
How TikTok Live Gifting Works
Now that you have learned how to go live on TikTok, there are other aspects that are important to pay attention to. For instance, how you can make money on TikTok with lives. There is a feature which is called Live Gifting where the viewers can send you gifts by clicking on the gift box at the bottom of the screen.
Those gifts are a way for creators to collect diamonds, which can be exchanged for money and transferred to the bank account registered by the TikTok Creator. But, enabling live gifting is only allowed for creators that are more than 18 years old. 
The viewers can send a gift by purchasing coins. Once they have enough coins to acquire a gift, they only need to tap on the icon and the gift is sent to the creator during their live. 
4 Tips to Make Great TikTok Lives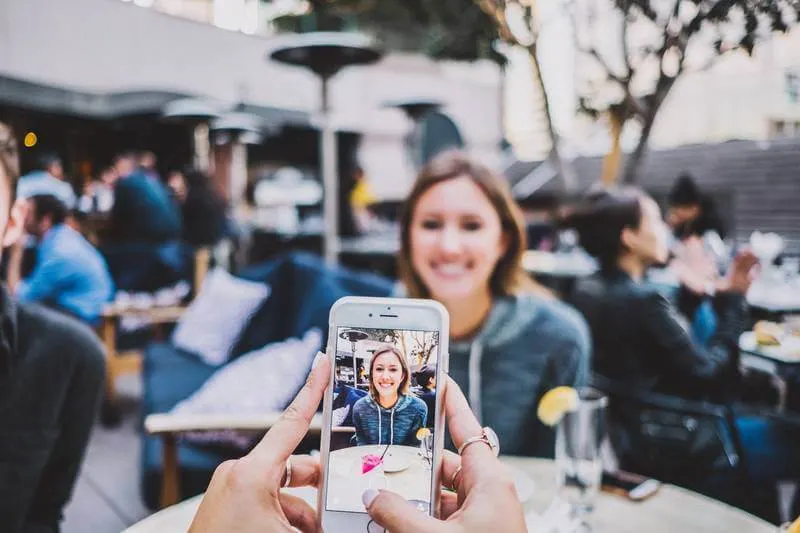 1. Choose a Significant Topic
Starting the TikTok live with no idea of what to talk about certainly isn't the best plan, right?  Be prepared, select a subject that you know is going to catch your audience's interest. For example, if you are a creator focused on the fashion niche, you can open a live to talk about the latest haute couture fashion shows, or if your niche is talking about traveling, the topic of your live could be how was your last trip. 
2. Choose a Proper Place to Record
The audience needs to be able to see and hear you well. So, choose a place where the lighting is good and there isn't much noise pollution. To enhance the image, a suggestion is to use a ring light, and a microphone to avoid problems with the audio. You don't need to have a whole studio set up, but small adjustments can be useful, such as filming during the day. 
3. Make an Interactive Live
While you are live on TikTok, interact with the viewers, read their comments, and make it a conversation with them. In the case of a fashion TikToker, for instance, you can make a live get-ready with me where people will choose the pieces of clothes you are going to wear, according to the options you give. 
Or,  do your make-up during your live, and invite the viewers to choose the color of lipstick you will wear or blush tone. This is a way to catch their attention and keep them interested in continuing watching to see the result, besides feeling integrated. 
4. Keep the TikTok Lives Short
30 minutes is a good duration to make your TikTok lives. If you extend yourself too much the viewers may lose interest and the engagement rate will start decreasing. 
5 TikTok Live Ideas
Q&A
One TikTok live example is the Q&A. Tell your followers that you are going to make a live to answer their doubts, since now you know how to go live on TikTok, and ask them to prepare their questions. The Q&A can be curiosities about your life or regarding a topic that you are an expert at. 
Interview
What about bringing someone else to go live with you on TikTok? The person you will choose to interview depends on who your target audience is, and what is your niche. For instance, if you talk about how to have a healthy life, you can invite a nutritionist to talk about vitamins and the fruits that contain them.
Tutorial
Another possibility is to make a live tutorial, for example, teaching how to draw, how to make a recipe, and how to do make-up. There are thousands of possibilities, and as the live goes on, the viewers have the opportunity to ask questions about some part of the tutorial they didn't understand well.
Behind-The-Scenes
You can also make a behind-the-scenes live showing, for example, the backstage of a fashion show, a play, a concert, a tv show, a YouTube video recording, and so on. People are always curious to know about these aspects, enjoy that. 
Go live on TikTok and Grow Your Audience
Now you have understood how to go live on TikTok, what about making your first live? You will see it's simpler than it seems, and it offers an immense opportunity to engage with your followers and reach more people. Besides, you can earn money with it, and increase your profit on the platform.
Like what you've read?
Sign up and try JivoChat for yourself!
It's free and only takes a couple of minutes to download.