7 Ways to Deliver a Seamless Omnichannel Customer Experience
Reading time ≈ 12 minutes
Igor Shekotihin
Head of International Growth
Customers don't just experience your brand through one channel anymore. Now, there are lots of ways for them to interact with your business. This includes digital channels, such as social media and email, and more traditional channels, like SMS and phone calls. But they also expect a seamless interaction between platforms. 
A customer might submit a complaint over social media, and want to pick this up again over email or the phone without losing any context between channels and interactions. You can ensure this connection stays in place with omnichannel customer service.
So what is it, what are the benefits and how do you implement an omnichannel strategy? Let's take a look.  
---
What is Omnichannel Customer Experience?
An omnichannel customer experience is a multichannel approach to selling and communicating with your customers. It ensures your customer has a seamless experience with your brand from one channel to another. These channels could be anything, from social media and email to an in-store conversation with a sales representative. 
Why is this important? According to Harvard Business Review, 73% of customers use more than one channel during their purchase journey. Very few people buy after a limited interaction in one setting any more. They gather as much information as they can before making their buying decision, from a range of sources. Only after this will they decide to buy from you or a competitor.
Pillars of a Successful Omnichannel Experience
Convenience 
Customers are short on time. You can help them by ensuring products and services are easy to learn about and buy. Learn how you can make your customer's experience more convenient by carrying out an assessment. Find out what could be getting in the way of this. And for each discovery, think of ideas that can help you overcome these challenges. You should also ensure your customer's preferred channels can be accessed when they want. 
Consistency
Consistency ensures your customers experience the same quality of service across all of your channels and departments. This is often expected by the customer. It's frustrating to have a conversation with someone in sales, and have another with someone from support who knows nothing about that last interaction. 
Relevance
Customers are more connected and empowered than ever. To meet their expectations, your brand has to stay relevant. Your customer is expecting every interaction in real-time with a real human, personalized to their needs and habits. Your teams should have access to customer records across all departments. 
Connection
Customers want to press pause on one channel and resume on another when it's convenient to them. So there needs to be consistency across your channels. This is essential for creating a seamless experience at every stage of the customer's journey, from pre-purchase to post-sales. Data that's centralized from all channels can help you and your teams to access it quickly, and provide a personalized experience for customers. 
Omnichannel vs. Multichannel Customer Experience
The main difference between multi channel and omni channel strategy rests in the connection between channels. 
With an omnichannel strategy, all channels are integrated to deliver a consistent connected experience. Sales, support and marketing teams are able to access customer records and pick up straight away on where the conversation last left off, whether that was on live chat, faceboom Messenger, email, phone or offline. 
With a multichannel strategy, all the communication channels are not integrated, and departments often operate in silos without easy access to the complete customer record. 
Omnichannel Experience vs. Omnichannel Marketing
Another term you may have heard of is omnichannel marketing. What is this and how does it differ from the omnichannel experience? 
Omnichannel marketing focuses on creating a seamless marketing experience for your customer. You'll send marketing communications across multiple channels, both digital and traditional, that are consistent and connected. 
For example, your customer may get a promotional SMS message about an offer in your online store. If they visit the store, but abandon their cart or don't complete the purchase, they may receive an email later asking them if they're still interested in buying your product. They could also see social media retargeting ads about the offer. 
Omnichannel marketing deals exclusively with marketing, whereas omnichannel customer experience covers sales, marketing, customer support and other departments. It's about making the customer experience as consistent as it possibly can be, whenever your customer interacts with your brand. 
Benefits of a Great Omnichannel Customer Experience
There are several benefits to having a great omnichannel customer experience, covering everything from higher purchase frequency to lower resolution times. 
Increased purchase frequency 
An omnichannel experience makes customers more likely to buy from you, and more often. Research from ClickZ shows shoppers who use three or more channels to interact with their favorite brands had a 250% higher purchase frequency rate, when compared with buyers who only use one channel. 
Harvard Business Review also reports customers who are using more than one channel were more valuable to a business. They spend an average of 4% more in physical stores and 10% more than customers that only use a single online channel. 
Increased average order value (AOV)
Customers that use three or more channels tend to have a 13% higher AOV.
Omnichannel customers are more valuable to a business over the course of their lifetime than those that have single-channel experiences. 
Reduced resolution times
Omnichannel business can handle customer requests faster by using technologies that allow employees to interact in near real-time across channels - live chat, email, phone, social media and more, all while having access to the most up-to-date customer record. 
Improved customer satisfaction
An omnichannel strategy collects and analyzes data to help businesses deeply understand the needs of the customer and deliver a more personalized experience at the marketing, sales and support levels. 
This deeper understanding of customer needs presents one of the biggest opportunities for companies to improve the customer experience and win new business:
In addition, Econsultancy carried out a survey for Digital Marketing Trends. They asked companies to say what they thought would be the single most exciting opportunity across both B2C and B2B industries. 
Customer experience came out on top:
Increased revenue
Omnichannel experiences can help make your company more profitable. In a recent study, The Tekmin Group found that companies who are earning $1 billion per year can expect to earn an average of $700 million more, over the course of 3 years, by investing in customer experience. 
Improved customer retention
If you want to have more loyal customers, getting to grips with omnichannel customer experiences is the way to go. 
Recent research shows that 79% of businesses say the aim of a customer experience strategy is to improve retention rates:
Customers expect consistent experiences and fast responses across their preferred channels. Companies that meet this need will establish a competitive advantage in the marketing and see a significant increase in retention.
Increased customer loyalty
Customers who receive a great omnichannel experience tend to become more loyal to your brand. And they're more likely to recommend your brand to friends and family.  
Another study by ClickZ found that people who connect to a brand using more than one channel were 90% more likely to make a purchase from that company again. 
7 Ways to Provide an Omnichannel Customer Experience
There are lots of ways you can create an omnichannel experience for your customers. From aligning all of your departments to monitoring customer experience metrics, following each of these steps will help you create one. 
Align all departments
There are lots of stakeholders involved when it comes to providing an omnichannel experience. These include people from your customer service, customer support, marketing, and sales teams. Each department plays a role in the buyer journey. And sometimes, their visions aren't always aligned and data about the customer isn't always shared. This can prevent you from providing a truly omnichannel customer experience.
But the earlier you make them realize they have the same goal – delighting the customer – the easier it will be for you to work together and iron out any kinks in the buyer's journey. 
Identify preferred touchpoints 
Find out where your customers would prefer to interact with your brand, and at what stage in the customer journey they're interacting with these channels. 
The best way to do identify these touchpoints is to build an ideal customer profile that highlights the channels - online and offline - where your customers spend time and consume information:
Once you have identified the channels, the next step is to figure out what type of experience - marketing, sales and/or support - should be offered by each channel, and which specific technologies will enable this. 
Make sure all your channels are connected, so the customer has a seamless experience. Know what they expect from one channel to the next. And keep up with their habits and adapt your channels as these change. What works for one customer at one point in time may be different later. 
Invest in the right tools
What tools and technology you invest in will depend on the nature of your business, your customer, and what kind of experience they want. 
Live chat functionality, for example, might be added to a website because  customers expect questions to be answered quickly: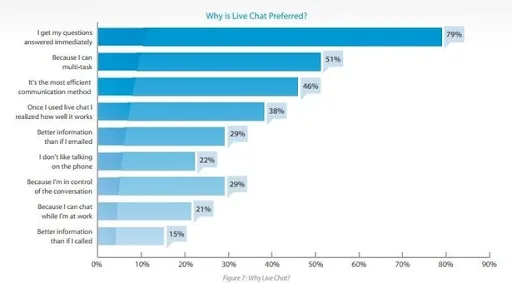 Maybe your business would invest in augmented reality if customers expect you to deliver a live online walkthrough of a property. Or you might want to invest in your website's site search functionality or extensive knowledge base, in an effort to enable your customers to find relevant information.
Bottom line: invest in the tools that help your customers find the information they need, when they need it, on their preferred channels. 
Focus on the mobile experience
Today, over half of all online traffic comes from mobile devices:
Having a mobile app and/or responsive website is critically important to the customer experience. Research from Google suggests 71% of consumers think mobile devices are an important part of the buying experience. 
With the right app, customers can seamlessly switch from an online to an offline touchpoint. In a store, you may allow for a barcode scanning app that brings up information about one of your products. 
According to eMarketer, 45% of customers enjoy a combination of online, mobile and in-store shopping, while many mobile users say it's important websites are mobile-friendly. 
Strive for personalization across channels
Despite the benefits of personalized, a Forrester survey found that 53% of digital experience delivery professionals said they lack the right technology to personalize experiences:
(Source)
Businesses should have a goal of enabling every visitor to consume the experience how they prefer, where they prefer, and helping them achieve specific goals at each stage of the buyer journey.
A simple way to think about and deliver a personalized customer experience is to answer the following question:
1. Where should personalization be offered in the customer experience?
Consider the different touchpoints and prioritize which personalizations would have the biggest impact - product recommendations, self-service portals, live chat etc - across each preferred channel.
2. What information should be used to deliver a personal experience?
Once you have identified the different channels and vehicles for delivering a personalized experience, the next step is to audit the information you have on hand and identify where there may be gaps that need to be filled.
For example, does your knowledge base lack content that addresses common customer FAQs? Does your marketing team lack adequate case study and buy guide content to help move leads down the funnel?
3. How can you use technology to deliver this level of personalization?
This is where you make a list of the tools and technologies that will be needed to bring the data from multiple channels into a single system of record to help that cohesive customer experience. 
Sync data with your CRM
As we've already seen, the average customer wants a more personalized experience based on their history, preferences, conversations and enquiries. 
The best way to do this is to ensure their data is recorded across multiple channels, and easy for your teams to access in a few clicks. That's why you should sync all of the data you collect in a CRM.
A challenge many face when trying to establish consistency in the omnichannel experience is collating data for a single view. Standardize this if you can, so you can access it whenever, wherever. Then your teams will be able to access the information they need to deal with specific enquiries, at the right time.
For example, JivoChat's omnichannel messenger syncs directly with your CRM so everything from live chat and facebook Messenger conversations to phone calls and email responses are sent directly into the customer record for quick access by different departments:
Image: linking customer communications to CRM records with JivoChat.
Monitor customer experience metrics
You can't manage what you don't measure.
Each day, week and month you should be monitoring a select set of experience metrics to ensure your customers are staying satisfied enough to remain customers, and ideally refer others to your business. 
We have listed a couple of important metrics below, but this guide captures other important KPIs to monitor. 
Customer effort score (CES): this metric will tell you how much effort your customers need to put in to achieve a specific task or goal. This could be anything from submitting a support ticket to completing a product purchase. 
Why is this important? Research shows 94% of customers who have an effortless experience are likely to buy again, versus 4% of those who had to put in a lot of effort.
Customer satisfaction score (CSAT): this metric tells you how happy or unhappy a customer is with the overall experience across channels. 
Net promoter score: this metrics tells you how like a customer is to refer others to your business. 
Retention rate: this metric shows how many customers stayed with your business over a certain period of time.
By monitoring these types of metrics you'll be able to spot issues and take the necessary steps to ensure a positive omnichannel experience that keeps customers paying, and referring others to your business. 
Omnichannel Customer Service is Here to Stay
Not only do customers use more than one channel during the buying journey, they expect seamless interactions between them. 
By implementing an omnichannel customer experience strategy in your business, you'll be able to respond to customer needs whenever and wherever, at any stage in the journey. This will help you to improve customer satisfaction, loyalty and boost revenue.
Like what you've read?
Sign up and try JivoChat for yourself!
It's free and only takes a couple of minutes to download.