Live Chat Support: What It Is, Benefits & Best Practices for 2021
January 18, 2021
updated November 8, 2021
Reading time ≈ 13 minutes
Igor Shekotihin
Head of International Growth
Live chat support is the perfect online service tool for customers who want immediate help. In today's fast-paced digital world, customers want an instant response and swift resolution from a real person.
Studies show that 41% of consumers prefer live chat, versus 32% who prefer phone support, 23% who prefer email support, and 3% who prefer social media support.
Live chat has the highest satisfaction levels for any customer service channel, with 73%, compared with 61% for email and 44% for phone.
Not only that, it has the highest customer satisfaction level of any support channel across multiple industries: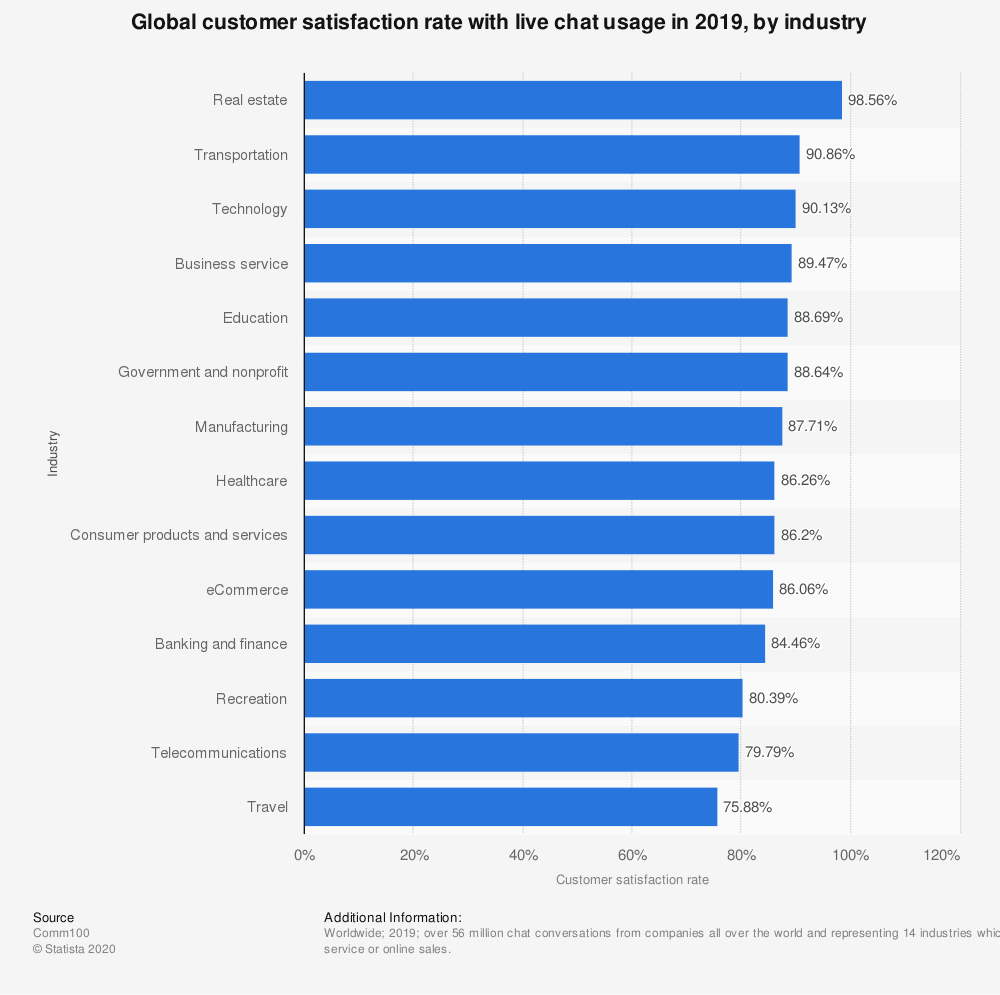 In this guide, we'll examine the benefits of live chat and look at how support agents and managers can best use it to improve customer support and conversions.
What is Live Chat Support?
Live chat support allows customers to have real-time, text-based conversations with support teams via the web. A customer can enter their message in the live chat software – typically, a pop-up window in the corner of the screen – and the support agent answers their query. Some live chat software uses an AI bot to automatically answer common questions before you reach human support.
Live chat provides an instant, conversational, synchronous 1:1 customer support channel, compared to asynchronous email support where there is no guaranteed response time.
Live chat offers both proactive and reactive support. For instance, if you were processing month-end accounts and ran into difficulty with a transaction, you could request immediate "reactive" support via the live chat tool.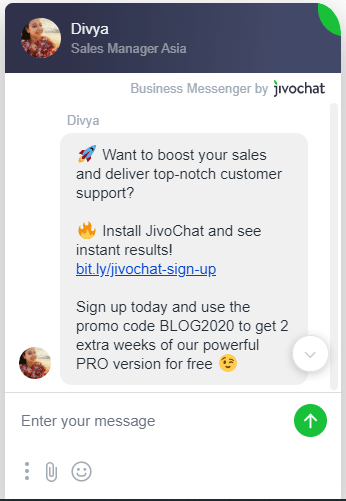 Image: JivoChat proactive chat message.
On the other hand, you might experience "proactive" support when browsing an online store where a live chat window pops up asking if you need assistance.
Some live chat software can also integrate with other support tools, such as a knowledge base, messaging apps, or email software to provide omnichannel support.
---
8 Ways Live Chat Benefits Customer Support
In this section, we'll examine the benefits of live chat support.
Live chat support is convenient
Live chat support is convenient for several reasons:
Live chat instantly connects customers with an agent. Compared to telephone support, where you often have to press numerous buttons to navigate a complicated menu system, and then wait indefinitely "on hold" before a support agent talks to you, live chat is instantaneous.
Live chat allows customers to multi-task. One of the most significant benefits of live chat is that customers can always be getting on with another task while waiting for a support agent to type a reply. In fact, one survey found that 51% of customers preferred live chat because they can multi-task:
Live chat conversations can be saved for future reference. Customers get the option to save an email transcript of the live chat conversation in case they come across the issue again.
Live chat support is fast
Customers are much happier to get an instant answer to their query via live chat than waiting an hour or more for an email reply. In fact, 79% of customers prefer live chat because they are able to get their questions answered quickly.
Live chat support can resolve issues in one quick session, whereas email support often goes back-and-forth, sometimes over days, before getting resolved.
When Zopim analyzed more than 85,000 chats, they discovered that, on average, an agent replies to a customer query in less than 23 seconds and resolves a problem in no more than 42 seconds.
Live chat support is highly personalized
Live chat support allows customers and support agents to have a highly personalized 1:1 chat that's right on point.
By embedding live chat software into the online process, customers don't have to struggle to explain what and where they were before seeking help.
For example, they might be on a product page, a pricing page, or a contact page. Either way, agents know straight away where they were in the process and what they were doing before asking for help.
Agents can really understand customer pain points, and clarify how their product helps solve those. Plus, they're equipped to overcome any last-minute objections/ barriers.
Live chat support removes redundancy
Live chat support software allows agents to read the initial customer query plus reference other data. For example, depending on the software, they might be able to see which screen the customer is currently viewing, which campaign brought to your website, and review notes from previous support interactions. This saves customers from confirming details every time and is now the expected norm.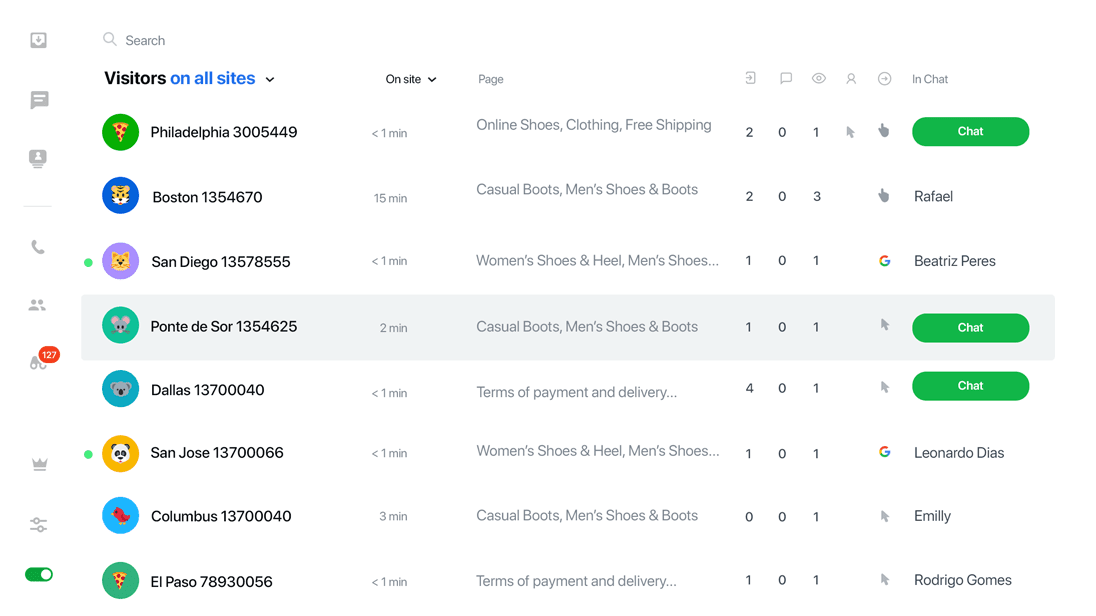 Image: Use JivoChat to get a real-time view of which webpage a visitor is viewing, which domain they came from, and whether or not they are engaged in a live chat session.
Nowadays, 72% of customers expect a customer service agent to know their contact details, product information, and service history without asking for them.
Live chat support helps build rapport
Live chat is a proven way to build long-term relationships with your customers. When customers know you are there to listen and respond, it helps build rapport.
When surveyed, 52% of consumers said they had purchased more from a company after having a positive customer service experience. While 73% of consumers said that friendly customer service representatives could make them fall in love with a brand.
During a live chat, agents can pick up on a customer's tone and sentiment and adjust their style to match so that they can quickly build rapport and establish a friendly, helpful relationship.
Live chat support boosts productivity
Live chat can also boost the productivity of your customer support agents. For instance, an agent can only handle one phone call or reply to one email at a time, but with live chat, they can deal with a few conversations simultaneously.
Image: Handle multiple chats at once with JivoChat, transfer chats to other agents, and view past notes and CRM records.
According to Telus International's research, customer service agents can engage in as many as six simultaneous chats, depending on the complexity of the issues involved.
For instance, if they're working on a challenging issue that requires more research and investigation, they might deal with a couple. But if they're working on quick and simple queries, then they can probably deal with up to five queries at a time.
Since each live chat software has different features, make sure you choose one that matches your workflow requirements.
Live chat support increases conversion
More people are buying goods and services online through ecommerce and social commerce sites, even more so since the pandemic. Without live chat support, you run the risk of losing potential sales with back-and-forth emails.
A Virgin Airlines case study found that the conversion rate for customers who used live chat was 3.5 times higher than those who had emailed the company.
But with "real-time" live chat support, you can increase conversions by:
Establishing customer requirements immediately.
Resolving queries and building trust.
Preventing shopping cart abandonment by addressing customers directly.
Guiding shoppers towards a purchase or upselling with personalized offers.
Supporting customers from start to finish along their journey.
Live chat support creates a competitive advantage
Imagine this:
You're browsing the web looking to buy a new jacket, and you have a couple of questions. Would you prefer to call Company A on the phone or chat with their competitor, Company B, in real-time?
Turns out that more than half of customers prefer to use live chat over phone support. Plus, 44% of consumers believe the ability to talk to an agent while purchasing online is one of the best features a website can offer.
If your site offers live chat support and your competitors don't, then you have a real competitive advantage.
---
Live Chat vs Messaging
Although similar, it's important to understand the difference between live chat and messaging.
Live chat can provide synchronous 1:1 communication, which means that when the chat ends, the conversation history disappears from the chat window. But it is available as an email transcript for future reference.
Note: JivoChat also provides asynchronous live chat capabilities.

For example, JivoChat customers and agents can get back to support conversations at any time.

Agents can reopen chat archives and send a new message, and if the customer is on the website the message will be delivered in the widget.

If the customer is not on the website, then the message will be delivered to their email if they left one.

On the customer side, when they revisit the website where they used JivoChat, the previous conversation will be displayed in the widget if they haven't cleared cookies and cache.
Messaging, on the other hand, is asynchronous communication, which means customers can dip in and out of the conversation at their convenience, and the dialogue remains visible in the messaging app. The best way to visualize it is to think of a messaging app like WhatsApp, where you have an on-going dialogue with friends and family.
The best solution for support teams combines live chat and messaging into one centralized platform for agents and managers. It enables true omnichannel support where customers can get help in real-time or communicate asynchronously.
Image: Omnichannel support options with JivoChat.
For example, JivoChat allows visitors to talk to you using their favorite platforms, such as Live Chat, Facebook Messenger, WhatsApp, Email, and Telegram, so you never miss an opportunity to make a connection.
---
Live Chat Support Best Practices
In this section, we'll cover live chat support best practices for both customer support agents and managers.
Live chat support best practices for agents
Set expectations
Always set expectations by clearly stating what hours your live chat support is available. For instance, you might only be available 0900-1800 EST, so customers in other time zones may have to be patient in waiting for their reply.
If you can't offer 24/7 live chat support, then you could use some alternatives. One workaround is to use automated chatbots to field common queries outside your standard operating hours. Another option is to direct customers to your self-serve knowledgebase.
Personalize chat invitations
It's important to personalize the live chat invitations. For example, the live chat widget message should be different for a person on a product page versus a blog post versus a contact or support center.
JivoChat uses programmable triggers so you can make proactive invitations work perfectly. For example, triggers include:
Presence of agents online
Visitor's city
Visitor's country
Advertising campaign
Title of the page/URL
Time on the page
Image: Live chat trigger options inside JivoChat.
Example #1 – a visitor is checking out the product features:
"Want to increase sales and deliver top-notch customer support? You can give JivoChat a spin for free."
Example #2 – a visitor is checking out the pricing page:
"Have any questions about our pricing? The Pro version has increased the sales opportunities our users generated by 211% in March, 2019."
Increase your speed
Customers expect a quick response when they initiate a live chat conversation, so it's better to start replying immediately rather than waiting until you have the complete answer. Some prompt responses, like "Hi, how are you?", "How may I help you?", or "Give me a minute while I check that out", can break the ice and reassure the visitor that you're ready to answer their query.
Pro tips to increase your speed:
Improve your typing speed.
Use Hotkeys to create shortcuts and save time.
Create Canned Responses to save typing the same messages and save them in hand categories, such as Hello, Feedback, How To Buy, and Delivery.
Build a knowledgebase so you can quickly point customers in the right direction to a fully-explained and illustrated answer.
Transfer chats (when needed)
Sometimes you may need to transfer a chat to a colleague. For instance, if you're a new support agent, you might know the product well enough to handle some technical issues. That's okay, as long as you make the hand-off as smooth as possible.
For example, you'll want to explain to the customer that you need to pass the issue over to a senior engineer to get to the root of the problem and provide a satisfactory solution. Get their agreement and then make the transfer. Don't leave them hanging. If the transfer fails, step back in, apologize, and attempt to transfer the chat again.
Provide an omnichannel experience
To accommodate customers' needs, it's best practice to provide an omnichannel experience that combines Live Chat with other communication modes, such as Telephone, Facebook Messenger, WhatsApp, Email, and Telegram.
With JivoChat, customers can request one-click calls or send messages to you using apps such as Facebook Messenger so they can continue the dialogue with you even after they leave your website.
Customers can also start conversations by making one-click calls or sending messages to you using their favorite instant messenger, giving both of you the freedom to continue the dialogue even after the customer leaves the website.
Sync support data with your CRM
Integrating your CRM and Live Chat software helps to sync support data. You can draw on customer data, including name, email address, and any personal preferences or requirements, so your agents can engage in a holistic conversation without having to probe for information.
Close the conversation
Don't leave your customers hanging at the end of a conversation. Always, ensure you bring each chat to an agreed closing point. A live chat ending should:
Confirm the visitor has what they need.
Leave them with clear instructions or directions if they need to take further action; e.g. a knowledgebase article.
Thank them for their time.
Let them know how to get further help if they need it.
Live chat support best practices for managers
Determine staffing requirements
Managers need to get their staffing levels right so they can provide the best live chat support to customers. They need to consider agent experience, how chats will get routed, and whether or not agents will be supporting multiple channels at the same time.
For instance, agents working the customer support channel may need more time per conversation to resolve issues than agents assisting customers with an ecommerce purchase. If agents are under pressure to get to the next chat, then the level of support they provide may deteriorate.
Monitor response time and ratings
Even with the correct staffing levels, managers still need to keep an eye on how their agents perform.
JivoChat lets you monitor the response time, duration, and customer ratings of each live chat conversation, so you can give your team feedback, including chat logs and reports between agents and customers.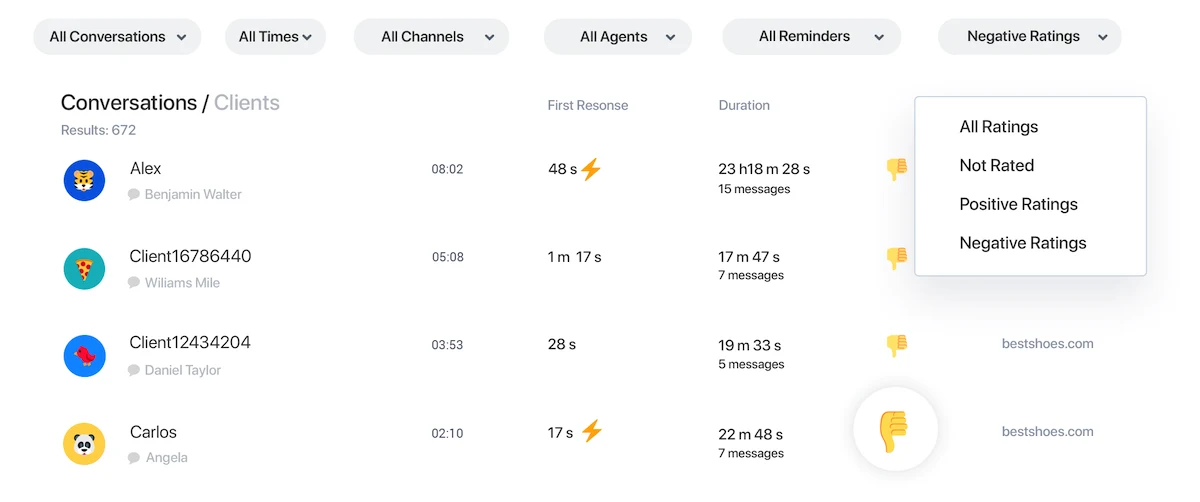 Train support agents
Support agents need training on your live chat software before they start supporting customers.
They need to know how customers interact with your live chat software and how you expect them to interact with customers. Plus, you'll need to show them how the software proactively starts conversations and how customers arrive in their queue. For example, on an ecommerce site, you can show them the different chat triggers for various products and categories.
Next, you'll need to show them how the live chat software integrates with other tools, such as the CRM, the Knowledgebase, and other communication channels.
Last but not least, you'll need to train your support agents in soft skills to handle various customer moods and reactions, so they remain professional at all times.
---
Get Started With Live Chat Support Today
Here's a quick recap of the benefits of live chat when it comes to improving customer support and conversions:
Live chat support is convenient
Live chat support is fast
Live chat support is highly personalized
Live chat support removes redundancy
Live chat support helps build rapport
Live chat support boosts productivity
Live chat support increases conversion
Live chat support creates a competitive advantage
Are you ready to start using live chat support in your organization?
Improve your customer support and website conversion rate with JivoChat's omnichannel messenger. Get started for free today!
---
Like what you've read?
Sign up and try JivoChat for yourself!
It's free and only takes a couple of minutes to download.