Transfer from Wix to Shopify - A Step-by-Step Guideline
Reading time ≈ 10 minutes
Enola Nguyen
Enola Nguyen - Social Media Executive at LitExtension, is enthusiastic about sharing her expertise and experience in the world of eCommerce and technology.
Wix is an easy-to-use and flexible platform that can be used for everything from personal online portfolios to small business websites. However, after a long period of time, your store may begin to have some performance issues and Wix no longer meets your requirements. It is now time to consider switching to a better eCommerce platform.
Among many prospective names, Shopify takes the top spot thanks to its amazing customizability and usefulness. A lot of business owners have learned How to Sell on Shopify to expand their eCommerce enterprises.
In this article, we'll go through the reasons why Shopify is a better place for your online store as well as the method for migrating from Wix to Shopify in order to help you adopt the best option for your business. 
Let's get started!
Why is Shopify a better place for your online store?
Both Wix and Shopify are good choices for you to start your own business. So, WHEN and WHY should you choose Shopify instead of Wix? Let's explore some of the primary reasons why Shopify is a superior option for your online store: 
1. Themes And Flexibility 
When it comes to designing your virtual storefront, Shopify's 90+ themes make it a breeze. Shopify Themes are contemporary and responsive, so they look nice on both computers and mobile devices. 
If you're familiar with CSS and HTML, you can customize your own themes. Shopify offers up to 17 free themes in several variants. Otherwise, for those amazing themes that are speedier and more distinctive, you only have to pay a one-time cost ($140-$300). 
Shopify eCommerce theme allows you to visually enhance your store by leveraging both unique custom and core Shopify features. The designs and UX in the Shopify Theme Store are meticulously crafted by experts to ensure the best buyer experience, conversion flows, and responsive storefronts, tailored for performance and accessibility. 
Wix, at the same time, offers more than 100 free ecommerce templates but not all of them are designed for eCommerce. By the way, Wix's templates aren't always totally responsive, so you may need to manually rearrange pieces to display them in a specific way on smartphones. Wix does not have a tablet viewer option as well. 
In short, Shopify themes are eCommerce-focused, which allows you to easily change and update your store in order to increase sales. Wix is not very adaptable, so may take more time to have the site displayed properly on various devices.
2. Payment Options
Shopify permits over 100 different payment gateways. If you use Shopify Payments, then you can enable Shop Pay to allow customers to save their shipping and payment information to help them check out faster. Some other payment providers, like Paypal, Amazon Pay, Apple Pay, and Google Pay, also offer accelerated checkout buttons that you can enable on your Shopify store. 
Meanwhile, Wix accepts all standard payment methods, including PayPal, Stripe, and Square, but not digital wallet payments like Apple Pay and Amazon Pay. 
Wix does have its own in-house payment option called Wix Payments which does not charge transaction fees regardless of which payment gateway you use. However, not only are the payment options limited but Wix Payments is not yet available to all Wix users.
3. Point of sale capabilities
The Shopify POS solution is available on any pricing plan, including Shopify Lite. With Shopify POS Lite (included in your Shopify plan) and Shopify POS Pro ($89/month), Shopify really supports in-person transactions. It offers an unending range of advantages as well as extensive reporting and analytics. 
Wix has its own point-of-sale system. However, Wix POS is only offered to a limited number of merchants in the United States. As a result, instead of utilizing Wix POS, most Wix users must set up POS integration. 
You can read the comparison between Wix vs Shopify to get a better understanding of why Shopify is more popular than Wix. 
Wix to Shopify Migration: A Step-by-Step Guideline
1. Backup Database of Wix Store
Backing up a website before making any major changes is a key step that helps you to save and simply restore valuable data afterward.
Wix's backup solution is now excellent and can be accessible with a few clicks. When you make changes to your website, Wix creates an automatic backup, known as the Site History. To put it another way, if you make a mistake, you may easily restore the prior version of your site.
Furthermore, you can duplicate your site at any time in order to create a manual backup in your Wix account. Please keep in mind that this copy is not immediately updated when you make changes.
Follow these steps to backup your Wix store data: 
#Step 1: Log in to your Wix dashboard and choose the desired site
#Step 2: Once selecting, click Site Actions then Duplicate Site
#Step 3: Rename the copy to distinguish between two versions
This process does not back up all the data after the duplicating process. Thus, you need to do an additional step to preserve your information.
#Step 4: Export orders on Wix Store
First, go to the Store Orders tab in Wix's dashboard. After that, tick the Order checkbox to select all orders and Export this into a CSV file on your browser.
2. Set up a new Shopify store
Here is How to Set Up A Shopify Store In 10 Minutes for those who haven't had a Shopify store. If you already own one, you can move to the next step. 
Embed code for the video:
3. Migrate data from Wix to Shopify with LitExtension
You can perform cart-to-cart migration manually, but it will take a lot of time and effort. Otherwise, a fully automated Wix to Shopify migration solution from Litextension will help you transfer all your data with utmost security.  
Here are three simple steps to easily transfer your data with LitExtension. Firstly, remember to register an account or Sign In on the LitExtension Website. You can also use your existing Google or Facebook account for this access.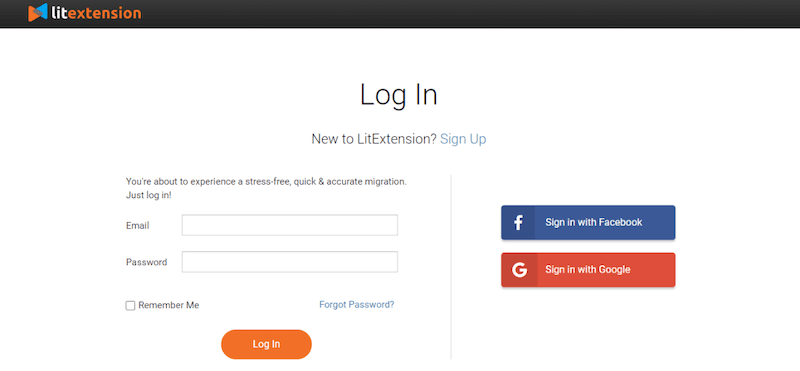 #Step 1: Setup Source Cart and Target Cart
After registering, go to the top right of the screen and click the "Create New Migration" button.
Select Wix as your Source Cart. Fill in the respective fields with your Wix store URL, Admin email, and Admin password. 
After selecting Shopify as your Target Cart from the menu, enter your store URL and API password into the blank spots. If you don't know how to obtain an API password from your Shopify store, you can click here.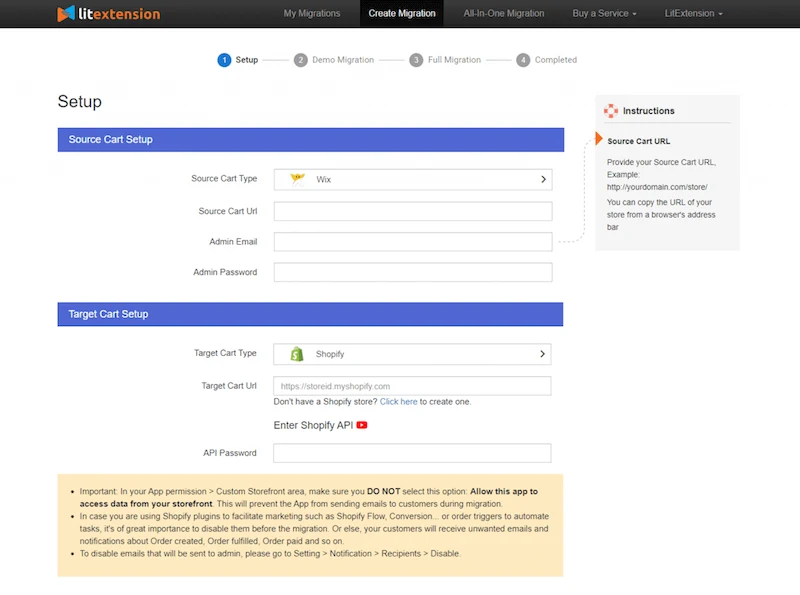 After you've finished, click "Next" to go to the next phase.
#Step 2: Configure Wix to Shopify Migration 
During the Wix to Shopify transfer, you can select all data types or just the ones you need such as items, customers, and orders. This is dependent on your purpose, so make sure to read and choose accordingly.
Furthermore, LitExtension provides several Additional Options for extending your data import functionality. 
You can, for example, choose to create 301 redirects after migration to avoid 404 problems when customers visit the old URLs. This helps you maintain your consumer experience as well as your SEO ranking. In other words, these features assist you in resolving major issues when migrating your data from Wix to Shopify store. 
#Step 3: Perform Wix to Shopify Migration 
In this step, you can either switch immediately from Wix to Shopify or try a FREE demo first. It will take some time for your demo to complete. Keep in mind that this demo only works with a limited number of entities, but the procedure is the same as the full migration.
If you are happy with the demo result, you may move on to the full Wix to Shopify migration.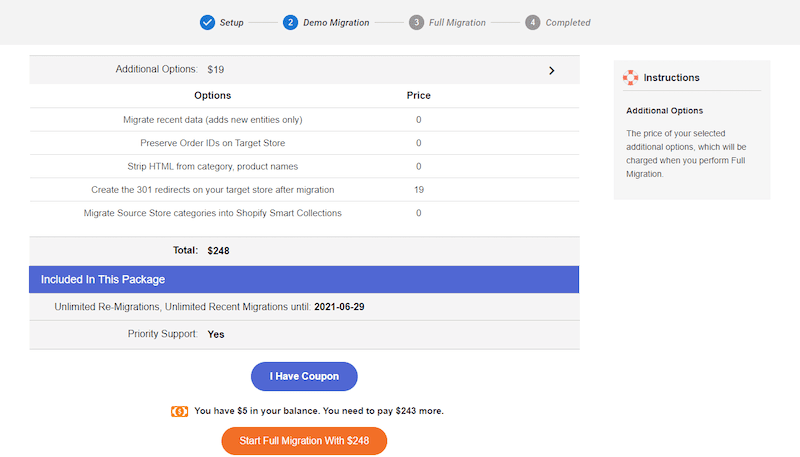 Because this process is cloud-based, you can safely close your browser or PC! Simply take a break, and you will be alerted by email when the process is completed.
4. Run recent Wix to Shopify migration  
While the migration is taking place, some new data may be uploaded to your Wix store. As a result, the Recent Data Migration service will assist you in transferring the newly created entities to your Shopify store. 
Otherwise, LitExtension will analyze data fields in both stores and check for discrepancies in order to update data that has been modified in your Source Store after the migration using the Smart Update function.
If there are any, the app will update your new store right away. At the same time, LitExtension will check for new data in your old store and migrate only those to your new one.
5. Check your results 
When the cart to cart migration is complete, you must verify that all of your data has been correctly moved to your Shopify store by double-checking the data in both the back-end and front-end. 
6. Check Your Shopify Store After Migration
You may now want to take some additional steps to set up your Shopify store. Here is a list of some recommended post-migration activities:
Check result

Change DNS and switch domain

Set up your shipping

Choose the payment method

Try placing some orders
Check out this article for more information on how to carry out each activity!
FAQ
1. Should I transfer from Wix to Shopify?
Wix is a good choice for you when you just start an eCommerce business and require extensive blogging features to maintain a blog for your online store.
Moving to Shopify, on the other hand, is inevitable because it is more powerful (it does much more than just eCommerce platforms). In the light of the diverse payment gateways and POS made easy, Shopify can help you grow your business and increase your sales. 
You should migrate cart to cart if:
You want to be able to make use of more features and tools for marketing, inventory management, and other purposes.
You require a powerful built-in analytics tool.
You desire a broader selection of payment gateways.
If you wish to move your Wix domain name to Shopify, here are thorough instructions on how to do so without losing search rankings: 
Log in to Wix and navigate to the "My Domains" tab.
Choose the domain you want to relocate, then pick the "Advanced" option and then the "Transfer away from Wix" tab.
Send yourself an email with the EPP code. Remember that if you purchased your domain name less than 60 days ago, you will not be able to transfer it from Wix to Shopify.
Set the Shopify domain transfer path. The migration will be performed within 7 days of sending the query.
Before you begin selling on your Shopify store, make the necessary changes. These options for payments, shipping, and taxation can be found in the Shopify dashboard.
2. How much does Shopify cost?
Shopify Basic costs $29 monthly (and 2.9% + 30¢ per transaction). The Shopify plan is $79 monthly (and 2.6% + 30¢ per transaction). Advanced Shopify is $299 monthly (and 2.4% + 30¢ per transaction). You can use Shopify Payments to avoid extra fees.
Wrap up
To summarize, re-platforming from Wix to Shopify has been on the rise in order to satisfy the needs of merchants. If you want to shift away from Wix, Shopify is a viable alternative.
This post provides a step-by-step approach for transferring from Wix to Shopify. Hope you find it useful in some ways!
Like what you've read?
Sign up and try JivoChat for yourself!
It's free and only takes a couple of minutes to download.