11 Best WordPress Live Chat Plugins (With Features and Ratings)
May 19, 2021
updated December 21, 2021
Reading time ≈ 13 minutes
Igor Shekotihin
Head of International Growth
Looking for the best WordPress Live Chat plugin? Read on.
With WordPress powering nearly half of all websites, there's a good chance you'll want to incorporate live chat on your site.
What used to be a "nice to have" is now an "essential part" of every website, especially if you're selling a product or service. Customers have quickly become accustomed to starting an online chat whether they're searching for an answer to a product query or need help making their online purchase.
But with hundreds of WordPress chat plugins to choose from, where do you start?
That's what this guide is all about.
Inside, you'll discover why you simply have to add live chat to your site and what features and options to look for when making your selection.
Then, we'll walk you through the top free and premium WordPress chat plugins and their feature sets, so you can confidently choose the right plugin for your business needs and budget.
Why Add Live Chat to Your WordPress Website?
Let's examine some of the reasons why you might want to add live chat to your WordPress site.
1. Customers prefer live chat over other channels
Using live chat, customers can connect with service reps quickly and get their questions answered immediately. It's more convenient than sending an email and waiting for a reply or holding on the phone until a support agent is free.
Today, 41% of consumers prefer live chat support, versus 32% who prefer phone support, 23% who prefer email support, and 3% who prefer getting support via social media.
2. Live chat improves lead and sales conversion rates
Around 20% of WordPress websites use WooCommerce as their ecommerce solution. And we know that shoppers expect help with their online purchases.
According to a Forrester report, 44% of online consumers say that "having questions answered by a live person while in the middle of an online purchase" is one of the most important features a website can offer.
Furthermore, 79% of businesses say that offering live chat has positively affected sales, revenue, and customer loyalty.
3. Live chat improves customer satisfaction
As well as sales support, you can use live chat to provide customer service. Almost half of consumers (48%) favor companies that offer proactive support. And, according to Statista, the average global customer satisfaction rating for live chat is 83%.
Here are a few more reasons you may want to use a live chat plugin:
Redirect users to social media profiles
Grow sales
Boost engagement
Increase leads
How to Choose the Best WordPress Chat Plugins
There are several factors to consider when choosing your WordPress chat plugin. You can find the following information in the WordPress repository alongside each plugin:
1) Last updated:
First, you want to check when the plugin was last updated. An out-of-date plugin can cause problems, so always check for recent updates. If a plugin is not maintained, it is more susceptible to security breaches by cyber-criminals.
2) Number of active installs:
Next, check the number of active installs. A high number shows the plugin is popular and trusted on many sites.
3) Compatible with latest versions of WordPress:
Next, you want to make sure the plugin is compatible with the latest version of WordPress. Otherwise, it could break your site when you install it or introduce potential security risks.
4) Check review count and average ratings:
On the Reviews tab, you can find the latest reviews and ratings for the plugin: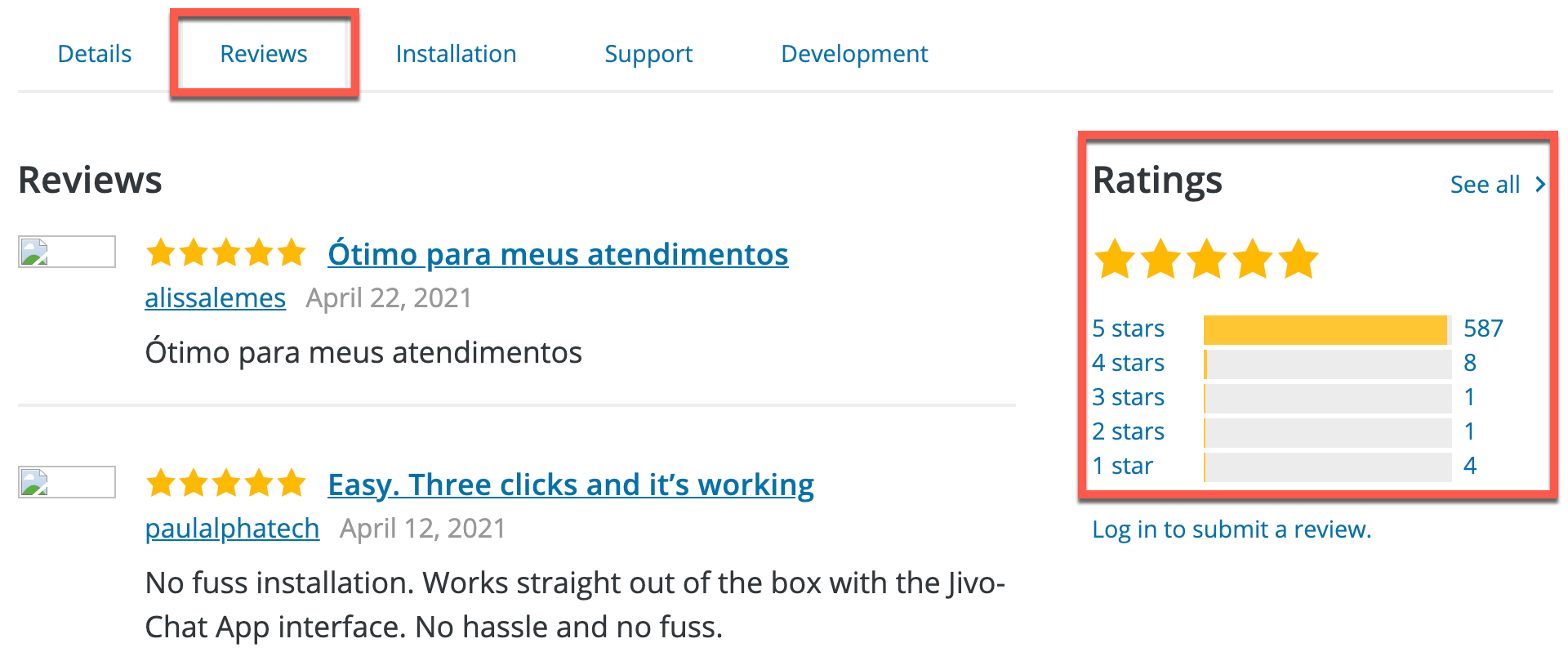 In this example, you can see the plugin has received hundreds of 5-star ratings, which means it's widely recognized and appreciated by the WordPress community.
Features:
A quality WordPress live chat plugin should allow you to:
Install and use the software easily
Customize the chat widget to match your site
Route or transfer chat messages to other agents
Monitor visitors in real-time
Integrate with your CRM
Use canned messages, triggered auto-replies, and chatbots
Provide visitor and agent insights and reports
Allow you to send unlimited messages
Work as a complete customer communication platform
Purchase at a reasonable price
In the next section, we'll take a closer look at the top WordPress chat plugins and their feature sets so that you can choose the right plugin for your business needs and budget.
11 Best Live Chat Plugins for WordPress
All of the WordPress live chat plugins featured below come with a stack of features.
Some brands, such as JivoChat, Tawk.to, and Tidio, include comprehensive free forever plans. Others, like Zendesk Chat, Crisp, and Formilla, have free plans with basic functionality. And some of them, such as PureChat and LiveChat, don't have a free option, just a limited free trial.
Let's dive in.
#1. JivoChat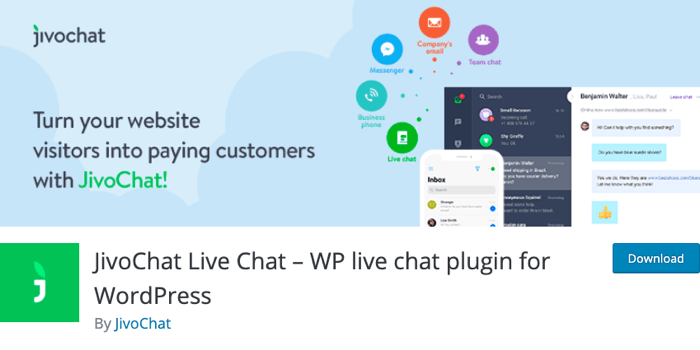 Active installations: 40,000+ // Average rating: 5 out of 5 stars
JivoChat is more than just a live chat plugin – it's an all-in-one omnichannel business manager that teams use to talk to customers everywhere via live chat, phone, email, and social.
Key features:
Omnichannel: Communicate with clients through Live Chat, Facebook Messenger, WhatsApp, Apple Business Chat, Telegram, Email, and Phone.
Offline messages: Hold inquiries in your inbox so that you can reach clients when you're back online.
Event-based triggers: Proactively engage visitors using a range of different triggers such as time on page, web page URL, visitor location and more.
Callbacks: Offer your visitors a callback by phone if they prefer.
Multi-agent chats: Transfer chats to your colleagues or invite them to participate in open support chats with customers.
Visitor monitoring: Track your visitors in real-time.
Built-in CRM: Includes a simple CRM that allows you to track statuses with your clients, attach comments to them, and funnel them.
Unlimited archiving: Store all of your conversations and automatically load conversation history with a client when you chat again.
Team chats: Includes an efficient and powerful team chat so that you have all your messages in one place.
Reminders: Set a reminder for you or one of your colleagues to carry out follow-up actions on a specific customer conversation.
Geo-IP-based behaviors: Show a customized widget for different cities or countries with a particular language, behavior, or set of agents.
Automatic translator: Translate your live chat (in both directions) with foreign-language speakers instantly and accurately.
Quick phrases and canned responses: Create predefined messages you can send with hotkeys, and get suggestions from messages you've sent before.
Typing insights: See the messages that visitors are typing in real-time before they hit "send."
GDPR compliance: Complies with GDPR requirements.
CRM Integrations, API, and Webhooks: Position a live chat widget where you want with the Webhooks API, change the widget's behavior with JS API, and integrate your CRM with Webhooks.
Quick site loading time: JivoChat scripts are loaded asynchronously.
Pricing: Free forever or $19/agent/month for the premium version.
#2. Tawk.To
Active installations: 200,000+ // Average rating: 4.7 out of 5 stars
The Tawk.To live chat app lets you monitor and chat with visitors to your WordPress site. It's "the #1 most widely used Live Chat software in the world" and has the highest number of installations among all WordPress chat plugins.
Key features:
Customize your chat widget's colors, messages, size, position, and language.
Monitor your website visitors and chat with them when they need it most.
Manage multiple sites and agents from a single dashboard.
Monitor which pages your visitors are on in real-time, know how often they visit your site, and view their entire customer journey.
Tag and assign conversations to team members and ensure the right person is responding at the right time.
Use handy shortcuts and canned messages to provide quick and consistent responses every time.
Pricing: Free forever with an optional $15.00/month to remove the branding from the widget.
#3. Zendesk Chat (formerly Zopim)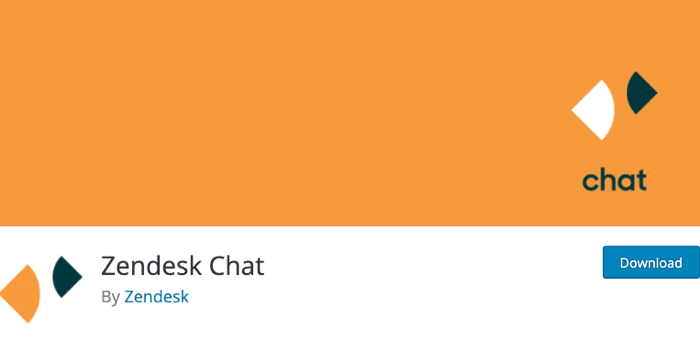 Active installations: 50,000+ // Average rating: 4 out of 5 stars
Zendesk Chat allows your website visitors to chat with you directly through the widget so that you can answer their questions in real-time and make them feel more comfortable about buying from you.
Key features:
Chat with your visitors from any device using the mobile-optimized chat widget.
Use automatic triggers to start chats proactively rather than waiting for your visitors.
Monitor visitor flow and usage patterns in the analytics dashboard so that you can jump in whenever a customer might need help.
Customize the chat widget to complement your website's design palette.
Control multiple conversations from the user-friendly dashboard.
Pricing: The free Lite version is available in other Zendesk Suite product plans. Premium versions start from $14/month.
#4. Tidio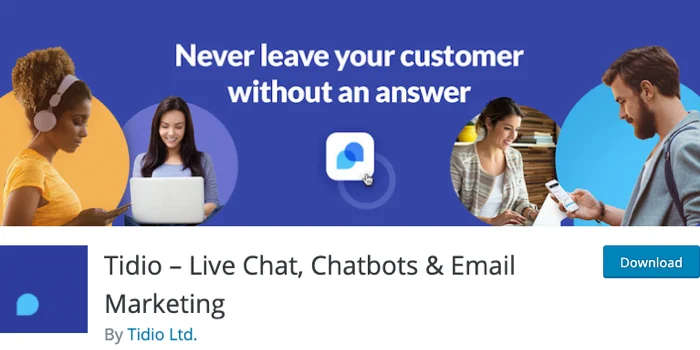 Active installations: 100,000+ // Average rating: 4.8 out of 5 stars
Tidio Live Chat is one of the simplest live chat plugins to set up, so you can engage your audience, nurture leads, automate work, and grow your business.
Key features:
Customize the chatbox widget to complement your branding.
Send automatic messages to frequently asked questions, even when you're not there.
Check the viewed pages list to see where your visitors are and offer them specific assistance.
View real-time conversations as visitors are typing and prepare your answers.
Communicate with your customers from anywhere via the mobile app.
Receive incoming visitor notifications so that you can engage them as soon as they land on your website.
Use canned responses and chatbots to automate repetitive tasks, conversations, and generate leads.
Integrates with HubSpot, Salesforce, and Mailchimp.
Includes unlimited chat conversations, contacts, and chat history in the free plan.
Pricing: Free forever or $18/month for premium features.
#5. PureChat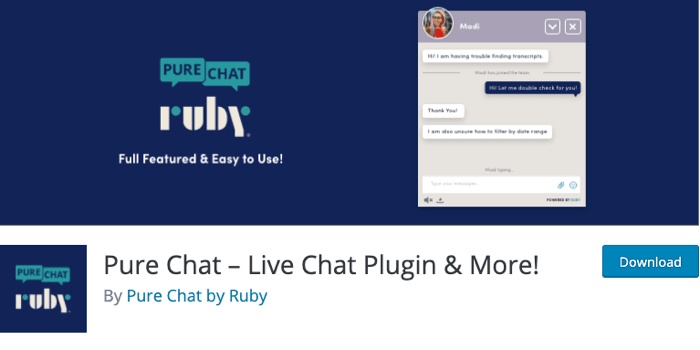 Active installations: 10,000+ // Average rating: 4.1 out of 5 stars
Pure Chat's Live Chat plugin for WordPress allows you to trial unlimited chats, real-time analytics, visitor tracking, and contact tracking features free of charge for 30 days.
Key features:
Customize the live chat widget using the convenient editor.
Manage live chat on the go with the mobile-optimized chat widget for your website and mobile app.
Access your chat history transcripts to refer to a previous conversation.
Use canned responses to answer frequently asked questions quickly and accurately.
Includes an email form when you're unavailable to chat.
Pricing: 30-day free trial and then $39/month for the Growth plan.
#6. Crisp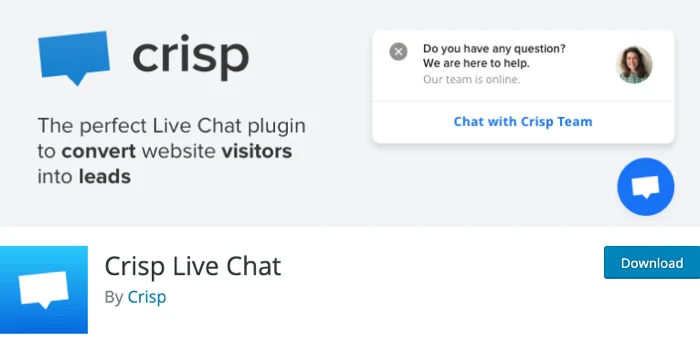 Active installations: 30,000+ // Average rating: 4.8 out of 5 stars
Crisp Live Chat is a free WordPress chat plugin that you can use to grow your email list, generate leads, and enhance customer relationships. And, as the name suggests, it's "crisp and good-looking."
Key features:
Customize the chat widget (colors/languages/position) to fit with your brand.
See where all your active visitors are on MagicMap in real-time.
Check what your visitors are typing in real-time, allowing you to respond quickly with the correct information.
Receive a notification on your desktop/mobile when a visitor sends a message.
Use canned responses and triggers for proactive chat messaging.
Gather all communications in one shared inbox.
Reply to your customers directly from Slack, Messenger, Twitter, and Telegram.
Pricing: Free forever or $25/month for the Pro plan.
#7. Olark
Active installations: 4,000+ // Average rating: 4 out of 5 stars
Olark is a simple yet powerful WordPress chat widget. Everything you do in Olark integrates directly into many other popular tools, from CRM and email to ecommerce and analytics.
Key features:
Customize the look and feel of your live chat widget.
Show and hide your live chat box on selected pages.
Get customizable agent alerts when visitors take specific actions.
Send custom messages automatically based on visitor location, behavior, and referring URL.
Get real-time reports on chat volume, customer satisfaction, and agent activity.
Receive detailed summary reports in your inbox.
Pricing: Free forever, and then $19/month per seat for the premium version.
#8. Chaport
Active installations: 1,000+ // Average rating: 5 out of 5 stars
Chaport is a modern live chat and chatbot service for your WordPress site. You can receive messages from multiple channels, like Facebook, Telegram, and Viber, and answer them in a live chat.
Key features:
Customize the appearance of the mobile-friendly live chat widget to match your website.
Create chatbots to handle common queries so that operators can manage more complex work.
Start more chats by sending automatic invitations based on predefined rules.
Send automatic messages to your customers on the checkout page.
Connect with other third-party apps and services via Zapier or the API.
Pricing: Free forever plus premium plans starting at $15/month.
#9. Smartsupp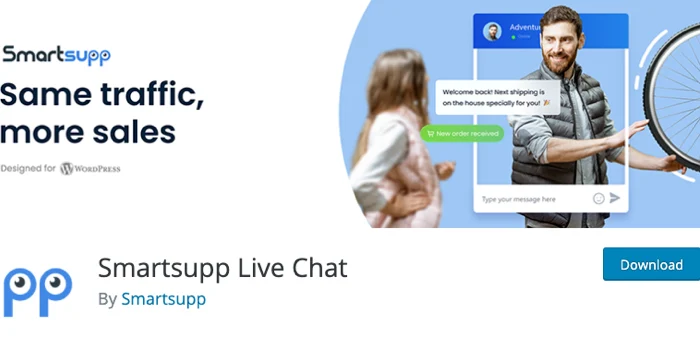 Active installations: 20,000+ // Average rating: 4.6 out of 5 stars
Smartsupp is one of the most popular and smartest live chat solutions. It's the only chat that offers video recordings where you can see each visitor's movements on your website. You can also use its proactive chat to automatically engage customers, assist with sales, and save you time.
Key features:
Create chatbots to provide quick and consistent support for your customers.
View your visitors' behavior on your website by watching their screen recordings.
Customize the chat box to match your site design.
Reply to conversations even after the visitor has left your website.
Create personalized automatic messages to engage visitors at the right moment.
Review visitor insights and detailed analytics in the dashboard.
Integrate live chat, email, and Facebook Messenger in one customer messaging platform.
Pricing: Free forever or select a premium plan from $10/month.
#10. LiveChat
Active installations: 30,000+ // Average rating: 4.7 out of 5 stars
LiveChat is a comprehensive WordPress chat plugin that works well with any WordPress theme or site builder. It also comes with a built-in ticketing system so that you can provide 24/7 customer support when you're away.
Key features:
Trigger proactive chat invitations when a visitor meets predefined criteria, such as the number of visited pages or time spent on the website.
Answer the most common customer questions with canned responses.
Customize the chat widget to match your branding.
Track visitors and check what page they're on and where they came from.
Add surveys to the live chat window to gather customer insights at the beginning and end of each chat.
Assign conversations to available agents automatically or manually and transfer chats to other agents when required.
Get detailed reports and analytics on visitors' queries and agents' activities.
Pricing: 14-day free trial with premium plans starting from $19.00/month.
#11. Formilla
Active installations: 5,000+ // Average rating: 4.8 out of 5 stars
Formilla combines live chat with artificial intelligence (AI) to boost sales and support. Plus, you can communicate from anywhere using the mobile apps for iPhone and Android.
Key features:
Customize the live chat widget color, size, and position, plus optional CSS.
Enable proactive chat to automatically trigger live chat with a visitor after a defined number of seconds.
Monitor and track the number of active visitors on your website, and initiate live chats with them.
Respond to customer requests as quickly and efficiently as possible with canned messages.
Activate the offline chat to collect visitor chat transcripts by email when you're away.
Create a helper bot to assist with frequently asked questions around the clock, even when a live person is not available.
Transfer a chat message to other available chat agents, including additional details in a private message.
Pricing: Free lite plan, and then premium plans starting from $29.99/month.
Install a WordPress Live Chat Plugin Today
Each of these live chat plugins for WordPress come jam-packed with features that will allow you to improve lead and sales conversion rates, boost customer satisfaction, and meet customers in their preferred conversational environment.
There are plugins to meet every budget and requirement, from small businesses and online stores to large-scale enterprises.
But which one are you going to install on your WordPress site?
Take your time to test a few plugins and see which one suits your needs best.
You can also get started for free today with JivoChat's top-rated WordPress live chat plugin.
Like what you've read?
Sign up and try JivoChat for yourself!
It's free and only takes a couple of minutes to download.