Proactive Customer Service: 10 Steps for Success in 2021
Reading time ≈ 13 minutes
Igor Shekotihin
Head of International Growth
Proactive customer service is more than just a buzzword. What once seemed like a novel tac has been proven to deliver tangible results in increased customer retention, loyalty, and sales.
And it's hardly surprising. When you provide an excellent experience for your customers the first time, why would they not return for more?
Customers nowadays want a brand that is interested in their specific needs. Your business can win more people over by listening carefully, doing your research, and ultimately, helping them solve these unique challenges. Better yet, you can do it before customers even discover they need the solution.
How? By making proactive customer support a foundational pillar of your business so that the customers' needs are a top priority.
In this guide, you'll learn what proactive customer service means, its benefits, and everything you need to start delivering proactive support.
What Is Proactive Customer Service?
Proactive customer service is a pre-emptive approach to customer support where businesses reach out to their customers to identify and resolve issues before they become problems. Sometimes, this strategy allows a company to anticipate and remediate issues before they even occur.
An InContact survey found that 87% of customers want proactive customer support. Your customers want you to share solutions to relieve inconveniences that may occur in the future.
This proactive measure could be a simple notification to warn users about system glitches and process delays. Another example is introducing new products or services that can make people's lives better, or you could trigger proactive chat messages based on visitor history and behaviors: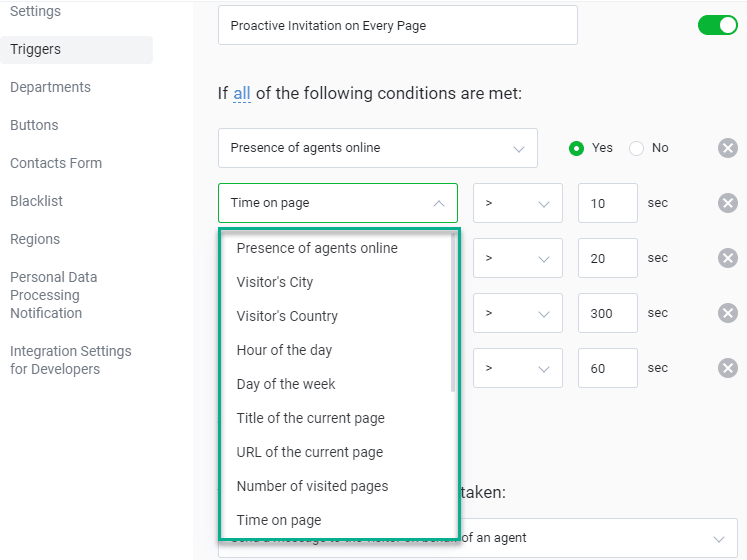 Image: Configuring proactive chat triggers in JivoChat.
Reactive Vs. Proactive Customer Service
There are two kinds of customer support that a business can offer. The critical difference is who makes the first move. Let's take a closer look:
Reactive Customer Support is the support you give customers when they reach out to you to solve their problems. For example, if a prospect has questions about your offer and asks for clarity by calling your phone number or sending an email.
Proactive Customer Support is the support you give even before they ask to help them solve future challenges they might encounter. For example, if you add an FAQ section to answer any questions your prospects might have about your products.
Although most customer support is reactive if you want to get ahead of the competition and stay top of your audience's mind, give proactive customer service.
Benefits of Proactive Customer Service
When you deliver proactive customer support, you're able to meet and exceed your audience's expectations, provide value to their lives, and gain several other competitive advantages.
Here are the benefits of proactive customer service:
1. It Boosts Conversion Rates
A surefire way to get more customers is to provide on-site assistance rather than having customers come looking for your staff.
Imagine you have an online camera store. You could use proactive customer support to welcome visitors, recommend the best camera based on their budget and needs, and make personalized suggestions for other supportive equipment they might need, like a tripod stand or carry case.
This approach will help assuage customer concerns, which ultimately means your conversion rates are likely to increase. By being proactive, you will be able to convert mildly-interested prospects to become loyal customers of your brand.
2. Proactive Customer Support Improves Retention Rates
You likely have several competitors to outmaneuver. The truth is, your customers will only remain loyal to your brand if you're doing something differently or can offer something that nobody else can.
You can improve customer loyalty by being proactive with your customer service. In the past, it has been widely reported that this approach can boost customer retention rates by up to 5%.
3. It Drives More Repeat Purchases
When you implement proactive customer service that makes your customers happy, they become repeat customers. Not only that—they will bring new referrals to the business, as one happy customer will share their experiences with at least three people.
These satisfied buyers become advocates of your brand, telling their friends and families, and social media audience how about the fantastic experience they had with your business and customer service.
When your customer base is satisfied, your brand is in a spot where it can become everyone's go-to choice, making it easy to acquire new customers and foster brand loyalty that generates repeat business.
4. It Leads to Higher Customer Lifetime Value (CLV) and Satisfaction
Up to one-third of buyers are likely to switch to a competing brand due to poor customer service. If you focus more on improving your service and making your current customer base happy, there is a lot to gain.
Unfortunately, many companies don't invest enough in customer retention, which means they lose out on many potential sales. While 44% of organizations focus on acquiring new customers, just 16% actively work on retaining their existing customers.
Proactive support is an excellent strategy to increase CLV for every customer, as you can continue solving their needs and delivering the products and services they want.
5. It Reduces Time Employee Turnover
When your business uses a reactive approach, your team must always be on standby since you can't predict when customers will have a problem.
If customers feel your support team doesn't adequately provide the answers they need, the resulting negative feedback may cause management to replace employees with someone deemed to be more competent.
Implementing a proactive customer support model will reduce support requests and calls, which helps minimize employee turnover. This lower turnover rate is a direct result of your team's efforts to detect issues and proffer solutions before they become problems.
6. Proactive Customer Service Informs Your Roadmap
By taking a proactive approach, you can identify and connect the needs of your customers to your product roadmap. This customer-centric approach ensures feedback is used to drive new product and service developments.
How to Switch From a Reactive to Proactive Customer Support Model
If you switch from reactive to proactive customer service, you can connect with your customers on a more personal level and serve them more efficiently. Here are the steps you need:
1. Provide a Medium of Contact
As 41% of brands do not provide a way for their audiences to reach them, attaching a phone number, email address, or live chat button to your website is a way to get ahead of your competitors and win potential customers' trust.
More than providing contact details, be available. A business should be much more than the organization's offices or branding—a company should live for its customers.
So, don't just provide contact information that ends in a voicemail, delayed or no response at all. Your team should be available to respond to customer requests.
2. Ask Customers For Feedback
People are interested in solutions that solve their problems. Gathering customer feedback is an effective market research tactic to fuel better proactive customer service.
Ask your customers the challenges they are facing with regards to your business and how they would like you to improve. It's wise to start with your top customers, as nurturing relationships with the most valuable accounts can keep your business steady.
You can use survey tools or CRM (customer relationship management) software to dig into customer data to find out what your audience wants.
3. Be on the Lookout For Your Customers
Stay proactive by monitoring customer activities and seeking ways to personalize their experience. You can review complaints, support tickets, and inquiries to identify recurring issues and find permanent solutions.
4. Create a Self-Serve System
A self-serve system means creating a system that easily allows them to check for solutions without contacting your team.
For example, you could create a FAQ section or knowledge base on your website. Typically, switching to a proactive customer support model shows you care about your customers.
Improving customer service will boost your brand reputation and revenue. After all, 60% of businesses recorded increased sales when they implemented a proactive support model.
10 Ways to Deliver Proactive Customer Support
Companies that have developed strong customer support with the reactive approach may find it challenging to switch to proactive customer service.
Here are ten proactive support measures that will work for any company size or industry:
1. Establish a Team
Equip your employees with relevant resources, tools, and processes that will allow them to provide proactive support to your customers. This way, they will be able to provide excellent solutions even before your buyers want help.
When you assemble a team that understands the importance of a seamless customer experience, you will increase customer satisfaction.
According to a Forrester survey, 57% of buyers will abandon their online purchases if they can't quickly get answers to their questions. Essentially, this shows that developing a knowledgeable, proactive team will increase conversion rates and customer trust.
2. Set Up Live Chat
Make use of live chat software to provide proactive customer support. With proper handling, live chat can improve customer satisfaction and sales while reducing team workload. You can use it to engage prospects who visit your website and convert them to customers.
Image: Providing omnichannel support options with JivoChat.
Live chat can also provide answers to what your audience is looking for when your team is too busy to offer live phone support to customers. In fact, 79% of customers prefer live chat as a support channel: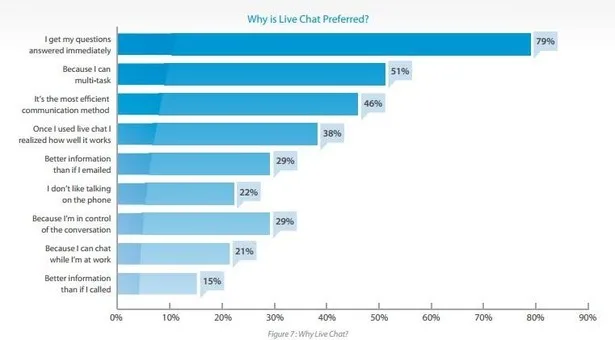 3. Offer a Self-Serve Knowledge Base
84% of customers want a response for their inquiries within 24 hours. You can save your team's time and effort in dealing with customer requests by building a knowledge base.
This in-depth self-serve resource can contain reliable, relevant information about your company, products, and services and detailed answers to the questions your customers frequently ask.
A well-maintained, organized knowledge base can dramatically reduce the need for live customer support because it makes it easy for your customers to serve themselves, 24/7, without contacting your team.
4. Ask Customers For Feedback
When you stay up-to-date with your customers' activities and keep in touch with them, it will be easy for you to identify their interests, buying habits, and challenges. Then, you can leverage these insights to address their problems before they escalate and become serious issues.
To get customer feedback, create a website form, or send an online survey to your customers with survey tools and form builders.
Here are some of the questions you can ask:
Ask your customers what product improvements they want to see you make.
Analyze your social media platforms to see comments, mentions, and reviews of your brand.
Review your support tickets for the most common recurring questions and add the answer to your knowledge base.
5. Send Cart Abandonment Emails
You can reach out to customers who didn't complete their purchases. Send emails with a direct link back to the checkout to encourage them to return to complete their purchases.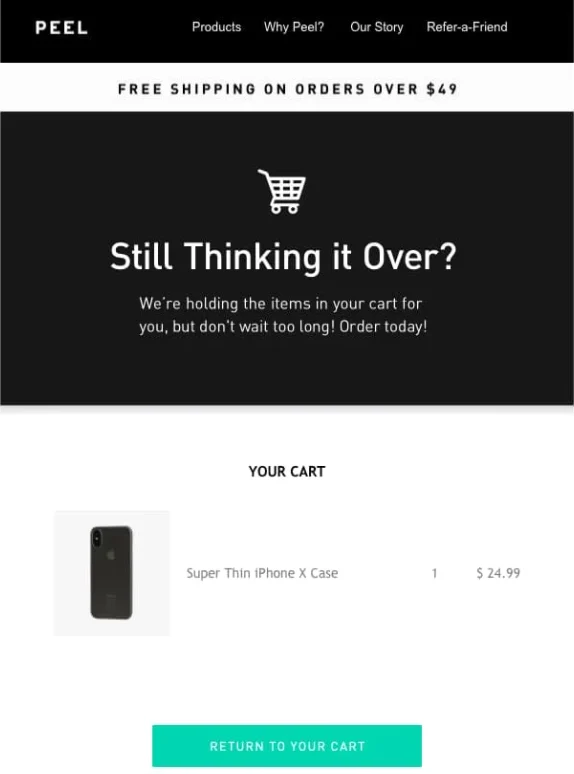 You should also include special offers or incentives to entice them to return to your website. For example, you can see above that Peel is offering free shipping deal on orders over $49.
6. Offer Personalized Product Recommendations
Don't let the checkout be the last time you contact your customers. Stay in touch and nurture positive relationships to keep your brand at the forefront of their minds.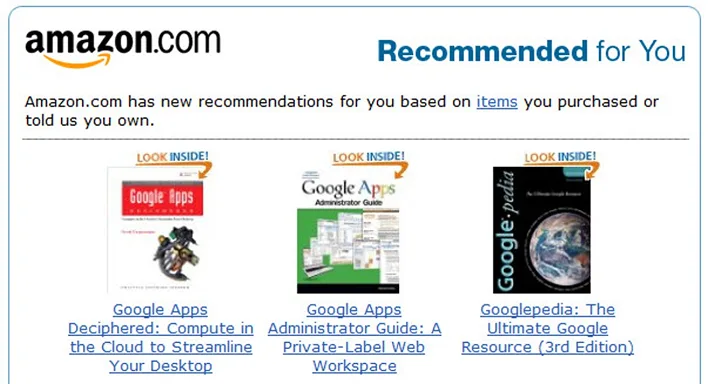 Image: Amazon product recommendations based on past purchases.
A considerate way to do this is by recommending personalized products you know will be beneficial for them. To do this, evaluate their past purchases and make a list of other products or services they might be interested in based on their previous interests.
According to Smarter HQ, 91% of customers will buy more from brands that offer personalized recommendations. Tailoring the recommendation options to their personal preferences will make them feel valued.
7. Admit Mistakes Before Customers Know About Them
It is better to admit your errors and apologize before your customers find out and file complaints about them.
Then, inform them of processes you've set up to solve the problem and prevent future occurrences. If the solution you put in place is not enough to satisfy the customer, offer a discount or refund.
Provide contact details they can reach if and when they have further questions, feedback, or challenges.
8. Monitor Complains and Brand Mentions Online
You should pay attention to the things your customers are saying about your brand online. If a comment or mention about your business is positive, appreciate them and improve on your strengths.
And if it's negative, apologize, address the customers' needs, and talk about the measures you are putting in place to fix the problem and make their next experience better.
New York University conducted research and discovered that over 37% of all Tweets were about customer service, whether positive and negative tweets.
9. Launch an Email Newsletter
Emails are a powerful marketing channel that converts at over 15%. Emails tailored to your customer needs are a subtle yet effective way to keep being in their faces and connect with them.
Sending email newsletters gives you direct access to your customer inbox. You can personalize these newsletters, send promotional emails, promote your offers without competing with the noise on social media.
Consistently sending newsletters that include round-ups for useful products, promotions, new product launches, events will keep you top of your customers' minds.
10. Start a Loyalty Program
You can create customer loyalty programs, also known as retention programs, by offering rewards or discounts to your customers in exchange for repeat purchases. This strategy is an effective way to make people become loyal customers.
For example, if a website hosting company offers a 10% discount on your hosting package before the subscription renewal date, you're more likely to stay.
In this case, the company thought ahead with an enticing discount on your plan for choosing their brand. You don't have to reach out to ask for this deal since they took a proactive customer service approach.
4 Best Tools to Deliver Proactive Customer Service
If you're a business owner who wants to deliver proactive customer support to your audience, here are the four tools you need:
1. Live Chat Software
Having live chat support directly on your website is a proactive way to resolve customers' issues without encountering problems.
With this solution, you can ask your customers to share any questions they might have about a product or service or discuss any problems they want you to solve.
This way, they know you're available to help them, and your business can provide support before they encounter difficulties.
You can use apps like JivoChat to quickly add omnichannel support - live chat, callback, email, telephony, WhatsApp, facebook Messenger, Telegram and chatbots - to your website:
2. Help Desk Ticketing System
You can use this support ticket software to collect and track your customers' support requests from various channels like your phone calls, emails, chat widget, and social media content.
Interactions are logged in the ticketing system regardless of how they choose to contact your team. Examples include Zendesk, HelpDesk, and Freshdesk.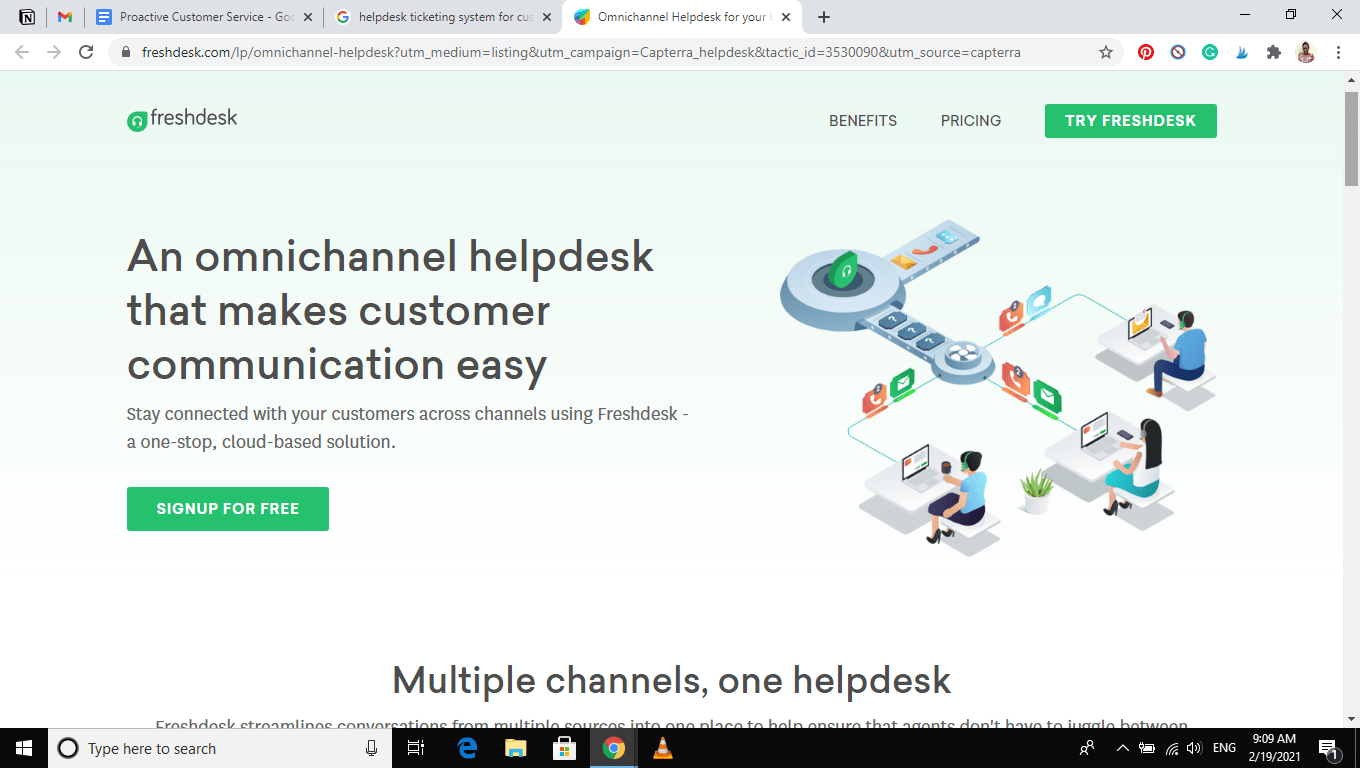 3. Knowledge Base Software
For a proactive customer service approach, build a knowledge base that allows your customers to find answers to frequently asked questions. Chances are, they also might have the same questions.
Using a knowledge base software that holds in-depth answers to whatever they might want to ask is a reliable way to help them easily find solutions by themselves.
This resource will reduce the stress and cost of live customer support. Some examples of knowledge base software you can use to deliver proactive customer service are Document 360 and HubSpot Knowledge base software.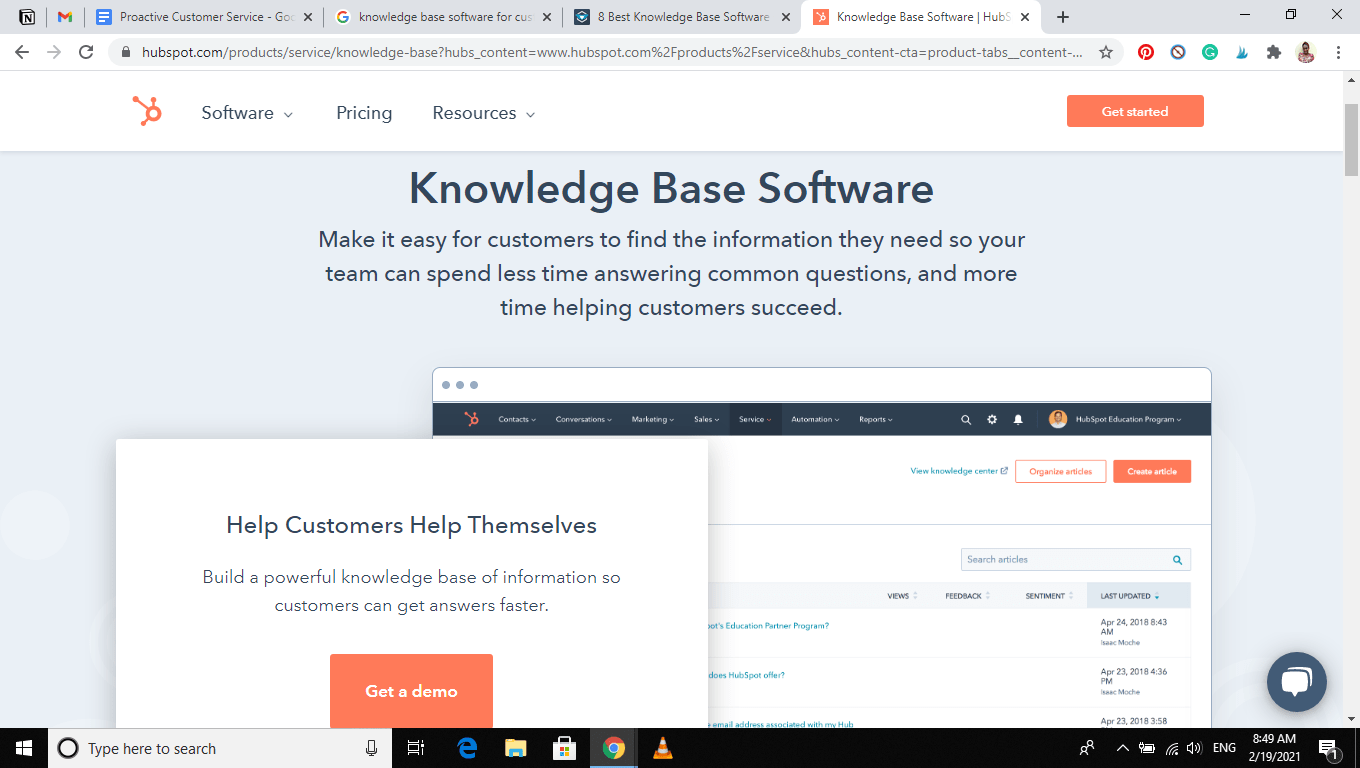 4. Survey Tools
Online surveys are an excellent way to get customer service feedback from your customers to improve customer satisfaction.
You can choose from a wide option of forms for your survey. Some of these survey tools you can use include SurveyMonkey, Typeform, HubSpot form, and Google forms.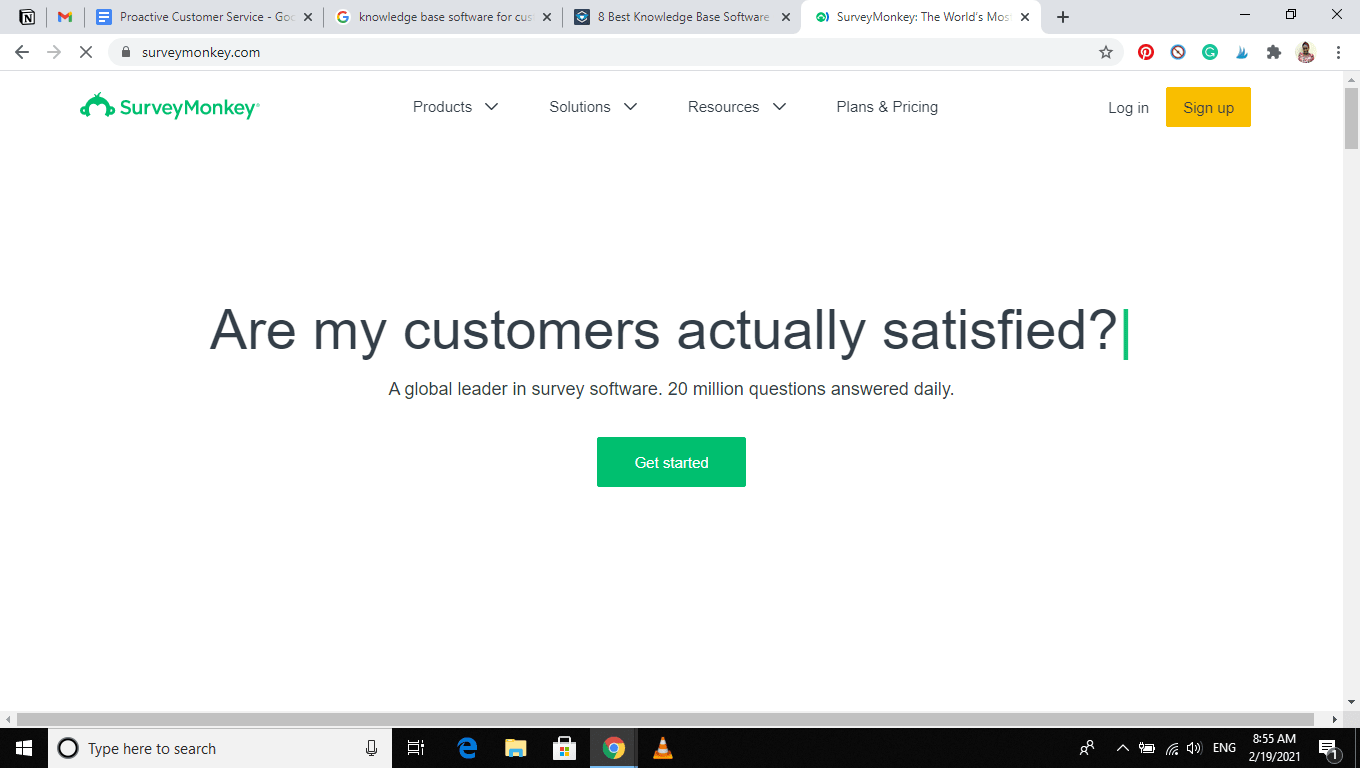 Show Your Customers You Care
Proactive customer service is a powerful strategy to acquire new customers and retain your existing customers.
Brands that use the proactive approach are at the forefront of their industries because customers continuously look for companies that provide proactive customer support than a reactive model.
With proactive support, you can stand out among competitors and build a loyal customer base that creates brand advocates who make repeat purchases. Ultimately, this strategy will increase brand awareness, engagement, and revenue, making for a much more sustainable, scalable business.
Grab a free trial of JivoChat today and start offering proactive service to your customers.
Like what you've read?
Sign up and try JivoChat for yourself!
It's free and only takes a couple of minutes to download.