8 Best AI Website Builders in 2023
Jaqueline Corradi
Content Manager
Do you know about AI website builders?  With ChatGPT, artificial intelligence has caught the attention of many people around the world who are curious about the possibilities it offers, and how to use it to simplify and automate different activities in our lives.
When it comes to creating a website from scratch, it's also possible to enjoy AI capabilities. You can build different types of websites, like portfolios, ecommerce, and blogs. You don't need to know how to code or have design skills, AI will take care of this for you. 
The best website builders already count on AI built-in to empower the features they offer. Check out the article to discover more about it.
What Is An AI Website Builder?
An AI website builder is a solution that aims to make it even simpler to create a website when you have no experience with this. You will answer a series of questions about how you want your website to be, and your goals.
Then, the AI website builder takes care of the rest and creates the pages according to your answers. After it, you will analyze the results, check if the website has the features and design that you want, and make changes as you see necessary.
But, the hard work of structuring the pages is made by artificial intelligence considering what's best for the type of website you wish.  It's an alternative for people who don't have any experience in creating web pages and want to save time and money.
How to Choose an AI Website Builder?
To select the best AI website builder, it's necessary to consider some essential aspects to get the results you want. 
Fast Building Process
One of the main advantages an AI website builder may offer is how quickly it can create a website. Therefore, you should choose a platform that allows you to enjoy artificial intelligence skills to create all your pages within minutes. 
Easy to Use
Before choosing which AI website builder you will opt for, analyze if it has a user-friendly editor. The platform must have an intuitive interface so you and your team can quickly learn how to navigate through it and use all the tools offered, 
Customization Tools
Even though the AI will be responsible for creating every page of your website, the platform must enable you to personalize the website as you wish. For example, giving you the option to add images, change colors, and include text.
Extra Features
Artificial intelligence can be used not only to create your website but to empower other processes, such as identifying potential customers who visit your website, making analytics reports, and providing data-driven insights.  Check out the AI website builder that offers those features too. 
8 Best AI Website Builders

Considered one of the best website builders in the world, Wix offers the Wix ADI (Artificial Design Intelligence). With these tools, all you have to do to create your website is answer a few questions. 
The AI takes care of the rest. You will get a fully designed website with content and images built-in. But, you still have the option to make changes after seeing the result. It's possible to add your own images and text, for instance. 
Key features:
Easy to use
Customizable
SEO tools
Marketing tools
Responsive design
Analytics tools
WiziShop uses artificial intelligence to help you create your online store. You can use it to write product descriptions, translate texts, create advertisements, and write meta descriptions too.
 If you are going to have a blog, it's possible to enjoy WiziShop AI to get insights about the themes you will approach, and even find images to illustrate it. You can build your ecommerce in just a few minutes and count on video training and customer support to solve your doubts. 
Key features:
Automate your ecommerce with AI
SEO tools
400 pre-integrated features
Video training
Easy to use
Hosted in the cloud
With GetResponse AI website builder you can have a personalized website created in minutes just by answering some questions. You will have to answer questions like "What type of business do you have?", and "What kind of website do you want to build?", and select the features you wish to add to your website.
Based on your answers, artificial intelligence will analyze what is the best structure to design your pages and deliver a website completely designed. After this, you can add your content, make changes you feel necessary, and launch it. 
Key features:
Easy to use
Fast
SEO optimization
Analytics tools
Marketing automation
Sign up forms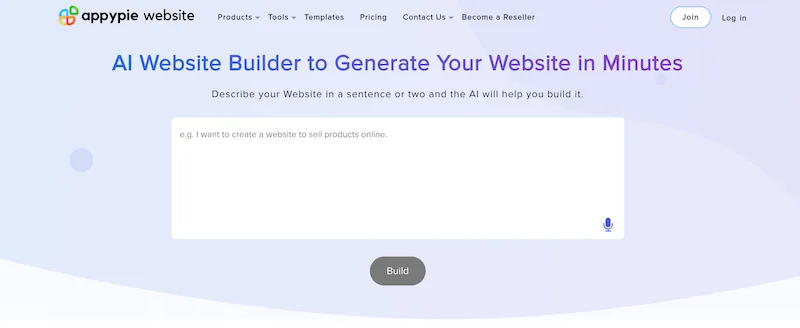 AppyPie AI website builder is easy to use and you can have your website ready to launch with a few clicks. First, you will need to describe your website in one or two sentences, then click on "build". 
You will have to log in to your Appy Pie account or create one. After that, you can test the website design that was made just for you. If you don't like the results, you can click on "regenerate" to get other suggestions. If you decide to use it, click on "customize" to personalize the details of the pages. 
Key features: 
Easy to use
Free domain
Free Google Workspace
Customizable
Convert website to mobile app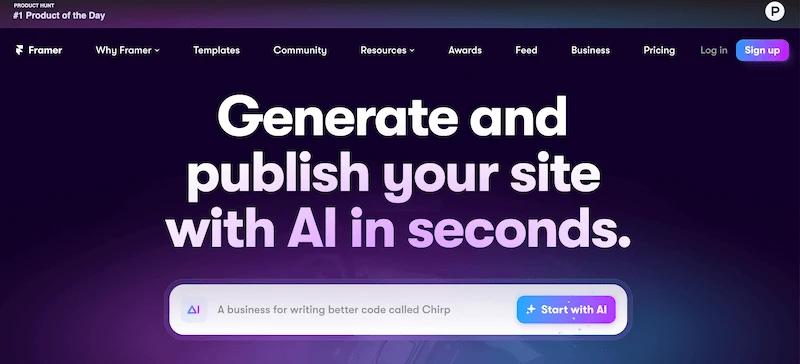 To create your website with Framer, describe how you want your website to be and what it's about, the AI will generate a design in a few seconds. It will include sections and images. The more details you include the more accurate is the AI result. 
With the website ready, you can give your personal touch and change the color palette, the font, insert new images, and much more. It becomes much easier to personalize the pages since the base was created by the AI. 
Key features:
Personalization options
AI copywriter
Tutorials
Free Framer domain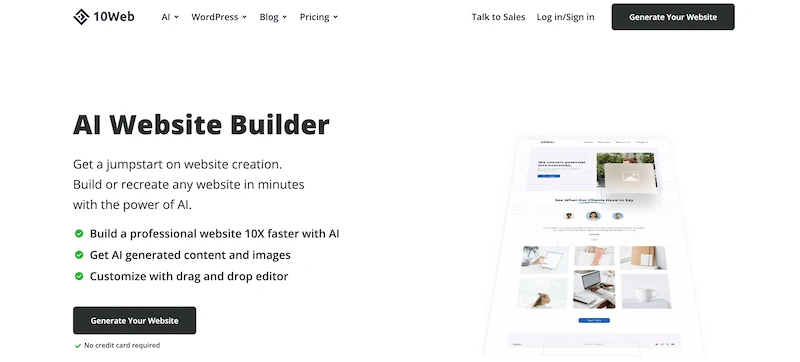 To generate your website with 10Web you need to answer a few simple questions about your business. The AI will provide you with tailored content and images according to your answers, then you can customize your pages, and have a high-quality website.
Key features:
Premium widgets
Mobile-friendly
Automated hosting
Page speed booster
Real-time backups
Marketing tools
SEO tools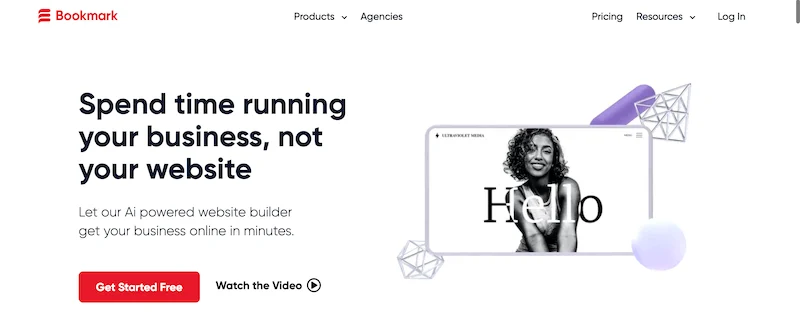 Bookmark is an AI-powered website builder that allows you to create beautiful websites without coding. You will start by answering what your location, business type, and goals are, that's where AIDA, the artificial intelligence design assistant, gets to work. 
AIDA will build you a personalized website in minutes. You can use the self-service editor to make changes as you see fit. After your website is launched, AIDA analyzes its performance, identifies which elements are more efficient to achieve your goals, and sends you smart predictions to improve user experience.
Key features:
Easy to use
Customization tools
Visitor score
Smart predictions
SEO optimized
Mobile-ready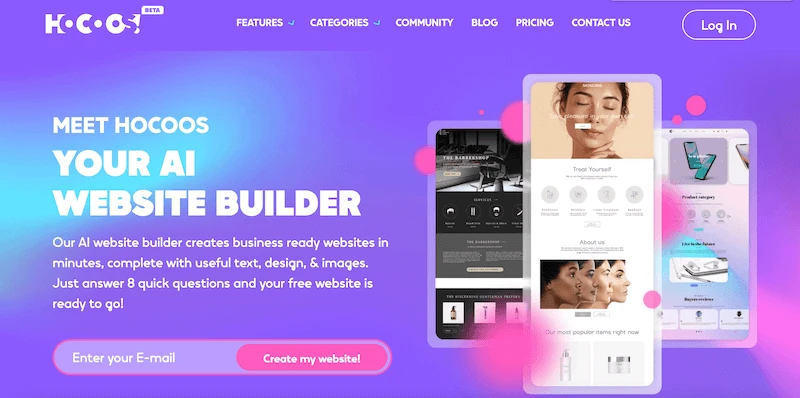 Hocoos AI website builder will give you a complete website in minutes, with design, content, and images. It will develop every detail based on 8 questions you need to answer, it's quick and simple. After that, you can edit your website to adjust the details and get the result you are looking for. 
Key features:
Easy to use
Free website
No tech knowledge needed
Personalization tools
Choose the Best AI Website Builder for You
Now that you have seen great AI website builder options, it's time to choose the one that suits your needs. No more excuses for not having a website for your company, artificial intelligence will do the hard work, and you will be in charge of perfecting the pages. Enjoy the opportunities you can get by putting your business online with high-quality pages.
Like what you've read?
Sign up and try JivoChat for yourself!
It's free and only takes a couple of minutes to download.