8 Best Free MP3 Converters
November 30, 2022
updated September 29, 2023
Reading time ≈ 6 minutes
Jaqueline Corradi
Content Manager
By choosing to use one of the best free mp3 converters, you can turn different file formats into an mp3 audio file. That's very useful, for example, if you record a video or download one and just want to have audio from it.
With just a few clicks it's possible to do that. Upload the file, choose the format and click to convert it. The best thing is that you don't need to pay anything. Check out the article to know more about it. 
The Apowersoft Video Converter Studio software enables you to convert videos into MP3 and in many other formats with minimum quality loss. You can upload files in MP4, MKV, HEVC, MOV, and much more. 
Besides being one of the best free MP3 converters, this program also comes with edition features. You can trim, crop, and join clips, for example. It has an intuitive interface, so it's easy to use and fast. 
Key features:
Convert video and audio in different formats
Preserve the quality of the original file
Video editing tools
Simple interface
High-speed video converter

With ByClick Downloader, you can download videos from YouTube and turn them into MP3 files on a single platform. It's possible to make downloads from other websites too, like Vimeo, Facebook, and Instagram. But. pay attention to the copyrights. 
To convert the file into MP3,  upload it, then select the format, choose the quality, and download it. It's very simple, with just a few clicks your MP3 file is ready and you can enjoy it on your computer, your smartphone, or other devices. 
Key features:
Video downloader
High quality
Easy to use 
Download multiple videos at the same time

With iTubeGo, you can download videos from multiple websites, including YouTube, and convert them into MP3. Available for Windows, macOS, and Android, the platform has a responsive design, which makes it easier to navigate through.
iTubeGo also provides you with video edition tools, a music downloader, and a music tag editor. Another advantage is that you can download videos in bulk as well.
Key features:
Convert different types of files into MP3
Download videos in bulk
Music editor
Video editor
Download subtitles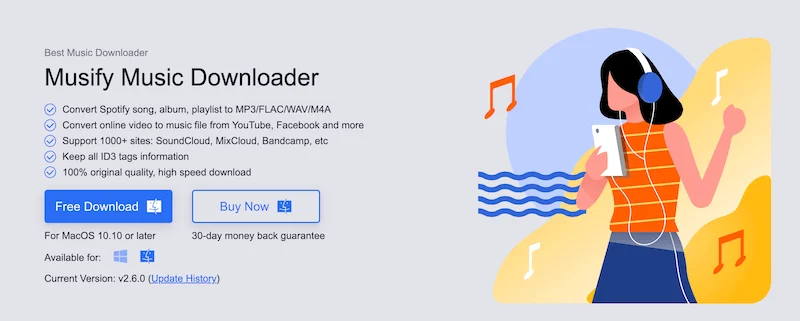 With Musify you can download music from different websites and convert songs, albums, and playlists into MP3 files. It supports more than 1000 sites and makes the conversion without losing the original quality. 
First, add the songs or videos that you wish to download by pasting their URL, then click in "convert", and select where you want to save the files. If you prefer, you can also save the files in M4A or WAV too. 
Key features:
Music downloader
Supports more than 1000 websites
Convert files to MP3, M4A, or WAV
Download without quality loss
Regular updates
HandBrake is an open-source program that was developed by volunteers, therefore it is a free MP3 converter. It is available for multiple operating systems, including Windows, Linux, and macOS. 
You can turn MP4, MKV, and WebM files to MP3, for example, preserving the audio quality. The software is regularly updated, and, if you have any doubts, you can ask for assistance in its website forum.
Key features:
Convert different files to MP3
Available for multiple operating systems
Regularly updated
It can process most common multimedia files
Open source program
With Freemake Video Converter it's possible to convert your videos to MP3 without even needing to download any software on your computer. All you have to do is paste the link or upload the file, then select the format you wish to save it. 
The platform supports more than 500 video formats and is completely free. It also provides you with tools to edit videos and add and edit subtitles. The download is fast and you will be able to save MP3 files on multiple devices.
Key features:
Online free MP3 converter
Supports more than 500 file formats
Easy to use
Video editor tools
Add and edit subtitles
VSDC figures out as one of the best free MP3 converters because it's easy to use, supports multiple video and audio formats, and is optimized for enabling high-speed downloads. Besides converting video and audio files to MP3, the platform also offers a free video editor.
You can remove green backgrounds, add effects and transitions, cut, and much more. Another feature is the free screen recorder, which was developed to help with building presentations and tutorials. 
Key features:
Video converter
Audio converter
High-speed download
Video editor
Screen recorder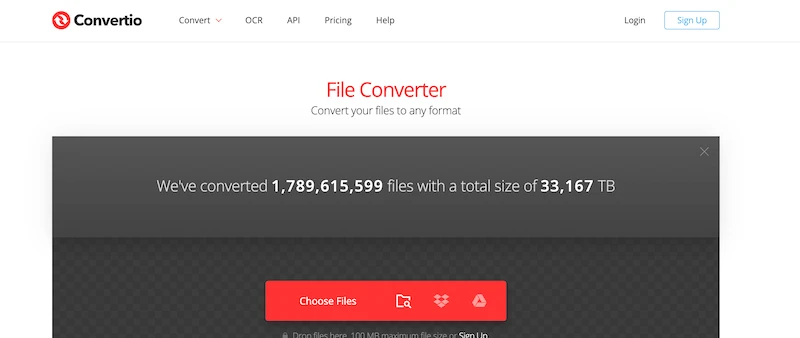 Convertio is a platform with a simple interface, which allows you to quickly convert files to MP3 and several other formats. You don't have to download anything to your computer to use it, just upload the file and select the best format. 
Besides converting videos and audio to MP3, the website also is a solution to convert images and other document types. For example, you can convert a WEBp file to JPEG, or convert a jpg file to PDF. It supports more than 300 formats. Another benefit is that all the conversions happen in the cloud, so it doesn't take up space in your computer. 
Key features:
Free file converter
Doesn't require installation
Supports more than 300 file formats
All devices supported
Easy to use
Pay Attention to the Copyrights
If you are going to download a video or audio from the internet to convert to MP3, it's important to pay attention to the copyright before doing this. Check if the file can be downloaded for personal use and if you can use it for professional purposes or not either. 
Features to Look For in the Best Free MP3 Converters
When deciding what free MP3 converter you are going to use pay attention to the following features:
Usability
The MP3 converter must offer you a responsive interface, which is intuitive and enables you to figure out how to navigate through it without any difficulties. Converting a file shouldn't be a difficult and long task. 
How Many Formats It Supports
If you are going to convert lots of different files to MP3, it's important to pay attention to which types of files the MP3 converter supports. Most of them allow you to upload hundreds of different formats, without any problem.
Download Speed
A good free MP3 converter must be fast as well, mainly if you intend to convert files in bulk. Make a test to check the speed, and choose the one that offers you the best performance. Also, check for the comments on the internet to evaluate them better. 
Choose the Best Free MP3 Converter
Now that you have seen some of the best free MP3 converters, choose the one that suits your needs best. You will see how it's easy to have your audio files in the format you
Like what you've read?
Sign up and try JivoChat for yourself!
It's free and only takes a couple of minutes to download.