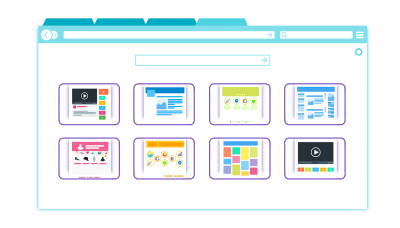 Free Landing Page Builder to Create High-Performance Pages
May 19, 2022
updated November 3, 2023
Reading time ≈ 8 minutes
Jaqueline Corradi
Content Manager
Counting on a free landing page builder can help you enhance your marketing strategies to conquer new leads and sell more. A landing page is a standalone web page that is developed specifically for a campaign, such as to launch a product, invite people to sign up for your newsletter or download an ebook.
Usually, the landing page is going to be accessed through a link available on social media ads, in email marketing, or a website banner ad, for example. When someone clicks on the link, they land, as the name suggests, on the landing page. 
When you use a landing page builder it becomes much easier to create this type of page because it doesn't require you to have design or coding skills. You are going to find pre-built templates available and easy-to-use editors.
Features to Look for in a Landing Page Builder
To know which free landing page builder to choose, it's important to pay attention to the features they offer. Some of them are essential to enable you to develop a high-performance landing page that will fit your purposes. 
Keep in mind that the landing page needs to deliver a great user experience and be attractive to visitors, so they will feel compelled to follow the call to action. To build a page that's going to achieve this, you have to count on the right tools.
Easy-to-Use
One of the most important aspects when selecting a free landing page builder is if it's easy-to-use, and has an intuitive interface. The platform needs to be simple and enable you to quickly learn how to enjoy its tools, so you can create the best landing pages. 
If the landing page builder is too complicated to understand, it will take you too much time to create what you need, right? And, the objective is the opposite. It shouldn't take you hours to create a page, if it does, it is worth testing another platform. 
Customization Tools
In order to conquer good results, your landing pages must have not only an attractive design but also one that is aligned with your brand's visual identity. So, the landing page builder has to enable you to add your images, the company's logo, change the color palette, choose the font type, and other customization features. 
Built-in Analytics
To measure the performance of your landing pages and evaluate key performance indicators (KPIs) such as conversion rate, click-through rate, and source of traffic, it's important to count on a landing page builder that offers you analytics tools. 
This way, you are going to be able to know if the landing page is effective or if you need to change elements like the call to action (CTA). With built-in analytics, you also have the opportunity to make A/B tests to discover what to change to create the best landing page to conquer your goal. 
Integration Options
Check if the landing page builder you choose allows you to integrate with other software you already use, such as CRM system ( customer relationship management), and email marketing. It will make it much easier to manage all the tools and to keep track of your marketing actions. 
Responsive Design
People use their smartphones and tablets to access the internet every day, which means, having a landing page that delivers a great user experience regardless of the device is a must. Otherwise, you may lose potential leads just because they can't see your page properly.
So, when selecting a free landing page builder, pay attention if it allows you to create pages with responsive design. You will see that some of their pre-built templates are already mobile-friendly, which is a great advantage. 
5 Best Free Landing Page Builders

Wix is one of the best website builders available and it also allows you to create landing pages. You can choose among several options of pre-built templates according to the purpose of your landing page and the business sector you are in. 
After this, use Wix Editor to customize the landing page. It's possible to insert images, videos, and texts, select the colors and font, and also resize, rotate and align every element on the page. Define as well the features you wish to insert on the landing page, such as a sign-up form or a call to action button. 
Use the built-in analytics to monitor the traffic and analyze the landing page results. You will be able to understand the visitors' behavior better and get personalized recommendations on how to improve. 
If you want to enhance your landing page with an incredible video, you can use Wix as well. The platform has a video maker tool that enables you to upload the content you wish to insert in the video and customize it. When it comes to integrations, in the Wix App Market, you are going to find hundreds of apps that can be integrated into the platform.
Highlighted features: 
Easy-to-use
Wix editor
Pre-built templates
Responsive design
Analytics tools
Wix App Market
Video maker
Sendinblue allows you to easily create incredible landing pages. You can choose one of their pre-made templates or build one from scratch using the drag-and-drop landing page builder. In both options, you are going to count on several tools to customize the page and align it to your brand's identity. 
Choose the goal of the landing page to define the features you are going to insert, like form fields that are going to be linked to your Sendinblue account. You also have the option to add a follow-up page, for example, thanking the visitor for subscribing or making a download.  It's helpful to confirm that the action taken was successful. 
The platform also offers solutions to help optimize multiple processes inside your company. For instance, you can integrate the landing page builder with Sendinblue's CRM and email marketing, managing everything in a single place. 
Highlighted features: 
Drag-and-drop landing page builder
Easy-to-use
Pre-built templates
Create follow-up pages
CRM
Email marketing

Engage with your audience, collect leads, and close sales: Leadpages was developed to help small businesses create amazing landing pages that deliver great results. You can select a pre-built template, then customize it, but before publishing the page, the built-in conversion guide is going to analyze it.
Leadpages has an exclusive technology that predicts your page's performance and tells you where to improve to achieve your goals. Another benefit is that it offers fast page load speed, which is an important factor when it comes to user experience and conversion rate. 
You can make A/B tests as well, distributing your traffic to two different versions of a landing page, then analyzing the results to see the one that has a better performance. Besides, Leadpages enables you to integrate it with several applications, including Google Analytics, MailChimp, and Salesforce. 
Highlighted features:
Pre-built templates
Responsive design
Built-in conversion guidance
Fast page load speed
A/B testing
Integrate with other apps

The E-goi landing page builder is practical and easy to use, and you even have access to other communication tools provided by the platform. It counts on professional pre-built templates that can be completely customized to fit your needs. After the landing page, you also have the option to include a thank you page.
Through the drag-and-drop editor, you can structure the page and insert the elements you wish, including forms, countdown, images, and videos. Once you conquered leads through your landing page, you can use E-goi to nurture them and automate actions like sending them a follow-up e-mail or an SMS. 
Highlighted features:
Drag-and-drop editor
Pre-built templates
Customization tools
Marketing tools
Friendly URL
SEO tools

SITE123 allows you to create different types of landing pages with a responsive design, start by selecting a template, then personalize it. You can add images, videos, and texts, choose the colors and font and organize the page structure in the best way to catch the attention of your target audience. 
No coding is required, and SITE123 provides an easy-to-use platform so you can enjoy all its features without any hassle. You are also going to have free hosting, and SEO tools that enable you to optimize your landing page to conquer more organic traffic. 
Highlighted features: 
Easy-to-use
Responsive design
Pre-built templates
SEO tools
Free hosting
Free images and icons library
Include an Appealing CTA on Your Landing Page
Once you have analyzed the free landing page builders options and chosen the best one for you, it's time to think about every detail you are going to put on your page. One of the most important things is the call to action. It needs to be persuasive enough to convince readers to do what you desire them to, you should give them reasons to do that. 
The design of the landing page can help you to draw attraction to the CTA. When editing the page in the free landing page builder, structure the elements to highlight the call to action, for example by writing the CTA in a different color and font, and putting it on a button. You will see how these can increase the conversion rate, and turn your landing page into a much more effective one.
Like what you've read?
Sign up and try JivoChat for yourself!
It's free and only takes a couple of minutes to download.