Learn How to Use WhatsApp for Business
Reading time ≈ 10 minutes
Jaqueline Corradi
Content Manager
When you learn how to use WhatsApp for Business, you will count on several features that can help you to build a closer relationship with your customers and offer more personalized assistance.
WhatsApp has been continuously updated to no longer be only a place to exchange messages, but it can also be used as an ecommerce and marketing tool.
If you have a small business that's an opportunity to show your products, answer your customers' questions and guide them through the buying experience. Now, they can even pay without going out of the platform. While bigger companies can also enjoy WhatsApp features with WhatsApp Business API.
Why include WhatsApp in your marketing strategy
Improve Customer Service
Providing good customer service should be a basis for every company, regardless of the sector. WhatsApp for Business allows you to offer one more channel of communication to your customers, so they can choose among what they prefer.
It's a quick and easy way to get in contact with your company, it doesn't take as long as a call, for example, and the person can access information about your business, such as the address, and portfolio. 
You can save answers for the most common questions to send fast replies and create automated greeting messages, so your customers will receive an answer immediately. But, don't forget this is just the beginning of the conversation.
 It's important to continue it as soon as possible. Don't take long to answer your customers, otherwise using WhatsApp won't be effective. 
Provide One-on-One Support
When you know how to use WhatsApp for Business, it makes an incredible difference in how your brand is perceived. As your customers will count on personalized support where they can be directly assisted by someone from your team, it passes credibility and trust to leads and customers.
They feel that they can rely on your company, in case there is any problem with a product they buy or a service that is hired, which motivates them to close deals with your company and to become loyal customers. 
But, enabling WhatsApp for customers to get in contact with you isn't enough. In order to make it an effective communication channel, WhatsApp can't be used only to send automatic messages, your team has to be prepared to solve problems and show promptness to help. 
Send Updates
You can use WhatsApp for Business to keep your customers updated about your products and services news, such as the latest releases. If you are going to promote an online event to launch a new collection, for instance, you could send exclusive invitations for your loyal customers through WhatsApp.
Another possibility is to send messages letting them know when your store is on sale, even create special offers for customers who buy using WhatsApp or give them exclusive coupon discounts.
It's important, though, to analyze how many update messages you are going to send monthly, not to be annoying. Don't flood the conversation by sending several ones in a day, this can have the opposite effect, and make people block your number. 
Sell Through WhatsApp
WhatsApp can be used as a sales tool as well where you can add a catalog of products and/or services with images, descriptions, prices, and links. Your customers can browse through it, get to know more about what you sell, and send questions, all in one platform.
It's not even necessary to leave WhatsApp to complete the purchase anymore, since they have released the WhatsApp Payments feature. 
To make it an effective sales tool, it's necessary to think of specific strategies for WhatsApp and understand what part of your target audience would use WhatsApp to make purchases. Get to know what motivates them to buy through the platform and how you can offer the best service.  
WhatsApp Statistics
WhatsApp is the most popular mobile messenger app in the world
A Statista research, released in November 2021, revealed that WhatsApp is the most popular global messaging app with 2 billion monthly active users. Facebook Messenger is the second one, with 1,300 billion users, while in third place is WeChat with 1,251 billion users.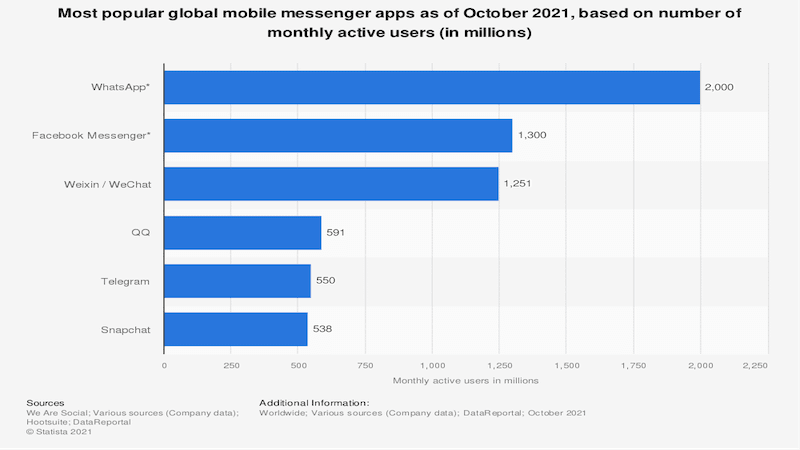 WhatsApp is the third most used social media worldwide
When it comes to social media platforms, WhatsApp figures in third place in popularity. It's behind only Facebook and Youtube, according to a report released by Hootsuite.
Countries where WhatsApp is most downloaded
According to Statista, in the third quarter of 2021 the WhatsApp was downloaded 31.8 million times to IOS devices around the world. It was most downloaded in the USA, with the United Kingdom in second place and Russia in third.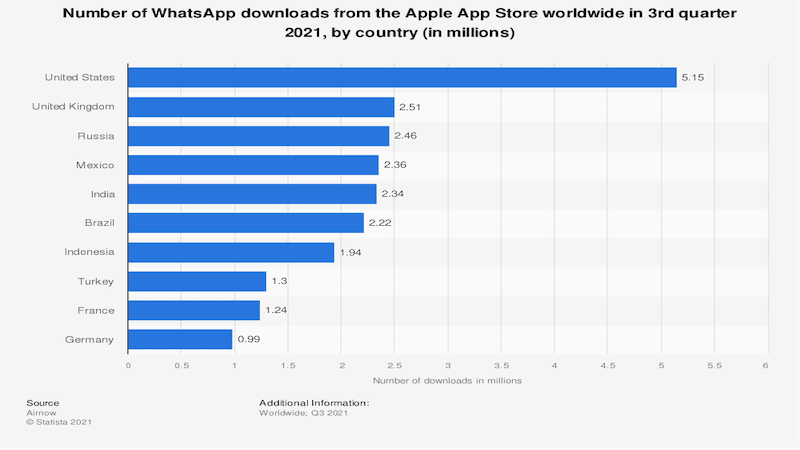 How to use WhatsApp for Business
1. Create an Account
The first step on how to use WhatsApp for Business is to create an account. You can download the app for free on your smartphone. When you open it, click on "Agree and continue", then insert your business's phone number. 
After it, you will be redirected to edit your company's profile where you can add a picture, for example, your brand's logo, and you will have to choose the category that your business fits in.
2. Set up your WhatsApp Business account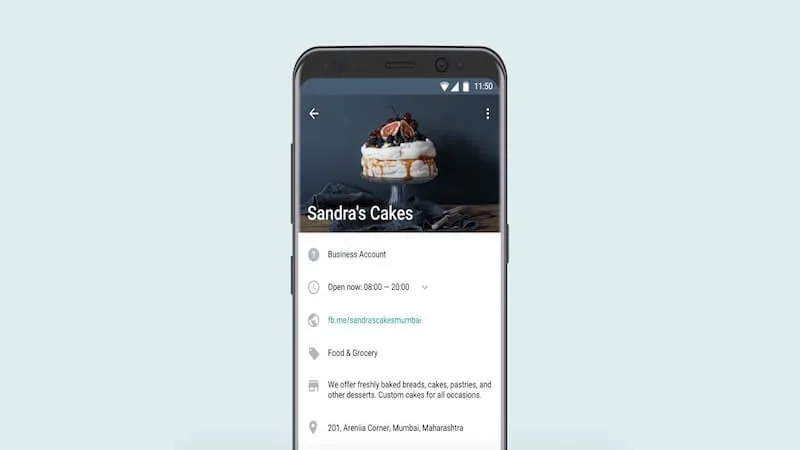 With your company's profile created, it's time to adjust the settings. Insert your company's address, website link, and opening hours to the description, and add your catalog too.
There are also other possibilities, such as setting up automatic greeting and away messages and saving answers to common questions, with the "Quick Replies" feature.
3. Add Labels to Your Conversations
One very important feature from WhatsApp Business is "Labels", which allows you to divide the conversations and users into categories.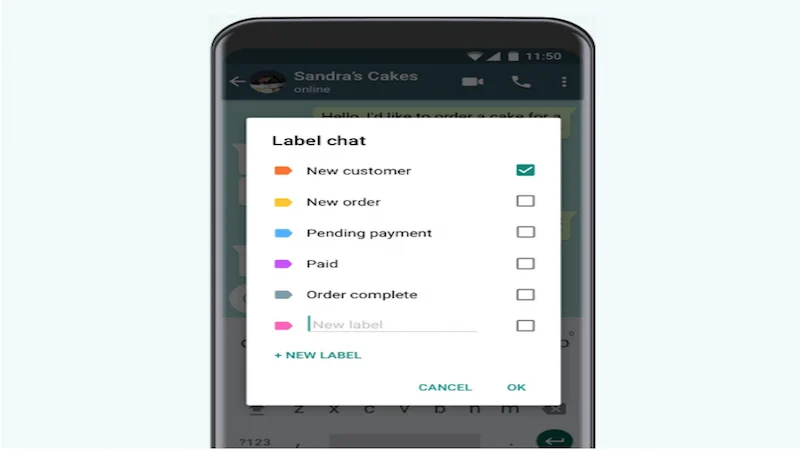 This way, it's easier to organize the messages in order of priority, labeling the ones that demand an urgent reply, for example. The app offers pre-programmed labels, but you can create the ones that will fit your needs better.
4. Get to Know WhatsApp Business Features
Once you have configured your account, navigate through the app, and research its features, this is essential to understand how to use WhatsApp Business and to make the most of it. By knowing the possibilities and tools that you can count on, it's easier to draw marketing strategies focused on WhatsApp. 
5. Define What You Are Going to Use WhatsApp Business for
As you could see, it's possible to use WhatsApp for different purposes. Before you start publicizing about the new communication channel that your company has added, it's necessary to define if it's going to be used only for sales, for customer assistance, or for sending messages about new products and offers, for example. 
If that's not clear, you can frustrate your customers who might set the expectations in a different way from what you intend to use WhatsApp.
You can use the description to define what this app is going to be used for, and also make it clear when you promote it. If you will only use it as a channel to provide customer help, insert a link to redirect to where they can buy your items.  
6. Create a Plan
Every time a new social media network is inserted into a business, it requires creating a plan for it. Who is going to be in charge of  WhatsApp Business management? Who is going to answer the customers and leads? Are you going to create images specially designed for this platform? 
The answers to those questions must be in the marketing plan for WhatsApp, which should include, as well, if you are going to develop exclusive content for it. For instance, messages notifying about a new blog post or Youtube video on your company's channel.
Analyze your target audience's profile to define the best strategies on how to communicate with them through WhatsApp.  
7. Instruct Your Team
Train the members of your team, who deal directly with customers, about how to use WhatsApp for Business. It's important to present the marketing plan, the main goals, and explain how the app can benefit to provide better customer assistance and as an opportunity to increase sales. 
It's necessary to keep the tone of speech aligned with the other communication channels used by the company, to create a coherent brand's image. Remember your employees about that, and also emphasize the importance of positive communication.  
8. Answer your customers quickly
Lead response time can affect significantly your brand's image and the potential to close sales. In the digital era, customers don't like to wait long for an answer, when they are evaluating to buy a product, for example, they want to have their doubts solved immediately.
If you take hours to send a reply, a competitor may have already answered your lead and closed a deal. Besides, when you leave a message without an answer for more than 24 hours, it may seem that you don't care about the customer. 
Including WhatsApp Business in your marketing plan will only be effective if you and your team can manage to reply to the messages in a short time, as sooner the better. Otherwise, it can frustrate your customers and cause them to give up on completing a purchase at your store. 
9. Enjoy the different messages formats 
WhatsApp allows you to go beyond written texts, and use emojis, gifs, stickers, images, and videos. Take advantage of those features to create messages that grab the reader's attention, for example, to make more effective calls to action.
You can create personalized stickers with your brand's identity, gifs and images to be shared via WhatsApp.  
WhatsApp Business API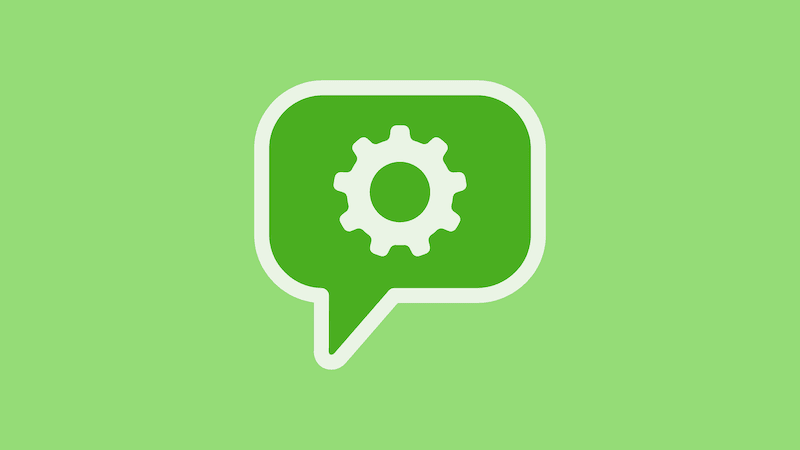 WhatsApp Business is an app developed to offer solutions for small companies, but medium and large businesses can enjoy WhatsApp functions as well, to improve the communication with customers through the WhatsApp Business API.
It's an Application Programming Interface (API) that allows to receive and answer unlimited messages from customers, being integrated with  global business solutions since WhatsApp Business API doesn't have its own interface.  
You can integrate it with CRM software, marketing automation tools, and business messenger apps as well. It's also possible to use Chatbots through WhatsApp Business API. 
JivoChat Can Help You Manage WhatsApp for Business
JivoChat provides an efficient solution on how to use WhatsApp for business, enabling you to manage the messages received from the app and other communication channels on a single platform.
This way, your sales and customer support teams will save time, and increase productivity, diminish lead response time and avoid the risk of losing messages. 
The messages from WhatsApp appear on JivoChat and are distributed between agents who won't send the answers from their phones, but from JivoChat's app. This way the data will be stored in the company's account, increasing security.
Like what you've read?
Sign up and try JivoChat for yourself!
It's free and only takes a couple of minutes to download.