21 Portfolio Website Templates to Show Your Work
Jaqueline Corradi
Content Manager
Finding the best portfolio website templates will make it much easier to create your online portfolio and conquer new opportunities. Whether you are an architect, photographer, designer, or any other professional who wants to have a digital space to showcase your work, using the right template makes the content much more attractive. 
The best website builders like Wix, offer a wide range of pre-built templates with responsive design, and customization tools. You can change the colors, add images, text, and much more. Check out the article to discover. 
How to Choose the Best Portfolio Website Template
Define Your Goal
Among so many options of portfolio website templates available on the internet, it's easy to get lost and in doubt about which one to choose. The first step to simplify the process and help you select a template that suits your needs is defining your goal. 
What do you want to achieve with your portfolio website? After answering this question, think of strategies that will help you with your purpose and choose the template that aligns with that. For instance, if you are looking for job opportunities as a wedding photographer, it's important to choose a template that enables you to create photo galleries to display your previous work. 
Plan the Website
Another thing that is helpful to define which portfolio website template is the right one is planning how you will structure your website. Define the pages you want to create and the type of content you will add.
Use a Mobile-friendly Design
To enhance user experience and guarantee everyone who wants to access the website can see it properly, make sure the template of your choice has a responsive design. This means it will work on desktop computers and mobile devices. 
21 Best Portfolio Website Templates
With Wix, you can create your website, manage and develop content to keep enhancing it. You will find hundreds of pre-built templates to choose from, which can be customized using the drag-and-drop editor. 
You can resize, rotate, align, and add new graphic elements. It's possible to have a website with different sections, like a blog, online store, portfolio, and online scheduling. Wix also helps you to make sure your website looks great on desktop and mobile devices by using responsive design. 
1 - Creative CV
The Creative CV template is a modern one that will help you highlight your best skills and experiences. You can add sections like resume, projects, and contact information. 
2 - Illustrator
The Illustrator portfolio website template is perfect for designers. It has a modern and colorful style. The images are the focus of this template, allowing you to highlight your work and show the designs you have created. 
3 - Photographer
The Photographer template has a minimalist aesthetic, which is perfect for displaying photos and making them stand out. 
4 - Carpenter 
This template is suitable for professionals who work with craftsmanship. It's well-structured and you can add multiple sections such as about, gallery, services, and contact. 
5 - Game Designer
The Game Designer template has a modern style and enables you to add several illustrations, texts, and videos.  You can put several images in the background that changes automatically, making the website more appealing. 
6 - Fashion Designer
A fashion designer also needs to have a well-constructed portfolio, and this template was made for this. You can showcase your projects, create a blog to give tips related to the fashion world and add a contact form too. 
7 - Makeup Artist
As a makeup artist pictures and videos that show the beauty of your work can make the difference whether you will get hired or not. With this template, you can build the perfect portfolio website. 
8 -  Interior Designer
The Interior Designer template has a clean and elegant style. You can add different sections, including project gallery, services, and contact. 
Webnode has a user-friendly website builder, which will turn the task of developing a website and managing it into a much simpler one. Use the predesigned pages and customize them by adding images and videos, changing colors and fonts, and inserting your brand's identity into it.
9 - New Book 
A portfolio website is also useful for writers to have a space to share their thoughts and promote their work. The New Book template was developed considering that. 
10 - Designer Portfolio 
The Designer Portfolio template has a modern and minimalist design. The background in black is elegant and helps to make your illustrations stand out. You can add a vertical menu on the side to facilitate navigation through the website. 
11 - Graphic Designer
The Graphic Designer portfolio was built for designers, painters, and photographers. One of its main benefits is it allows you to have an extensive image gallery to display your work. 
12 - Actress Portfolio
Having an online portfolio may also be a necessity for artists like actors and actresses. With a minimalist design, the Actress Portfolio template helps with that.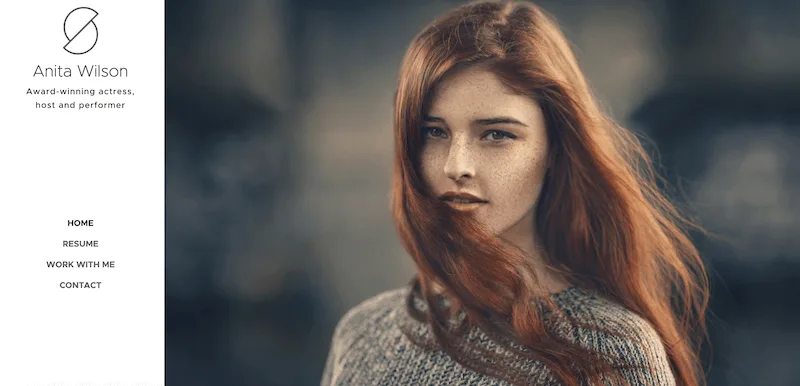 GoDaddy is a  website builder that allows you to develop your pages by selecting a pre-built template, editing it, then adding your content, in just a few minutes your website is ready to be published. Once it's online, you can manage everything using GoDaddy, including your ecommerce.
13 - Diedre Lorde
The Diedre Lorde template has a clean and charming aesthetic which makes the website easier to navigate and improves user experience. It's a great choice for photographers. 
14 - Creative Spark
If you are a designer, illustrator, painter, or other professional who works in the creative industry, this template was built for you. It's possible to include a photo in the background and add sections like image gallery, contact, and about me. 
15 - Geneva
The Geneva template was developed for creating artwork portfolios. You can add a contact form, image gallery, and create a blog too. 
16 - H.B Harrolds 
Enjoy the HB Harrolds template to promote your work as a writer. The classic yet contemporary style is appealing to visitors, and you can have a blog, a press section, and downloadable content.  
Pixpa is an easy-to-use website builder that enables you to create your own portfolio website. If you work in the creative industry, as a designer or a photographer, for instance, it's important to have a website where people can see your previous work. 
Pixpa offers pre-built templates and several features so you can develop every page of your website without having to know how to code. It's possible to add videos, galleries, and forms, and customize the website as you prefer.
17 - Titan
With the Titan portfolio template, you can create a beautiful digital space to show your photos. The minimalist design is modern and highlights the images that are the centerpiece of this design made for photographers. 
18 - Porto
The Porto template is suitable for professionals in different areas. You can add your photo to the home page and present yourself and have other sections where you show your work, and insert all the information for people to contact and hire you. 
WordPress is one of the most popular website builders around the world and it also offers a free plan. To start, you can choose among thousands of customizable themes and have different types of pages, and you can count on a fast and intuitive editor, which saves your work every few seconds. 
Use the drag-and-drop tool to add images and other graphic elements on each page. You can create photo galleries, and upload audio and videos too, using your desktop computer or mobile devices. Share your blog posts on social media by automatically sending them to Facebook, and Twitter, so your followers can check them out when there is new content.
19 - Kigen
The Kigen WordPress theme has an art gallery on the top,  and when the visitor scrolls down they can see the information about you. You can link to your social media pages and add a contact form as well. 
20 - Vetro
You can enjoy the Vetro template to make a design portfolio. The dark blue background matched with the text in neon green is modern, and it's used in the images as well, creating visually pleasant pages.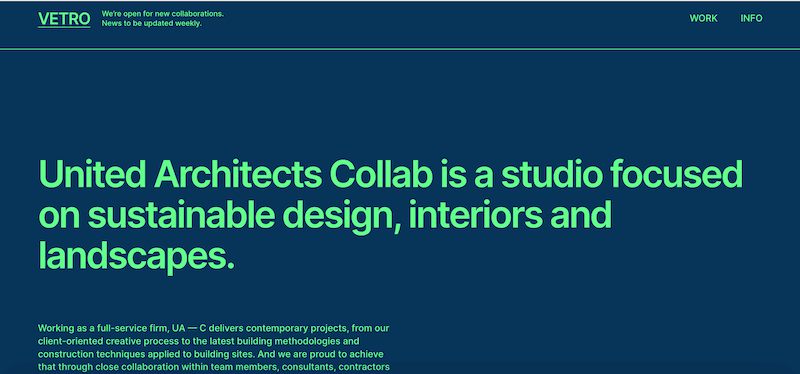 21 - Videomaker White
The Videomaker White template was developed for professionals who work in the audiovisual industry. You can add a video on the home page, and create a video gallery too.
Choose the Best Portfolio Website Template for You
After getting to know some of the most incredible portfolio website templates, analyze each one carefully and select the template that meets your needs. Then, personalize the design so the website will have your personal brand.
Like what you've read?
Sign up and try JivoChat for yourself!
It's free and only takes a couple of minutes to download.