How to Create a Blog on WordPress
Jaqueline Corradi
Content Manager
Do you know how to create a blog on WordPress? With just a few steps, you can have your own blog up and running. The platform is simple to use and allows you to create a website for free, which gives you the opportunity to develop customized web pages and publish the content you wish. 
There are millions of different blog types on the internet, you can write about multiple topics and conquer visibility in specific niches. Many people have personal blogs, which work like diaries where they talk about their life and share experiences, for instance. On the other hand, you also can have a blog for your company, and use it to promote your brand and reach leads and customers. 
Regardless of the type of blog you want to build, one thing is fundamental, dedicate yourself to making high-quality content.  Get to know your target audience's demands, and discover the best ways to talk with them. WordPress will help you by offering tools that enable you to create and manage a blog. Check out the article to know more about it. 
The first step when it comes to how to create a blog on WordPress  is to make your account on the platform. Access the website, click on "Get Started", then follow the instructions.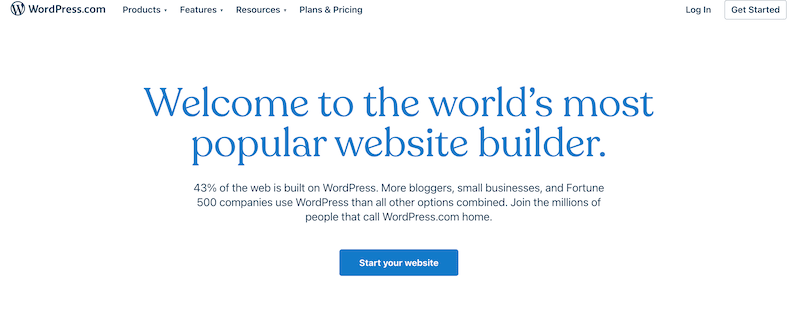 You will need to choose a plan as well. WordPress offers a free plan which allows you to develop a website without having to pay a monthly fee, but the paid plans come with some benefits that it's worth analyzing too. The plans available are:
Personal
Premium
Business
Ecommerce
Each one of those plans are focusing on different needs, consider the purpose of your blog and website, and your budget to select one. You can also start with the free plan, and, as your blog grows, you change to another. 
All the paid plans provide hosting services, a free domain for one year, and unlimited email support. Besides, your blog won't display WordPress ads. 
Make a Plan For Your Blog
Before going any further with your blog, it's fundamental to develop a plan regarding how you will create and manage it. You can start by answering the following questions:
What are your goals for the blog?
What is your niche?
What will you talk about?
Who is your target audience?
How many times will you publish new content on your blog in a week?
Will you monetize your blog? How?
How will you get to your target audience?
Unless you are creating a blog only for personal purposes, you should consider your short and long-term goals to develop a content strategy that helps you to reach them. Having a well-defined niche and knowing the main themes you wish to approach makes a huge difference. 
It gives you a focus and you can make precise research regarding the type of content that is more successful in your niche. Besides, it enables you to have a better understanding of your target audience, and get to know their behavior better. 
Creating a weekly posting schedule is also important. This way, you avoid spending too much time without publishing new content or posting everything on the same day. To have a successful blog and conquer a loyal audience, it's essential to keep your blog updated and always nurture the readers with new and interesting content. 
Register a Domain Name
The domain name is your website address, what people will type to find your blog on the internet. You can use different suffixes for your domain name, it can be www.blogname.com, www.blogname.blog.com, or www.blogname,org.com, for example. 
The suffix with only ".com" is one of the most advisable to use because it is easier to remember and it also gives credibility to your blog. Before defining the domain name, though, you need to check if it's available. You can discover that at WordPress domain name search. 
Choose a name that is easy to spell, and avoid putting a lot of numbers or special characters. If you are making a blog for your company a blog name idea is using the name of the brand, or you can use keywords related to the topics you will talk about too. 
Choose the Web Hosting Service
WordPress free plan doesn't offer a web hosting provider, so you can make your blog available on the internet for people to access. The web hosting server is responsible for keeping your website running smoothly, enabling people from all around the world to enter your pages without any problem. 
There are different types of web hosting, including cloud hosting, shared hosting, VPS hosting, and dedicated hosting. The main difference between them is the type of server and how your blog data is stored. With cloud hosting, you will be using a cloud server, while in shared hosting you will share a physical server with multiple websites. 
In VPS hosting (virtual private server), you will share a server with more than one website, but it offers more space to store your data. On the other hand, with dedicated hosting, you can count on an entire server to store your website. WordPress has a web hosting service, which you can enjoy with the paid plans or you can opt for another one. Analyze what's best for your needs. 
Customize Your Blog Pages
An important part of learning how to create a blog on WordPress is when you personalize your blog pages. WordPress has an intuitive website editor with several tools to help you develop pages that have a beautiful design with the structure you wish. 
You can choose a pre-built template, then customize it by changing the color palette, adding images and other graphic elements, inserting buttons, and creating a menu, and sidebars, for instance. When designing the pages, think about how you can provide the best user experience to people who visit your blog. 
Make sure the information on each page is organized in a way that is easy for the readers to quickly find what they want. Pay attention to the readability of the pages as well. The contrast between the text color and the background must facilitate reading the content. Every element of the design should help to focus on the main message of the pages and be aligned with your brand's identity. 
Install Plugins to Enhance Your Blog Quality
A great advantage of using WordPress is it allows you to install several plugins to your blog to enhance user experience, and help you manage and create your content. You can install SEO plugins, which will help you understand how to optimize the blog articles so they will rank better in the search engines.
Some plugins enable you to add forms to your website and insert social media buttons to redirect to Instagram, TikTok, and Twitter, for instance. All you have to do is access the WordPress plugin page and choose the ones you wish to install, according to the features you need. There are thousands of them for free and paid too. 
Start Creating Content
Now that your WordPress blog is all set up, it's time to start publishing content. WordPress has an easy-to-use CMS (content management system) with a text editor that enables you to edit the articles and structure them, as you prefer.
You can insert links along the text, separate the articles in titles and subtitles, change the font type and size, and add images as videos. The editor is very intuitive and it doesn't require knowing how to code. 
Before publishing content, review it, and make sure you have included everything you needed. One of the keys to conquering a loyal audience is to develop high-quality content, which must be well-written and deliver valuable information to the readers.  
To achieve this, you should comprehend what are the demands of your target audience and how you can help solve them. Every time you are going to write new content, try to keep your target audience profile in mind. 
Implement SEO Best Practices
To conquer visibility and grow organic traffic to your blog, it's necessary to understand what the SEO best practices are and implement them. Start by planning the themes you are going to write about. Choose a keyword for every article, which must be closely related to the text theme. 
The main keyword should be mentioned in the article at least three times. This helps to show Google and other search engines what your text is about, increasing the chances that it will appear on the search result pages related to the keyword of your choice. The keyword should also be used in the URL. 
You should also add alt text to the images to describe what is on them, so people with visual impairments can have a better user experience when they access your articles. This is also a relevant aspect that Google takes into consideration. Beyond that, write meta descriptions for the articles too.
Analyze KPIs 
After understanding how to create a blog on WordPress and developing one yourself, you should set key performance indicators. Known as KPIs, they are very useful to help you measure your blog performance. Some of them are: 
Number of visits per page
Most visited articles
Average time spent on your blog per session
Click through rate
Engagement rate
By analyzing them, you will be able to identify the strengths and weaknesses in your blog, implement changes to enhance it, and achieve your goals. Remember, having a blog requires being always up to date with the latest changes in the internet, and keeping up with your target audience's demands. 
Develop a Marketing Plan to Promote your WordPress Blog
As important as learning how to create a blog on WordPress is knowing how you will conquer visibility and draw attention to it. To accomplish that, the advice is to develop a marketing plan, which should include strategies about how to use social media to promote the articles.
Identify what social media platforms your target audience uses, and create a page or profile in each one of them. On Instagram, for example, you can publish posts talking a little bit about each article in the feed and in the stories, where you can insert links to the articles. You may invest in ads on Google and in those social media networks too if it fits your budget. 
You are starting a blog, and social media is a valuable tool when it comes to reaching an audience, enjoy its potential. However, don't think you are going to gain thousands of accesses in one day. Having a successful blog requires patience and consistency, keep posting and improving.
Like what you've read?
Sign up and try JivoChat for yourself!
It's free and only takes a couple of minutes to download.