Website Navigation: How to Create User-Friendly Pages
Reading time ≈ 15 minutes
Jaqueline Corradi
Content Manager
If you want to create a high-converting website, it's essential to pay attention to website navigation and how it impacts whether people will like your pages or not. You need to know how to organize the elements on each page.
Users must be able to find the information they need quickly. The website design can't be only beautiful, it has to be functional as well. Otherwise, your target audience may visit your website, but they won't spend a long time on it, and it's going to be difficult to achieve your purpose. 
Following website navigation best practices will help you to offer a good user experience, optimize your pages for SEO, and increase conversion rates. 
What Is Website Navigation?
Website navigation can be defined as the set of elements that enable users to browse through a website on the internet. It includes menus, internal links, and buttons. For example, when you access the JivoChat home page, you will see the superior menu with the website's main sections.
The user just needs to click on the desired section to start browsing. In the blog section there are subcategories to organize the articles, and, once more simplify the navigation. Website navigation is closely related to user experience, web design, and also to a technology known as hypertext or hypermedia. 
What Is a Website Navigation Menu?
A website navigation menu consists of organized lists of links to the website pages. It's possible to use different types of navigation menus, such as horizontal, vertical sidebar, dropdown, and footer.
All of them serve to group the website's main section into categories. With a navigation menu, you can organize and create a hierarchy among the pages, and you enable users to browse through the website using the menu links. 
When someone builds a website, it's important to structure the pages hierarchically, create a website map, and divide pages into categories and subcategories. 
For instance, the home page is the main page, and then the website is divided into 3 main sections, blog, and contact. Those 3 categories are placed in the menu, and when clicking on each one the user will visualize its subcategories. 
The interface with the menus is only the tip of the iceberg, though, when it comes to organizing all the information a website holds. Behind what you see the information architecture is structured in different levels, and it englobes wireframes, blueprints, metadata, classification schemes, project plans, and much more. 
Types of Navigation Menu
Browsing on the internet, you can notice how websites are divided in different ways and they use distinct types of navigation menus as well. The menu you prefer to implement on a website depends on several factors such as the website's purpose, the target audience, and how you organize the pages. 
Horizontal Menu
The horizontal menu or navigation bar is one of the most common and it's placed on the top of the website pages. You are going to put the website's main categories in this menu, so the visitor can access them just by clicking on each one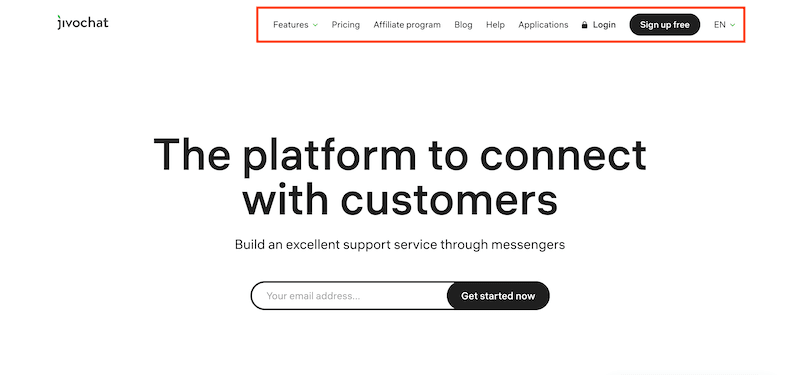 Dropdown Menu
The dropdown menu is a great solution for websites that contain too many subcategories. The main website sections are placed on a horizontal menu, then a dropdown menu appears when the visitor passes the mouse pointer over one of the menu's sections. 
Vertical Sidebar
The vertical sidebar has the same functionality as the horizontal menu, but, as the name suggests, it's placed vertically on the page. Besides the aesthetic impact it has on a page layout, another difference is you can add more sections and use bigger words to name the categories as the space isn't as limited as in the horizontal menu. 
Source: The New York Times
Footer Menu
The footer menu can be seen at the bottom of a web page, and it works as a website map, all sections and subsections are usually listed.  It works as another feature to help users find the pages they are looking for since the footer menu commonly has more links listed than the main menu. 

Why Website Navigation is Important
Website navigation is something you need to pay attention to when developing a website for several reasons. It's closely related to the chances of reaching your target audience, engaging with them, and even selling more. 
User Experience
One of the factors that influence a good user experience is how quickly and easily someone is able to locate what they want on a website. If you organize your website into categories and create a navigation menu that has the main links listed you improve user experience as a consequence. 
Imagine you want to buy a smartphone, and you access an online store, but the categories in the website menu aren't clear, so you don't know for sure where the smartphone section is. This will take you more time, and probably discourage you from buying at this website. It's easier to look for another ecommerce website.
When website navigation is taken into consideration, it's less likely that this kind of situation will happen. 
SEO 
Search engine algorithms analyze several factors to determine if a page will appear on the first search result page of a specific keyword, this includes how your website is structured and good user experience. Website navigation is part of SEO best practices and helps you to optimize your website pages.
Conversions
You can make website navigation menus considering business goals. For instance, if you aim to get leads by offering a newsletter subscription, you may add a link using a CTA like "Subscribe" in the horizontal menu on the header. 
This way you will drive attention to the main action you wish the website visitors to take. It's possible to structure the menus strategically according to what you wish the readers to focus on. The links and buttons are placed to increase the conversion rate. 
8 Website Navigation Best Practices
To help you create a high-quality website, it's important to follow website navigation best practices. It will become much easier to organize your web pages and create a hierarchical relation among them. 
1. Begin with a Sitemap
Before even starting to develop your website, to help you plan the pages you need to create and organize them, create a sitemap. Make a list of the pages starting with the primary one, such as the home page, and the main categories.
This will be very useful for organizing the website navigation and also for coming up with the layout design and the content, considering the characteristics of each section.  
2. Highlight Hypertexts
You can add links not only on the navigation menus but also on the page text. In this case, it's important to enable visitors to identify the words where there are links, and to do that you need to highlight them. You can put these words in bold or use a different text color, for example.
3. Create a Well-Organized Navigation Bar
Analyze how you can organize your website in the best way possible to simplify the navigation. Divide the pages into sections and name each one using words that are part of your target audience's vocabulary. The readers must be able to identify where the information they are looking for is just by looking at the menu. 
4. Design the Navigation Menu to Stand Out
The navigation menu needs to be easily identifiable just by laying your eyes on a web page, therefore it has to have characteristics that distinguish it from the rest of the content. You may use a different color, a bigger font size for the names of the main sections, and, add space from the menu to the other page elements.
5. Website Navigation Must be Simple for the User
To think of website navigation is fundamental to consider how you can provide the best user experience on each page. Think of who your target audience is, and structure your website to facilitate their navigation. Enjoy analytics tools to make tests and discover what works better. You can try different types of menus or color combinations, for example.
6. Consider Your Business Priorities
When building your website, always keep in mind what you aim to achieve with it. You can structure the categories, links, and buttons according to your goals and drive the readers' attention strategically to specific pages that you highlight. For example, by adding a call to action in the main menu.
7. Optimize the Website for Mobile Navigation
Don't forget to make sure that your website menu and all the other elements will function properly on mobile devices. According to Statista, more than 60% of the global internet population uses a mobile device to access the internet. If your website doesn't have a responsive design you can lose many visitors. 
8. Add Breadcrumbs
Enable users to trace their steps back on your website by adding breadcrumbs. This means that the user can see the path taken to get to a page, for example, "home page>blog>ecommerce>how to create an online store". It's like a map from the first page accessed to the one the user is reading. 
9 Best Platforms to Create a Website
Implementing website navigation best practices becomes much easier when you choose the right platform to create your website. With them, you don't need to know how to code or design to create amazing pages and organize them properly. 

With Wix, you can create your website, manage and develop content to keep enhancing it. You will find hundreds of pre-built templates to choose from, which can be customized using the drag-and-drop editor. 
You can resize, rotate, align, and add new graphic elements. It's possible to have a website with different sections, like a blog, online store, portfolio, and online scheduling. Wix also helps you to make sure your website looks great on desktop and mobile devices by using responsive design. 
To keep your website protected, the website builder offers a free SSL certificate, 2-step verification, and 24/7 website security monitoring. As your website grows, if you feel the need to have more storage and bandwidth, you can easily opt for one of the premium plans. Then, you will have the opportunity to enjoy other features, including marketing integrations and email marketing. 
Key features: 
Pre-built website templates
Drag-and-drop editor
SSL certificate
SEO tools
Analytics
Responsive design
Online ordering system
24 hour reservation system
SITE123 is one of the best website builders that offers multiple features such as responsive design, an intuitive website editor, SEO tools, and free hosting. You can also create an online store and sell globally. 
With just a few steps, it's possible to have your website running smoothly. Select a pre-built template, edit it to fit your brand, upload the content, review, and publish. If you have any questions or problems, you can count on the 24/7 customer support offered by the platform. 
You will also have the advantage to use a website builder that creates SEO- friendly pages, so they can be visible and indexed by search engines. 
Key features:
Intuitive website editor
Responsive web design
Free hosting
SEO tools
Sell online
24/7 customer support
With a 45-day free trial, HostGator provides solutions not only to create your website as you wish but also allows you to choose the shared hosting plan that suits your company better. It also offers a much more practical way to develop your website's design.
Instead of using a drag-and-drop editor, you will just need to answer some questions and Gator Builder will automatically make your pages using an optimized layout and industry-specific design. 
HostGator has analytics features as well, which enable you to measure and keep track of important metrics, and better your audience's behavior. Enjoy the SEO tools too, so you can enhance your pages to rank better on search engines. 
Key features: 
Intelligent builder
Easy analytics
Image Library
Mobile responsiveness
LogoMaker
Search optimized
24/7 customer support
Webnode has a user-friendly website builder, which will turn the task of developing a website and managing it into a much simpler one. Use the predesigned pages and customize them by adding images and videos, changing colors and fonts, and inserting your brand's identity into it.
It's not necessary to download Webnode to your computer, it's possible to set everything up online and edit content using your smartphone. You have the option to create a new domain or use an existing one, as you prefer, the Webnode subdomain is for free. 
You will also rely on safe and stable hosting servers, which enable you to get more space and higher bandwidth as your website traffic grows. Use the backup feature to make regular backups of your website and keep your data safe. 
Key features:
User-friendly website builder
Reliable hosting
SEO tools
HTTPS for safe browsing
Edit on any device
Pre-built templates
Responsive design
GoDaddy is a  website builder that allows you to develop your pages by selecting a pre-built template, editing it, then adding your content, in just a few minutes your website is ready to be published. Once it's online, you can manage everything using GoDaddy, including your ecommerce.
You can even integrate your online store with marketplaces like Amazon and eBay, and control it all in a single platform. GoDaddy also provides marketing and SEO tools to help you boost your website traffic and sales. 
To prevent any unforeseen problems, you can enjoy the backup feature, so you always have a backup of your site. Monitor your website performance by using GoDaddy web analytics features, you can track your search ranking, email campaigns, and orders, for instance. 
Key features: 
Customizable themes
Backup and restore
Image library
SEO tools
Web analytics
Marketing tools
Sell on Facebook and Instagram

WordPress is one of the most popular website builders around the world and it also offers a free plan. To start, you can choose among thousands of customizable themes, and have different types of pages, a blog, portfolio, and an ecommerce, for example. It's very easy to publish content, and you can count on a fast and intuitive editor, which saves your work every few seconds. 
Use the drag-and-drop tool to add images and other graphic elements on each page. You can create photo galleries, and upload audio and videos too, using your desktop computer or mobile devices. Share your blog posts on social media by automatically sending them to Facebook, and Twitter, so your followers can check them out when there is new content.
WordPress also helps you to have a search-engine-optimized website, by providing many SEO tools. Use the analytics features to keep track of your website performance, and get to know more about your customers' behavior. 
Key Features: 
Customizable themes
Mobile-friendly design
24/7 customer support
Search engine optimized
SEO tools
In-depth stats

Strikingly is a famous website builder, which provides an easy-to-use editor that allows you to have your website ready in less than 30 minutes. You can create an online store, and insert tools to cultivate your audience, such as a live chat and sign-up form to register membership.
It's also possible to show your feeds from Facebook, Instagram, and Twitter directly on your web pages. To enhance security all websites created by Strikingly get HTTPS automatically for free, and you can also count on SEO and analytics tools. If you have any doubts, 24/7 customer support is at your disposal to help. 
Key features:
Easy-to-use website editor
Ecommerce built-in
Analytics
HTTPS built-in
24/7 customer support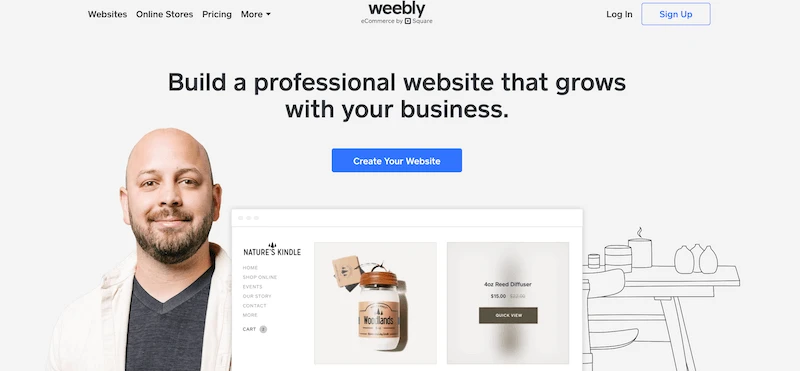 Customizable web page design and useful tools that enable you to create and maintain your website: Weebly offers this and much more. It has an intuitive interface, you will just need to create your account, choose the template that has more to do with your brand, edit it, and post your content.
You will count on a step-by-step guide to know how to launch your website, which can include ecommerce as well. It's also possible to integrate your website with other apps to enhance its performance, for example, CRM, live chat, and others.
Your website will be search engine optimized, with a responsive design, and the option to customize URLs, add alt text to images, and write page titles and meta descriptions too. Get to know how you may improve the pages by analyzing real-time stats.
Key features:
Customizable web page designs
Responsive themes
SEO tools
Reliable and free hosting
Marketing tools
With Webflow, you have the opportunity to create and manage your website without having coding skills and using a free plan. It offers a web design editor where you can style your website pages the way you wish, and publish them directly from the web. 
Through the Content Management System (CMS), it's easy to manage your pages, publish, edit content, and keep track of performance to know how to improve to make your website grow on organic traffic. Enjoy the SEO tools to conquer more visibility.
Key features:
Website editor
SEO tools
CMS
Fast and reliable hosting
Create and manage an ecommerce
Keep Improving Website Navigation
Now that you have seen some of the website navigation best practices, implement them on your website. After publishing it, use analytics tools such as Google Analytics to analyze the performance of every page and identify how you can improve the results. 
If you find the website navigation isn't satisfactory, try different layouts and menu formats. You can make a/b tests. It's fundamental to pay attention to your target audience's feedback to be able to offer the best user experience.
Like what you've read?
Sign up and try JivoChat for yourself!
It's free and only takes a couple of minutes to download.