How to Make a Reel on Instagram
September 28, 2022
updated October 7, 2022
Reading time ≈ 6 minutes
Jaqueline Corradi
Content Manager
Do you know how to make a reel on Instagram? If you are investing in strategies to promote your business or grow as a digital influencer on Instagram, creating high-quality reels can help you to reach more people, and gain more visibility. Check out!
What Are Instagram Reels?
Instagram reels are short videos recorded on vertical, which are made with different types of content. They have from 15 to 60 seconds. Lip syncing and dancing reels are very popular ones, for example. 
Reels are similar to TikTok videos, when you publish them, people can see the videos in your profile, in the explore or reel pages, even if they don't follow you, as long as your account isn't private.
The explore and reel sections make it easier for Instagram users to get to know your content. The platform suggests posts based on what the user's interests are, so the chances to reach your target audience are bigger.  
How to Make a Reel on Instagram Step by Step
1. Plan your Content
When it comes to how to make a reel on Instagram, the first step is to plan the content. What's going to be the subject of the reel? What are you going to use to make the reel? For example, are you going to narrate the reel or use a song? Where are you going to record the reel? 
You need to decide the format if you will create a reel, and record scenes in different spaces or make it like a conversation with the audience. To help you think of the details, it's interesting to create a script. This way you avoid forgetting to record important takes, and you have the opportunity to make great reels.
Don't commit the mistake to think that just because a reel is a very short video, it doesn't require planning. On the contrary, with no more than a minute you need to present interesting content that delivers value to your target audience, is cohesive with your brand's identity, and is aligned with the posts you already make. 
2. Record
The second step in how to make a reel on Instagram is to record it. You have two options, record the video using your smartphone or a camera first, upload it on Instagram after or record the reel directly on Instagram.
Always remember to record on vertical to respect the reel format. If you are going to record using the Instagram app, you will have to:
Access your Instagram account, and click on the "+" button;
Select reel;
Record and click on "next" to edit the video.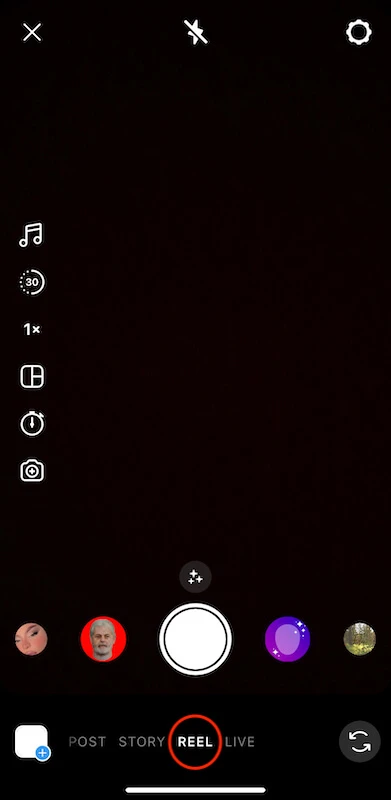 In this case, you will record the reel without any cut, then use Instagram tools to add effects, music, and other elements. When you record outside of Instagram, you can make multiple takes, record the narration separately, and unit everything in the edition process.
3. Edit
Edit is an essential process to create a good reel. If your reel has many takes, it's important to think about how you are going to make the transition from one scene to the other, and involve the viewers with the narrative.
You can use Instagram to edit the reel or the video editing app you prefer. You can add texts, stickers, music, AR effects, and filters too. Before finishing the editing process, watch a preview of the video to make sure every detail is correct.
Is the audio easy to understand? Are the images in high resolution? If you inserted texts, can people read them without difficulty? It's interesting to include subtitles in the reel, making it more accessible to people with hearing impairments. 
4. Publish Your Instagram Reel
To publish your Instagram reel, all you need to do is:
Access your Instagram account, and click on the  "+" button;
If the video is already edited, upload it by clicking on the square in the left corner of the screen;
If you have to record the video, click on the circle in the middle of the screen, then record, and edit;
Click on the "Next" button;
Write a caption, and choose a cover for the reel;
Click on "Share".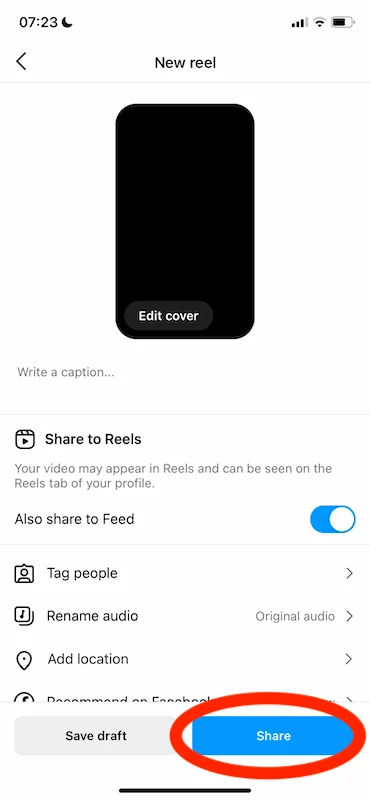 Now your reel is going to appear on your feed, and the reel page of your profile as well. To enable users that don't follow your profile to see this content, your account can't be private. Add hashtags that are aligned with the reel topics to enhance the chances of getting more visibility. 
Tips to Make Success with your Instagram Reels
1. Know your Audience
What is your audience interested in? How can your content benefit them? Those are very important questions to answer if you want to know how to make a reel on Instagram that helps you gain more followers, increase your engagement rate, and build brand awareness.
Once you know your audience, it becomes easier to identify the type of reels that are going to catch their attention. Plan the videos always considering who you are talking to because this affects the kind of approach you will take and the tone of speech as well. 
2. Enjoy the Trends
When you start planning the reels that you are going to make, create a chronogram to stipulate how many reels will be published on the week. To define the themes, research Instagram to find the most popular trends, you can enjoy them to conquer more visibility.
But, don't choose a topic just because it's popular. You need to analyze if it's cohesive with your brand's identity. If so, that's a great opportunity to appear on more reel feeds, and explore pages. 
3. Use Hashtags
Include hashtags aligned with your reel topic, you can put them in the caption or a comment. This indicates to the algorithm what your content is about, so it will appear for people who are looking for a term related to it. 
4. Analyze the Best Time to Post Reels  on Instagram
Is there a best time to post reels on Instagram? That's a question many people make, and the best time will depend on who your target audience is. If you have a business Instagram account, you can understand your followers' behavior better by using the Insights feature, where Instagram gives you data based on the interactions made with your posts and stories.
Use this to identify when your target audience usually is online and to determine the best time to post. This increases the chances of being seen and reaching a higher number of people. 
Start Publishing Reels
Now that you have seen how to make a reel on Instagram, what about starting to make your videos? As you start producing the reels and publishing them, you will understand the type of video that makes more success, and be able to improve the quality of the reels, enhancing the results.
Like what you've read?
Sign up and try JivoChat for yourself!
It's free and only takes a couple of minutes to download.