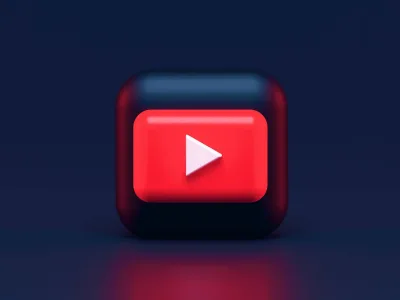 How to Monetize YouTube Videos
December 7, 2022
updated September 1, 2023
Reading time ≈ 8 minutes
Jaqueline Corradi
Content Manager
Learning how to monetize YouTube videos can offer your company or yourself a new revenue stream. Many digital creators have focused on producing content for YouTube and developed their careers through that, using YouTube as their main source of income. 
On the other hand, brands from different industries enjoy the platform as an opportunity to promote their products and services by creating their own channels and videos. They build marketing campaigns on their channels to reach their target audience and sell more.
At the same time, they monetize the same videos and profit for them too, as long as they meet YouTube requirements. YouTube distinguishes itself from other platforms by offering a partnership program where the creator doesn't depend only on third parties to gain money.
This also works as an encouragement for creators to invest their time in producing high-quality content for the platform, which gains a lot with the traffic increase. Check out the article to learn more about that.
What is YouTube Monetization?
YouTube monetization can be defined as how you make money with your YouTube videos. It's when the content published generates revenue for the creator. There are several ways to monetize YouTube videos, and it's important to get to know them if you want to profit from your channel.
First, it's essential to understand what Youtube's requirements to monetize a video are and analyze if your content and channel meet their criteria. You will need to have at least 1.000 subscribers to your channel, and no less than 4.000 views in the last 2 months. 
Source: YouTube
To increase how you will earn, you will need to post regularly interesting content and promote them to drive the viewers' attention. The higher the number of views the more you will profit.
When it comes to people who want to develop a career as digital influencers, the popularity of their videos also generates other revenues, such as being paid to make advertisement campaigns and participating in events. 
YouTube Partner Program
The first step to learning how to monetize YouTube videos is applying your channel to the YouTube Partner Program. Also called YPP, it provides you with several features and resources, to earn money through your videos. To have your channel approved, though, you need to comply with a  list of requirements. 
Requirements to Make Part of the YouTube Partner Program
For your channel to be eligible for YPP, it's necessary to: 
Have at least 1.000 subscribers;
Have a minimum of 4.000 watch hours in the previous 12 months;
Comply with the community guidelines;
Have no community guideline strikes;
Live in a country or region where the YouTube Partner Program is available;
Have a linked Google AdSense account;
How to Apply to YouTube Partner Program
To apply to YouTube Partner Program, you need to follow those steps:
Enter your YouTube account;
Click on the profile picture on the right side of the screen;
Click on "YouTube Studio";
Go to "Monetization" and you will If you meet the requirements to apply to YPP.
If you are eligible sign the YouTube Partner Program terms and conditions, and connect an AdSense account;
If you don't meet the requirements yet, click on "Notify me when I'm eligible". 
After you signed up for the program, your channel will automatically be put in a review queue to certify if your account and the type of content you publish follow all the YouTube guidelines. You can check your application status in your account, on the "Monetization" page. If you get accepted, now you can turn on ads to make money with your videos.
What to Do if You Get Rejected by the YouTube Partner Program
If YouTube doesn't approve your application to the YouTube Partner Program, you have the option to apply again after 30 days. However, before repeating the process, it's recommended to review your channel to check the reason why you were rejected. 
When an application is declined, the platform doesn't enter into specifics regarding the reasons why this happened. Therefore, re-read the community guidelines, does your content infringe on them? Check all of your videos to make sure, for example, that you are respecting copyrights. 
How to Monetize YouTube Videos
Once you successfully enter the YouTube Partner Program, it's time to analyze the alternatives they offer on how to monetize your YouTube videos.   
1. Turn on Ads on Your YouTube Videos
One of the main sources of income to make money with YouTube is the ads displayed before, during, and after the videos. As a part of the YPP, you can turn on ads on all of your videos, as long as they follow the content guidelines. Videos that disrespect copyrights, with adult content, and promote hate speech can't be monetized. 
After turning on YouTube ads, different types of ads may appear on your videos:
Skippable video ads where the viewer can click to skip it after 5 seconds;
Short video ads that aren't skippable;
Bumper ads that have up to 6 seconds and are non-skippable;
Overlay ads can be an image or a text that appears on the screen while your video is exhibited and takes around 20% of the screen. They are shown only in videos watched on the computer.
You don't need to worry about who is going to advertise on your videos, Google AdSense is responsible for selecting the advertisements according to your audience profile. However, if there is a particular brand that you don't want to associate with, you can block ads coming from it. 
How to Turn On Ads for Single Videos
Sign in to your YouTube account;
Go to YouTube Studio;
In the left menu, select "Content";
Choose the video you want to monetize;
In the left menu, select "Monetization";
Choose the type of ads that you want to run;
Press "Save".
How to Turn On Ads for Multiple Videos
Sign in to your YouTube account;
Go to YouTube Studio;
In the left menu, select Content;
Click on the gray box on the left of the video thumbnail for all the videos you wish to monetize.
Click on the edit dropdown in the black bar above your video list;
Select "Monetization";
Click in the monetization dropdown.
To change ad settings in bulk, click on "Add edit";
Select Update videos, check the box next to "I understand the consequences of this action", then click "Update videos".
2. Create a Channel Membership Program 
Channel membership program is an option for people who like to watch your content to show support for your work. They will pay a monthly fee, and you can offer exclusive content for them, such as extra videos, and participate in lives made only for members. 
However, to offer this option, your channel mustn't be made for kids. Also, you have to be over 18 years old and live in a region where the membership program is available. To turn on the membership program, all you have to do is:
Sign in to your YouTube account;
Go to "Monetization";
Click on the membership tab;
Follow the instructions to set everything up.
Remember that to make money with a channel membership program, people must want to be part of this program. So, you will have to come up with interesting benefits that will attract their attention and create marketing actions to promote the membership. 
3. Make Lives and Enable SuperChat
Another option regarding how to monetize YouTube Videos is making lives. In this case, you are going to record live videos where the viewers can use the YouTube SuperChat tool to donate money. 
When they do that, they can send a message, an emoji, or a question that will be highlighted on the chat. You can encourage them to donate by reading what they send during the live. Besides, a live offers you the opportunity to interact directly with your audience, straightening your relationship with them. 
Source: YouTube
To enable SuperChat, you have to:
Enter your YouTube account;
Click on "Monetization":
Go to the "Supers" tab;
Turn on the options "SuperChat" and "SuperStickers".
4. Turn On Super Thanks
The Super Thanks feature is similar to SuperChat. However, in this case, the viewer can buy a one-time animation to post on the comment and show their gratitude to you. This enables viewers to show their appreciation for your content, while they also help you to continue doing it. The process to activate the Super Thanks is very simple:
Enter your YouTube account;
Click on "Monetization":
Go to the "Supers" tab;
Turn on the option "Super Thanks".
5. Earn Money with YouTube Premium
Once you are a member of the YouTube Partner Program, you will also earn with your videos through YouTube Premium. It isn't necessary to do anything extra, just keep producing high-quality content.
When a YouTube Premium subscriber watches one of your videos, you will receive a percentage of the fee they pay for the subscription. You can make money with every video you publish as long as they comply with the community guidelines.
Start Making Money With YouTube
Now you have learned how to monetize YouTube videos, enjoy the opportunity to boost your channel. Start producing and publishing incredible videos, and create marketing actions to promote them through your social media channels. This way, you can increase the number of views on your channel and profit.
Remember that publishing new videos regularly is essential. To help you with that, you can create a schedule and define the days you will release new videos on the channel. Analyze the performance of each video to identify how to improve your content and continue growing.
Like what you've read?
Sign up and try JivoChat for yourself!
It's free and only takes a couple of minutes to download.