Advantages of Integrating JivoChat with Facebook
June 16, 2018
updated September 9, 2022
Reading time ≈ 4 minutes
Paulo Andraus
Super Seller
JivoChat is a complete live chat solution for your business, it offers all the necessary tools for your company to excel at delivering high-quality customer service. JivoChat has a great and adaptable design for you to adjust to your brand's colors, works on any device (every modern OS, browser and mobile devices) and even allows you to translate messages into 20 languages.
Besides, it also allows you to integrate with many different apps, Google Analytics and even CMS platforms such as WordPress, BITRIX, Magento and many more. When talking about connecting with apps, Facebook comes as one of the major pluses, being the most used social media today. Here we'll give you a list of all the benefits of connecting your JivoChat with Facebook and deliver even greater service to your visitors and potential customers as well as increase your conversions.
1. Be Present on the Most Used Social Media Today
People spend hours on Facebook every day, on desktop computers or mobile devices. Facebook has been a giant when it comes to social media for a while now and in the past years, users have begun to use it even to purchase products or look for recommendations.
Today, Facebook is much more than a place to meet and connect with people, it also offers a variety of business solutions and integrations. Facebook Ads, for example, are one of the best ways to advertise online and have been proven effective in generating conversions as well as boosting overall brand awareness.
Being able to connect your live chat service with Facebook immediately increases your company's credibility by facilitating how your visitors can contact you.
Don't Miss: How to Create Your Facebook Store
2. Your Customers Won't Need to Switch Between Tabs!
If a potential customer sends a message through your company's page or even through one of your Ads, your JivoChat agents will be able to receive that message on their JivoChat app and address any kind of questions or issues.
Your customers won't need to switch around between browser tabs to have their problems solved in a timely manner, which greatly contributes to improving overall customer satisfaction. Today, delivering convenience and helping your visitors save time are important factors for online businesses.
Don't lose customers just because your online chat solution isn't as modern and well-thought as JivoChat!
3. Boost Your Employee's Efficiency
Your agents are going to be able to assist potential customers coming from any platform integrated with JivoChat. That goes not only for Facebook but also for Telegram, Viber and many more.
Having all incoming messages displayed and organized in one single app greatly improves your customer support representatives efficiency by not having to manage different online chat services and apps. Integrating JivoChat with Facebook is not only convenient for your visitors, but also to you and your own team!
Read Also: How an Online Chat Can Help Your Ecommerce Grow!
4. Even More Convenience for Mobile Users
Over 50% of internet traffic and 33% of online purchases today happen through smartphones, and by integrating JivoChat with Facebook, all your visitor's need is to have the Facebook or Messenger app installed to get in touch with your company.
It doesn't take different apps or any extra downloads for mobile users to receive high-quality support from your operators, which also makes for a great opportunity to use JivoChat's telephony features such as call back, in case your potential customers are on the move and unable to type text messages.
5. Make It Easier to Analyse and Evaluate Your Quality of Service
By having everything in one place, it gets a lot easier to check how well your company's agents are doing, who's doing a great job and who needs some assistance. You will be able to monitor and improve the quality of service by checking JivoChat's reports that rate your company's performance on a scale from 0 to 5!
You'll also be able to access all chat sessions from within JivoChat's application without having to search through different chat tabs on Facebook Messenger! There will be no need to create separate data sheets to merge your customer support results and inputs from different platforms.
You Might Be Interested In: Learn How to Compare Your Online Sales Between Desktop and Mobile in Google Analytics
6. Take Advantage of Facebook Messenger Features
Facebook Messenger already allows users to share photos, links and even documents whenever needed. It also displays status on messages such as when were they successfully delivered and read.
Not only that, Facebook Messenger also shows your visitors' name, which makes it a lot easier for your agents to deliver a personalized customer experience and ensure that your potential customers will feel valued.
JivoChat Partnership: our affiliates program pays 30% in recurring comissions!
How to Connect With Facebook?
It is super easy and doesn't take any extra amount of effort to connect your JivoChat with Facebook Messenger! Simply open your JivoChat admin panel, navigate to your communication channels, select Facebook (consider connecting with other apps too!) and you are ready to receive all incoming messages from Facebook directly in your JivoChat app. And yes, it is Free!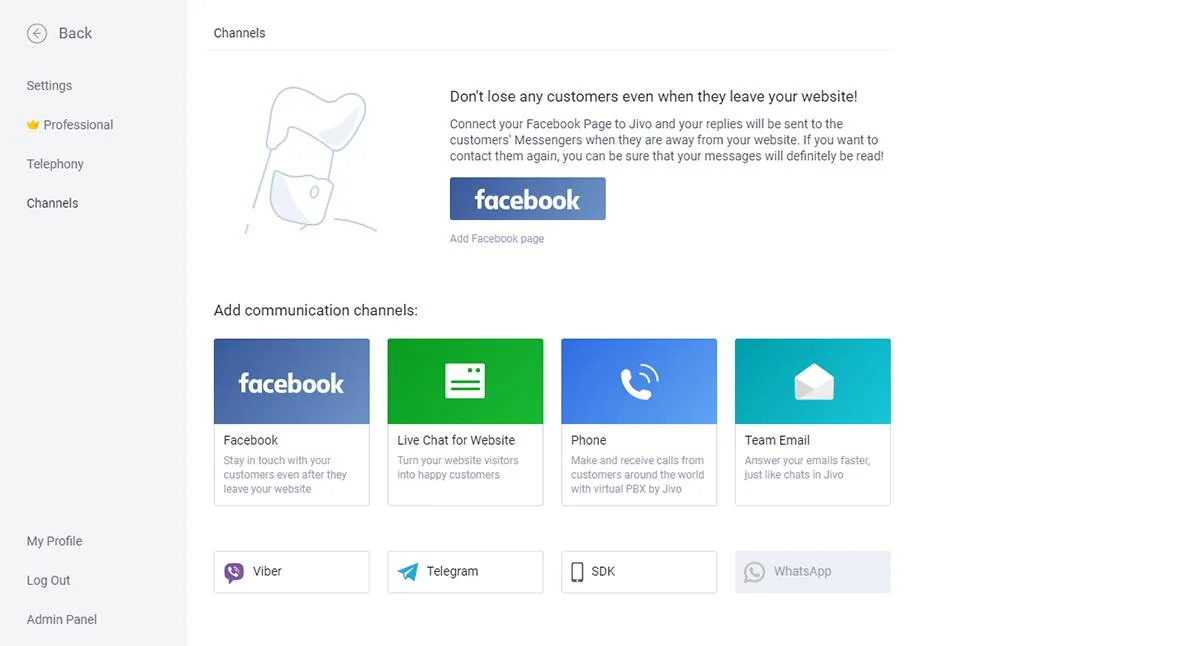 Facebook Is Always Improving, Follow Its Example!
Start today using JivoChat on your company's website and leverage your business by delivering high-quality customer support from the most popular platforms today. JivoChat offers a complete suite of solutions to your company and you can start using it for free right now
Like what you've read?
Sign up and try JivoChat for yourself!
It's free and only takes a couple of minutes to download.