10 Ways to Sell Online in 2018
When talking about selling online, usually the first thing that comes to our minds are marketplaces such as eBay or Amazon, which are renowned e-commerce giants, but there are many different ways to start making money online that don't involve just offering your products on one of those platforms.
Every day more and more people are starting to explore the vast amount of possibilities to start making money and sell their products and services online. According to Statista, which provides information on retail e-commerce sales in the United States, online sales are projected to surpass 500 billion US dollars in 2019. If you are wondering how can you take part in this giant online market, here is a list of 10 ways for you to explore.
1. Affiliate marketing
Affiliate programs are a great way to start earning money online. The idea behind it is revenue share, which means companies are going to pay a commission to their associates for producing content, promoting, recommending and upselling their products.
Four agents participate in the affiliate marketing process. The creator of the product, the affiliate platform in which the products are listed, the content producer, which is the person responsible for advertising the products, and the target audience, which are the ones who will buy the product and generate the commission.
Amazon, which we mentioned earlier, has the first recognized affiliate program which launched in 1996 and is active to this day. Check out their official associates' page.
Read More: Affiliate Marketing - 20 Ways to Start Making Money Online
2. Marketplaces
Marketplaces are one of the most popular choices for merchants that want to sell their products online. These ecommerce platforms allow big retailers and smaller vendors to compete and place their offers, while also providing many advantages such as personalized recommendations based on user's shopping and browsing history, rating systems and being a single place where visitors can find almost anything they're looking for. It's the online version of shopping centers, with many different options and offers.
Today, Amazon is the biggest online marketplace in the US, having started as an online bookstore in July 1995. It is an easy to navigate platform where sellers can add their products to the website's listings. Along with eBay, another giant marketplace, Amazon is a great place to start offering your products online.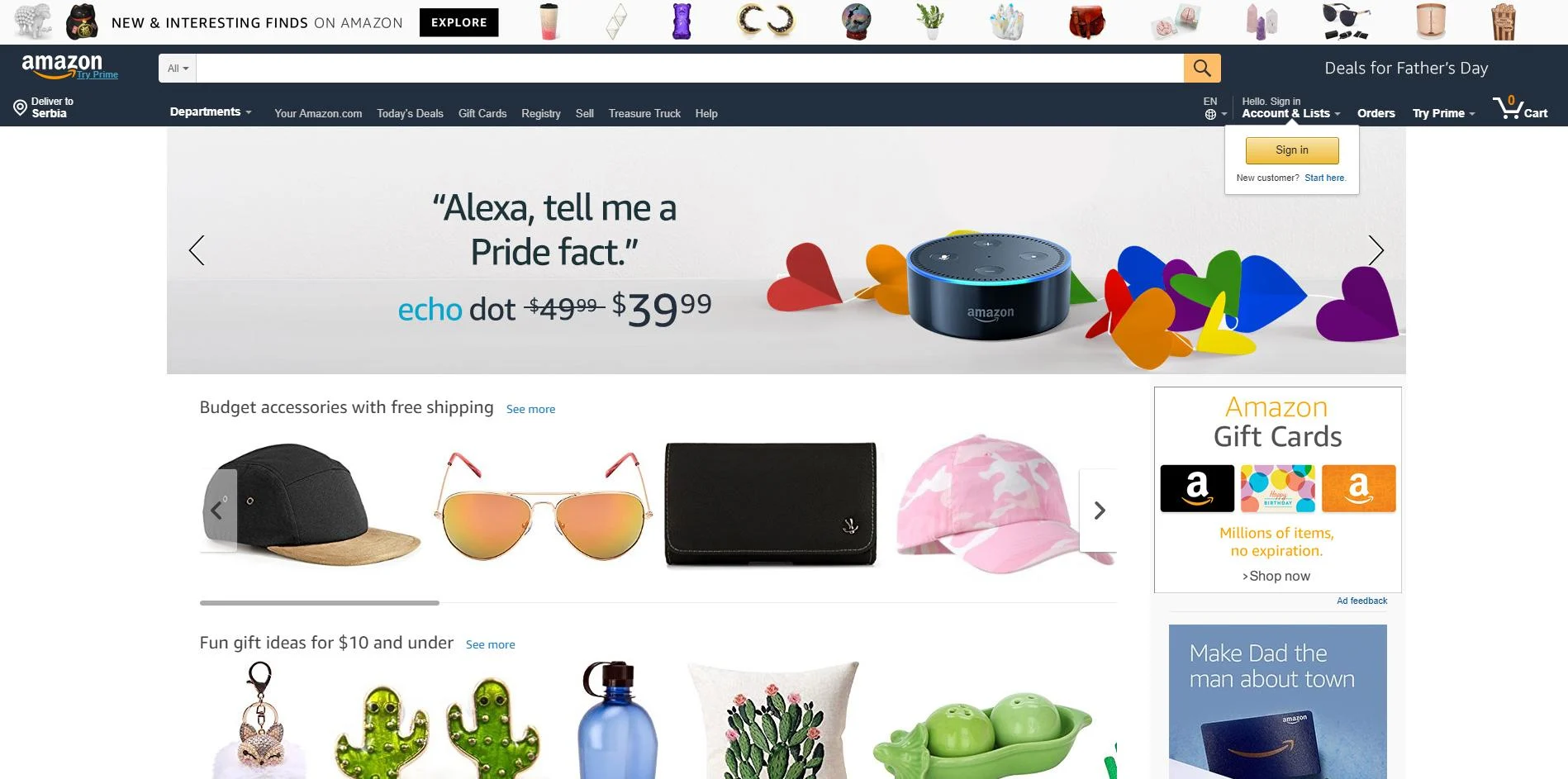 3. Ecommerce platforms
There are many platforms that help you create your own online ecommerce, such as Shopify, Wix, BigCommerce. The best part about these is that you don't need to have deep knowledge in the field of web design and development. These are built to aid you to sell your products and offer different premade designs for you to use. They are easy to use and popular amongst online shoppers.
Most of them offer a free-trial period for merchants to test and see how everything works before having to purchase their different plans. If you don't have the budget to invest in creating your own website or simply don't want to bother doing so, these platforms can just be the solution for you. According to Shopify website, over 600,000 businesses are powered by their platform.
The biggest advantage here in comparison to listing your products on Marketplaces is that you'll have your own platform, which you can customize as you please and allows you to clearly display your brand.
Check Out: How to install chat at a Wix website
4. Facebook groups
Facebook buying & selling groups are a great place to look for people to purchase your products. They are generally used for local market, mainly between Facebook users, which of course doesn't rule out the opportunity for retailers to advertise their products there. It is a great place to find people looking to buy or sell new or used products in your area.
The main issue with buying things directly from other users is that they don't always provide a lot of insurance on the product state and quality, sometimes making it hard to find trustworthy sellers. If you find an issue with your purchase, you're not as likely to get any kind of assistance or a refund as if you'd buy from other ecommerce platforms. On the other hand, the prices are generally more affordable.
5. Email marketing
E-mails are one of the most common used platforms for advertising and marketing campaigns. You probably have received e-mails with special offers or product updates from pages you're subscribed. Sending your potential customers newsletters and product highlights is an effective way to increase your brand visibility and online presence. Keeping in touch with your target audience and directly impacting your sales.
E-mail marketing platforms are usually cost-efficient and easy to use. But before setting up your marketing strategies and e-mail marketing campaigns you need to have a good contacts database. Therefore, while being a good way to promote and advertise your products, it shouldn't be used alone without some way to back it up, such as having an ecommerce website.
Take a Look At: 10 e-mail marketing tools
6. Instagram influencers
Influencer marketing is a new concept that is rapidly growing. Instagram is one of the biggest platforms where people can become influencers. Influencers are an inspiration to other people and many times have their own communities where they start new trends and share with their followers, such as movie stars, models, musicians, etc.
The idea behind Influencer market is to have these people advertise and promote your products to their followers. Generally, looking for micro-influencers which have smaller communities is cheaper than having a famous celebrity showcasing your products.
It is important to choose your influencers with care. They will be representing your brand, choosing the wrong person can damage your reputation instead of boosting it.
Read More: Influencer Marketing Research by Reech
7. Renting websites
Renting websites to companies is a fairly new business model that has been growing steadily. The idea behind it is to do the complete work related to SEO optimization, register a good generic domain, use the correct keywords, and try to rank the website as best as possible on Search Engines such as Google.
Ideally, you will want to select a specific niche, avoid picking crowded areas with fierce competition such as the fitness or sports market, look for something that you could work with locally, like a website for food trucks in your town, for example. After the work is complete, you should start looking for companies in the chosen niche and inform them of how well-placed your website is on search engines and how many visits you are receiving.
Many companies don't bother or fail to invest in SEO optimization and these are the ones who'll be interested in renting or purchasing your well-placed domain.
8. Classified websites
These are websites that allow people to advertise their products for sale without actually providing a billing platform like marketplaces do. Much like a facebook group, these are generally used for local markets and present the same issues (lack of insurance). Craiglist is the most famous peer-to-peer marketplace known, where users can select their locations and search through the website's categories to find their desired products. If you're interested in local markets, this might be a good place to sell your products or services!

9. Partnerships
A great alternative to advertise your business and increase your sales is to buy banners directly from website owners or ads spaces. There are pages such as Advertiise that help you find the best websites to place your ads on.
This is a great way to use other website's popularity to your advantage and is a win-win scenario for their owners: they will be able to increase the amount of compelling content on their pages while also earning from it. In case you already are a website owner, consider selling ads space for brands and companies that are related to your field of work or even make partnerships agreements with other website owners and exchange ads space.
Read Also: The importance of content in customer loyalty
10. Building your own website
Investing in building your own website is a great way to have complete control of your offerings, design and increase your visitors' trust in your brand. It may sometimes be costly at first for merchants that are just starting off depending on the complexity of your business, but creating a website for your brand is definitely worth it as long as you can afford to maintain it.
It is important to remember that having your own website doesn't invalidate other options listed here. Many stores and retailers, while owning their own platforms, also advertise on other pages and list their products on marketplaces. Taking advantage of different platforms to promote their brand and increase their competitiveness in the online market.
Increase your sales with an online chat!
Be it on your own website or ecommerce platforms such as Wix, Jivochat is the online chat solution that will help increase your online presence and directly impact your sales. Offering customizable design to fit in perfectly with your brand as well as allowing visitors to contact you through different applications such as Facebook, Viber, and Telegram. Jivochat also has an Affiliate Program for you to start making money online right away, be sure to check it out!
Like what you've read?
Sign up and try JivoChat for yourself!
It's free and only takes a couple of minutes to download.