The Top 4 CMS Templates for New Websites
February 21, 2020
updated March 11, 2022
Reading time ≈ 5 minutes
Emma Longridge
Content Manager
Using a CMS (Content Management System) Platform is one of the best and fastest ways to create a website.
Most CMS's will allow you to easily customize templates and build your entire website structure without any coding. All you have to do is navigate through drag-and-drop editors and utilize a wide range of preset models.
We know how difficult it is to start out a new online business, that's why we're here to help! To help you pick the best CMS platform, we've listed the most popular options you can use, as well as their pricing plans, pros, and cons. Whether you're looking to build a personal page, a blog, or your business' website, we're sure you'll find a solution in our list.
WordPress is the world's most popular CMS platform. According to their own homepage, today: about 35% of all pages online are built on WordPress.
The main reason for that is because this platform is extremely flexible: allowing people to pick from a virtually unlimited number of themes and to install plugins that can help assure you'll never outgrow your website.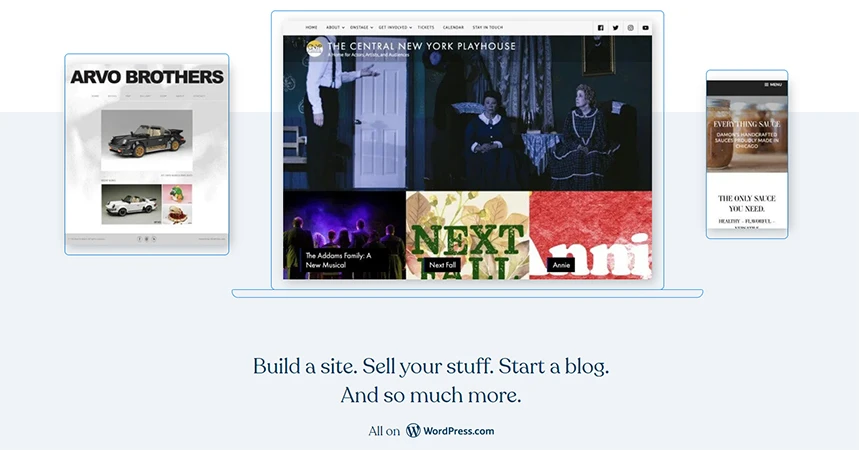 When it comes to WordPress plugins, you'll have access to a wide range of free and paid options, such as digital marketing solutions, SEO tools, and even customer service channels, such as with our JivoChat WordPress plugin.
Here are some of the brands that already use WordPress to power their websites: CNN, New York Times, Spotify, IBM, CBS, TIME, amongst many others.
Pricing
WordPress allows you to create a website for free and stay free forever. However, if you're interested in unlocking more customization, such as using a custom domain, adding custom CSS, or even getting access to custom plugins, their paid plans certainly can cover you.
Pros
WordPress makes it extremely easy for admins to control their website pages
It offers over 50.000 free and paid plugins which allow users to enhance their websites
You can easily find responsive themes which will work perfectly on mobile devices
WordPress is extremely flexible and allows users to customize the core open-source code
Cons
Not all themes are optimized to assure quick loading times
You may need to update your website's theme often to stay up-to-date with security improvements and general enhancements
You may need to code or hire a WordPress developer to create a fully customized website
Weebly streamlines the entire website creation process by giving its users one of the best drag-and-drop editors out there.
With it, you can easily modify all elements in your page, use custom fonts, apply animation effects to your menus, and even input custom HTML/CSS or JavaScript should you need to customize further.
Weebly also offers mobile apps available on Android and iOS, which allow you to easily track your website's performance and manage your pages from anywhere.
Creating a website on Weebly is extremely simple. Pick a theme, customize it as you wish, and browse their app center to find solutions that can help you push the limits of your page.
Pricing
Weebly offers an entirely free plan with SSL Security and up to 500 MB of Storage for your page. With their paid plans, you'll have access to more storage space, the ability to connect a custom domain, and if you purchase the Pro plan, you'll be able to remove Weebly Ads from your website.
Pros
Extremely intuitive and easy to navigate interface
It offers a wide range of extensions through its App Center
Weebly offers great hosting services and all plans, including free pages, have SSL Security
Cons
The free plan doesn't allow you to connect a custom domain
You can only remove Weebly Ads starting from the Pro plan
Very limited storage space for free websites
Since it's one of the most popular CMS platforms available online, we couldn't leave Wix out of our list.
With Wix, you can easily pick a template and customize every single element on the page. Alternatively, you can choose to answer a couple of questions and receive a website template designed according to your needs.
One of the biggest advantages of this CMS platform is that Wix allows you to edit the mobile view in addition to the desktop view, which gives you control over how your page looks on every device.
Pricing
Wix allows you to create a website for free while also offering Premium Plans which you can subscribe to in order to connect your domain and have access to some additional perks, such as being able to remove Wix Ads from your page, unlocking unlimited bandwidth, and more.
Pros
Intuitive and versatile interface
High-quality hosts which help ensure fast loading
Free domain for 1 year starting from the Combo plan
It allows you to edit how your website looks on mobile
Cons
The most basic Premium Plan doesn't remove Wix Ads
Lack of unlimited plans when it comes to storage
Custom mailboxes (email@yourcompany.com are purchased separately)
Last but not least, if you're looking for a simple but extremely effective solution that allows you to create a website within minutes, Webnode may serve you well.
On Webnode, all you need to do to create a website is pick a template you like, add images, text, and context, customize and tweak it to your liking and publish it. It's as easy as that.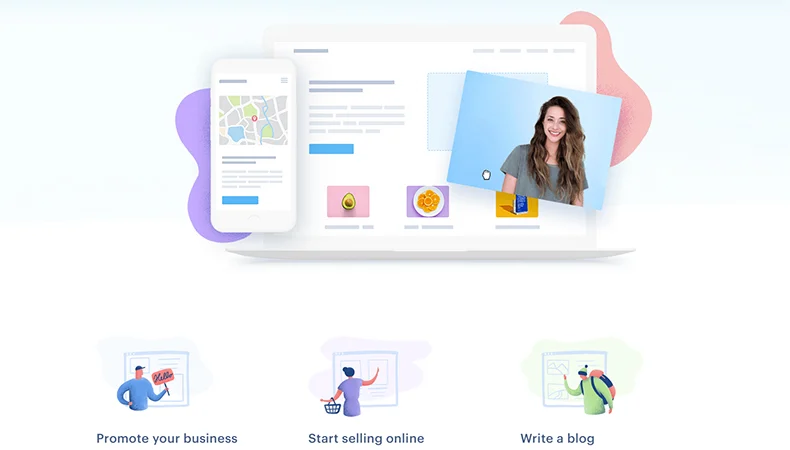 Whether you're looking to create a business website, a blog, or even to open an online store, chances are you'll be able to find a template to your liking on Webnode.
Pricing
Much like the other options, Webnode allows you to create a website for free. However, if you want to connect a custom domain, boost your website bandwidth, storage space and have access to a personalized mailbox, you might want to take a look at their Premium plans.
Pros
Extremely simple website creation process
No Webnode Ads on your page
Google Analytics integration
Wide range of modern-looking pages
Cons
Templates are highly customizable, but you might not find one to your liking
Unlimited bandwidth is locked behind their most expensive plan
Webnode's customer service team can only be reached via email
Ready to create your website with one of these CMS platforms?
We hope that this article was useful for you as you compare different CMS platforms and decide which features and pricing systems most fit your needs as a business.
If you're interested in finding a way to reach peak customer service levels and attract more sales, feel free to also check out our solution. You can easily install JivoChat for free on any of these content management systems to start chatting with visitors in real-time.
Thanks for reading,
The JivoChat Team
Like what you've read?
Sign up and try JivoChat for yourself!
It's free and only takes a couple of minutes to download.