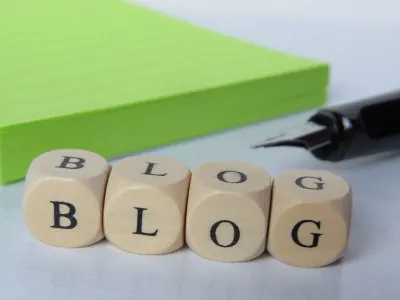 Top 8 Blog Name Generators in 2023
Jaqueline Corradi
Content Manager
Coming up with a name for a website can be a challenging task, however, using one of the best blog name generators available in 2023 can make it simpler. You will have several name suggestions to choose from.
The blog name is how people will get to know your work on the internet, it's part of your brand and must be aligned with it. Whether you have a personal blog or a company's blog, the name is more than an address people type to access the website, therefore, it must be chosen carefully.  
The Importance of Finding a Good Blog Name
When you think of blogs you like to read on the internet, do you consider their names to represent their identity? The person's own name, the company name, or words related to the topics approached are often used in the domain address.
This is because the blog name is strongly associated with what you publish on it. If it's a poor combination of words that has nothing to do with your brand's mission and values, you may lose credibility. Besides, it becomes difficult for your target audience to remember your domain address, or connect it to you when they see it on the internet, for example on a search result page. 
It's fundamental to choose a blog name carefully to build a strong and coherent brand identity that your public can relate to. It will help you to gain more visibility as well because it becomes easier to find your website on the internet. 
How to Choose a Blog Name
It's important to consider some factors that will help you choose a name among the options offered by the blog name generators.
Easy to Pronounce and Spell
When choosing the name, ask yourself if people will be able to pronounce the blog name correctly when reading it for the first time. If not, probably you should choose another one, because mistakes in pronunciation can lead to writing it wrong and having a hard time finding your blog.
For the same reason, the blog name should be easy to spell. Try to avoid too long words, or using special characters and sequences of numbers. It becomes more difficult to memorize a name that has this characteristic.  
Catchy 
Another factor that helps to make your blog name easy to remember is choosing a catchy combination of words. Choose something unique that will stick in people's minds. The blog name generators will be very useful if you lack ideas.  
Keyword-Based
One option to create a blog name is using keywords related to the theme you will approach. It's an interesting choice because your target audience already associates the keywords with the topic. which will make your name easier to remember.
It's also useful with SEO best practices. To have your articles appear on Google's search result pages (SERPs) it's fundamental to optimize them, for example, by using the keyword focus along the text and in the URL. 
With the keywords as part of the website name, you increase the chances of your pages ranking higher in the SERPs, since the blog name already indicates the article subject. 
Brand-Based
Another alternative for creating a good blog name is using your brand's name or combining it with a keyword. For obvious reasons, the brand's name is strongly attracted to a company's visual identity, if you use the same name for the website, people won't have any problem associating them. 
What Is a Blog Name Generator?
A blog name generator is an online tool where you insert one or more keywords, and it provides you with suggestions of names for your blog. They will analyze the best possibilities and offer you name ideas that fit your brand's identity. 
The best blog generators also check the availability of the names since you can't pick one that's already used.  Some of them will even help you with the process of buying and registering a new domain.
Why Use a Blog Name Generator
If you are out of ideas and tired of trying word combinations to come up with a blog name, using a blog generator is going to speed up the process and help you to not get stuck in this step of building a website.
Instead of spending hours writing several names and testing if they are available, the blog name generators will give you several suggestions in a few seconds. Then, all you have to do is analyze them and select one.  
8 Best Blog Name Generators

Wix is one of the best blog name generators, it allows you to find a good name with just a few clicks. You just need to type a word or two that you wish to insert in your blog's name, and the platforms will give you several suggestions. 
To make the options even more accurate, you can insert the industry your business belongs to. After you select the most suitable name, you can check available domains to guarantee yours and start building your website. 
Key features:
Easy to use
Generate name
Keyword-based
Check domain availability
Buy a domain name
Besides being a great ecommerce platform with multiple tools to create and manage an online store, you can also enjoy Shopify to come up with a name for your blog. With just 3 steps you will have multiple suggestions to choose from.
First, type a word you want to put in the blog name, then click on "generate name". After that, analyze the options and click on the most appealing one. You can continue developing your website on Shopify.
Key features:
Easy to use
Auto-generated name ideas
Buy a domain name
Create your online store

When it comes to blog name generators, Nameboy appears as one of the most popular. You can quickly get name insights by entering one or two keywords. It's a simple solution that will save you time.
Nameboy will show you what domain names are available with each suggestion, so you can also select the one with the best suffix. You can also count on other tools, including a podcast name generator, software name generator, and brand name generator.
Key features:
Easy to use
Domain name generator
Brand name generator
Check domain availability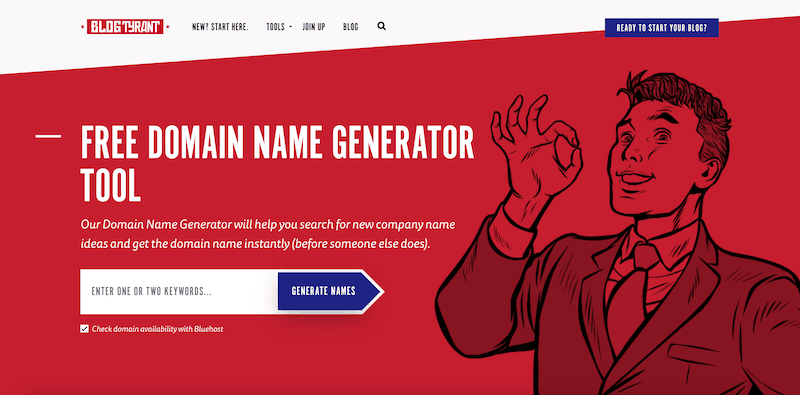 With Blog Tyrant, all you need to do to find blog name options is type one or two keywords you wish to use, and click on "Generate Names". You will get unique combinations, then you can buy the domain using Bluehost services. 
Blog Tyrant also offers other tools to help you with the task of having a high-quality website. You can enjoy the WP security test, WordPress speed test, website uptime checker, password generator, and downtime calculator. 
Key features:
Easy to use
Speed test tool 
Security scanner
Password generator
Uptime checker
Downtime Calculator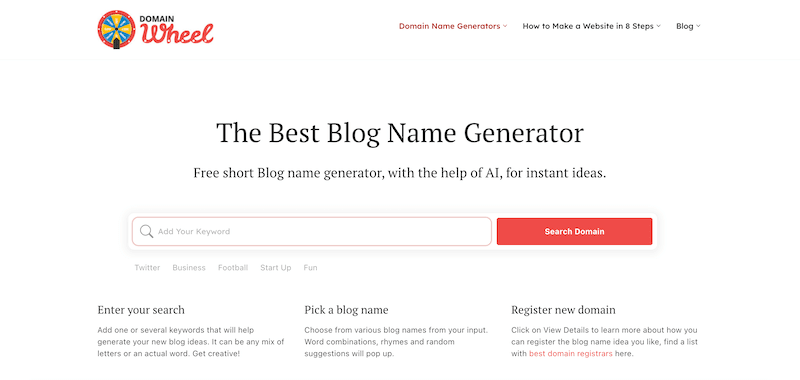 The best blog name generators enable you to not only pick a name, but also register and buy a domain, and that's exactly what Domain Wheel offers. Type one or more keywords and the website will generate name suggestions with the help of artificial intelligence. 
Check the results with the domains available, then click on the one you prefer. You can proceed to buy it, and also choose a website builder, and begin developing your website. Enjoy the brand and business name generators as well. 
Key features:
Easy to use
AI-powered
Check domain availability
Brand name generator
Business name generator
NameStation uses artificial intelligence to provide you with multiple blog name suggestions based on the keywords you type. You can define your niche as well to get more accurate results. 
It's necessary to create an account to enjoy NameStation. You will be able to check domain availability too, and engage with the platform community to invite them to help you select the best name. 
Key features:
Easy to use
Check domain availability
AI-powered
Name contests
Specialized domain search tools

Type the keywords you wish to use, click the search button, and check the results: this is all you need to do to find your blog name with Lean Domain Search. You can also filter the search for more accurate suggestions. 
After that, click on the name you liked the most and choose the best suffix. It will show you if the domain is available or not. 
Key features:
Easy to use
Filter search
Check domain availability

With Panabee, you can search for domain, blog, app, business, and website names. Just type two keywords and press the "enter" button. Filter the results according to what you want, for example, merge full words, drop the last vowel, merge syllables, and much more. 
After selecting the best result, click on "see availability", and Panabee will come up with the blog names available according to the suffix of your choice. You can test multiple variations to define the best domain name. 
Key features: 
Easy to use
AI-powered
Check domain availability
App name generator
Choose a Name and Start Creating Your Blog
Now that you have seen some of the best blog name generators available on the internet in 2023, enjoy them to select a name that suits the type of blog you want to create. This can be the first step to take your project out of the paper. Register the domain name, choose a website builder, personalize your blog, and launch it.
Like what you've read?
Sign up and try JivoChat for yourself!
It's free and only takes a couple of minutes to download.