How to Make a Website: Top 20 Website Builders
September 13, 2021
updated May 5, 2023
Reading time ≈ 32 minutes
Jaqueline Corradi
Content Manager
Do you know how to make a website? Nowadays, having a website for your company is an essential action to expand business opportunities, conquer visibility, create more direct ways to speak to your target public, and, consequently, sell more.
You don't need a team of experts to create a website anymore. There are several resources online. You can select a CMS (Conten Management System) to help you manage the website and keep it always up to date.
How to make a website in 8 easy steps
Learning how to make a website is easier than you think. With just a few steps, you can create your pages from scratch without the need to know how to code or be a design expert.
1. Choose the Best Website Builder for You
One step before actually starting to make a website, it's to define which website builder best fits your needs.
Navigate through different platforms, read about the plan options they offer, and analyze which features are a priority to you. To help you decide, plan the content and resources you wish your website to have.
For example, if you think about having built-in social media sharing buttons or if you already have a domain and want to transfer it. Also, read the customer reviews about the website builders, and enjoy the free trials, then you can explore each platform better. 
2. Use a Unique and Easy-to-remember Domain Name
One of the most important things, when you make a website, is to think about how your page is going to be found by your target audience. Start by coming up with a domain name that is easy to remember. 
Domains that are too big or contain difficult words to spell are usually hardly remembered by the users. Also, it becomes harder to be found on search engines like Google. To create a domain name, you can use your brand's name, for example, and register the domain through the website builder of your choice.
3. Pick a Template that Fits Your Needs
Before deciding which template to use, think about the features you need to add to your website and also reflect upon which layout has more to do with your audience profile. Keep the question in mind: what is going to catch the attention of my potential customers and make them want to stay on my website?  
Another characteristic to be analyzed is which template represents your business visual identity better, including the images you are going to use, the colors, and the fonts. The template has to be intuitive as well, meaning, easy to navigate and find the main features.  
When choosing the template and customizing it, think about the user experience: how easy is it for them to find what they are looking for on your website? That's a fundamental question that will guide you. 
4. Ensure Your Template is Mobile Friendly
Smartphones and tablets are highly used, nowadays, to access websites. Some people even use them more than computers, that's why having a mobile-friendly website is no longer a differential, but a necessity. 
If your website has only a desktop version there is a big chance that you are losing access because of it. Besides, when you make your website with a mobile version it helps as well with SEO, improving the probability of being found by Google searches. 
Most website builders already include a mobile template version in their basic plan, making it automatic. So, it's going to be easy for you. 
5. Customize Your Website to Match Your Brand
When users access your website, they must be able to identify that page is related to your brand right away.
That's why the template has to be aligned with your company's visual identity. Add the logo, and use the same colors from other design pieces you have. If you haven't created a brand manual with a visual identity, that is an opportunity to make one too.
Think of a logo that translates your business proposal, and its values and that can promote identification with your potential customers. You will be able to use it on your website, on your social media pages, email marketing, and others. 
Another important tip is to set a tone of voice for your brand, which means thinking of how to talk with your public. For example, if you have a b2b company, maybe your tone of voice will be more formal, and you will use specific terms.
On the other hand, if you have a streetwear fashion brand, your texts will probably need to be more casual to engage with your audience. 
6. Install Plugins and Apps to Enhance your Website's Features
Plugins are features that you will attach to your website to make the user experience even better, for example when you install social media plugins. 
So, the user can share your website content on other platforms, such as Twitter, Facebook, and Pinterest. Those are very important plugins because when you have your content shared you conquer more visibility. 
Other types of plugins that are essential for improving your website are the ones that allow you to have access to Google Analytics, for example, MonsterInsightsi, and Exactmetrics. They are going to be very useful for accessing and analyzing Google Analytics data, which are valuable to understand your users' behavior and improve your content.
SEO plugins that enable you to optimize your website for search engines are also a must-have. You will find a variety of them, for example, All In One SEO, Yoast, and SEO Press. You can also add other plugins to specific actions like signing a newsletter or fulfilling a form. 
7. Sign Up for a Plan that Suits Your Budget and Needs
The website builder platforms offer different plans, each with some specific benefits. You may feel confused about which one to opt for, but the best way is to analyze what resources you need and which fits your budget. 
Make a list of the main features you will need for your website, and what you can't abdicate, then compare the website builders' prices, and the offered resources.
If you are still in doubt, remember the free trial period some of them have and make a test. Including your website in your marketing strategies and saving budget for it, is going to help you through. 
8. Publish Your Website on the Internet!
In the last step, after you have decided which website builder to use, defined the template, chose the design, created the content, and installed features and plugins: it's time to go public and launch your website. 
But, don't think that's where your job is finished. To have good results, it's essential to keep track of your website performance. Analyze what you can improve and how to do that. The most important part, which is making your website, you have completed. 
20. Best Website Builders
Is your level of experience with making a website of a beginner? That is something that discourages many people from even trying to have a digital presence. But, we are here to help you and show that, nowadays, having your domain can be easier than it seems. 
Ready to start? Take a look at the 10 best website builders you can use now that you know how to make a website. This can be the first step to discovering new possibilities for your entrepreneurship. 
We couldn't talk about how to create a website without mentioning Wix. This is one of the most popular platforms when it comes to developing your digital domain, without needing to have design or coding skills. 
You can choose from more than 800 templates and customize your website according to your demands. For example, adding features such as links to your social media pages, creating an online store, and attaching your portfolio. 
Another advantage is that Wix optimizes the site considering SEO strategies, so you can gain more visibility on Google searches. It also creates a mobile version, which helps a lot when we think about user experience. 
The platform offers a free trial for 14 days, allowing you to test their resources, learn how to use every tool, and then decide if it's what you are looking for.
Pros:
Over 800 customizable templates;
Built-in SEO tools;
Custom domain availability on every plan;
Free SSL certificate;
Scalable storage space;
14-day free trial;
24/7 customer care and Priority customer service on the VIP plan.

If you are looking for an easy-to-use website builder, Bluehost offers the solution you need. It has intuitive tools that enable you to create pages from scratch. Start by selecting your domain name, then choose a pre-built template and customize it.
It also offers SEO tools so your pager will be more likely to rank in the first result pages in search engines like Google. If you need expert help to solve any problem with the website, you can request 1:1 guidance, and enjoy 24/7 customer support too. 
Other benefits from Bluehost are automated security updates, backup data protection, malware detection, and free SSL. You can also use WooCommerce to build an online store and sell products and services through your website.
Pros:
Free domain
Free SSL
Free CDN
Pre-built templates
Insightful analytics
Automated security updates
Backup data protection
24/7 support
SEO tools
Powerful plugins

Imagine just uploading the content you desire to publish and receive, as a result, a website already set with diversified features. That's what the Site 123 website builder does best. It's not even necessary to drag and drop items to build the layout. 
Also, when it builds your website Site 123 takes into consideration the SEO techniques that enable your pages to be easily found on search engines, such as Google.
The domain name you receive is developed automatically by the platform,  but you can pay a monthly fee to customize it. 
The website will be adjusted to be easily used on different devices, having a version for desktops, smartphones, and tablets.  If you need to add any content or make changes, you can do it at any time and rely on the 24/7 support from Site 123. 
The website builder offers 2 plan options, the free one and the Premium where you can build e-commerce, and have a free domain for 1 year, among other benefits. 
Pros: 
Intuitive website editor
SEO tools
Custom domains
24/7 live chat support
Mobile friendly
250 MB storage with the free plan
Free domain for 1 year with the Premium plan

Hostgator has several services and one of them is the website builder. To develop your website it is necessary to follow only 5 steps. First, you will be asked a few questions, so the platform, through AI, can suggest a layout that best suits the features you want to put on your page. 
After that, you have 2 options: upload your logo or use the logo maker and generate one. Then, you will be given access to the image library where you will be able to choose the photos, icons, and illustrations for the sections of your site. 
The fourth step is to customize the website by deciding which template to use, the fonts, colors, and other features. To conclude, review everything and just click to launch it.
Hostgator has a search optimizer, that offers free hosting, free domain, and access to metrics that help to analyze the users' behavior.
After deciding which plan you want to sign, Hostgator guarantees a 45-day trial, where you can have your money back if you dislike the service.
Pros: 
45-day money-back guarantee
Free 1-year domain registration
Free website domains and domain transfers
Website statistic tools
Webmail access
24/7 live chat and phone support

If you are looking for how to build a website using a free tool, Webnode is an option that you will find very helpful. They have a user-friendly website builder which means that each page is created focusing on the user experience, making it easy to navigate the website. 
After signing up, the first step is to choose the template that fits better your business needs and customize it the way you prefer.
You can edit, and add pages and content on your browser, without downloading anything, you can even manage the website on your smartphone. 
One of the many Webnode features is to make a backup from previous versions of your website, so you don't run the risk of losing any valuable content. Another benefit is relying on a fast server, the users won't have to wait long for the page to load. 
If you wish to upgrade your website even more you can choose paid plans that offer lots of benefits like premium support,  access to google analytics, email account, and other things, depending on the plan of your preference. 
Pros: 
User-friendly website builder
Free website on the Webnode subdomain
Fast loading
Allows to create a backup from previous versions of your website
Built-in SEO tools
Free professional photos
Form builder

GoDaddy also allows you to make a website for free through simple steps. The first thing to do is to pick a template, then add your content and include the wanted features.
You can also use the platform to create pieces for your social media accounts and email marketing at GoDaddy Studio. It enables you to build an online shop for free, as well, but, to start selling, it's necessary to upgrade to the paid plan. 
Managing websites, emails, social media, reviews, and orders using just one dashboard is another facility provided by GoDaddy, it helps you to have a global view of your marketing strategies. 
The free plan includes resources like email and social media marketing, SSL certificate like Comodo, and 24/7 support, while the paid version gives you the possibility to sell on different marketplaces, get SEO, and have a list of products on Google Shopping. 
Pros:
Create your website for free
Choose from more than 100 templates
Customize the website as you wish
Integrated marketing tools
SSL certificate
24/7 customer support

One of the most famous website builder platforms is, undoubtedly, WordPress. Probably you have already seen this name somewhere and that's for a reason, 42% of the websites we visit are created using this tool. And what makes it so popular is how simple and intuitive it is to build a page. 
WordPress offers a free plan that gives many tools to customize your website, several templates, colors, and fonts, for example.
That being said, you can choose from another 4 plans: Personal, Premium, Business, and eCommerce, each one built to support different necessities. 
While working on a post in WordPress editor you don't need to worry about losing the content you wrote, because the system saves your words in seconds. Besides, you can edit or update your website on your smartphone or tablet. 
WordPress provides SEO tools, information about your visitors, and allows sharing automatically new posts on social media such as Facebook and Twitter. 
Pros: 
You can make your website for free
Customizable layout
Mobile-friendly
Update your site from mobile and desktop apps
Built-in social sharing
SEO tools
In-depth stats

Build a website in 30 minutes without needing to know coding or design: that's Strikingly proposal. With simple and easy edit tools that give you many options to customize your page and add features such as e-commerce, forms, sign up for newsletters, and register membership. 
The websites have analytics built-in which is very important to analyze the content performance and identify where you can improve your strategies.
You can integrate your social feed, from Twitter, Facebook, and Instagram, to appear on the website too, create a new domain or use one you already own.
Strikingly offers 3 different plans, Limited, Pro, and Vip. They are paid monthly, and each one was designed to fit different needs. 
Pros: 
Build a website in under 30 minutes
Register membership
Create and manage signup, forms, and newsletters
Analytics built-in
HTTPS built-in
24/7 customer support

If you don't feel like spending money to create your website for the first time, that's ok, you can use free versions of website builders like the one Weebly offers. The platform is very easy to navigate and you will be guided by each step.
They provide many template options, you can customize the whole layout and develop your online store. Worried about helping you succeed, Weebly also has a customer success team ready to give you tips about growth on the internet. 
Pros: 
 Get business growth tips from the customer success team
Templates fully customizable
Image editor
Animation effects
Manage and track the performance of your website from the mobile app
SSL security
In case you are someone with design experience but no knowledge regarding coding, Webflow was thought for your needs. It gives you amazing design tools to develop the full identity of your website in a unique and personalized way. 
You will be able to control coding languages like HTML5, JavaScript, and CSS3, but using the canvas template. Webflow is going to be responsible for translating your design into coding.
The website development is free, you are only going to pay when you launch your domain. 
Pros:
Build your site for free
Control HTML5, JavaScript and CSS3 in visual canvas
Design responsively 
Create a layout the way you want
Integrate marketing tools
Simple editing tools
Automate your SEO

Web.Com has an intuitive interface, so it becomes easy to build different types of websites the way you wish. Use the drag-and-drop tool to customize every detail of your pages, including the text, photos, and where you will put every button. 
If you have any doubts, you can even count on one free hour of web design support. Web.Com provides you with more than 150 professionally designed templates,  and ready-made content blocks too. They have multiple website plans, so you can choose the one that fits your needs and budget. 
Pros:
Customizable templates
Easy drag-and-drop technology
Built-in web hosting
SSL certificate
Expert support 
User-friendly marketing tools

With SquareSpace, you are going t see how easy it can be to have an outstanding website. You can start by choosing among their industry-leading templates, then choose the color palette, and fonts to make each page aligned to your brand's visual identity.
If you intend to have an online store, you can count on SquareSpace made for that and also add third-party plugins. Besides, the platform offers tools to create email campaigns and use social media to promote your website. You may create different types of pages, such as a blog, portfolio, curriculum vitae, and online store.
Pros:
Wide range of templates
Marketing tools
Ecommerce tools
Logo maker
24/7 customer support
Free trial
With Ionos, you can build your website the way you want. It's possible to make one with just three steps, first choose a design, then add your content, and just click publish. In each one of those steps, you are going to count on several tools to help you customize every page, and get a high-performance website. 
Ionos provides multiple industry-specific templates, for example, to online stores, restaurants, real estate businesses, travel agencies, and much more. You also can edit the images and texts as you prefer, and enjoy the free image bank that contains more than 17,000 photos. 
Pros:
Professional templates
Customization tools
SEO tools
Free SSL certificate
Responsive design
Easy analytics
Built-in privacy tools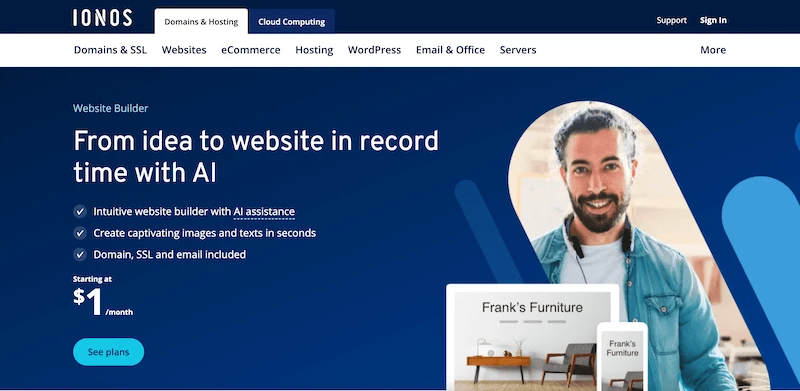 Duda is a website builder focused on the creation of digital marketing agencies' websites. There is no need to know how to code to use this platform. Enjoy the drag-and-drop tool to customize each page of your website and leave it with your brand's identity. 
You can choose among the pre-designed templates, so you don't have to design everything from scratch. All the websites build through the Duda platform have a responsive design, which means they will perform well on desktop computers and mobile devices. 
Pros:
Dra-and-drop tool
Dudaflex editor
Responsive design
Pre-designed templates
Showcase your portfolio
API integrations
Dynamic pages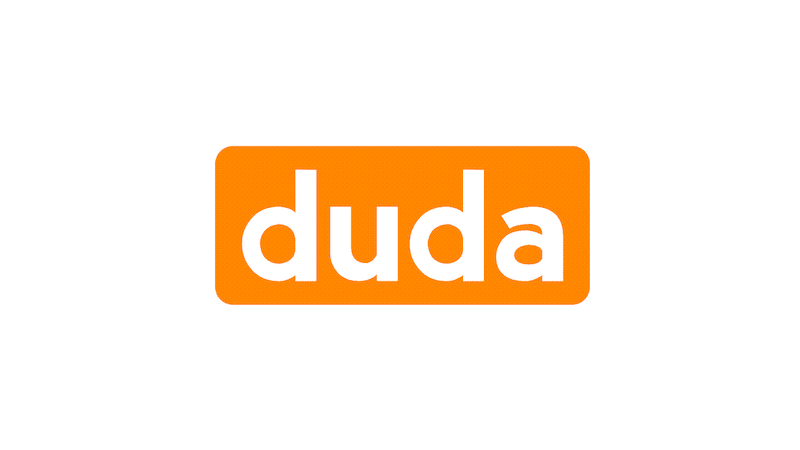 With Jimdo, you can have your own website for free. Use the built-in design features to personalize every detail of your site web pages. Add the images, logo, and text, and position every element to make it easy for users to navigate through. You can choose your domain name through the platform too.
All the websites are developed with a responsive design, so the user can enjoy them whether they are on their mobile devices or on a desktop computer. Count on Jimdo's free image bank to use high-quality photos that will make your website more appealing. 
Pros:
Built-in design features
Responsive design
Copyright-free photos
Connect with social media
SEO tools
"Build beautiful websites in minutes, without code", that's what Dorik proposes to its users. You will have a single platform to not only build your pages but also maintain them always up to date. For example, by inserting new articles and features as you see necessary.
The platform offers more than 60 professional templates and over 250 UI blocks. You will have a free SSL certificate, and the website will be hosted on AWS and Digital Ocean. If you plan to build an ecommerce, there is the option to integrate PayPal, Stripe, and Gumroad. You also can add subscription forms to your website.
Pros:
More than 60 templates
Over 250 blocks
Free SSL
Payment integration
Custom domain
Export code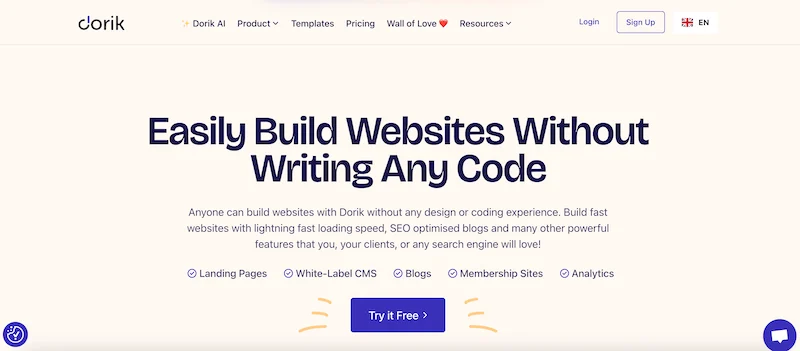 Simvoly allows you to create your own customized website using the drag-and-drop tool. It offers several assets to become even simpler to design the pages the way you wish, which includes more than 200 templates, custom blocks, and elements. Choose the fonts, color palette, add images, and make A/B tests too. The design is fully responsive.
If you intend to make an ecommerce, tools like sales funnels and custom checkout will be very useful. You have the option to customize the buyer journey. Besides, you will have access to detailed analytics to get to know your target audience better and understand how to improve the website.
Pros
Page builder
Drag-and-drop tool
More than 200 templates
A/B test
Responsive design
Sales funnels
Custom checkouts
AI assistant

Volusion is a platform focused on enabling you to create your own ecommerce website. You will find beautiful themes for different types of stores. All you have to do is choose the one that suits you best and start customizing it. 
To help you make your website stand out, you can count on a team of experts, including SEO experts, web designers, and marketing professionals. To enhance the user experience when browns through your website, Volusiion offers several options to personalize the layout, you have different types of displays to showcase your products. 
Pros:
Ecommerce website themes
Responsive design
Customize layout
Product display options
Home page slideshow
SEO tools
Fast loading

With HubSpot, you count on a free drag-and-drop website builder. You can create your website without any coding or technical skills.  The editor is easy-to-use and enables you to personalize all the pages. 
To facilitate this task, you can choose a pre-built template. As you build every page, enjoy the preview tool to make sure the website is exactly as you want it to be. HubSpot also provides you with a free SSL certificate.
Pros: 
Drag-and-drop website builder
Intuitive editor
Pre-built themes
SSL certificate
Free blog maker

Elementor is a WordPress website builder where you can build, manage, and host your website. It offers you more than 100 website kits, so you don't have to worry about designing the page elements.
The platform also has a drag-and-drop editor, which is easy to use, doesn't require coding, and allows you to personalize your pages. It's possible to create different types of websites, such as landing pages, portfolios, online stores, and event pages. 
Pros:
Drag-and-drop editor
Full website designs
World-class hosting
Fast loading speed
Professional workflow
Custom integrations

10 Tips to Improve Your Website
After learning how to make a website, you may ask yourself if to have better results and achieve the goals you want with your pages, it's necessary to hire a professional in the area.
But, you will find plenty of resources that simplify this task. Just as it is possible to learn how to make a website from scratch all by yourself, you can rely on other tools to enhance it. Take a look at these tips:
1. Optimize Your Page for Visitors on Mobile
According to Statista research, 90 percent of global internet users go online using mobile devices, such as smartphones and tablets. In 2020, the number of mobile internet users was 4.28 billion. These are impressive numbers, don't you think?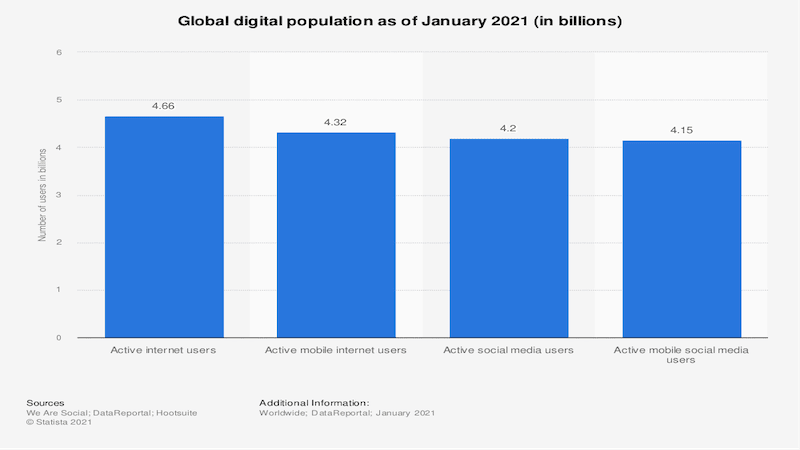 In January 2021, the number has risen from 4.66 billion internet active users, 4.32 billion of them are active mobile internet users. That's why it's important to have pages with mobile versions. 
Think of your own experience, probably you have already tried to access some website on your smartphone that isn't mobile-friendly.
It's usually hard to navigate because there is the need to zoom things in all the time, the pages don't fit the screen size well, right? This leads thousands of people to just get out of the website. 
You certainly want to avoid that. after you dedicated yourself to learning how to make a website and build it from scratch. Furthermore, you want to get the expected results from all of the work made. 
2. Use a Modern Template Design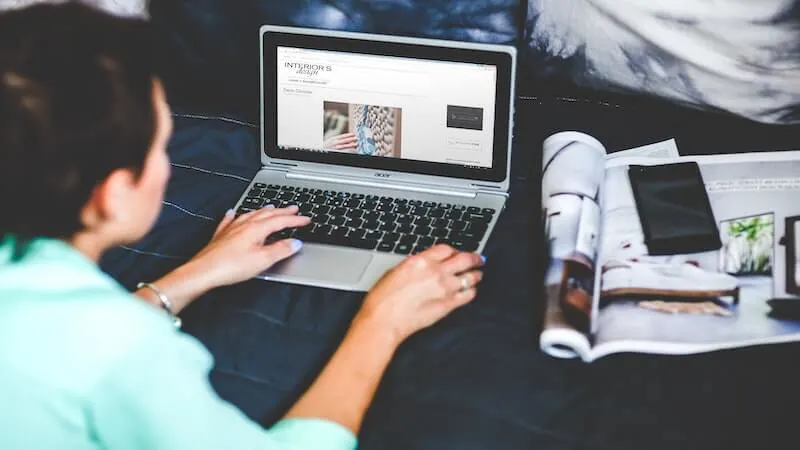 If we produce a timeline from the beginning of the internet when the first websites were launched, until the current times, the advance in layout and design is easily perceived. It isn't necessary to go further, just remember the website templates from the 200s. 
The features and functionalities have increased immensely. You wouldn't desire that when someone accesses your website, they have the impression your page is outdated. It doesn't deliver credibility, many users turn away when they see a layout that doesn't match the modern templates. 
So, when you make your website, pay attention if you are picking a template that has an intuitive design, with a layout that invites and instigates the user to keep navigating. Your website pages can be the first impression someone has of your company. You don't want anyone to think your business isn't updated with nowadays technologies. 
3. Use light Colors and Keep your Design Clean
Too much information and strong colors in a template design can be overwhelming to the eyes, making the page difficult to read or find the needed information. Keep it in mind when you build your website design, user experience has always to be on focus. 
Vibrant colors such as red, yellow, or orange can be interesting to use on details, on the title,  on your logo,  or on an image, but on the whole background of the blog section, for example, may discourage the user to continue reading. While scrolling down, they can feel their vision exhausted. 
That's why, it's advisable to opt for light colors and a clean design. With the features well organized, for example in the superior menu or a sidebar, it's simpler and it becomes more intuitive to navigate.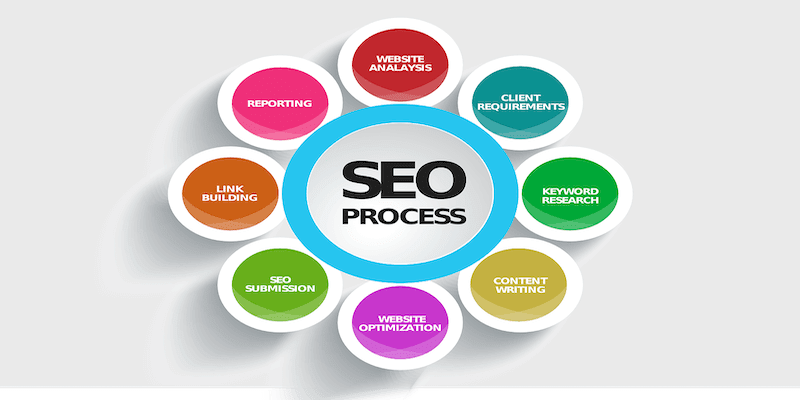 4. Go hard on search engine optimization
With search engine optimization, known as SEO, you have the potential to make your website grow in traffic by ranking better in search results. For example, appearing on the first page of specific keywords search results at Google. 
When you achieve that, your traffic grows organically. You increase the chances of reaching your potential customers and, consequently, increase your revenue by selling more. The question you must be wondering now is how to apply SEO techniques.
There are several aspects to take into consideration, to improve SEO. First, let's talk about the ones related to the functionality of your website. It has to load fast, be user-friendly, have a mobile version, and have an intuitive template. 
The other aspect you need to look at thoroughly is the content of your website. Use Google Analytics to get to know your website visitors better.
This tool allows you to identify where the accesses come from, which is the page with more access, how much time is spent in each section of the website, which is the page where most people leave the website, and many other valuable data. 
Study this to think strategically about what content to post, which topics are interesting to your potential customers, and how you can help them solve their demands.
But, before creating articles, take a look at the most researched keywords of your users, define the ones you are going to use in each text, and analyze the content posted by your concurrence. 
5. Use High-Quality Photos and Images
Do you know when you open a website on your browser and the image is pixelated? Usually, it's because the image has a low resolution and won't function properly on all devices, computers, smartphones, or tablets. It decreases the quality of your content.
When adding pictures or illustrations make sure they have a high resolution, your design will look much better and it helps with SEO as well, besides enhancing the user experience.
Some website builders offer free image banks, with thousands of photos to choose from, but you can also use other free image banks such as Pexels, FreePik, and Unsplash. Just, always make sure the image has free copyrights. 
6. Track Your Website's Loading Speed
Another critical point that often makes people close a website page is if it takes too long to load. Do you know the old expression "time is money"? It still valid, users don't want to wait more than a few seconds to access a page. Just put yourself in their shoes, how many times have you given up seeing content because the page is slow?
To improve your traffic and SEO, don't lose sight of your website's loading speed. Many tools can help you in that task, they give you not only the load time information but also the number of requests to load the page, improvement recommendations, and page sizes.
Some of the website speed test tools you can use are Dotcom-Monitor and Sematext.
7. Don't Flood Your Website With Ads
One way to get revenue from your website is by selling ad space on your pages, but be careful with that by not inserting too many ads.
Making a comparison with television and streaming platforms, many people prefer streaming not only because they can binge-watch tv shows, but also because no ads are interrupting the fun.
When you are reading a website page, if the article has an ad for each paragraph, for example, it disturbs the concentration and also can stop the users from getting the information they need. 
It doesn't mean you shouldn't put any ads, just don't pollute the page in a way that becomes hard and stressful to navigate. Also, analyze where the ads can be put to appear more organically.
In this article, you probably have realized Google Analytics is mentioned several times. This is for a reason, that tool is a valuable asset to know your audience, understand your website performance, and develop ways to improve constantly. 
So, after you make your website, install a plugin that allows you to have access to Google Analytics. You are going to see that it's easy to learn how to access the reports and look at the graphics and all the data.
You will have access to data such as the main regions where your users come from,  what type of device is mostly used to read your pages, and the main age group that forms your audience, among other things.
These types of data allow you to constantly improve your website content, adding features and articles that are pertinent to your potential customers.
You will see that the initial website planning is going to change along the way and that is amazing. As you produce more content and add other features according to Google Analytics reports analysis, you increase your chances to grow on traffic and turn potential clients into actual clients

.
9. Learn About Your Website's Legal Requirements
Have you ever heard about General Data Protection Regulation (GDPR)?  To make your website it's very important to study more about this subject.
GDPR is a regulation created to protect the privacy of the personal data of EU citizens, and it obliges companies to have policies and install mechanisms to ensure that protection online. 
You have to guarantee that when the users access your website, data like their name, address, ID number,  photos, documents, health and genetic, sexual orientation, political opinion, cookie identifiers, and username among others, are confidential and must be protected.
GDPR applies to you if you:
Process personal information from EU citizens
Have a presence in any of the EU countries
Have more than 250 employees
Your data processing impacts the rights and privacy of EU citizens, regardless of the number of employees you have.
10. Sign Up for a Paid Plan
As you could see through our list of website builder platforms, some of them offer free plans. But, even though it sounds tempting to use the free ones, there are significant advantages to signing up for a paid plan, which will highlight your website from others. 
By using a paid plan you can take off the CMS from the domain name, and create a simpler website address, like www.nameofyourcompany.com. Just that already makes your website name easier to be reminded by the users, helping as well with SEO. 
When you choose a paid plan, you can remove the ads or put the ones you want. Besides, the paid plans offer more storage space, faster load speed, SSL certificates, advanced SEO tools, and Google Analytics integration. They have other benefits too, depending on the platform and paid plan you choose.
FAQ About How to Make a Website
To make it even simpler to build a website, we have separated frequently asked questions, so you can take all your doubts and feel more confident about making your website from scratch. 
What is a CMS?
CMS stands for Content Management System, it's the platform where you are going to make your website and manage it. All of the website builders we have listed are CMS, such as Wix, Hostgator, and GoDaddy, 
CMS allows you to create the website, choose the template, customize it, add content, and features, without needing to know coding or design. It gives you the infrastructure to do the work, so you don't have to develop your system, simplifying the whole process. 
How much does it cost to build a website?
In some CMS, building a website costs nothing. When you choose the free plan, you can make the interface from predesigned templates, build different sections and launch the website without paying anything.
But, beware of the limitations of this type of plan, also some platforms allow you to make the website, but you have to start paying when you publish it. 
How long does it take to build a website?
It depends on the CMS you choose, and what you intend to insert on your website if you wish for a more personalized design or have the need to install several plugins before launching.
But, in some website builders, following their step-by-step guide, it's possible to have a website in 30 minutes. 
Is it worth it to use a free website builder?
Using a free website builder may be worth depending on your needs or if you want to just make the website to test and then invest in a paid plan as it grows.
The free plans have some limitations, such as having the CMS name as your domain name. Check all the resources the free website builders offer and what is essential for you, in the beginning, before making the decision.
Now you know how to make a website!
Now that you got acquainted with the different website builders, and understood the steps of how to make a website, you are ready to start. No worries, you are going to realize how functional and intuitive a CMS is. 
One last tip, before clicking publish, make a review, if you have added the images to the right size, check for spelling errors, if the toolbars are in the right places, and if text boxes, titles, icons, and logos are positioned correctly. 
The website builders allow you to have a preview version of the pages, click on that to certify everything is perfect. That's it,  you just finished learning how to make your website.
Like what you've read?
Sign up and try JivoChat for yourself!
It's free and only takes a couple of minutes to download.