10 Landing Page Examples to Inspire You
Reading time ≈ 17 minutes
Jaqueline Corradi
Content Manager
Landing page examples are a great asset to learn how to build a high-converting page that will help you achieve your purpose. It's fundamental to pay attention to the details that will drive your target audience's attention.
Attractive design, convincing copy, and direct and compelling call to action (CTA) are some of the factors that create a good landing page. They will vary depending on the purpose, the type of business and who is the target audience as you will be able to see in the landing page examples. 
What Does a Landing Page Serve For?
A landing page is a standalone page created with a single purpose to convince the reader to take a specific action. It can be, for example, subscribing to a newsletter, download an ebook, answer a survey, or buy a product or service.
The user lands on the page, as the name itself suggests when they click on a link from an email, an advertisement, for instance. 
Different from a home page, for instance, which is built considering how to welcome the reader to the website, and convince them to navigate through the other sections, the landing page is created with a single purpose, and every detail on it must be thought to achieve that purpose.
Landing Page Examples
When it comes to landing page examples, there are some factors that are essential to analyze. The page needs to have an appealing design that is aligned with the brand identity and with its target audience, put a clear and attractive call to action, and give compelling reasons for the person to follow the action. Let's analyze some of them.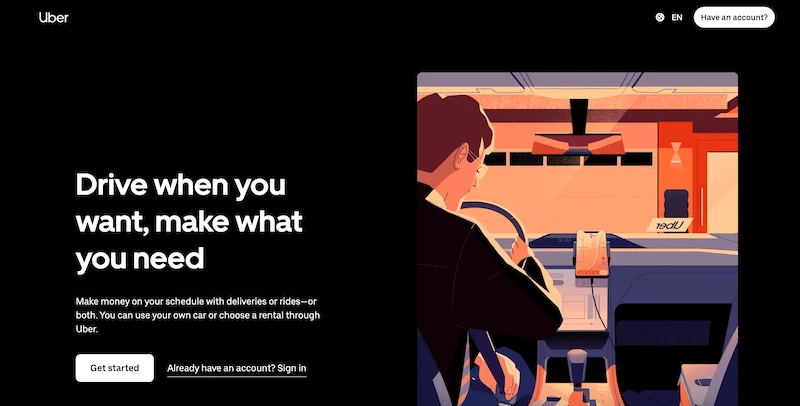 Uber's landing page has a clean yet interesting web design, which presents elements that are aligned with its Brand. For instance, black and white which are the color of the logo are used in the background and the text and the font type is the same one used in their app. Those are details that create a coherent image and reinforce the brand image.
The text is direct to the point. It presents advantages why the reader should sign up to become an Uber driver. At the end of it, the visitor can see the call to action highlighted, indicating that to move forward all they need to do is click on it. 

When you access the Spotify landing page, within seconds it's possible to know what the page's purpose is, and that's a fundamental characteristic of high-converting landing pages. The reader must be able to know what the next step to take and how to do it. It's possible to see that the page design was carefully created to do that. 
Besides, the main benefit "All the music, without all the audio ads" is written on the top of the page, in a bigger size. Then, you can learn a little bit more about the offer, and click right away on a button that is strategically placed at the end of the text and with a different color to make it stand out. The reader is taken step by step until the main objective, which is signing up.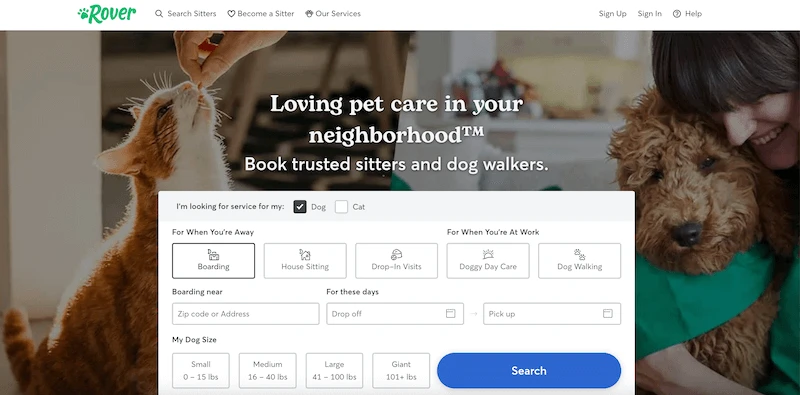 Rover is a service to find sitters and dog walkers, and its landing page knows how to use different design elements to drive the reader's attention. For example, the background image is a cute one showing people with their pets, a cat and a dog, which speaks to different pet owners. 
The main message is highlighted in the center of the page "Loving pet care in your neighborhood". This way the reader understands right away what the page is about. The call to action in this case is to look for the service you want, filling out the form.
This form is right at the center of the page driving attention to it, and every piece of information is well-organized so it's easier to select what you want, enhancing user experience.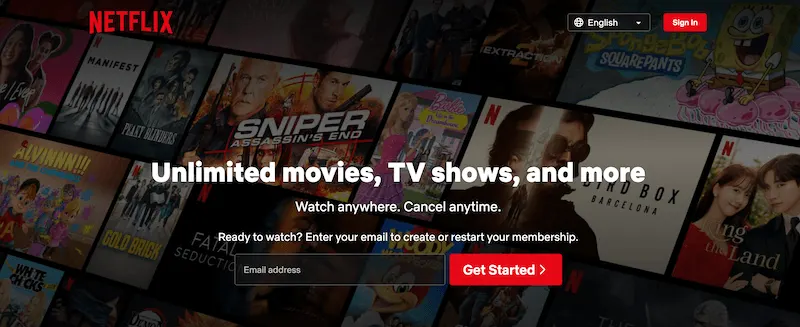 Among high-converting landing page examples, Netflix certainly stands out. The streaming service is known worldwide and has created a strong brand. They understand that and use it in their favor. 
The landing page design follows the brand's visual identity, using its color palette, and font type, for instance. Probably, if you see the page without the logo, you would still be able to associate it with Netflix, because they built a strong identity. 
Beyond that, what makes this landing page stand out is the clear and direct message of what the reader should do next. Everything is explained in a few words, and you can see in the center of the page a space to fill your email address and subscribe. The process is simple and fast, which encourages the users to do it.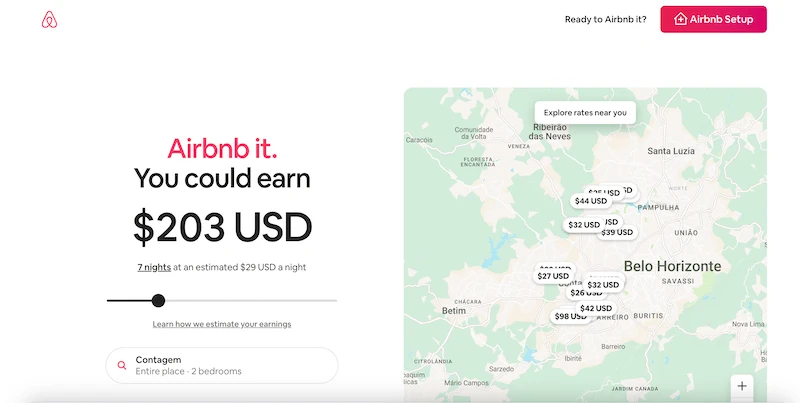 One important element in an effective landing page is to show why the person should follow the CTA, and what they will gain from it. Airbnb does it perfectly in this landing page example. The central message is how you could earn from renting your house. 
On the right side of the page, you can see the estimate of how much is charged for places in your region. They give a convincing reason to compel you to estimate your earnings and learn more about the platform. The page design is simple with not many elements to focus the attention on the main message, but using Airbnb's visual identity.
It's also important to check landing page examples for events as they are commonly used to convince people to subscribe to the event. In this case, Dream Force uses an appealing video in the background that shows images of the space, conferences, and activities that happen in this convention.
The main message encourages the wish to be innovative and ahead of your time playing with words by saying "Calling all TrAIlblazers". The AI is written in yellow to highlight the topic of the event. 
At the same time, this phrase uses a sense of urgency, promoting the thought that if you want to be a trailblazer you should participate. The CTA is clear and direct "register now".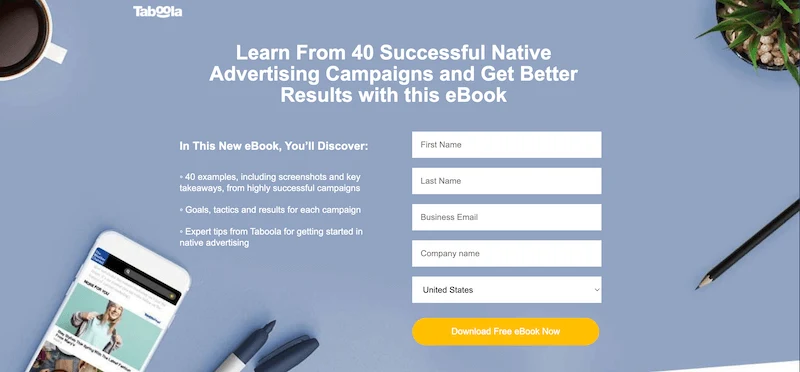 One effective way to attract leads and gather more information about them is offering something free in exchange for filling out a form with the person's name, email, and company name, for example. That's the case with the Taboola landing page. 
They explain why the ebook is worth reading, offer benefits to the reader, and compel them to fill out the form and download the ebook. The design is minimalist with just a few elements so the focus is on the main message.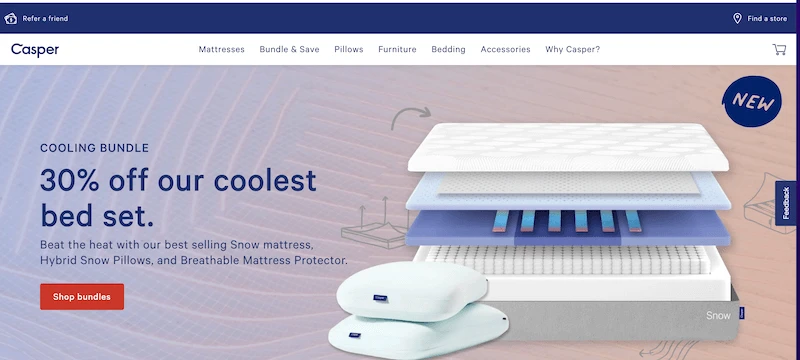 This landing page example is about convincing someone to make a purchase. The Casper company gives a very attractive reason at the center of the page, 30% discount. This is a piece of information that has the power to make the reader want to continue on the page and keep reading.
Once the reader's attention has been gained, they give more reasons why it's worth making the purchase. The image in the background complements the message by showing the product materials. While the color palette is mostly in shades of blue, the CTA button is in red, making it stand out.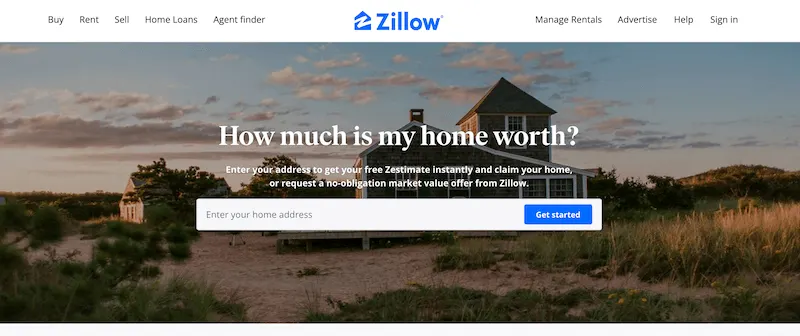 In this landing page example, the main tactic is instigating the reader's curiosity. They make a pertinent question to their target audience, who are the homeowners. Through that, Zillow can achieve its purpose which is getting more information about potential customers. 
To have the question answered, which is "How much is my home worth?", it's simple and quick. The reader just needs to insert their home address, which is another encouraging factor to follow the CTA.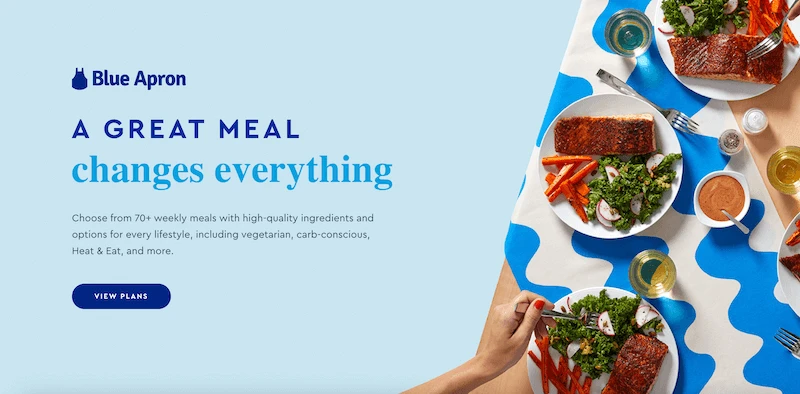 When it comes to landing page examples related to food services, images are a great asset to drive the reader's attention. A mouthwatering picture of a delicious dish can be more powerful than a text. 
Blue Apron uses this strategy by putting the image of a table with several plates. The meal served seems healthy which corroborates the landing page's purpose which is selling meals made with high-quality ingredients. 
On the right side of the page, you can get to know more about Blue Apron services and its benefits. Highlighted below the text is a direct and simple CTA, guiding the reader to the next step to get to know the plans offered. 
Landing Page Builders
Did you get inspired by these landing page examples? You can create landing pages quickly and easily with the proper tools. Several platforms offer this service, and they don't require you to know how to code or design pages. 

Wix is known as one of the best website builders available and that isn't different when it comes to creating landing pages. You are going to find multiple options for landing page templates divided into different categories, such as "coming soon", "webinar", "product", "app", and much more. 
Use the Wix editor to design the landing page as you wish, change colors, add texts, videos, images, and graphic elements, and resize and position all of them. You will also count on built-in tools to guarantee the best performance and security of your landing page, including an SSL certificate and 24/7 website security monitoring.
Another advantage is that Wix also provides multiple marketing tools to create marketing strategies for different channels. You also have the option to create customized email campaigns, integrate with several apps to monitor and enhance them and use Wix Video Maker to develop amazing video content. 
Key features: 
Pre-built landing page templates
Drag-and-drop editor
24/7 website security monitoring
Marketing Tools
Integrations
SEO tools
SITE123 allows you to create different types of landing pages with just a few steps. Once you have created your account, on the options of website type to create, click "landing page", then give a name to your landing page, choose a template, and start customizing with the edition tools. 
You can use the SITE123 free image gallery to insert amazing images to your page. It's also possible to insert forms and redirect the visitor to other web pages. To optimize the landing page for SEO, customize the URL, include alt text to the images, and write a meta description. After you set everything up, review the page and just click to publish. 
SITE123 enables you to have a mobile-friendly landing page, a custom domain, free hosting, and count SEO tools to rank better on search engines. If you have any doubts, you are going to have 24/7 live support to assist you with what you need.
Key features:
Pre-built landing page templates
Website editor
SEO tools
Mobile-friendly design
Free hosting
24/7 customer support
Webnode is a website builder that also gives you the option to create amazing landing pages. It offers multiple template options and an intuitive editor that enables you to customize the page, enhancing the design and adding high-quality content to boost your landing page performance. 
You will have reliable hosting guaranteed by Webnode safe and secure servers. Besides, you can count on fast and smooth loading, so when people visit your landing page they don't have to wait to see it, which helps to improve conversion rates. 
Key features: 
User-friendly
Predesigned pages
Reliable hosting
Fast and smooth loading
SEO tools
HTTPS for safe browsing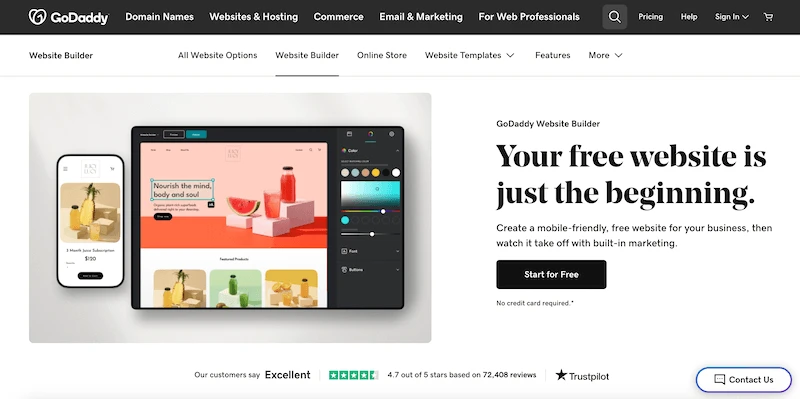 If you already have a website developed by GoDaddy, creating landing pages will be easy. The process is similar to when you add a new page to your website Login to your account,  go to the "edit website" area, click on "pages", and "add new page". Then, you can select the option to make a landing page.
Insert the page name, use the website editor to customize the design, and insert the content. Remember to write an attractive CTA, and you can add forms to caption leads if that's the purpose. 
You will count on the several benefits that GoDaddy provides. You can manage your website, landing pages, online store, email marketing campaigns,  and social media using a single platform. 
Key features: 
Pre-built templates
Intuitive editor
Mobile-friendly design
Website hosting
Search engine optimization
Marketing tools
Strikingly has an editor with several tools that will help you create landing pages without having to know code or design. The platform has several templates available that are completely customizable.
If you have any doubt, Strikingly provides tutorials to guide you through the process, helping you to understand how to use tools, and what you can do to develop a landing page that is suited to your goals. Use the analytics feature to evaluate performance and identify how to improve. 
Key features: 
Pre-built templates
Easy-to-use editor
HTTPS for free
Analytics
24/7 customer support
Weebly will show there is no secret for creating a landing page, it will be easier than you imagine. Once you already have a website built on Weebly, creating the landing page works like adding a new page to the website.
Select one of the templates available at Weebly, then use the website editor to customize the landing page. You can use an image as background to call attention,  create a title, or headline, and also insert a call to action button. There are thousands of possibilities when it comes to landing page content and design, and you will have multiple tools to edit as you wish.
With Weebly, you even have the option to manage your landing pages and website using your smartphone. The platform has an intuitive dashboard to help you manage content, and publish and edit when you need it. Use the statics tools to track performance, and measure valuable KPIs.
Key features:
Website editor
Pre-built templates
Responsive design
Third-party integrations
Reliable and free hosting
SEO tools
Statistics
With Webflow, you are going to count on a unique collection of incredible landing page templates, which have a responsive design. The visitor can have a great experience whether accessing the page on mobile devices or desktop computers. But, if you prefer, you can choose to use a blank screen and make the design from scratch, no coding is required.
You can add images, texts, buttons, and forms to your landing pages, as it fits your goals better. After your landing page is ready and published, you still have the option to update it through the dynamic content feature. Instead of manually editing the content, use Webflow CMS to make the alterations automatically.
Optimize the landing page for search engines by using the tools Webflow provides. You can add meta titles, meta descriptions,  and alt text to images, for instance, which helps to rank better on Google search result pages. 
Key features:
Pre-built templates
Responsive design
Customization tools
Search engine optimization
Webflow CMS

Sendinblue allows you to choose premade templates and use the drag-and-drop editor to customize the landing page. Define the goal of your page, then add features to help you achieve it, such as  CTA buttons and form fields, which can be connected to your Sendinblue account for easy data transfer to your contact database.
If you created a lead generation landing page, you have the option to create a follow-up page.  It can contain more detailed questions to be answered by your leads, or just a thank you and confirmation message, so the person will know you received their subscription through the landing page. 
With just a few steps your landing page is ready to be published, copy the URL and attach it to your emails, advertisements, and social posts to drive traffic to the landing page and drive results. 
Key features:
Build custom landing pages
Pre-built templates
Add form fields
Add follow-up pages
Open and click through reports
A/B testing
Real-time statistics
Plugins
Create high-converting landing pages with LeadPages, an easy-to-use platform that provides multiple templates for you to choose and develop your page. With the built-in conversion guidance, you will have access to your page's performance prediction and get insights to identify what to improve. 
You can use the leading page builder to develop unlimited pages for each campaign you need, without the worry of exceeding bandwidth. You are also going to count fast load speed, which helps to enhance your results, increasing click-through and conversion rates. 
Enjoy the A/B testing feature to optimize your landing pages. You also will have the option to integrate LeadPages with apps like Google Analytics, Mailchimp, and Salesforce to create unified marketing campaigns and have proper tools to measure and evaluate KPIs.
For example, you can make a landing page that captures email addresses inside segmented lists, and nurture leads with email marketing. 
Key features: 
Pre-built landing page templates
Built-in conversion guidance
Unlimited lead collection and traffic
Unlimited page publishing
Unparalleled page load speed
Code-free drag-and-drop customizations
Landing page examples
A/B testing
Integrations
If you are looking for a free landing page builder, E-goi offers this option. You can choose among multiple template options to start creating and, then, customize using the design tools provided. The drag-and-drop editor has an easy-to-use interface. It allows you to add images, videos, and texts, and change colors and fonts, the way you prefer.
It's possible to add forms to the landing page and automate contact segmentation to organize the lead information you are going to get and develop specific strategies for each segment. You also have the option to insert features like countdown and links on your landing pages. 
After the person follows the action suggested on the landing page, you can put a thank you page and confirm a subscription, for example. To follow up on leads, enjoy E-goi marketing automation tools that enable you to create several marketing actions, and automate them according to the configurations you set. 
Key features: 
Pre-built templates
Drag-and-drop editor
Unlimited segmentation
Marketing automation tools
GetResponse allows you to create unlimited landing pages. Choose from more than 200 templates, and customize them. Choose templates according to your goals, which can be to grow your contact list, conquer more leads, sell products and services, or promote your company events, for instance. 
The drag-and-drop editor is easy to use and enables you to move, resize, crop, group, color, and reshape elements. Besides, you can enhance the design by adding videos, gifs, and free stock photos. To improve SEO, GetResponse gives you the option to add page titles and meta descriptions.
You have the choice to use a free GetResponse domain or your own. Enjoy the platform analytics tools to keep track of the number of visits, clicks, and conversions. To enhance performance, integrate it with Google Analytics, Google Tag Manager, and other apps. 
Key features:
More than 200 landing page templates
Drag-and-drop editor
SEO tools
Analytics tools
Integrate with other apps
Create Your Landing Page
Enjoy the landing page examples to understand what strategies suit your needs better, and build a unique high-converting landing page. You will see how it can be a valuable tool to increase the number of conversions to boost your business and increase sales as a consequence.
However, having a landing page that performs well is the beginning of the work. You need to develop a process to follow up with the leads and customers that got in contact with your company through the landing page CTA. Planning what steps they should follow next and understanding how to guide them to establish a long-lasting relationship with your company is fundamental.
Like what you've read?
Sign up and try JivoChat for yourself!
It's free and only takes a couple of minutes to download.