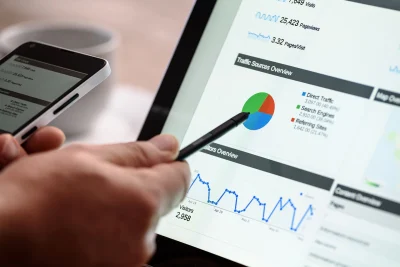 How can you use tools to scale your sales
June 7, 2018
updated June 9, 2023
Reading time ≈ 5 minutes
Luciano Larrossa
Marketing Magician
Every entrepreneur wants to see their business grow, but when that happens too fast, they can get caught by surprise and not be able to meet their customer's demands. Being able to scale its sales, communication, and increase productivity in this scenario is a deciding factor for a business' success.
Scaling a business is a challenging task. As a company starts to grow, so does need to adapt processes and get up to speed to meet higher demands and expectations while maintaining quality standards. Let us look into different approaches to help scale your sales and be ready for your business' growth.
Scaling customer service and communication
With an increased number of visitors, there is an increased number of questions and technical issues. Being able to scale communication with potential customers is a crucial point for any business. To maintain high customer satisfaction, companies need to be able to address its customers' issues as fast as possible. There are many ways to deliver Customer Service, such as support tickets, call centers, and online chats, but how to be able to supply a high demand for information and support?
One of the best ways to scale communication is through the use of automated responses, or "bots" as we all know. Today, bots are very versatile and can be configured to solve a vast amount of customer issues. It is important to identify common issues your visitors are having and checking if these can be solved with automated responses, significantly saving agents hours of work every day.
Another great way to decrease the number of incoming support requests from visitors is to extend your self-service, such as having a platform where customers can answer each other's questions, creating an FAQ and knowledge base so that visitors can have their problems solved without the need of your agents help.
Read Also: 10 Skills That Any Entrepreneur Must Study Before Starting Your Business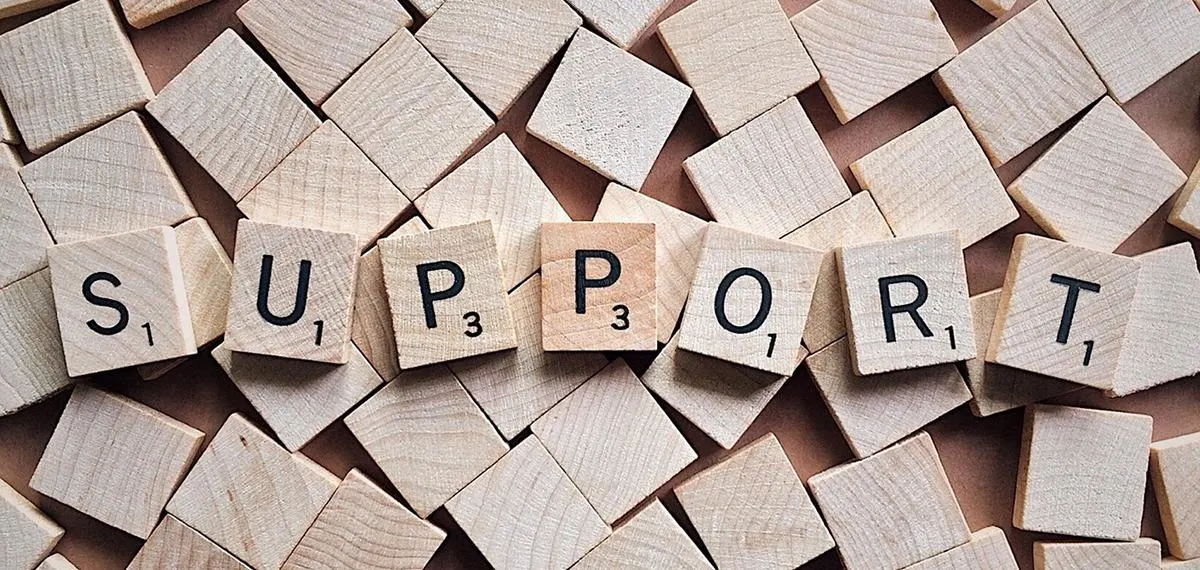 Increasing productivity
An unproductive team can directly impact your sales in a negative way. Being productive means to work smarter, decreasing the amount of time to execute tasks, speeding up processes while improving their effectiveness and increasing employee's efficiency.
It may be difficult to figure how to increase your team's productivity, not every solution works for all types of businesses and thus, each manager will have its own way of addressing these issues. These are some guidelines that may help increase your team's productivity:
Reduce distractions such as allowing your employees to access social media anytime;
Invest in training so that each employee can be better at executing its tasks;
Acquire the right tools for the job, be it paid software solutions or equipment. Look for new technologies that help to increase your efficiency;
Set realistic goals for your team and be able to back your employees up to help to reach them;
Provide good working conditions and ensure your employees are satisfied. Unhappy employees will generally have lower productivity, which will negatively impact your business;
Also read: The importance of content in customer loyalty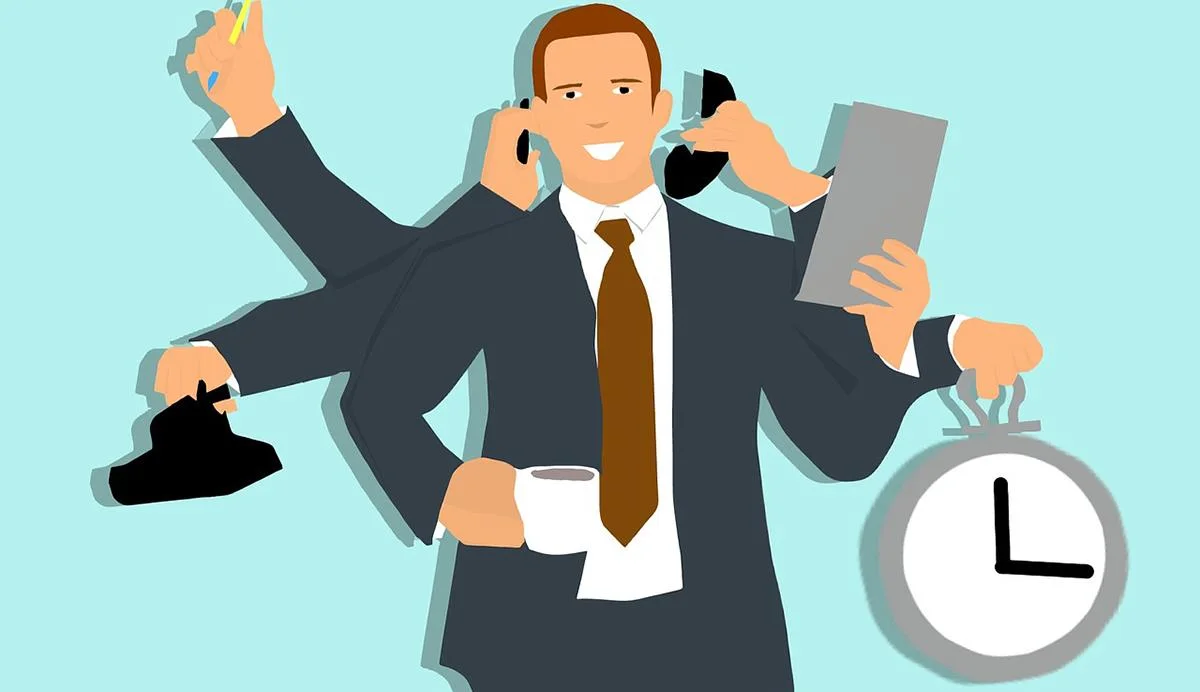 Delegate tasks
Still on the topic of productivity, a great way to increase how effective your employees are is to delegate important tasks to them. Business owners and managers many times fail to trust their workers enough to delegate important tasks, which generally leads to frustrated attempts to have complete control over everything. For growing businesses, nothing is more important than being able to trust your employees and work together as a team to achieve major goals.
It is important to keep in mind not to overwhelm a single employee with too many tasks at once, this would negatively impact the quality of their work and damage your company's reputation instead.
There are many free and paid online tools that can help you delegate tasks and manage your team in a more efficient way. Here is a list of a few project management solutions that any business owner or manager should explore when looking to scale its business.
JivoChat Affiliates Program: start earning up to 30% in recurring comissions!
1. Trello
An easy-to-use organizational tool that allows you to manage tasks and track your projects in an intuitive way. It works with a system of boards and cards, which can be assigned to other members of your project. Trello also provides a mobile application to help ensure that you can keep track of your team's activity from anywhere. Trello is mainly free to use, but they offer paid plans that include extra tools and even integration with different apps.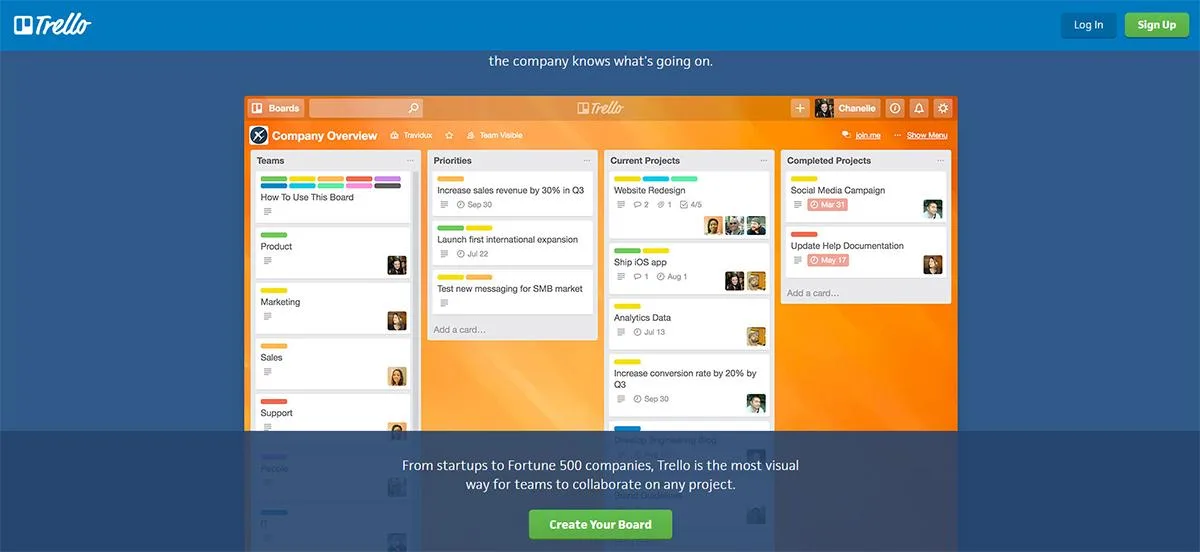 2. Asana
Founded in 2008 by Dustin Moskovitz and Justin Rosenstein, Asana is one of the best cloud-based project management tools out there. Used by big companies like The New York Times, Red Bull and even Nasa, Asana provides real-time communication for your team, a customizable dashboard and allows users to set deadlines for tasks, share documents and much more. Asana also offers a free plan as well as paid plans with additional features.
3. AceProject
AceProject is a web-based platform that allows you to manage and keep track of projects, tasks, timesheets, documents, and expenses through well-designed dashboards for each specific purpose. They offer a fully featured free plan, with a limited number of projects and users that can be assigned to them. Additionally, there are 4 monthly subscription plans: Standard, Advanced, Silver, and Gold.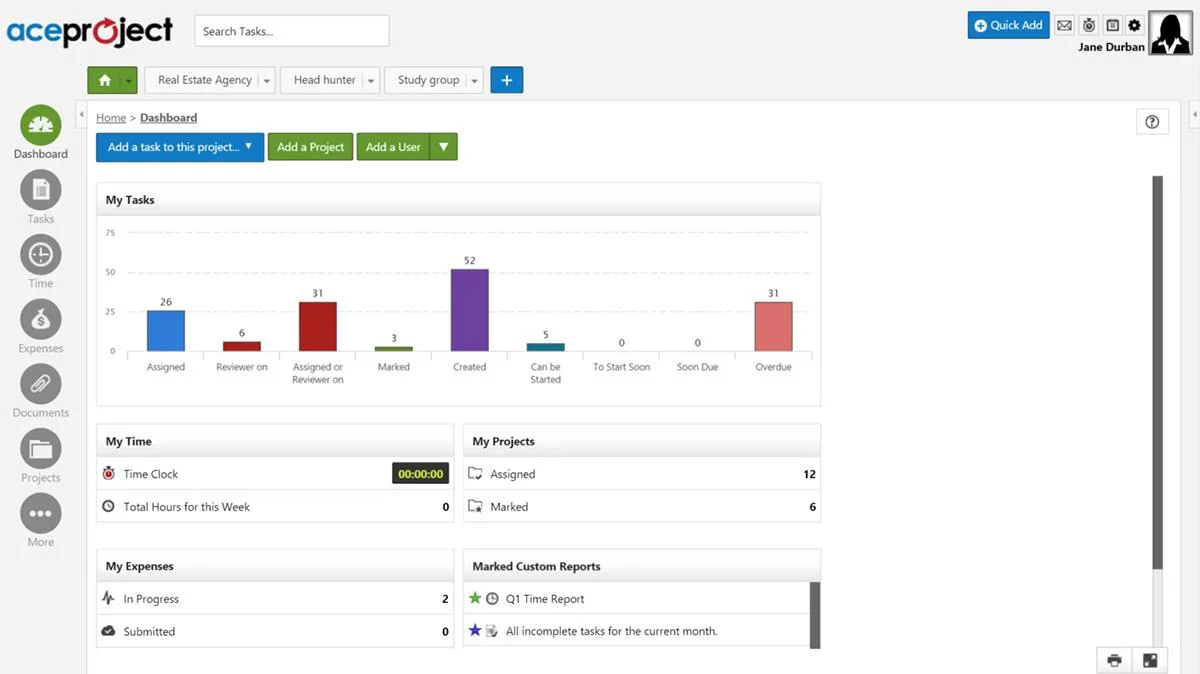 Scale your business with Jivochat
Jivochat is the best platform that allows you to set up well-timed greetings, be proactive and lets your team assist many visitors at the same time! Having an online chat on your website will help you scale your sales while delivering high-quality customer service, increasing the trust in your brand and your online presence!
Be able to reach your customers on different platforms and increase your team's productivity with Jivochat.
Like what you've read?
Sign up and try JivoChat for yourself!
It's free and only takes a couple of minutes to download.