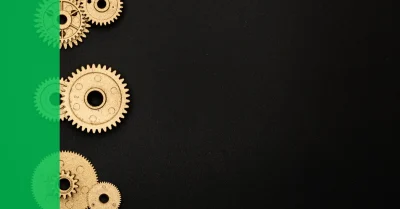 7 Ways to Automate Customer Service (Without Sacrificing Quality)
Reading time ≈ 14 minutes
Igor Shekotihin
Head of International Growth
Automating customer service isn't a fad. While some fears of chatbots stealing jobs persist, the reality is that customers now prefer the convenience of support automation, and businesses are profiting in many ways.
Chatbots will drive $142 billion in consumer spending by 2024 — a meteoric surge from $2.8 billion in 2019. This growth is a direct result of an enhanced customer experience, as consumers can get instantaneous, round-the-clock assistance from businesses offering automated support.
Read on to learn more about the various ways that automating customer service can benefit your business. We'll also share some actionable strategies and best practices to help you decide how to implement customer service automation.
What Is Customer Service Automation?
Customer service automation — also known as customer support automation — is a technology-led process for assisting customers without any human involvement. This automated system could include a chatbot or another artificial intelligence technology.
Businesses rely on customer service automation to lower customer service costs, support customer service agents, and eliminate help desk errors. Specifically, automated service helps:
Route customer queries to the right support teams

Tag support tickets

Respond to customer issues automatically

Provide round-the-clock customer assistance

Automate repetitive messages and replies
Implementing customer service automation reduces administrative tasks for your customer service reps, allowing them to focus on relationship-building and other high-level tasks that improve customer retention and the user experience.
Advantages Of Automating Customer Service
While automating customer service lets technology take control of some tasks, it is not a replacement for customer service agents. Automation may be able to start a conversation, with a service rep taking control of the conversation when necessary. Let's take a look at the many ways customers and human agents can benefit from support automation:
Reduces response times
Customers value fast responses above all else in matters relating to customer experience. A HubSpot report revealed that 90% of buyers consider instantaneous replies important or very important when they have a customer service request.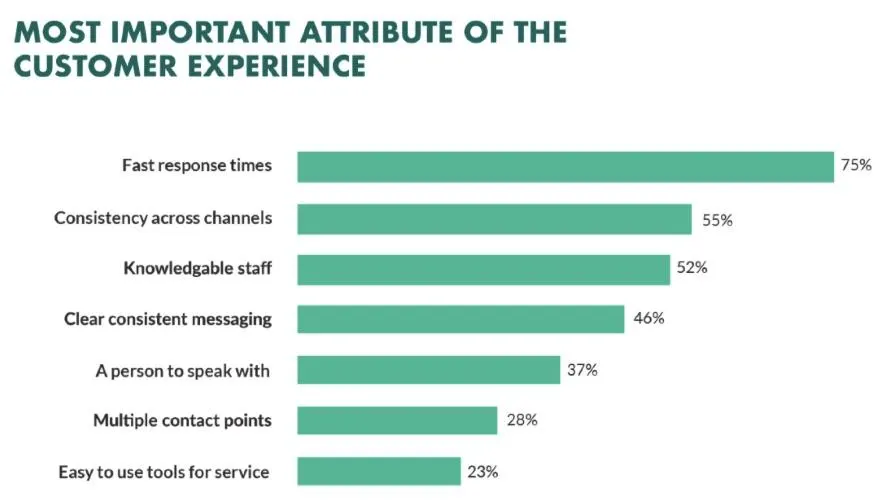 Source: SuperOffice
The desire for instant or near-instant customer service is on the rise and not going away soon. Millennials and Gen Z consumers tend to prefer self-service options and chatbots over traditional phone support.
As younger audiences opt for self-reliant customer service solutions, we can expect automated customer service technologies to keep growing into the foreseeable future.
Provides 24/7 support
Customers who email service inquiries wait hours or days for a resolution, if they even receive a reply. One study found that 62% of businesses don't respond to customer service emails.
If your service reps have to reply to hundreds or thousands of messages daily, there's always a chance that human error or fatigue will lead to some lapse in communication. Even for highly responsive, customer-centric businesses, relying on live agents all the time is expensive and unsustainable.
Customers might reach out with urgent issues at off-times — during work breaks, after office hours, on weekends, or on holidays. With help from an automated support system, a business can manage its customers' needs 24/7, even when live agents are unavailable.
Enables self-service
Most customers are not willing to wait up to 60 seconds to speak with a customer service agent, and 79% of consumers expect businesses to provide automated service.
Automating customer service helps businesses provide the self-service options customers want. Instead of relying on agents, companies can use customer service automation to respond to customer queries in seconds, not hours or days.
Delivers a consistent experience
Automated chatbots offer businesses the opportunity to deliver reliable support experiences for their audience.
Chatbots aren't going to lose their temper with a customer, so you can be confident that they will always respond to queries without offending any of your customers!
If a chatbot can't address a query, it can escalate the matter to a manager or an appropriate team member. Consistent customer experiences ensure reliable customer service interaction that will boost customer retention.
Minimizes customer friction
Customers don't want to explain the same issues more than once to multiple customer service agents. If you can help customers reach the right person instantly, they get quicker help with a request or query, reducing customer friction.
A Capterra report found that 72% of customers said they'd had the unsatisfactory experience of having to explain an issue to multiple service agents. Customer service automation solves this issue by routing queries to the people most qualified to address them, and keeping a record of previous communications, so customers don't need to explain an issue more than once.
Improves agent productivity
Customer service reports can get pretty repetitive. A live agent would find it boring to answer the same questions multiple times a day, every day. In contrast, an automated customer service solution won't complain about doing this job.
Automated support systems reduce an agent's ticket volume, help free up their inbox, and reduce clutter. Agents may experience greater job satisfaction as a result, which can help improve productivity.
With automation in place, live agents don't have to worry about keeping track of support requests — if their input is needed, the automation will let them know.
Reduces overhead costs
A key advantage of automating customer service is the impact on costs. If a business relies entirely on live agents to handle customer service tasks, they'll have these higher and ongoing costs:
Salary costs: Hiring people on a full-time (or even part-time) basis can easily add thousands of dollars in annual expenses. In addition to salaries, you may also have increased costs related to benefits and taxes.

Training costs: As the frustration of responding to repetitive queries weighs on your agents, employee turnover may increase. You may be caught in an endless cycle of hiring and training.
It's important to realize that your business could incur these growing salary, hiring, and training costs without any revenue growth. A growing ticket volume doesn't necessarily translate to rising profits.
Customer service automation can help you scale your business without incurring many costs.
Increases revenue potential
Faster customer response time, fewer customer service errors, improved query routing, and all these other benefits culminate in an enhanced customer experience.
Satisfied customers are more likely to become loyal buyers and brand evangelists. In turn, you get more business and grow revenue. You can reduce your costs and grow your revenue continuously while delivering an outstanding customer experience.
7 Ways to Automate Customer Service (and Seem Human)
The benefits of support automation are clear, but you might be wondering, "Where do I start?" or "What do I automate?" Let's find out!
Use live chat triggers
Live chat triggers help you to initiate proactive chat sessions with your visitors and customers. Proactive chat is opening a conversation with your audience before they ask for your help.
Common live chat triggers include:
Time spent on page

Link clicks

Previous site browsing history

Percentage of page scrolled

Geographical location

Exit intent
You can also use live chat triggers to initiate personalized interaction based on a visitor's demographics or on-site behavior. Behavioral triggers can help your business in many ways, such as:
Engage returning site visitors with rebates, discounts, or other offers

Lower cart abandonment rates

Boost on-page time and reduce bounce rate

Upsell or cross-sell customers on your offers

Offer lead magnets to first-time site visitors

Collect survey data
Suppose visitors hover around your pricing page for a minute without choosing a pricing plan. In that case, you could set up a live chat trigger to initiate a conversation with these indecisive visitors.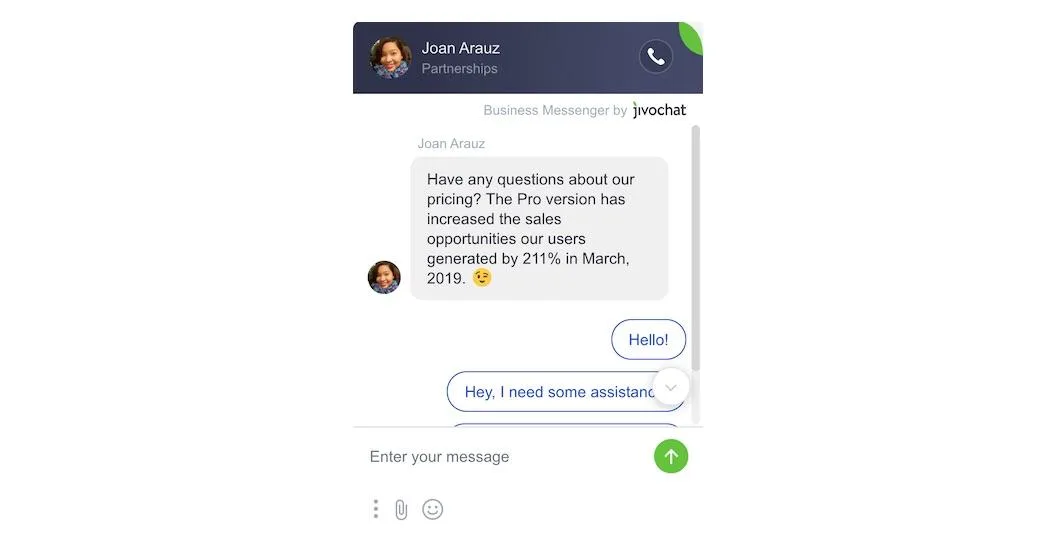 Source: JivoChat
Live chat could nudge them to decide based on a current performance metric that might be relevant to their needs.
Prepare canned responses
Customer service automation helps agents to quickly respond to common support issues, using canned responses. This solution allows reps to respond to frequently asked questions without having to type similar answers to multiple customer queries repeatedly.
Canned responses can help service reps:
Save time

Remove the tedium of writing replies from scratch

Lower customer agents' stress

Eliminate typos
One caveat is that support reps might risk sounding like robots if they misuse canned responses. These types of replies are best applied to simple questions that have clearly defined answers.
Canned responses can be long or short replies and may include links and images. You can also create variations to account for different nuances in customers' questions.
Configure a chatbot
An Intercom survey found that 26% of all interactions that ended in a sale started with chatbots. Across the board, chatbots were credited with a 67% increase in sales.
Most chatbots use ready-made replies to provide answers to frequently asked questions. So when a user enters their query in the chatbox, the chatbot responds with the most relevant answer.
While rule-based chatbots offer support teams a framework for possible user queries, AI-powered chatbots have an advantage.
These chatbots can use conversational intelligence to analyze chats and — based on previous interactions with specific users — provide relevant articles from a knowledge base to address the user's needs.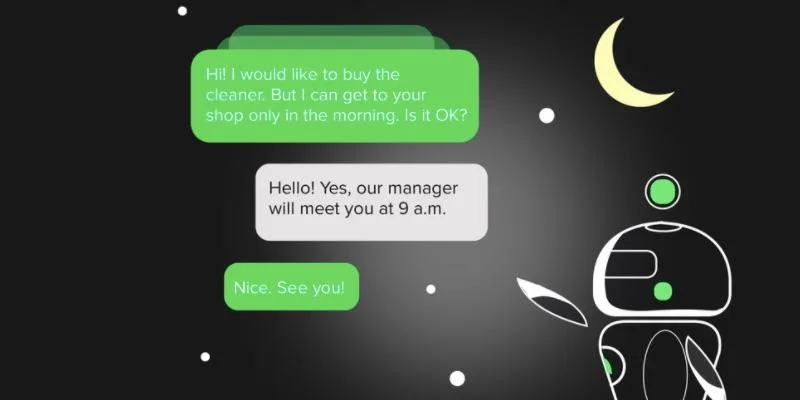 Source: JivoChat
Chatbots help to make your customer service interactive and useful to customers 24/7. With the power of AI, chatbots can make previous customer-agent interactions useful to the customer in the future.
Create a knowledge base
Most people like to use self-service options like knowledge base articles to find answers to their questions. You can enhance the customer experience by providing a searchable knowledge base with query suggestions to make finding answers faster.
You can develop your knowledge base content using previous customer interactions, anticipated issues, and your product information.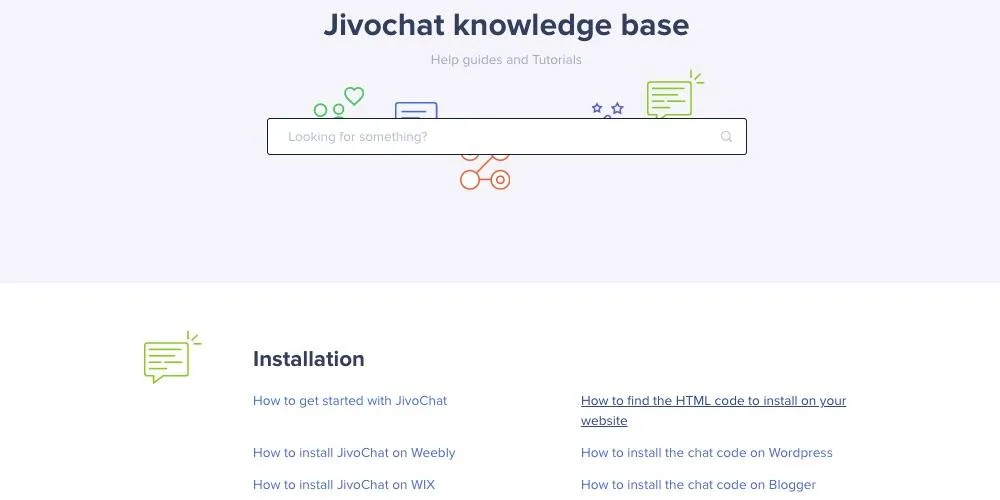 Source: JivoChat
If your product is built to work with another product, you can reduce support requests by providing relevant knowledge base articles on the third-party product.
Customers may have different preferences about content, so it's a good idea to provide knowledge base resources in more formats, such as:
Video tutorials

Infographics

Illustrated guides

Audio guides
When customers have a problem, your customer service automation should provide a simple solution. Create a searchable knowledge base for users on your site and optimize it for external search engines, like Google and Bing.
Integrate your knowledge base
When your knowledge base is ready, connect it to your chat feature to make it instantly useful to your audience. Your customer service agents can find and recommend relevant content to customers. And customers can find relevant support documents on their own.
Source: JivoChat
If you use JivoChat, you can integrate your knowledge base across multiple platforms, including content management systems (CMS) and customer relationship management systems (CRMs). You can even build custom automated support solutions with an API.
Automate ticket assignment and prioritization
Support automation can prioritize and route tickets to your organization's most qualified person, which creates a more satisfying customer experience. Also, you can simplify your other ticket-related workflows to a single click by automating repetitive or complex activities.
You'll want to automate these workflows:
Ticket prioritization

Ticket assignment

Scenario automation

Repetitive email or chat replies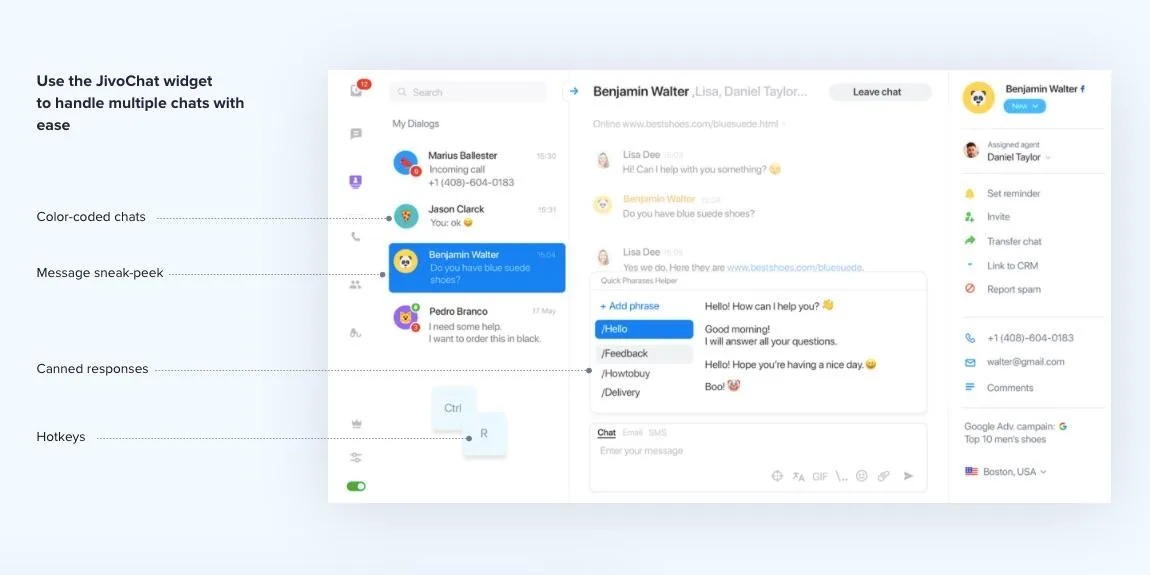 Source: JivoChat
You can automate your ticket-related workflows in many ways. Here are a few options:
Automatically assign tickets based on keywords or phrases.

Route tickets to specific teams based on where the ticket was generated. For example, if a user generates a ticket on the billing or pricing page, it automatically goes to the sales or renewals team.

Use tags added by your team or those you generate automatically to categorize ticket assignment, prioritization, and automation workflows.

Automatically route conversations based on the specific features, issues, or topics that users selected when contacting support.
An advanced ticket routing solution can help you minimize human error in manual ticket assignments.
Automate transactional emails
When customers make a purchase, they expect an order confirmation email. They may also expect a follow-up email about shipping or order fulfillment. Those are fundamental transactional emails, and they can be fully automated.
You can also automate more advanced transactional emails, like cart-abandonment discount offers, or updates on support inquiries. All you need to do is create the content and set up the email triggers..
Although your transactional messages are best sent by email, if you need your customer to pay attention — to a price change or shipping delay, for example — you should contact them by text message since there's a 98% chance they'll open it.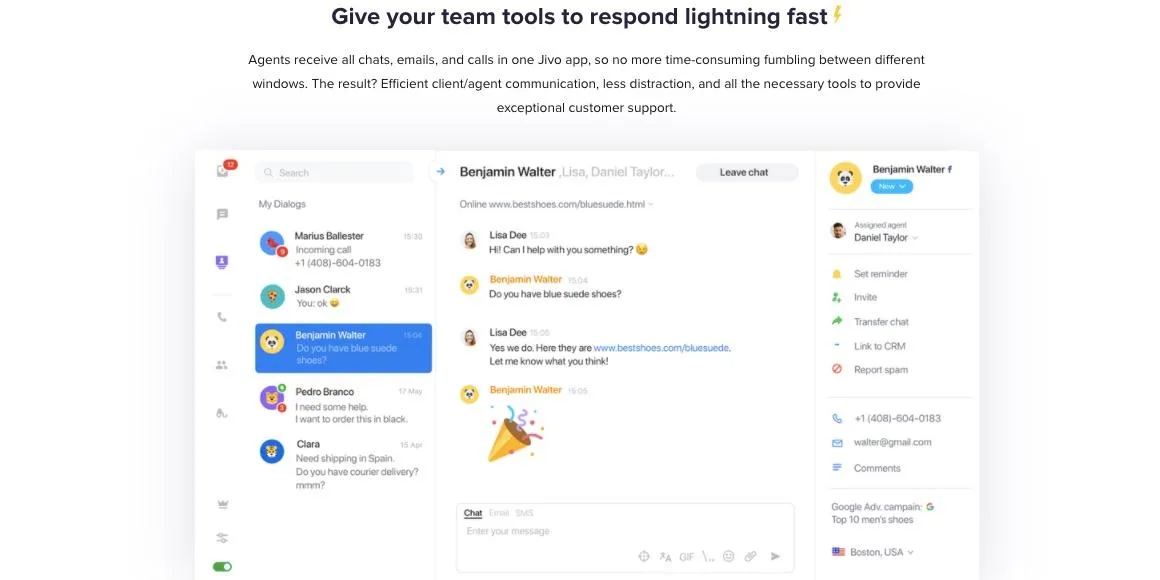 Source: JivoChat
With a tool like the JivoChat app, your agents can access all their communications from one dashboard. So, reps don't have to use separate text messaging and email software solutions to understand a customer's journey — it's all in one place.
Best Practices for Automating Customer Service
Let's explore what you should know and do when automating customer service in your business:
Augment with automation
Remember that you are trying to augment, not replace, your customer service efforts. Your agents should work on high-value activities, leaving repetitive customer service processes to automation.
Canned responses and chatbots can help you reduce your support agents' ticket volume. And intelligent chatbots can initiate conversations and let live agents complete the sale.
Take automation omnichannel
Reaching customers across channels is good for engagement, but it calls for customer service attention as buyers turn to these channels for support.
When automating your customer service, use a solution that brings all your communication into a centralized dashboard for your agents. You also need to use multichannel bots to engage your audience across channels.
Create a seamless transition from automation to human
If your chatbot fails to send an updated conversation history to human reps, your customers would have to explain their issues again. Repeating issues is precisely the customer experience that customers complain the most about. Do what you can to sidestep this pitfall.
Ensure that all your tools collect and display information in a single, easy-to-access platform for your live agents to use without any extra input from the customer.
Ask for feedback
Customers like self-service solutions and use them often. So ask them for feedback to find out whether your bots are helping customers resolve issues faster.
It's not enough to ask them to share their experiences and suggestions, though. Let your customers know you apply those suggestions to improve the system and the user experience.
When NOT to Automate Customer Service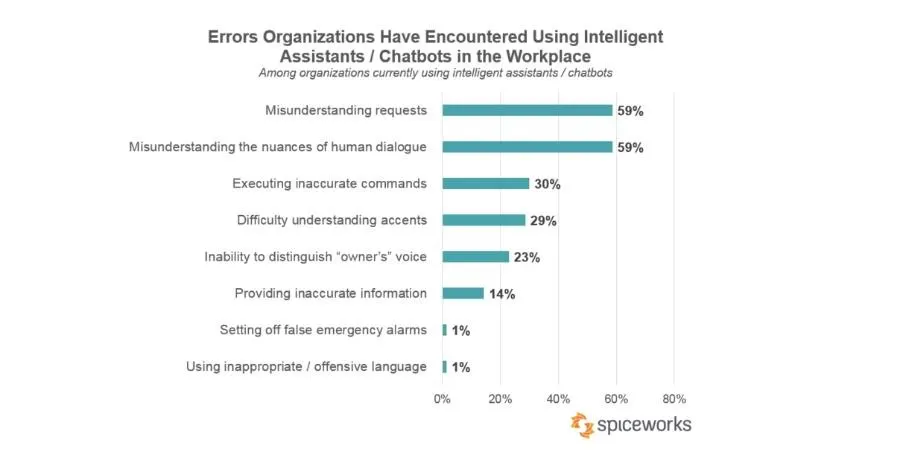 Source: Chatbots Magazine
Don't use automated support if any of these applies to a situation:
You don't know your customers well: If you don't have sufficient context on who your customers are, don't try to personalize your automated conversations.

Your chatbot is prone to inaccurate query interpretations: If your chatbot can't interpret a query correctly, it might make incorrect routing decisions.

Initiating a new customer relationship: A new buyer might cancel their order if your chatbots interrupt them and keep them from quickly finding the answers they want.

Customers with complex questions: If your customers have complex questions, they might want to talk with a live rep instead.
No doubt, artificial intelligence will catch up with these complexities in the future. For now, you're better off letting humans help out here.
Wrap Up
With the potential to boost productivity, drive revenue, and save time and money, you might be tempted to automate everything. However, it's wise to take a measured approach to customer service automation.
Don't eliminate live agents — customers will always appreciate a personal interaction with their favorite brands, so keeping real support reps on standby is vital.
The power of automating customer service is undeniable, but balance is crucial. Consider your business needs and the pain points that automation could solve, then introduce a system that enables you to improve the customer service experience, both for your customers, and for your internal support team.
Are you ready to automate customer service? Get a free trial of JivoChat to improve your omnichannel support experience.
Like what you've read?
Sign up and try JivoChat for yourself!
It's free and only takes a couple of minutes to download.