Response Time: Why It's Important and How It Affects Your Sales
October 31, 2019
updated May 6, 2022
Reading time ≈ 4 minutes
Emma Longridge
Content Manager
Remember that one time you were interested in something, anything, online and you reached out via email, phone, website, and you didn't get your answer you were looking for until much later?
Oh the joys of the "to contact us, fill out this form" text.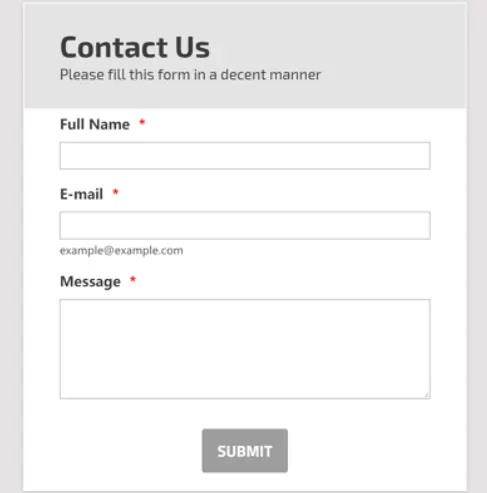 Everyone knows that slow and unreliable customer service discourages customers and gives business poor reputations.
Considering this, it's clear that customer service response time is one of the most important factors in determining customer satisfaction. That is why, today, we'll talk about customer service response time, why it's important, and how it impacts how your potential customers view you and if they'll purchase your product.

Why is response time important?
Briefly, "response time" is defined as the amount of time it takes for someone from a company's customer support team to respond to an inquiry that a potential customer has.
So how much does response time negatively impact your relationship with your customers and how they interact with your brand?
A survey by Forrester shows that:
73% of customers claim that valuing their time is one of their most important customer service values.
The same research points out that at least 53% of consumers tend to give up on a purchase if they can't find quick answers to their questions.
When browsing between different stores, 78% of consumers will buy from the first company that answers their questions quickly and accurately, often putting product or service prices in second place.
Remember that online shoppers are ready to compare and switch which retailers they use based on your response level. Considering these data points, we can recognize that quick response times improve cart abandonment rates and boost customer retention.
Response time and customer service
It's important to consider that customer service response time, as well as customer expectations, are directly related to the availability of communication channels that you have.
In a brick-and-mortar store, visitors can quickly find a salesperson and receive assistance more or less instantly. However, in the case of online stores, we need to get more creative. Unfortunately, many online stores still rely heavily on email response time, as well as phone, social networks, and some other long-response time channels.
The truth is, these mediums just simply aren't competitive anymore. In fact, according to a survey of 1,000 companies conducted by Super Office, the average response time for social media customer service options is 10 hours! For email, the average response rate is as high as 17 hours later.
Visual representation of the average response time from SuperOffice.com: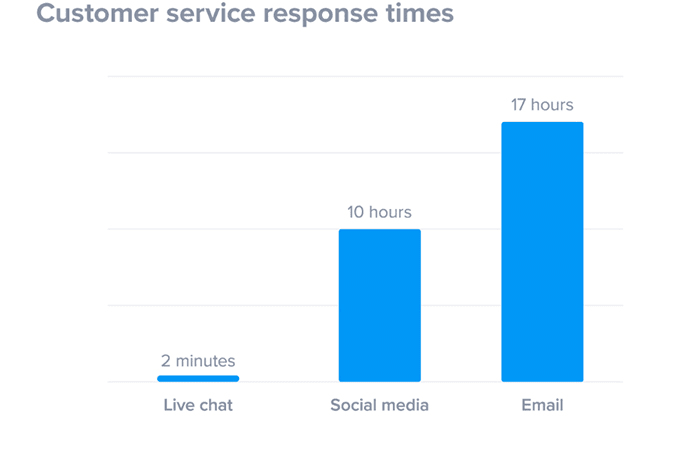 You may be thinking that this chart has something missing. What about phone customer service? One of the main reasons why phone customer service comes in last place regarding customer satisfaction is because of how fast they solve their problems. Being put on hold, talking to the right person, being re-directed, can all be very frustrating for the customer to get any sort of answers or make bookings within a reasonable amount of time.
In fact, response time is the main reason why live chat reaches satisfaction rates are as high as 73%, as indicated by 79% of survey respondents in a study made by Invesp.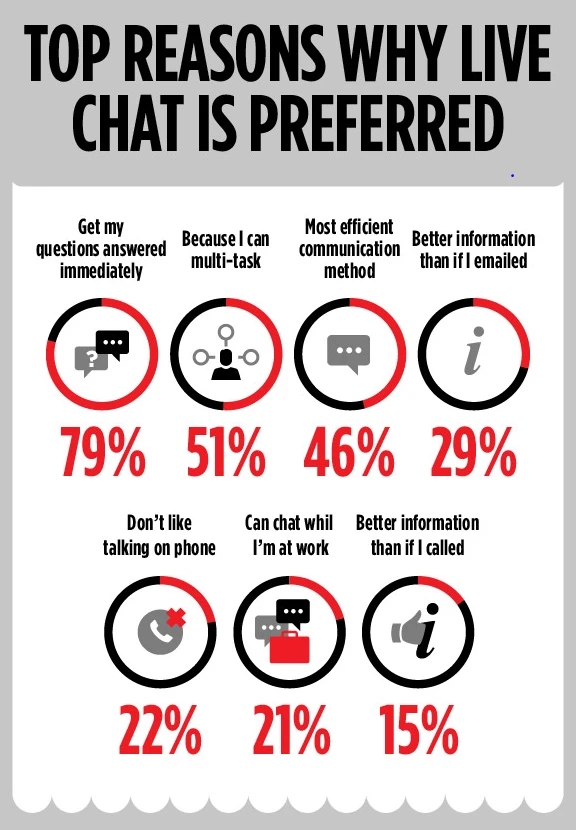 Companies that look to provide a seamless, memorable customer experience use channels that allow them to provide quick response times, (live chats!) - many of which also help to monitor response time.
Live chat is the way to go
When talking about response time in the digital environment, we can't stress enough how live chat stands out due to quick response time rates. On average, the time it takes for a customer to receive an answer via live chat is two minutes and forty seconds.
Live chat is one of the few online service channels where visitors can quickly identify if customer service representatives are "online" and ready to start a real-time customer service session with them.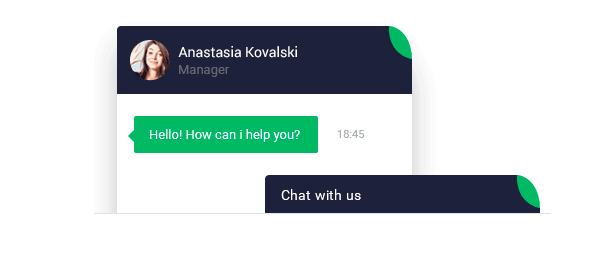 After you install a chat button from JivoChat, a live chat-based business messenger, you can use Smart Triggers to proactively let your customers know that you're online and ready to help them when they need it.
What's more is that, unlike email or phone, the best chat tools come with features designed exclusively to speed response time even further. For example:
Canned answers: Allows you to send entire sentences through shortcuts set by agents;
Message Prediction: Lets you see what customers are typing before they send the message, allowing your team to prepare a response immediately;
File and link transfer: Is available so you can send your customers quotes, product page links, and more.
Optimize your response time with JivoChat
In today's competitive ecommerce marketplace, it's no longer acceptable to keep your customers waiting.
Using an omnichannel service platform is one of the best ways to streamline your processes, boost staff efficiency, and ensure you're ready to provide great customer support. To achieve that, check out how JivoChat can help you.
JivoChat is a customer service solution that offers live chat, email, Callback, and lets you monitor response time. It also offers integrations with other messenger applications such as Facebook Messenger. Install it for free on your website and find out how quick response times can help you drive sales.
Like what you've read?
Sign up and try JivoChat for yourself!
It's free and only takes a couple of minutes to download.