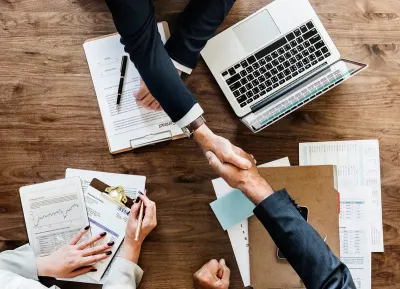 How to Make Customers Trust Your Online Business
Davi P.
Affiliates Manager
Today, people have more access to information than ever before. Through the Internet, potential customers many times research various different companies and stores before deciding where their money will be spent. Visitors tend not to trust new companies and businesses at first glance when they have never heard of their names before from friends or contacts in social media.
Trust is a natural first barrier every online business has to break through before hoping to achieve success in its field of work. But what exactly can be done to turn your brand into a trustworthy company in which customers will feel safe to buy from? Check this list of tips on how to make customers trust your online business.
1. Have a professional looking website design
This is one of the most important and critical factors to build trust with your visitors. The very first thing any person notices when opening your website for the first time is how well put together they look like. A poor website design can make the best company in the market look untrustworthy. Be sure to keep it simple, easily accessible and remember to use your brand's colors to remind your potential customers of who is your company.
Visitors definitely will judge your company based on its first impressions, you don't want them to be negative. It is not necessarily costly to build a good looking page for your company, there are many solutions to help your website look professional that doesn't require any design knowledge, such as Shopify, Wix or WordPress templates.
Another important aspect regarding your company's website is that it should be mobile friendly. Today, more than 50% of Internet traffic happens through smartphones, if people can't easily browse through your website on their mobiles, they can easily give up on purchasing from you.
Read Also: How To Have Great Images on Your Website
2. Share your company's information and history
This may look like an obvious step, but having a page or section on your website dedicated to telling visitors who your company is and exactly what it does can help visitors trust your brand. Create a simple "About Us" page and share information about your company with your potential customers.
In case your company offers services, consider showing who is your team of employees or at least who are the company's founders, directors, and managers. This will add a more human feeling to your approach and will help increase the trust in your brand.
Be sure to share any kind of achievements your team or company as a whole has conquered over the years. Also, showcase partnerships and famous brands that use your products, these will help to empower your own brand.
3. Be active on social media
Facebook, Twitter, Instagram and other social media are not only great places to employ marketing campaigns and strategies, but also help to make people trust your business. Through social media, you will be able to reach out and connect with your potential customers. Consider sharing interesting articles and news related to your industry, engage in compelling discussions and maintain a professional standpoint.
If you are the owner of a new business, consider focusing your social media efforts on a single platform, such as Facebook or Twitter. Spreading your reach too much may result in failure to keep all of your platforms updated. Remember, when it comes to sharing and engaging with customers on social media, consistency is key.
4. Create personalized marketing and sales strategies
Wherever your company decides to employ its marketing strategies, always be sure that they are personalized and work perfectly with your brand's ideals and values. Focus on your target audience and be sure to deliver marketing material that resonates well with what you are trying to sell.
Remember, just offering discounts is not enough to earn your visitors' trusts. You need to make sure you can deliver value along with the products or services being advertised. This will vary depending on your business' industry. Consider showcasing featured products, send email marketing campaigns and address your leads using their names and inform of new products or services your company started offering.
Don't Miss: How to Scale Your Sales AND Meet Your Customer's Expectations
5. Provide detailed information and trusted checkout methods
Simply displaying a picture of the product you are selling with a vague or empty description is not enough to make a customer trust it enough to purchase. Be sure to provide the most detailed possible information on each and every product you are trying to sell, this is not only good to increase your visitors' trust, but also to prevent returns or refund requests due to wrong purchases.
It is critical that your ecommerce has an SSL certificate, consumers will immediately turn away from entering their billing information if your company can't ensure their safety. Be sure to clearly display which security service is employed on your checkout page, as well as provide trusted and known payment methods to your customers, such as Paypal, MasterCard and Visa credit cards, etc.
Also, always inform your customers of additional taxes that may be applied, delivery fees and estimated times of arrival of their purchases. All of these will help your customer feel safe when finalizing their purchase. Transparent checkout is an important factor when building trust with your customers.
6. Deliver high-quality customer service
Visitors will have questions to ask before finalizing their purchases, especially if your business is new in the market and they are about to buy from you for the first time. Be ready to deliver quick and excellent customer service. There are a couple of ways to do that. Consider having a knowledge base on your website, such as an FAQ (Frequently Asked Questions) where customers can have their questions answered without the need to contact your support team.
Today, one of the best platforms to deliver responsive customer service to your visitors is an online chat. Your visitors will be able to interact directly with your support representatives, have their questions answered and doubts cleared. An online chat provides not only a great support platform but also a means to connect with your visitors, instantly boosting their trust in your company.
Refer and Earn: JivoChat Affiliates Program
Boost your customers' trust in your company with JivoChat
JivoChat is a most complete online chat solution for your website. Through JivoChat, you will be able to address all of your customer's problems, connect and convince them that your company is trustworthy. Visitors will instantly recognize that you are a competitive business when they notice an online chat on your page. JivoChat offers Callback tools, a mobile app, as well as integration with the most popular services in the market, such as Shopify, Magento, WordPress, and many more! Gain your visitors' trust with JivoChat!
Like what you've read?
Sign up and try JivoChat for yourself!
It's free and only takes a couple of minutes to download.